11 Best Clarifying Shampoos For Natural Hair – Top Picks Of 2023
Say goodbye to hair dirt and hello to naturally gorgeous locks with these products.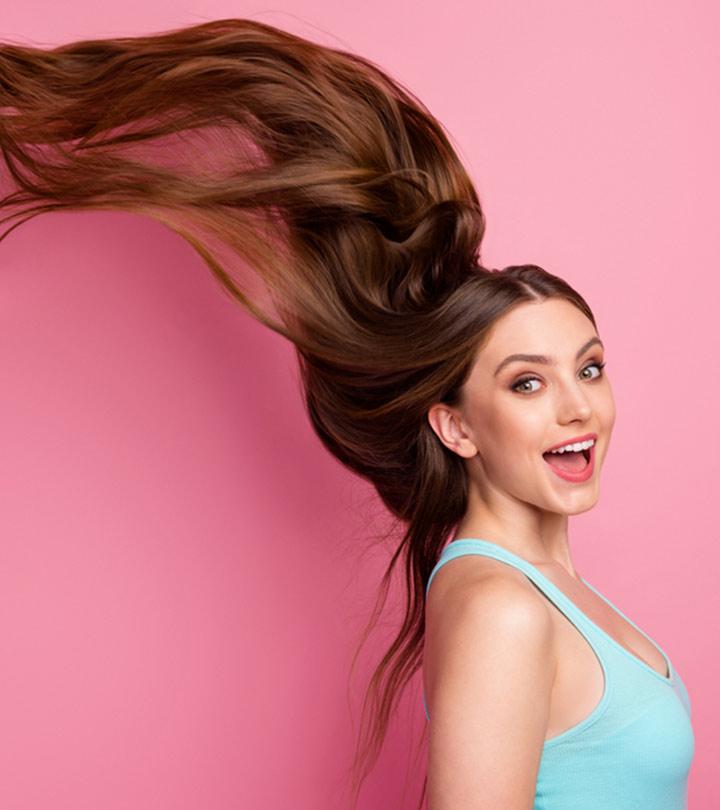 Clarifying shampoo for natural hair can help you get rid of the residue buildup on your scalp and hair. The buildup is from all the products that you use, like shampoos, conditioners, hair gels and sprays, and hair colors. Basically, anything that you put on your hair and scalp can leave behind residues, which accumulate as a thin layer. This buildup can cause itchiness and make your hair look and feel dull, sticky, and unclean. Regular shampoos are often not equipped to effectively remove all of the gunk, and as a result, you may hardly find your scalp squeaky clean and your locks shimmering as they should after a wash. Clarifying shampoos are formulated for the very purpose of deeply cleaning out your hair and scalp.
There are plenty of clarifying shampoos on the market and so, you may find it overwhelming to pick one. To make this task a little easier so that you have more filtered options, we have listed the best 11 clarifying shampoos for natural hair in this article. Explore away and choose the one that suits you best.
11 Best Clarifying Shampoos For Natural Hair
Pros
No artificial dyes or colorants
Boosts volume
Works for all hair types
Color-safe
Cons
Price at the time of publication: $8.78
Pros
Gentle formula
Sulfate-free formula
Paraben-free
Cruelty-free
Vegan
Free of formaldehyde and petrolatum
Cons
Some may find the scent too strong
Price at the time of publication: $21.95
Pros
Non-irritating
Lightweight
Free of parabens, phthalates, and petrolatum
Mineral oil-free
Cons
May not suit low porosity hair
Price at the time of publication: $9.99
Pros
Volumizing
Washes away dead skin cells
Sulfate-free
Paraben-free
Cruelty-free
Cons
Some may find the consistency too thick.
Price at the time of publication: $11.99
Pros
Hydrating qualities
Keratin-enriched
Sulfate, phosphate, and paraben-free
Color-safe
Cons
May not be suitable for everyday use
Price at the time of publication: $75.0
Pros
Suitable for all hair types
Color-safe
Offers deep cleaning
Doubles as a body scrub
Cruelty-free
Cons
Price at the time of publication: $36.0
Pros
Moisturizing qualities
Imparts shine to hair
Gentle formula
Cleanses deeply
pH-balanced
Cons
Price at the time of publication: $16.38
Pros
Repairs damaged hair
Hydrates
Offers intense cleaning
Silicone-free
Cons
Some may find it slightly drying.
Price at the time of publication: $6.23
Pros
Retains natural shine
Suitable for all hair types and textures
Moisturizes
Paraben-free
Cons
Price at the time of publication: $26.0
Pros
Sulfate-free
Paraben free
Mineral oil-free
Color-safe
Repairs damaged hair
Moisturizing qualities
Cons
None
Price at the time of publication: $6.97
Pros
Plant-based
Color-safe
Cruelty-free
Vegan
Silicone, dye, and paraben-free
Cons
Some may find the scent chemical-like
Price at the time of publication: $14.99
Now that you have a list of 11 best clarifying shampoos for natural hair right in front of you, you need a buying guide so that you don't go wrong when buying a certain type of clarifying shampoo for your type of hair. Here we go.
How To Choose A Clarifying Shampoo For Natural hair?
Try not to be afraid of sulfates
Sulfates are mostly thought to be the bad guys. However, the reason why you find them in many of the skincare products is that they bind water to oil and make cleansing a lot more effective. When you're shopping for a clarifying shampoo, it is okay to opt for one that has sulfates. However, if you've found one that doesn't contain sulfates and is still meant for deep cleansing, that works too.
Do you have straight, wavy, curly hair or have you color-treated your hair? These are some of the questions to ask before you set out to buy a clarifying shampoo. Address any treatments that you've gotten for your hair in the recent past, like perm, coloring, etc. and check if the clarifying shampoo is meant for your type of hair.
Check for natural ingredients
It is always beneficial for a clarifying shampoo to house several natural cleansing agents. These ingredients offer nutrients that your hair follicles and scalp might need and fight the effects of heavy and toxic ingredients. So, natural oils like argan, jojoba, almond, tea tree, coconut, avocado oil are the ones to look for, and any other ingredient like avocado, lemon extract, lemongrass extract, etc. are a plus.
Brands are constantly trying to make their product look different. And in an effort to do this, they might sometimes shift from the conventional word "clarifying" and pick words like purifying, deep cleansing, normalizing, and balancing. Check for these words and read through the description of the product and what exactly it does. This will help you ensure you're buying a product meant for those stubborn scalp oils and residue buildup.
If you're using clarifying shampoo for natural hair almost every day or at least alternate days, make sure the label says that the shampoo is suitable for everyday use. This is crucial because most clarifying shampoos tend to be harsher than regular shampoos since they deep cleanse. Most clarifying shampoos work wonders if you use them once a week. However, brands have been changing this a little bit to suit the requirements of people who need to use a deep cleanser more frequently.
Are you still not sure as to what benefits clarifying shampoos offer? We'll make it easy for you to know with our next segment. Read on and find out.
Benefits Of Using Clarifying Shampoo For Natural Hair
Clarifying shampoos for natural hair help get rid of all the environmental aggressors that can prevent your hair from growing, make your hair look dull, give you an itchy scalp, and other issues that follow (like chances of developing scalp eczema).
These shampoos are the best way to rid the hair of products if you're using gels, leave-in conditioners, and their ilk. Since hair products may contain a good amount of chemicals, product buildup can mean unhealthy scalp and hair.
You get to eliminate the bad oils and retain the natural oils in your scalp so that your hair follicles get the needed nutrients to stimulate hair growth.
Clarifying shampoos are a natural choice for people who swim, as exposing the hair to chlorine on a daily can mean dull, lifeless-looking hair and a bad case of chlorine buildup on the scalp.
While clarifying shampoos offer apparent benefits when added to the hair care regimen, it's all about how often you use it to witness these benefits. Here's a brief segment about how frequently you should cleanse your hair with a clarifying shampoo.
How Often Should You Use A Clarifying Shampoo On Natural Hair?
The magical number is once per week for natural hair. However, it also depends so much on what the environment around you is like, how many hair products you use, and most importantly— which clarifying shampoo you pick. Clarifying shampoos are quite strong. So, you can expect intense cleansing when you use them once in a week. On other days, you can as well use your normal cleanser. However, if you really want to use your clarifying shampoo more frequently than that, look for a gentler alternative.
Why Trust StyleCraze?
The author, Kirtana Divakar, is an expert on all things skin and hair. She knows that to properly and thoroughly clean natural hair, you need to have a good clarifying shampoo on hand. She researched many products online, reading through thousands of reviews, to find the best clarifying shampoos for natural hair. She chose this list based on hair type, ingredients, brand, and more.
Frequently Asked Questions
Does black hair need a clarifying shampoo?
Every hair type irrespective of the color might need a clarifying shampoo if you're dealing with a scalp with residue, product and oil buildup, chlorine buildup, and similar issues.
Why do you need a clarifying shampoo for your natural hair?
Clarifying shampoos are needed for natural hair because they help in deep cleansing of the scalp and get rid of buildup so that your scalp stays healthy, has good, nutritive oils, and promotes hair growth. Other than that, clarifying shampoos also restore the natural shine of the hair and lock in moisture.
Does clarifying shampoo damage your hair?
No, using a clarifying shampoo once a week will remove all buildup from hair and give you squeaky clean hair. However, overusing such shampoo can leave the hair dull and dry.
How do you remove buildup from black hair?
Use a clarifying shampoo once every two weeks to remove buildup, grease, and impurities from your hair. If you use a lot of products for hair styling, use it once every week.
Does clarifying shampoo lighten natural hair?
No, clarifying shampoo does not lighten natural hair. But it can reset your hair color and remove chemical buildup. It leaves your hair looking more natural and not over-processed.
Does clarifying shampoo help with dandruff?
Yes, clarifying shampoo helps to get rid of the build-up on the scalp. But it cannot address the root cause of dandruff.
When should I use a clarifying shampoo for natural hair?
You can use a clarifying shampoo before deep conditioning to remove buildup. It can help the hair mask and treatment penetrate better.
Recommended Articles