11 Best Claw Hair Clips For A Tight Yet Stylish Hold – 2023
For an updo with the right kind of hair accessory to suit your style and requirement.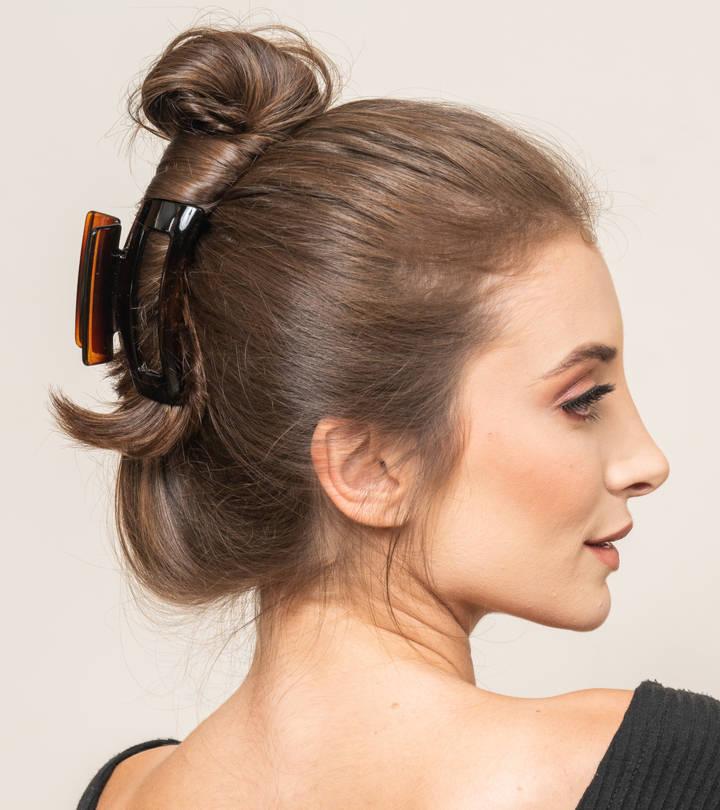 If you combine classic and credible hair clips in the world of hair clips, you get claw hair clips. They are easy to use, and they efficiently hold your hair together as you go about winning the world. They come in various sizes so that you can do various hairstyles with them. If you get them in different colors, textures, and designs, they can even complement your fashion statement. In this article, you will find a list of the 11 best claw clips that you can use for all purposes – whether to keep the hair off your face while you do the chores or to make you look elegant on a special dinner date. Scroll down and take a look!
Do Claw Clips Damage Hair?
Claw clips, when not fastened tightly, won't damage hair. Soft claws that are not pointy or sharp and don't dig into scalp or hair are ideal. Ensure that the spring used in the claw clip is strong and coated to avoid rusting. This also helps to prevent hair from getting stuck in the contraption and tugged at constantly. When used with a comfortable grip, claw clips won't cause any damage to hair. Opting for waterproof and durable material that doesn't chip can also help.
Fasten Hair Fashionably With The 11 Best Claw Hair Clips In 2023
These stylish and functional accessories are a must-have for anyone looking to add some style to their everyday look. Their strong grip ensures that your hair stays in place, while their gentle hold prevents tugging or pulling, keeping your hair healthy and damage-free. With a variety of fun and trendy colors to choose from, these hair claws are perfect for adding a pop of color to your hair. Their sleek design makes them versatile enough to complement any outfit. They're perfect for on-the-go styling and will keep your hair looking flawless all day long.
Pros
Sleek design
Aesthetic color
Strong claws
Value for money
Cons
None
Price at the time of publication: $8.39
With a slide-preventing design, this large claw hair clip set of 4 by TOCESS keeps your hair in place. The strong metal spring allows the clip to open up easily and is coated to prevent rusting. Made with high-quality pastel acrylic, this durable matte plastic is soft and won't damage or hurt your hair. Lightweight but with a tight hold, these TOCESS big hair claw clips keep thick curly hair fastened all day long. With 4 fun colors, you can add a touch of color to any look.
Pros
 Slide-proof design
 Strong metal spring
 Lightweight
 Sturdy and hard to break
 Spring is resistant to rusting
 Made with premium quality plastic
Cons
 Some may find that the colored coating flakes off.
Price at the time of publication: $11.99
Whether you're looking to create a chic updo or add a touch of glam to your everyday style, these clips will be the perfect hair accessory for the same. They are crafted with durable materials and designed to provide a secure and comfortable hold that lasts all day. Their rectangular shape and smooth finish prevent tangling and pulling, ensuring your hair stays healthy and damage-free. These clips come in a pack of eight, so you can mix and match colors to suit your style or mood. Whether you're heading to work, school, or a night out, these clips are the perfect finishing touch to any hairstyle.
Pros
Prevents tangling
Lightweight
Sturdy
Strong spring
Cons
None
Price at the time of publication: $7.99
For an elegant upgrade from plastic claw clips, try Kitsch's metal version. The open shape is your best companion for pinning hair down and also adding a bit of lustre for a chic look. No matter what your hair length or texture, this is one of those metal claw hair clips that stay put. The simple and timeless design adds flair to your look and suits both low-key and special occasions. For a comfortable grip with rounded teeth that won't pull on hair, get yourself a Kitsch hair claw!
Pros
 Professional-strength springs
 Rounded teeth for comfortable grip
 Won't damage hair
 Gives an elegant look
 Sturdy
Cons
 Some may find it to be heavy owing to the metal.
Price at the time of publication: $7.99
Made with a metal alloy, VinBee's metal hair claw set won't snap as easily as plastic ones do. With a gold, silver, and rose gold claw, you can easily level up any outfit and add a classic twist. The large size holds thick and even unruly hair in place without pulling when you're taking a shower or putting your skincare on. Easy to open owing to the strong spring, these humble claw clips are durable and will last you long. Stash one in your car for a quick updo or gift it to anyone that has trouble keeping their hair in place!
Pros
 Sturdy and durable
 Holds thick and unruly hair
 Set of 3 claw clips
 Doesn't pull at hair
 Offers a secure grip
 Doesn't slide off
Cons
 May not be resistant to rusting
Price at the time of publication: $9.99
Minihope's mini claw clips are ideal for anyone who finds traditional claw clips to be too big. If you have fine or medium hair, the anti-skid design keeps the medium-sized clips in place. With rounded teeth, you won't feel pain in your scalp every time you pull your hair up, and no fears of hair damage either!. To provide a secure grip, pro-strength springs are used. In 2 classic colors, this set of 4 clips can help with buns or half-up half-down hairstyles.
Pros
 Anti-skid design
 Ideal for fine or medium hair
 Secure grip
 Rounded teeth
 Strong springs
 Set of 4 clips
Cons
Price at the time of publication: $6.99
This set of 4 hair claw clips is made with acrylic plastic and has a soft matte coating. 9 mini claws on each side make these great hair clips for long hair. Simply twist your hair and secure it in place with the soft and anti-slip claws. The powerful metal spring opens the clip up wide to fit in all of your hair and it doesn't rust easily. Available in black, olive green, pink, and light khaki, you have a claw clip for every occasion!
Pros
 Lightweight and anti-slip
 Strong spring
 Soft claws don't dig into scalp
 Set of 4 colors
 Large size accommodates thick and long hair
 Spring doesn't rust easily
Cons
 Some may find that the coating chips.
Price at the time of publication: $13.99
What's better than 1 metal claw clip? 6 of them, of course! This set by WillBond is all you need to style your strands on-the-go. Made with high-quality alloys, these metal hair claw clips for thick hair are sturdy and won't discolor easily. The geometric design lends these clips a simple yet classy look that you can sport for date night or whenever you want your hair tied up while running errands. To hold hair in place, the interlocking teeth provide a firm grip. Just clamp one of these on when you're too lazy to style your hair and you're good to go!
Pros
 Firm yet gentle grip
 Geometric design
 Set of 6 claw clips
 Made with high-quality alloys
 Doesn't discolor easily
 Anti-slip design
Cons
 The clips might be too heavy for some.
Price at the time of publication: $12.59
MagicSky's Hair Claw Clips are made with plastic acrylic resin and come in 4 funky colors and patterns. To fasten hair in place for a bun or a half-bun, the metal spring is powerful and coated with plastic so it doesn't rust. With 8 anti-slip clamps, your hair stays where you put it without constantly slipping down your neck. The plastic coating is soft enough to not pull or tug at hair, which can lead to damage or hair fall. You can't go wrong with these fun prints as they can help you spice up a dull look.
Pros
 Anti-slip design
 Doesn't pull or tug at hair
 4 patterned clips
 Strong spring
 Spring is resistant to rusting
Cons
 Might not be suitable for thick hair
Price at the time of publication: $8.99
Available in 3 classic and neutral colors, DAYAMY's large claw hair clips don't disappoint. As they are made with PC plastic, they're flexible, durable, and sturdy which allows them to hold your hair for longer. The high-quality spring opens up wide to accommodate various hair types, and even allow for thinner hair styling. With rounded edges, the hair claws are softer on the hair and scalp with a lightweight feel. Put hair up when traveling or before applying your makeup with these flexible hair clips.
Pros
 Flexible
 Round-edged claws that are softer on scalp and hair
 Suitable for all hair types
 Lightweight
 Available in 3 colors
 High-quality spring
Cons
Price at the time of publication: $9.99
Say hello to the best grip of your life! Camila's Octopus Hair Clip is designed to be non-slip and hold hair that is thick and long with no hassle whatsoever. Made with cellulose acetate which is waterproof, the material is sturdy and will serve you and your hair for a long while. The soft plastic holds hair gently without causing any pulling or tugging so that you can stay comfortable in any hairstyle.
Pros
 Anti-slip grip
 Suitable for long, thick, and voluminous hair
 Doesn't tug or pull at hair
 Waterproof
 Lightweight
 Durable
Cons
 Some may find the claws a bit sharp.
Price at the time of publication: $20
Now that we've looked at the various kinds of claw hair clips on the market, let's learn how to use them for different hairstyles.
How To Style Hair With Claw Hair Clips
For a twist on the classic ponytail
 Step 1: Tie your hair into a ponytail as you normally do and ensure that it sits right at the middle, not low. Wrap it with an elastic band.
 Step 2: Twist the ponytail upto two-thirds and wrap it around fully one time. Stop when the loose end is facing upwards.
 Step 3: Use the claw clip to secure your hair where the twist stops and the loose ponytail starts. Adjust the tightness of the clip so it doesn't dig into your hair and is comfortable.
For a Half-up, half-down
 Step 1: Using your fingers, section your hair horizontally. Ensure to take half of your full thickness or just a tiny bit you can pinch between your fingers.
 Step 2: Clip this section securely with a claw hair clip of choice.
 Step 3: As an alternative, you can twist this section into a bun and clip that on that back of your head.
Why Trust StyleCraze?
The author of this article, Kirtana Divakar, is a hair care enthusiast who loves checking out and reviewing products that can be used for stylish hairstyles. She has curated a list of the best claw clips after browsing reviews on several trusted e-commerce websites. These claw hair clips are large enough for thick and thin hair, and they are made of premium-quality plastic.
Frequently Asked Questions
Is a claw clip good for hair?
Yes. Claw clips efficiently hold your hair away from your face without creating any dents on the strands. As a result, they do not cause hair breakages and retain the shine.
Are claw clips back in style in 2023?
Yes. Claw clips help you attain a trendy low-maintenance hairstyle. Celebrities like Hailey Bieber and Kendell Jenner are often seen wearing them on the streets.
What is the difference between a jaw clip and a claw clip?
Jaw clips are ideal for half-up and down hairstyles. In addition, they are suitable for fine hair. In contrast, claw clips are designed to hold thick, textured hair entirely away from your face.
What are claw clips called?
Claw clips are often called hair clamps or hair claws.
Can I sleep with a claw clip-in?
Yes. Twist all the hair on the top of your head and secure it with a claw clip. Then sleep without any disturbances.
Are claw clips better than hair ties?
Yes. Hair ties tightly bind your hair and stretch the strands. In contrast, claw clips firmly hold your hair without bending the strands.
Do claw clips work on thin hair?
Yes. Although claw clips are designed to hold thick hair, the tiny, interlocking teeth also hold fine hair in place.
Recommended Articles
Best Elegant Hair Barrettes For Thin Hair That Elevate Your Hairstyle
Top Hair Accessories To Try
Best Banana Clips
Best Ponytail Hair Extensions
Easy And Quick Banana Clip Hairstyles You Must Try