12 Best Clay Masks For Acne And Clogged Pores For All Skin Types
Take advantage of these natural, organic ingredients to calm your acne-prone skin.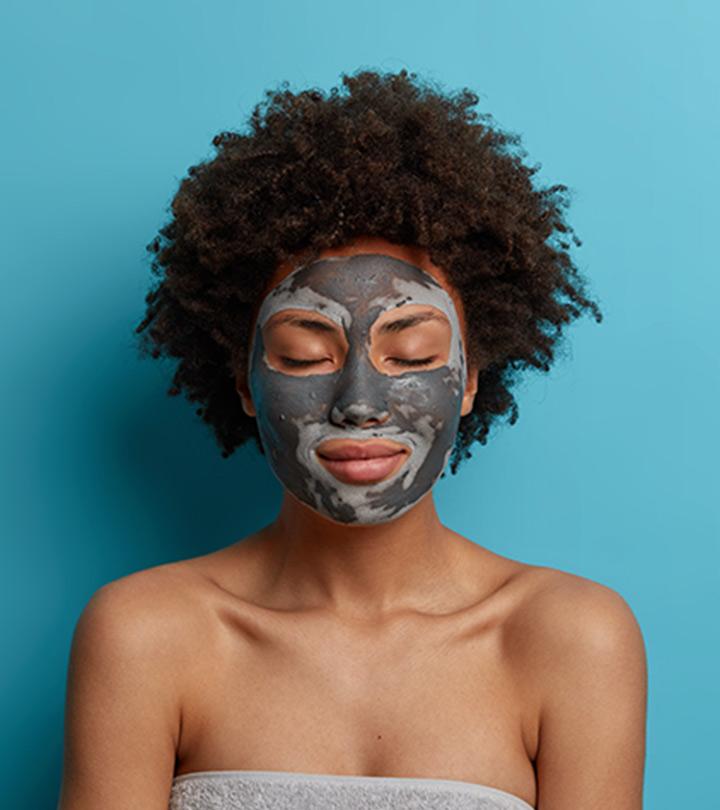 The best clay masks for acne have taken the skincare industry by storm, and for good reason. Acne is a global skin issue that many teenagers and even young adults suffer from. The painful pimples and the ugly marks caused by breakouts are enough to put giant boulders on anyone's self-esteem. Sometimes, it may even reduce your desire to dress up, experiment with makeup, and get excited about trying on something new. The worst part is the breakouts that appear overnight when you have an important event to attend the very next day. Cosmetics can also trigger acne, and it is sad as the foundation does not sit smoothly. It takes forever to conceal the acne marks, only to realize that the product is wearing out and exposing the area in the most unflattering manner. Masks, especially clay ones, should be your go-to soothing product to calm down your irritated skin overnight and help you weed out the impurities causing problems. Your skin will start feeling more soft and smooth and slowly prevent your acne from acting up. Pick your favorite out of the 12 clay masks!
How Do Clay Masks Work For Acne?
Clay is a natural material full of rich natural minerals such as silica, potassium, magnesium, and calcium. There are various types, such as kaolin, bentonite, Rhassoul, and green clay. Depending on the variety, clay, in general, comes with a host of advantages for acne-prone skin types. Clay dives deep into the skin and draws out toxins, oils, and dust while also unclogging the pores. Clogged pores later turn into pimples, blackheads, and whiteheads. Apart from this, clays also perform a great job at gently exfoliating skin and absorbing excess oil and sebum. Some clays also help firm up the skin, increase collagen production, and reduce the appearance of pores. While minimizing breakouts, clay also helps prevent future ones and heals acne scars. Using a clay mask 1-3 times a week can set your skin up for a healthy-looking radiant complexion.
Keep Breakouts At A Distance With The 12 Best Clay Masks For Acne In 2023
With 100% natural calcium bentonite clay, this natural clay mask by Aztec Secret dives deep into your pores for a thorough cleanse. Within the 20 or so minutes of staying on your skin, Indian Healing Clay acts like a vacuum and draws out all impurities to leave skin clean. Not your average face pack, this clay mask for pimples can also be used all over your body, for foot soaks, to treat bug bites, and as a bathing powder. Use it once a week on acne-prone skin and see the difference for yourself. This video gives you more information about the product.
Pros
Draws out impurities from the skin
Controls oil production
Lightens blemishes
Reduces appearance of pores
Cruelty-free
Free from fragrance and additives
Cons
Might be too strong for sensitive skin
Price at the time of publication: $14.95
No matter what your skin type, acne doesn't discriminate. Lucky for you, NewYorkBiology's Dead Sea Mud Mask works on all types of skin by deeply clarifying it. It is infused with dead sea mineral mud that gently cleans out clogged pores and purifies them. To condition the skin simultaneously, this clay mask for acne contains a herbal complex made of aloe vera and vitamin E along with calendula, sunflower seed, and jojoba oils. The rich mineral mask renews skin with a soothing feel as it draws out toxins and oils with a gentle exfoliating effect. Say hello to a luminous glow and soft skin using the Dead Sea Mud Mask that also works to refine skin texture and improve blood circulation. Have a look at this video to learn more about the product.
Pros
Cruelty-free
Doesn't contain alcohol, parabens, or sulfates
Absorbs excess oils
Minimizes blackheads and the appearance of pores
Smooths skin texture
Gently exfoliates skin
Cons
Might become clumpy during removal
Price at the time of publication: $16.95
Use the Himalayan Clay Mud Mask as part of your weekly pamper routine for a luxurious bout of exfoliation and moisturization. Enriched with pink clay rich in silica, this clay mask for acne improves the elasticity of the skin and its renewal. It detoxifies acne-prone skin and brightens it for a youthful-looking complexion that's also clear of acne! With the help of kaolin clay, MAJESTIC PURE's mask controls sebum production and reduces the look of enlarged pores. Use it regularly for smoother and clearer skin.
Pros
Improves skin elasticity
Gently exfoliates skin
Contains moisturization benefits
Controls sebum production
Reduces look of enlarged pores
Detoxifies and brightens skin
Cons
Might cause flare-ups in sensitive skin
Price at the time of publication: $12.91
With the goodness of activated charcoal, apple cider vinegar, and bentonite and kaolin clays — all superheroes that fight against chronic acne, Pure Biology's mask is a godsend. These ingredients clean the congested pores deeply to rid them of oil and dirt for clear-looking skin. Additionally, the infusion of retinol with vitamins B, C, and E smooths and brightens the complexion and bulks up on the anti-aging benefits. Use this popular clay mask for acne scars to achieve a healthier complexion, free of acne, spots, fine lines, and wrinkles.
Pros
Unclogs pores
Contains a vitamin blend
Provides anti-aging benefits
Rids skin of blackheads
Works as a spot treatment
Free of parabens and sulfates
Cons
Some may feel a stinging sensation
Price at the time of publication: $17.99
Give your skin a spa day at home with ANAI RUI's Turmeric Clay Mask that boasts nourishing skin benefits. Turmeric combats acne and acts as an anti-inflammatory agent, with vitamin C working towards a radiant complexion. This clay mask for cystic acne also fades dark spots and slows down the signs of aging due to vitamin E. For a refreshing boost, you'll find aloe vera and hyaluronic acid that hydrate skin and make it plumper. For firm and younger-looking skin, try this anti-acne mask for yourself and reap its clear benefits. Here is an informative video that tells you more about the product.
Pros
pH-balanced formula
Cruelty-free
Hypoallergenic
Doesn't contain sulfates or parabens
Suitable for all skin types
Purifies and refines pores
Cons
Might irritate sensitive skin
Price at the time of publication: $15.99
CHIC REPUBLIC's organic clay mask for acne detoxifies skin with activated bamboo charcoal and kaolin clay, both of which work to control oil. The gentle exfoliation allows newer and clear skin to come up to the surface and graces you with a glowy complexion. If you've felt like your skin is congested lately, have a go at the Pore Minimizing Face Mask, which minimizes aging signs. The infusion of vitamin C and spirulina with organic primrose, kelp, and rosehip oils moisturizes skin and lowers the appearance of wrinkles. Gift your skin with a hug in the form of this charcoal clay mask for acne.
Pros
Cruelty-free
Hypoallergenic
Paraben-free
Minimizes blackheads
Contains anti-aging benefits
Brightens and moisturizes skin
Cons
Some may find the odor to be persistent
Price at the time of publication: $20.99
If you can't seem to catch a break from hormonal or cystic acne, try Skinbery's Australian Pink Clay Mask, as it contains a host of detoxifying ingredients. This clay mask for acne and blackheads cleanses and exfoliates the skin by ridding it of dirt, grime, and oils to make way for brand new skin. Due to its abundance of silica and other natural minerals, the high collagen production gives you plump mochi-like skin. Put this pink clay mask for acne on and reward yourself with a relaxing evening with your favorite Netflix series.
Pros
Tightens and minimizes pores
Renews skin and increases elasticity
Made with natural ingredients
Cruelty-free
Vegan and gluten-free
Can be used on the body or as a spot treatment
Cons
Might dry out dry skin even further
Price at the time of publication: $14.0
By getting right to the root cause of acne, this acne-clearing mask unplugs your pores and reduces inflammation common in acne-prone skin. It quickly absorbs all impurities and removes them to make way for soothed and healed skin. With a unique nanotube structure, the clay dives deep into the pores to purge out the gunk. With a blend of effective ingredients like bentonite and organic mineral clays, jojoba, virgin, and grapeseed oils along with flaxseed, grapefruit extract, and aloe vera gel, your skin will be transformed! Try this mask if acne gives you sleepless nights so you can nip it in the bud and enjoy healthier skin.
Pros
Deep cleanses pores
Contains a blend of organic oils
Reduces skin inflammation
Minimizes blackheads
Combats root cause of acne
Can be used all over body or as a spot treatment
Cons
Some may find the odor to be too strong 
Price at the time of publication: $19.97
Who says bubbles ought to be enjoyed only by kids? Ebanel's Carbonated Bubble Mask combines beauty with fun for a joyful self-care experience. It is enriched with volcanic ash, bentonite clay, and niacinamide, all of which help acne-prone skin immensely. They help to minimize pores and redness, also slowing down breakouts. The slow release of oxygen and collagen peptides helps with skin regeneration. This mask utilizes vitamin C, hyaluronic acid, and fruit extracts like papaya, apple, and blueberry to impart a healthy glow for a complexion as bright as the stars.
Pros
Free of alcohol, oil, and soap
Cruelty-free and vegan
Helps skin regeneration
Hypoallergenic
Reduces blackheads and pore size
Made of plant-derived and biodegradable microfiber
Cons
Might irritate sensitive skin
Price at the time of publication: $17.89
Made with 100% organic clay, this mask vows to help with acne-prone skin and other issues like blackheads, whiteheads, and cysts. If a new pimple pops up right before a photoshoot or a long-awaited date, dab some of this treatment on and watch it go by morning! Infused with zinc, this mask controls oil production and speeds up the healing of the skin. With a thin consistency, LEROSETT's mask dries quicker and is also easy to wash off.
Pros
100% organic
Works as a spot treatment
Reduces oil production
Speeds up healing
Thin consistency
Mess-free application and removal
Cons
Might aggravate sensitive skin
Price at the time of publication: $69.95
Proactiv's Amazonian Clay Mask contains a rich blend of minerals like bentonite and kaolin clays for efficient absorption of oil and other impurities. Another blend of skin-loving ingredients like vitamins and antioxidants abound in this clay mask to give you softer and nourished skin. This pore-refining mask does a great job of not only shrinking your pores but also minimizing those pesky breakouts. To protect the skin from free radicals, the formula is infused with vitamin E and tea tree oil is also present to offer antiseptic benefits. With all these star qualities, we think this is the best clay mask for sensitive skin.
Pros
Absorbs excess oil
Nourishes skin
Shrinks pores
Protects skin from damage
Gently cleanses skin
Suitable for sensitive skin
Cons
Some may not like the scent
Price at the time of publication: $37.11
A mix of turmeric, aloe, milk, and honey in Natrulo's Turmeric Face Mask is designed to give you glowing skin that doesn't disappoint. As the formula also contains bentonite clay powder and cinnamon, watch your pores shrink, giving a youthful appearance. With the presence of antioxidants, your skin is detoxified, and colloidal oatmeal helps strengthen the skin barrier. While all impure oils are drawn out due to the turmeric, the honey works its magic by soothing the skin and giving it a radiance everyone will be envious of.
Pros
Removes dead skin cells
Strengthens skin barrier
Brightens and evens out complexion
Heals skin
Reduces acne blemishes
Tightens skin
Cons
Might cause a stinging sensation on sensitive skin
Price at the time of publication: $8.99
Now that we've looked at some of the best  clay masks for acne, let's dive into how you can choose the right one according to your skin issues and type.
How To Choose The Right Clay Mask For Acne
Clay is a natural substance rich in minerals such as silica, potassium, and calcium. Different types offer varied benefits to the skin.
Kaolin clays come in a variety of colors. White and yellow kaolin clay is best suited for those that have dry and sensitive skin as they are rich in silica, zinc, calcium, and magnesium. They are not as good at absorbing and removing excess oil from the skin when compared to other types of kaolin. Oily skin can benefit from red clay because it has wonderful absorption properties.
For combination or severely acne-prone skin, pink kaolin clay is your best bet. It is a mix of red and white kaolin which is good at drawing out impurities, exfoliating, and rejuvenating the skin.
Bentonite clay is obtained from the sediments of volcanic ash and is quite effective at absorbing all the extra oil from your skin. If you have acne scars or lesions, bentonite helps heal them faster owing to its high concentration of skin-nourishing minerals.
French green clay is for those that want some exfoliating action along with oil absorption and it is obtained from decomposed plants mixed with iron oxides.
Pick a clay mask according to the kind of benefits you want from it, as there are plenty on the market. Some even feature a mix of the above types of clays so you can get a well-rounded advantage.
Clay generally dries out the skin owing to its excellent sebum-absorbing properties, but to some skin types like dry ones, this can do more harm than good. If your skin type is dry, look for supporting ingredients like aloe vera, hyaluronic acid, and jojoba oil in your clay mask so that your skin is deeply moisturized. After washing the mask off, always ensure to apply a lotion to retain moisture. Oily skin benefits most from clay due to the oil absorption but opting for a mask with tea tree extracts, niacinamide, and aloe won't hurt. If you have combination skin,  honey is a great addition as it heals scars and retains moisture in the dry parts. Normal skin that suffers from acne can choose any kaolin or bentonite clay mask with ingredients that they prefer. Chamomile and calendula extracts or aloe vera will have a soothing effect on sensitive skin that is prone to flare-ups and irritation.
Most clay masks are available in a powdered form wherein you're required to mix them with some water or apple cider vinegar. This method is convenient for when you are at home with no obligations as it may be time-consuming and you will need to have some products on hand. On the other hand, some masks come already mixed in tubes which you apply on your face and wait for it to dry. These are a great option for when you're traveling or pressed for time as the dry and wet ingredients are already combined.
After you've got your hands on the right clay mask for your skin, let's learn how you can use it for the most benefit.
How To Use Clay Mask For Acne
Step 1: Use a facial cleanser suited to your skin type and rinse your face thoroughly. Pat face dry with a towel.
Step 2: Prepare the clay mask. Mix the clay with water if your skin is dry or sensitive or apple cider vinegar for oily and combination skin types. For best results, follow the directions and measurements on the label.
Step 3: Using a brush or with clean fingers, apply the mask evenly on your face. Ensure to avoid the eye area and the lips.
Step 4: Wait for the mask to dry. This can take anywhere from around 10 to 30 minutes. Follow the time given in the instructions as each mask is different.
Step 5: After the time is up, simply rinse off with warm water. You could also put a warm towel on your face and allow it to soften the dried-up clay. Rinse off afterwards.
Why Trust StyleCraze?
The author, Kirtana Divakar, is a skin care enthusiast and advocates clay masks for preventing acne breakouts. She has compiled the above list after researching a wide range of clay masks and scrolling through hundreds of reviews by the users on trusted online forums. These masks soothe irritated skin and help get you rid of acne-causing impurities, gradually making the skin soft and smooth.
Frequently Asked Questions
How long should you leave a clay mask on to treat acne?
A clay mask has instructions on how long to keep it on, which usually differs from product to product. Anywhere between 10 to 30 minutes is ideal, after which the mask can be washed off.
How often should we use a clay mask for acne?
Clay masks can be used once to thrice a week, not more. As clay has the ability to draw all oils out, it can be too drying on the skin if overused.
Are clay masks good for cystic acne?
Yes, clay masks can help reduce the size and inflammation of cystic and hormonal acne, blackheads, and whiteheads.
Does pink clay mask work for acne?
Pink clay gently exfoliates skin and reduces congestion to minimize breakouts and blackheads, making it a great choice for acne-prone skin.
Are clay masks good for fungal acne?
Masks that contain bentonite clay can be beneficial for fungal acne as they absorb the excess oil in the skin and combat the bacteria and fungus.
Recommended Articles