13 Best Clay Masks For Oily Skin, According To Reviews
Say goodbye to excessive sebum and clogged pores and hello to the goodness of clay.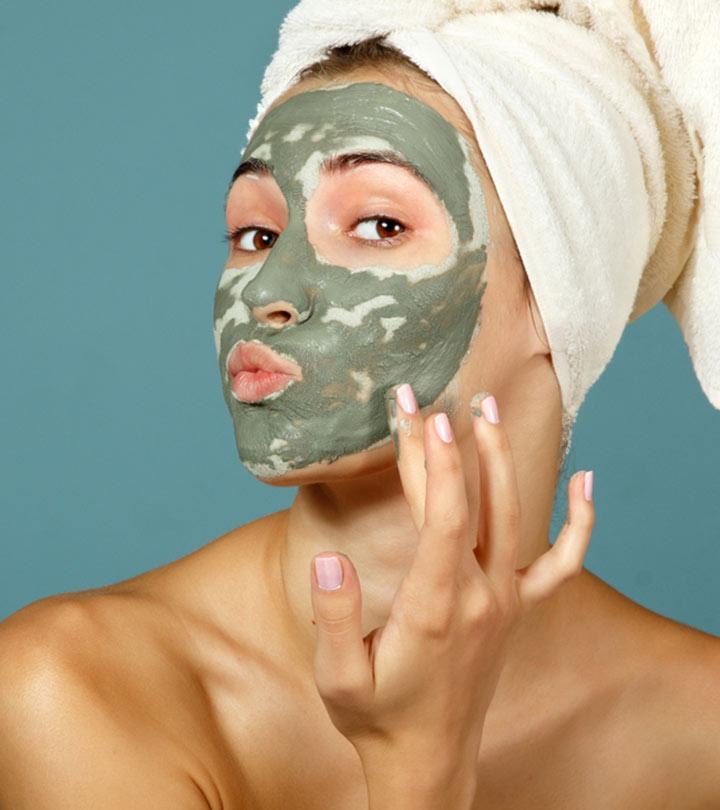 Dealing with excessive oil on your face might feel like an uphill fight until you get yourself a clay mask for oily skin. Overproduction of sebum causes oily skin, which can be triggered by a range of factors like heredity, environmental, and lifestyle factors. Excess sebum and dirt clog the pores, resulting in acne, breakouts, and that dreaded glossy, greasy shine. The continual greasy feeling will send even the most hardened of us scurrying for blotting paper, compact powder, and thorough face washing. The good news is that an appropriate skin care plan for oily skin may leave your skin feeling fresh, bright, and clean with the right combination of products.
Clay masks are fantastic for oily skin because they can extract sebum (oil) and impurities from the pores, leaving the skin feeling refreshed and renewed. Brown, green, and bentonite clays, combined or as single ingredients, make the best clay masks for oily skin. They clean out pores while simultaneously hydrating the skin for a soft, bright glow. Whether you pick a ready-to-use clay mask or one that requires you to mix it up yourself, our list of the top 13 clay masks for oily skin will help you find one that meets your needs. Scroll down to take your pick.
Top 13 Best Clay Masks For Oily Skin In 2022
This all-in-one purifying clay mask for oily skin purifies skin and deeply cleans pores to remove buildup while moisturizing skin for improved texture and complexion. This clay face mask contains bentonite clay, which absorbs sebum, dirt, and impurities, and amazonian kaolin clay, which gently exfoliates to lift away dead skin cells and helps improve skin tone and texture. Apple fruit extract helps maintain skin hydration, and oleic acid-rich cucumber seed extract helps brighten skin tone. Specially designed for oily, sensitive skin, this unique, non-drying clay mask contains fruit and vegetable extracts and can be used 2-3 times a week for skin that is left feeling refreshed and not overly dry or tight. If you need further convincing, check out this YouTuber's review.
Pros
Fragrance-free
Clinically tests and dermatologist recommended
Non-irritating formula
Hypoallergenic and non-comedogenic.
Cons
Might not be suitable for sensitive skin.
The Proactiv Amazonian Clay Mask absorbs dirt, impurities, and excess oil from the skin. The deep cleansing formula is enriched with bentonite clay, kaolin clay, vitamin E, and tea tree oil that purifies your skin and shrinks enlarged pores. This antioxidant-rich clay mask moisturizes and softens your skin, providing a healthy appearance. Apply this mask 2-3 times a week to see visible results.
Pros
Removes dirt and oil
Shrinks enlarged pores
Prevents breakouts
Brightens the skin
Cons
None
Formulated with Jeju super volcanic clusters and AHA, this deep cleansing creamy clay mask helps clear pores while it exfoliates. Designed for oily skin, this purifying mask for oily skin minimizes the look of pores, absorbs sebum, and evens skin tone. Finely ground volcanic lava helps absorb excess sebum, while lactic acid exfoliates dead skin cells and minimizes the appearance of pores. This clay mask can be used 1-2 times a week on clean, dry skin for a decrease in visible pores, dead skin, and uneven texture. You can check this video out if you need to know more about the product.
Pros
Contains no added fragrances
Free of parabens and mineral oil
Formulated without animal originated ingredients
Free of imidazolidinyl urea, tar colorants, and triethanolamine.
Cons
Might not be suitable for dry skin.
An ideal clay mask to shrink pores, 100% natural bentonite clay from the Wyoming Indian mountain area helps to tighten and tone skin. Particularly useful for oily skin, this clay mask helps remove acne-causing toxins from the skin and revitalizes tired skin. Effective for deep pore cleansing, this pure clay mask is natural, cosmetic grade, and without any additives or fragrances. This clay mask for oily skin can be used 1-2 times a week for skin that feels fresh, clean, and bright.
Pros
Contains 100% natural ingredients
Free of additives and fragrances
Odorless and non-staining
Suitable for all skin types
Cons
Some might find this clay mask a bit heavy on the skin.
This clay mask for oily skin has a powerful blend of ingredients to hydrate, exfoliate, and brighten the skin. Bentonite clay infused with apple cider vinegar provides deep pore cleansing and skin tightening, while calendula flower extract promotes a firm, tight appearance and helps reduce daily skin damage. Ideal for all skin types, this mask also contains argan oil, which provides a hydration boost, helps reduce wrinkles, and brightens skin. This calming clay mask contains active ingredients that help absorb excess oil, unclog pores, and restore the proper pH levels to the skin, while deeply cleansing the skin.
Pros
Easy to use, no mess clay mask
Free of parabens and sulfates
Gluten-free and silicone-free
Cruelty-free.
Cons
Might not be suitable for sensitive skin.
Powered by 3 different clays in their pure form and enhanced with nature sourced eucalyptus leaf extract, this oil-absorbing clay mask helps to draw out the build up of impurities, dirt, and oil, for skin that feels refreshed. Formulated with kaolin, montmorillonite, and Moroccan lava clays, this clay mask has an indulgent, creamy texture that turns your mask into a multi-sensorial experience with every use. This mask unclogs pores and reduces shine without over-drying the skin to reveal a clarified, mattified, and refreshed complexion. Suitable for all skin types, this product can be used twice weekly for best results. To find out more about this product, check this video review out.
Pros
Suitable for all skin types
Contains natural ingredients
Easy to apply and clean off
Formulated with 3 types of clay.
Cons
Contains added fragrance.
Formulated with charcoal and lecithin, this mask for oily skin acts as a magnet to capture deep-set impurities and toxins and removes dirt and excess oil by scrubbing off dead skin cells and clearing out clogged pores. Charcoal attracts dirt, toxins, heavy metals, and other chemicals, pulling them from pores, while lecithin helps retain moisture and provides the skin with nourishment. The result is a smooth, even-toned complexion that is supple and luminous. This charcoal clay mask for oily skin also helps fight acne and breakouts, making it ideal for those with sensitive skin.
Pros
Suitable for all skin types
Free of parabens and sulfates
BHT-free and talc-free
Non-GMO
Cruelty-free.
Cons
Some might find that this product leaves a bit of residue.
This face mask for oily skin combines the gentle, magnetic effects of bamboo charcoal, bentonite clay, and kaolin clay to draw out the deepest impurities for skin that is clean and refreshed. Coconut sourced caprylic acid provides gentle moisturizing and conditioning, while the antioxidant spice cardamom assists with skin allergies and improves complexion. Vitamin C and pumpkin enzyme help reduce irritation while providing the building blocks for healthy collagen production. The impressive list of ingredients also includes the ginseng green tea complex, which soothes inflammation, boosts blood circulation, and naturally tones the skin.
Pros
Gentle, natural scent
Free of parabens, toxins, chemicals, and sulfates
Effective against psoriasis, eczema, and acne
Dermatologist-tested
Fair-trade and sustainable ingredients
Vegan and cruelty-free.
Cons
Might not be suitable for dry skin.
Formulated with organic ingredients, this mask cleanses pores, calms skin, and repairs damage from blemishes and scarring. Infused with skin-loving ingredients like turmeric, aloe vera, desert lime, and Kakadu plum extract, this soothing mask helps to calm, heal, and revitalize skin for a healthy, happy glow. This natural mask for oily skin also stimulates collagen production to help improve skin tone, reducing dark spots and hyperpigmentation. Stain-free and formulated to work with all skin types, this mask is ready to use out of the box.
Pros
Made with ethically sourced organic ingredients
Suitable for all skin types
Free of allergens and gluten
Free of parabens and phthalates
Vegan, PETA certified, and cruelty-free.
Cons
Might not be suitable for sensitive skin types.
Formulated with kaolin clay, this pore-minimizing face mask removes excess sebum, dirt, and impurities for a brighter, more luminous complexion. Non-comedogenic and oil-free, this multitasking face mask is suitable for sensitive and acne-prone skin. The ready-to-use mask can be applied 1-2 times a week for skin that feels clean and has a matte finish. Allergy-tested for safety, this clay mask is recommended by dermatologists for all skin types and gives fast, visible results. This product also contains hyaluronic acid, which provides gentle moisture and hydration to the skin and helps avoid drying out the skin.
Pros
Oil-free and non-comedogenic
Allergy-tested and dermatologist-tested
Free of parabens
Suitable for all skin types.
Cons
Contains added fragrance.
This organic mask is made of ghassoul clay, which helps to deep clean, detoxify, tone, and rejuvenate the face and body. Ghassoul is a mineral-rich, light brown clay that blends extremely well with water allowing easy application. It helps to promote a buttery soft, smooth, and toned complexion by helping draw unwanted blackheads and impurities that block pores to leave unmatched clean, and detoxed skin. This pore-minimizing clay mask regenerates the skin by removing dead and dry skin cells that accumulate over time and tighten the pores. Hypoallergenic and recommended for all skin types, this clay mask for an oily face is rich in silica, calcium, magnesium, and potassium, helping promote collagen for improved skin elasticity.
Pros
Formulated with 100% pure and organic ghassoul clay
Contains no additives
Suitable for all skin types
Hypoallergenic formula.
Cons
Might not be suitable for dry skin.
Designed for a gentle, yet deep cleanse without drying or irritating the skin, this mask is formulated with kaolin clay, activated bamboo charcoal, organic rosehip oil, and vitamin C. Kaolin clay absorbs impurities and excess oil to help purify delicate skin affected by daily pollutants, while vitamin C brightens skin tone and minimizes the appearance of fine lines for a radiant complexion. It contains organic rosehip oil which contains powerful essential fatty acids to improve skin hydration and elasticity, and organic chamomile which provides antioxidant and antibacterial benefits to soothe and moisturize the skin. Designed for sensitive skin, this product provides luxurious deep cleanse and exfoliating 2-in-1 treatment.
Pros
Contains organic and natural ingredients
Free of parabens
Hypoallergenic formula
Cruelty-free.
Cons
Some might find the scent of this product a bit overpowering.
This clay mask for oily skin is made of 100% natural kaolin clay to minimize pores and leave skin feeling hydrated and moisturized. With a fragrant rose scent, this mask contains all-natural ingredients like pink Australian clay which pulls toxins from deep within the skin, leaving pores tight, and aloe vera which soothes skin and calms inflammation. Pomegranate aids in reducing breakouts and helps fade acne scars, while witch hazel works to tone skin, tighten pores, and promote faster healing. Suitable for use twice weekly, this pink clay mask leaves skin feeling soft and looking bright.
Pros
Contains all-natural ingredients
Fragrant rose scent
Safe for sensitive skin
Cruelty-free and vegan.
Cons
Might not be suitable for combination skin.
Now that we have looked at our pick of the top 13 best clay masks for oily skin in 2022, let us review some things to consider when picking a clay mask best suited for your unique requirements.
How To Choose A Clay Mask For Oily Skin
Oily skin requires a clay mask designed specially for the purpose of drawing out sebum and impurities from the pores without over-drying the skin. The best clay masks for oily skin contain natural and pure ingredients that are non-comedogenic and don't inhibit hydration. These include kaolin or bentonite clay, which works by drawing out impurities; activated charcoal, which deep cleans; and salicylic, glycolic, and lactic acids, which help exfoliate the skin to reveal a fresher and brighter complexion.
Benefits Of Using A Clay Mask On Oily Skin
If you have naturally oily, acne-prone skin, applying a clay mask once or twice a week is beneficial in keeping your pores squeaky clean. How clay masks work is by pulling out dirt, oil, and impurities deep from the pores making it easy to be washed off the skin. The best clay masks for oily skin will not only reduce shiny grease from the surface but will also leave your skin feeling nourished, hydrated, and rejuvenated. Look for natural ingredients like bentonite clay, kaolin clay, and activated charcoal, which benefit oily and sensitive skin by deeply cleansing, exfoliating, and hydrating skin.
Clay masks are an excellent weekly addition to your skincare regime if you have skin that is prone to acne, breakouts and that best avoided greasy feeling. Whether they are ready to use or in powder form, these little pots of magic do wonders to your sebum filled pores and give you the fresh, rejuvenated look you so desire. Best used once or twice a week, clay masks are an essential part of your skincare routine if your skin is sensitive and oily. With a myriad of options available in the market, let our list of the top 13 best clay masks for oily skin in 2022 be your starting guide to skin that is cleansed and hydrated.
Why Trust StyleCraze?
The author of this post, Vaishnavi Kothuri, has a keen interest in skin care and always loves to explore and review skin care products. After extensive research and reading many online consumer reviews, she has put together the list of clay masks for oily skin. These masks absorb the excess sebum and leave skin with a refreshed look.
Frequently Asked Questions
Are clay masks good for oily skin?
Clay masks are especially good for oily skin as they draw out impurities, oil, and dirt from the pores and deeply cleanse the skin while retaining moisture and hydration. If you are prone to oily and acne-prone skin, adding a clay mask once or twice a week to your skincare regime will greatly benefit your skin. Pick a good natural face mask to reduce pores, brighten skin, and improve skin texture.
Do clay masks cause pimples?
Clay masks work by detoxifying your skin and bringing out all impurities to the surface. This may cause pimples temporarily while your skin is purging itself of all toxins, dirt, and oil. However, a breakout or rash could signify a reaction to the product, in which case you should discontinue use. The best face masks for acne include ingredients like salicylic acid, tea tree oil, and sulfur, which have antibacterial properties.
Is it okay to use clay masks every day?
Clay masks are very efficient at purifying the skin and drawing out oil and impurities from deep within the pores. Overuse of clay masks might excessively dry out the skin and strip the skin of essential and natural oils. It is best not to use clay masks more than 2-3 times a week, depending on how oily your skin is.
Can clay masks remove blackheads?
Blackheads are formed when pores become clogged with a combination of dead skin cells and excess oil and most commonly form on the T-zone. Clay masks containing sulfur are efficient at removing blackheads, as sulfur is an ingredient that helps break down the dead skin cells that make up blackheads. For best results, use a clay mask once or twice weekly along with an exfoliating treatment.
Recommended Articles