10 Best Clay Face Masks For All Skin Types And Budgets – 2023
Deep cleanse your pores and control excess oil with these incredible & soothing masks.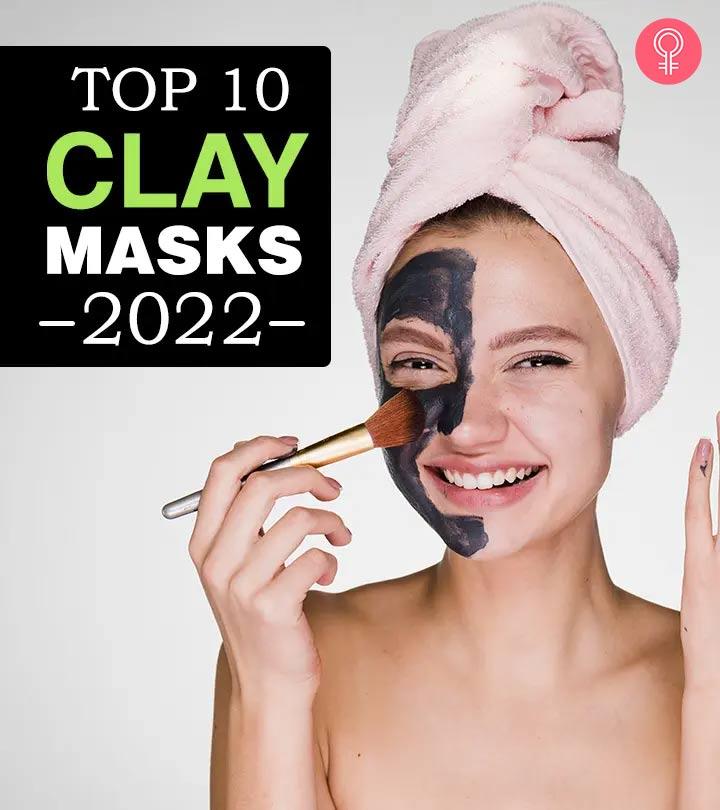 All types of skin are susceptible to blackheads and clogged pores. But, there is one solution – clay masks! If you are on the lookout for the best clay masks, we can help out. Applying clay masks is a great way to tackle all skin problems cost-effectively, naturally, and without making a huge fuss about it. Getting healthy and glowing skin was never this easy.
However, there are many clay masks to choose from. That can pose a challenge if you don't know which one is good for you. Don't worry. Check out this list of the best clay masks you can buy online. Read on to make an informed decision!
10 Best Clay Face Masks To Buy In 2023
The Aztec Secret Indian Healing Clay is made of bentonite clay that is arguably one of the best clays for your skin. This clay is mild yet deeply detoxifying and works wonders for most types of skin.
It offers a spa-like experience and works great for facials, clay baths, foot soaks, body wraps, and even insect bites. Mix this powder with apple cider vinegar in a ratio of 1:1 for best results.
It unclogs pores and treats all forms of breakouts. This makes the skin cleaner and clearer. The clay mask is free of additives or added artificial fragrances.
Note: Do a forearm patch test before using it on your face. This is to test for any allergies. Also, make sure not to leave the clay mask for more than 5-10 minutes on sensitive skin. Go ahead and check out this YouTuber's video for more details about the reviewer's experience with the product. Numerous reviewers on e-commerce websites have shared their experiences, all pointing to the outstanding visible results produced after testing this product.
Pros
Contains 100% natural calcium bentonite clay
Deep cleans the skin
Unclogs and tightens pores
No additives
Cons
You have to mix it up manually.
The L'Oreal Paris Skincare Pure-Clay Face Mask contains three different types of clay – Moroccan lava clay, kaolin clay, and montmorillonite clay. The mask also contains charcoal that unclogs pores by absorbing the impurities lodged in them.
The highly creamy texture of the clay mask moisturizes your skin and leaves it soft and smooth. It also evens out skin tone for a clear complexion. The creamy formula of the mask means it does not dry out your skin, as opposed to a traditional clay mask.
You can use the mask three times per week, leaving it on for 10 to 15 minutes for every use.
Pros
Hydrates skin
Balances skin tone
Unclogs and minimizes pores
Soothes the skin
Does not over-dry the skin
Cons
May cause irritation in sensitive skin types.
The Differin Detox and Soothe 2-Step treatment Mask combines kaolin clay, hectorite, and hotflux that removes excess oil, draws out pollutants, and purifies the skin. The soothing, cooling dermatologist-tested gel contains blue tansy oil and allantoin that reduce the appearance of redness and pores while also improving the skin's ability to retain moisture. This treatment cleanses, relaxes, and soothes the skin without removing its natural moisture. Treat yourself with this oil-absorbing mask up to three times a week to minimize blemishes, redness, and the appearance of pores.
Pros
Paraben-free
Non-comedogenic
Dermatologist-tested
Easy to use
Suitable for overnight treatment
Cons
None

The FREEMAN Face Mask Exotic Blends includes a clay peel-off mask, a deep-cleaning peel-off mask, a hydrating jelly mask, and a silicone application brush. The masks target specific skincare concerns, such as pore cleansing, deep cleaning, and hydration. The set comes with a silicone brush for easy and hygienic application. The potent ingredients in the dermatologist-tested formula, like seaberry, aloe vera, French pink clay, and Hawaiian black salt, help improve elasticity, soothe and repair dry skin, purify and close pores, and exfoliate the skin.
Pros
Cruelty-free
Natural Ingredients
Paraben-free
Sulfate-free
Silicone-free
Phthalate-free
Mineral-oil free
Cons
None
The Charlotte Tilbury Goddess Skin Clay Mask is one of the many makeup products established by Charlotte Tilbury, a celebrity make-up artist. The chief ingredient of the product is Spanish clay. It naturally absorbs all excess oil without drying the skin out. This clay mask promotes skin detox and nourishes and plumps up the skin.
The clay also contains rosehip oil that hydrates the skin, and frangipani flower extract that calms the skin and leaves behind a pleasant floral smell. Tilbury has a patented peptide complex that increases the skin's elasticity and provides a healthy glow. The mask has a serious fan following, which includes celebrities like Gigi Hadid.
Pros
Hydrates the skin
Leaves the skin glowing
Plumps up the skin
Detoxifies and purifies the skin
Unclogs and tightens pores
Cons
The AHAVA Purifying Dead Sea Mud Mask makes use of Dead Sea mud, which is known for its high levels of minerals. It comes as a tiny carry-on tube and helps fight breakouts.
This Dead Sea mud mask also contains kaolin clay, which is a type of white clay that is the mildest of all clays. The acne-fighting mask does not dry your skin out. Hence, people with dry skin and congested pores can find this product useful. The mask is bundled with vitamin B and chamomile that soothe and soften your skin. The product works great for dry and sensitive skin types.
Pros
Does not dry skin out
Treats and prevents acne breakouts
Unclogs, tightens, and minimizes pores
Paraben-free
Phthalate-free
SLS-free
Cruelty-free
Free of allergens and GMO
Cons
The smell might not be appealing to some people.
Less quantity for the price.
The Majestic Pure Moroccan Red Clay Facial Mud Mask is specifically meant for dull and acne-prone skin. Moroccan red clay mud is known for its high content of minerals and vitamins that remove skin impurities without being harsh. It helps unclog pores and cleanses them for optimal skin renewal.
Be careful about any possible allergies. Do a patch test on your elbow before applying it to your face. Pregnant women are suggested to use this product only after consulting their health care provider. Also, several reviews on different e-commerce websites have showcased the great visible results attained after testing this product.
Pros
Works well for dull, acne-prone, and sensitive skin
Deep cleanses pores
Revitalizes the skin
Cons
May cause rashes on irritable skin.
The LEROSETT Spot Treatment & Clearing Mask is a unique clay skin care treatment that offers a range of benefits, including stopping pimples overnight, removing blackheads, decreasing sebum production, reducing pore size, and addressing congested skin, among others. This expert-recommended organic clay mixture can be used as a deep cleanser, spot treatment, or face mask to detoxify, remove blockages, reduce pores, refine complexion, soothe congested skin, and clear pimples and blackheads quickly. The clinically-proven clay undergoes an innovative micronization process that allows it to penetrate pores more deeply and remove all traces of dirt. You can use this clay mask for all skin types as often as you like to reveal softer, smoother skin.
Pros
Clean Ingredients
Professional-grade formula
Cruelty-free
Adaptogenic
Vegan
Paraben-free
Oil-free
Benzoyl peroxide-free
Sulfur-free
Dye-free
Alcohol-free
Silicon-free
Petroleum free
Phthalate-free
Suitable for all skin types
Clinically-proven
Cons
None
The Innisfree Super Volcanic Pore Clay Mask is enriched with volcanic ash (super volcanic cluster capsules) and is particularly suitable for oily skin. It has exfoliating properties that tightens skin pores. The pore-minimizing mask also offers deep cleansing. It leaves behind a cooling sensation that refreshes the skin.
Pros
Controls oil
A pleasant aroma that doesn't irritate the skin
Minimizes skin pore size
Cons
Very less quantity
May not be useful for dry skin
May cause breakouts in some people
The bareMinerals Dirty Detox Skin Glowing And Refining Mud Mask contains four clays that are rich in minerals, along with charcoal and papaya enzyme. This revitalizing and detoxifying mask helps make your skin smooth and vibrant.
The charcoal in the mask draws out deep-seated impurities, and the papaya enzyme helps with gentle exfoliation. Tiny notes of naturally-derived bergamot and eucalyptus add to a pleasant aroma.
Pros
Removes oil
Unclogs pores
Exfoliates and removes impurities
Smells nice
Cons
May cause breakouts.
Mask may dry out and turn clumpy with time.
A clay mask is one of the most effective treatments for several skin concerns. It thoroughly cleanses pores by sucking out impurities and brightens up your skin. From dry to oily skin – there is one to suit all routines and budgets. Scroll down to read about what you should look for in the best clay mask.
How To Choose The Best Clay Mask For All Skin Types?
Skin Concerns: Identify your skin issues. Then invest in a clay mask that meets your skin's needs-
White Clay: White clay is suitable for mature skin. It gently pulls out impurities from under the skin's surface and shrinks pores. Use it for softening and clarifying the skin.

Green Clay: It soaks up excess sebum that clogs pores and prevents acne. It also stimulates cell regeneration, leaving you with a glowing skin.
Pink Clay: It is rich in silica, which promotes skin elasticity and cell renewal to deliver younger-looking skin. It also reduces inflammation and irritation.
Bentonite Clay: Reach for it if you want one that eliminates excess oils and toxins. This clay helps to restore and replenish mineral and vitamin levels in your skin to boost radiance.
Must-Have Ingredients: Pick clay masks containing glycerine, hyaluronic acid, and botanicals that help soothe and restore the skin barrier. Other active ingredients to look out for are lactic acid, glycolic acid, vitamin C, salicylic acid, charcoal, aloe vera, niacinamide, and ceramides. They replenish your skin and enhance its overall appearance.
Ingredients To Avoid: Steer clear of mud masks containing harsh irritants like parabens, phthalates, SLS, GMO, and synthetic dyes. They trigger the sensitivity of your skin and cause redness.
Fragrance: Opt for fragrance-free clay masks or one with a mild fragrance to avoid nausea. Steer clear of formulas containing synthetic fragrances to avoid allergic reactions.
Dermatologist-Recommended: If you have sensitive skin, don't forget to perform patch test and choose masks that are dermatologist-tested to avoid skin havoc. Additionally, pick allergy-tested masks for optimum safety.
Why Trust StyleCraze?
Sakshi Bahal, the author of this article, is a skincare enthusiast. She understands the struggles of maintaining healthy skin and has gone through hundreds of reviews on trusted online forums to curate this list of top clay face masks suitable for all skin types. The products included in the list deep cleanse your pores and keep your skin hydrated and healthy.
Frequently Asked Questions
How often should I use a clay mask?
It is advised to use a clay mask once or twice a week. Once you see lasting results, the usage frequency can be reduced. However, excess usage may cause the skin to dry out.
How long should you leave the clay mask on your face?
This depends on the product and the thickness of the paste applied to your face. Generally, you can leave the mask on your face for about 10 to 15 minutes before washing it away.
Is a clay mask good for sunburn?
Yes, clay masks can be beneficial for treating sunburn. Use them to soothe and hydrate the skin effectively.
Are clay masks good for rosacea?
As clay masks are beneficial for skin pores, they will also be effective for treating and healing skin conditions like rosacea.
Can I use a clay mask after dermaplaning?
No, clay masks can be a tad bit abrasive on the skin. It is best not to use it after dermaplaning when the skin is already more sensitive than usual.
Can you leave a clay mask on overnight?
No, do not leave a clay mask on overnight; it can leave your face dry and rough.
How long does it take to see results from clay masks?
It takes around 2-3 weeks to see noticeable changes in your skin after using a clay mask.
How do you use and remove a clay mask?
• Clean your face thoroughly.
• Apply the clay mask evenly on your face.
• Leave the mask on for 15 minutes.
• Rinse your mask with warm water.
• Pat dry your face.
• Apply a moisturizer.
Recommended Articles