18 Best Clean Beauty Products For Women (No Harsh Chemicals)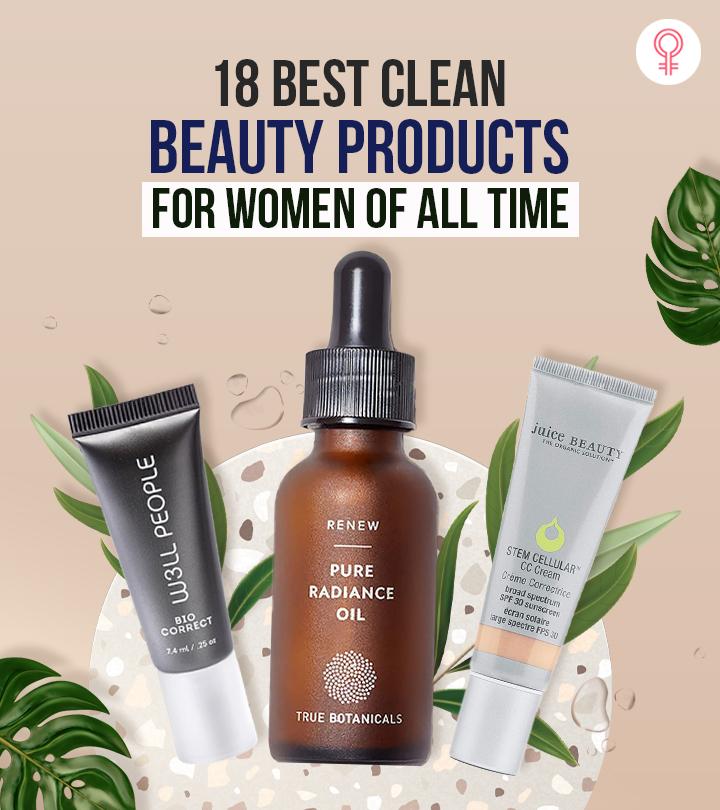 Nowadays, most skin care products contain chemicals like parabens, sulfates, silicones, phthalates that irritate the skin, leaving it red and bumpy. To save yourself from that pain, switch to using the best clean beauty products. These products contain natural ingredients that keep your skin hydrated, healthy, and glowing, making them a worthy investment of your time and money. To honor your skin, take a look at our list of the best clean beauty products available online. If you haven't tried them yet, go check them out right now!
What Are Clean Beauty Products?
Clean beauty or non-toxic beauty products imply makeup, skin care, and hair care products that do not contain any fillers, chemical contents, preservatives, or added synthetic dyes that can cause harmful reactions. Contrary to popular misconceptions, clean beauty does not imply only organic and natural ingredients. Instead, it simply means products with ingredients that do not adversely affect the skin and brands that are 100% transparent about their contents.
Clean beauty products have many advantages as compared to regular beauty products. Keep reading for a few important reasons why investing in a clean beauty line is worth it.
Advantages Of Using Clean Beauty Products
Using clean beauty products
Ensure the ingredients used are 100% safe.
Do not use irritants that may affect sensitive skin or aggravate conditions like rosacea, psoriasis, eczema, or dermatitis.
Do not contain cancer-causing agents or carcinogens.
Do not contain endocrine disruptors (ingredients that can aggravate infertility or hormonal imbalances)
Decrease amount of daily chemical exposure.
Enhance your immunity by keeping your skin healthy.
Let us explore the 18 best clean beauty products available online. Keep scrolling to know more!
18 Best Clean Beauty Products
This luscious plant-based body oil from Jao is enriched with a unique composition of juicy fruit butter and calming flower extracts. This 100% pure formula soaks up effectively into your skin and adds a glossy finish. The composition of essential fatty acids from hemp, rice bran, meadowfoam, and rosehip oils strengthens and protects the skin from environmental aggressors. The melty butter of mango, grapeseed, avocado, and pumpkin seed provides your skin with an efficient dose of vitamin A, B, E, C, G, and beta carotene. The calming and soothing duo of calendula and chamomile keeps skin irritations and redness at bay. Take a look at this video to learn more about the product.
Key Ingredients: Rosehip, Hemp, Meadowfoam, and Rice Bran oils, Avocado, Grapeseed, Mango, and Pumpkin seed butters, Kukuinut, Chamomile, and Calendula extracts
Pros
Long-lasting
Non-irritating
Absorbs quickly
Floral fragrance
Cons
The Resurfacing Mask by TATA HARPER is a 100% all-natural mask with a unique combination of 18 active botanical extracts to restore dull and damaged skin. It refines enlarged pores while smoothening and softening skin texture. The BHA from white willow bark and pomegranate enzyme give you a rejuvenated complexion. Ingredients like rice extracts, aloe vera juice, and white clay provide prolonged hydration and a soothing feel. Watch this YouTuber's honest review to get a better idea about the product and its features.
Key Ingredients: Beetroot extract, Pomegranate, Aloe vera juice, White clay, and Willow bark extract
Pros
All-natural ingredients
Vegan
Cruelty-free
Non-irritating
Fillers-free
Artificial colors-free
Fragrance-free
Cons
This best-selling PURE RADIANCE OIL by TRUE BOTANICALS seeps deep into your skin and delivers nutrients and nourishment for an instant glow. It addresses skin issues and damages and targets signs of premature aging like fine lines, wrinkles, hyperpigmentation, and dark spots. This luxurious oil rehydrates your dull and dry skin, resurfaces your skin's texture, and keeps your skin plump. The natural scent of jasmine, neroli, and rose rejuvenate your senses. The fatty acid-rich algae and fruit seed oils control excess sebum, condition your skin, and improve your skin's barrier function. This video will give you a better insight into the product.
Key Ingredients: Chia seed, Kiwi seed, Passion fruit, and Papaya seed oils, Algae extract, and Astaxanthin
Pros
Lightweight
Clinically-proven
Phthalate-free
Carcinogen-free
Synthetic fragrance-free
Cruelty-free
Sulfate-free
Silicone-free
Cons
Treat your skin to an all-natural detox with the BEAUTY COUNTER Charcoal Cleansing Bar. It gently cleanses your skin and eliminates dead skin cells, impurities, and excess sebum. This soap offers a clearer and healthy-looking complexion with super soft skin. It contains green tea extract and coconut oil, which have antioxidants and anti-inflammatory properties, and targets acne-causing bacteria.
Key Ingredients: Charcoal powder, Green tea leaf extract, Safflower seed oil, Witch hazel water, and Coconut oil
Pros
All-natural ingredients
Anti-acne
Gentle
Paraben-free
Phthalates-free
Non-drying
Cons
Lipfuel by Kosasport is fortified with hyaluronic acid that rehydrates your lips and keeps them plumped for a prolonged period. It also protects your lips from harmful UV rays and environmental aggressions that can lead to hyperpigmentation. This chapstick leaves a subtle natural tint that enhances your lips and a cool and refreshing minty scent that revitalizes your senses. The vitamin E in the product protects your lips from free-radical damage.
Key Ingredients: Vitamin E, Mint, and Hyaluronic acid
Pros
Cons
Unleash a splash of hydration with this hyaluronic acid-infused serum by VERSED. Hyaluronic acid has the potency of holding up to 1000 times its weight in water. Thus, it absorbs deep into your skin and holds in moisture, leaving your skin refreshed and plumped all day. This pure formulation does not contain any harsh fillers or toxic ingredients that can be fatal for your skin.
Key Ingredient: Hyaluronic acid
Pros
Vegan
Cruelty-free
Paraben-free
Cons
Dr. BARBARA STURMCLEANSER eliminates pollutants, dead skin, makeup residue, and impurities with ease. This hydrating cleanser does not strip your skin of its natural moisture and seals in hydration instead. It also ensures effective absorption of other skincare products like toners and moisturizers. The natural plant extracts like aloe vera juice add a splash of rejuvenation while purslane soothes and calms your skin. It is pH balanced to eliminate excess sebum production and acne triggers.
Key Ingredients: Aloe vera and Purslane
Pros
Gentle
Non-drying
pH-balanced
Absorbs quickly
Paraben-free
Mineral oil-free
Sulfate-free
Anti-aging
Soothing
Silky foam
Cons
The deep nourishing luxe cream by codex BEAUTY is a superfood-infused moisturizer. It is multifunctional and ideal for your face, hands, and body. The unique BioComplex formulation ensures a 24-hour moisturization and prolonged skin protection. The rejuvenating marshmallow and immortelle extracts rehydrate and revive dry and flaky skin. This product also alleviates psoriasis, dermatitis, and rosacea. It is clinically proven to visibly tone your skin up to 97% with regular use and has a delicate herbal scent that uplifts your senses.
Key Ingredients: Immortelle, Marshmellow, and Biocomplex formula.
Pros
Vegan
Lightweight
Absorbs quickly
Non-greasy
Soothing
Smells good
Cons
Say goodbye to cakey lashes and chemical infused formulations with this 99% natural mascara by ILIA. This unique formulation adds the right amount of volume and makes your lashes look fuller, healthy, and lengthened. This product contains a blend of beeswax and carnauba wax that conditions your lashes. It gives them a little lift, prevents clumping, and ensures easy removal. This plant butter-enriched mascara is gentle and works wonders on sensitive skin.
Key Ingredients: Beeswax and Carnuba
Pros
Gentle
Lightweight
Flake-free
Buildable
Non-irritating
Volumizing
Cruelty-free
Cons
May flake off after a while
The juice BEAUTY STEM CELLULAR is fortified with organic plant juices and antioxidant-rich ingredients. It comes in 7 different shades like beach glow, deep glow, dessert glow, natural glow, rosy glow, and sun-kissed glow. The12-in-1, multi-tasking color-correcting cream comes with broad-spectrum SPF 30 sun protection. Its age-defying properties eliminate dark circles, smoothes fine lines, eliminate wrinkles, and brighten your skin. The aloe juice, coconut oil, and grapefruit extracts in the formula eliminate uneven skin tone and leave your skin fresh and glowing. The mineral-tinted formula sits on your skin and blends effortlessly. The AHA acids from apple juice and malic acid provide hydration while exfoliating your skin for a better complexion.
Key Ingredients: Apple juice, Aloe vera, Coconut oil, and Grapefruit extracts
Pros
Non-comedogenic
Lightweight
Doesn't crease
Non-drying
Long-lasting
Melts easily
Great coverage
Filler-free
Cons
This minimalist lip-tint collection from the Swedish company HENNE ORGANICS combines lush shades and pure ingredients. This delicate lip tint gives a natural look with a sheer finish. The plant-based fatty acid-rich oils of avocado, jojoba seed, castor, and coconut give your lips a rush of moisture. The smooth and satiny texture glides across your lips and gives them an elegant look. The vitamin E in this lip tint prevents free radical damage. This handmade formula softens and hydrates your lips.
Key Ingredients: Coconut oil, Castor seed oil, Jojoba seed oil, Vitamin E, and Beeswax
Pros
Long-lasting
Non-drying
Subtle color
Gentle
Soothing
Cruelty-free
Cons
The Luminizer by rms beauty is a highlighter that does not sit on your skin or spread into a patch of glitter. It melts into your skin for a subtle yet natural glow. The plant-based formula is enriched with organic oils like castor and coconut oils that provide all-round nourishment. Just a dab of the product on your cheekbones, nose bridge, below your brows, and your inner eye corners elevates your face aesthetically. This highlighter line comes in six different shades like living, gold, champagne rose, magic, and peach.
Key Ingredients: Vitamin E, Castor seed, and Coconut oils
Pros
Soy-free
Cruelty-free
GMO-free
Natural finish
Blends easily
Dewy finish
Travel-friendly
Compact packaging
Cons
May leave a sticky feeling
The plant-based concealer by W3LL People is enriched with the goodness of seaweed extracts, coffee, aloe vera, and coconut oil to conceal and nourish your skin. It comes in shades like fair, ivory, dark, medium, light, and medium-dark to suit every skin tone. The mousse-like concealer spreads evenly to conceal spots, pigmentation, open pores, dark circles, and discoloration with a single swipe. It sets evenly onto your skin, leaving a sheer matte and dewy finish. The soothing chamomile and calendula extracts suit sensitive skin and alleviate psoriasis or dermatitis. It depuffs your skin and gives you a flawless finish that stays all day without any creasing or budging.
Key Ingredients: Organic algae, Coffee, Pomegranate, and Peptides
Pros
Lightweight
Doesn't crease
Non-drying
Long-lasting
Non-irritating
Great coverage
Cons
Add a little drama to your eyes with this super pigmented kohl liner, created by the celebrity makeup artist Jillian Dempsey. This ultra-pigmented liner blends easily in a single stroke. It comes with a blender that allows you to create an elegant smoky effect. This liner is infused with natural ingredients like marula oil, organic shea butter, and jojoba oil for extra nourishment. The waterproof liner range comes in 4 different shades black sapphire, rich brown, jet black, and deep burgundy.
Key Ingredient: Marula and Jojoba oils, Shea butter, Canola, Avocado, and Olive oils
Pros
Hypoallergenic
Non-irritating
Highly pigmented
Easy to blend
Cruelty-free
Comes in a variety of shades
Cons
This lip and cheek balm by OLIO-E-OSSO adds just the right amount of blush of color to your face for the perfect clean look. It blends effortlessly and is packed with nourishing ingredients like olive oil, shea butter, and grapefruit peel extracts that provide optimal hydration and protection. The balm sets into a sheer finish with a subtle glow and is ideal for daily wear.
Key Ingredients: Olive oil, Shea butter, Grapefruit peel extracts
Pros
Lightweight
Paraben-free
Sulfate-free
Cruelty-free
Natural blush finish
Soothing
Cons
The Take Off Polish Remover by côte has an acetone-free formula that gently wipes your nail polish stains without drying, unlike traditional nail polish removers. It leaves your nail super-clean without any chalky settlements. This polish remover has an enchanting sweet wild rose scent.
Key Ingredients: Wild Sea Rose
Pros
Gentle
Acetone-free
Smells great
Cons
Replenish your dry and damaged hair with this lush and creamy HYDRATION SHAMPOO by rahua. It adds moisture to your hair, smooths hair cuticles, eliminates frizz, and leaves your hair super shiny and full. The plant-powered formula comes with premium oils from the Amazon that nourish every single strand. The sweet and tropical aroma of juicy mangoes and citrusy passion fruit keeps your scalp hydrated through out the day. Regular usage of this shampoo makes your hair smoother, stronger, and glossier.
Key Ingredients: Hydration complex, Mango, and Passion fruit extracts
Pros
Anti-frizz
Pleasant fragrance
Cleanses well
Eliminates static flyaways
Adds a healthy shine
Cons
This high-performing hair conditioner from Frédéric Fekkai gives salon-style tameable hair at the comfort of your home. This conditioner is enriched with Norwegian sea extracts and active ingredients to rehydrate your strands. It also reverses hair concerns and protects your hair from further hair damage caused by UV and pollution.
Key Ingredients: Norwegian sea extracts
Pros
Lightweight
Paraben-free
Sulfate-free
Anti-frizz
Cons
Why Trust StyleCraze?
Shiboli Chakraborti, the author of this article, is a certified skin care coach who loves experimenting with different skin care products. After carefully researching and browsing through online reviews, she has curated a list of the best clean and non-toxic beauty products for women. These products contain natural ingredients that keep your skin hydrated, healthy, and glowing, making them a worthy investment of your time and money.
Recommended Articles