11 Best Clean Perfume Brands That Are Natural & Organic – 2023
Create your first impression a lasting one with these great smelling fragrances!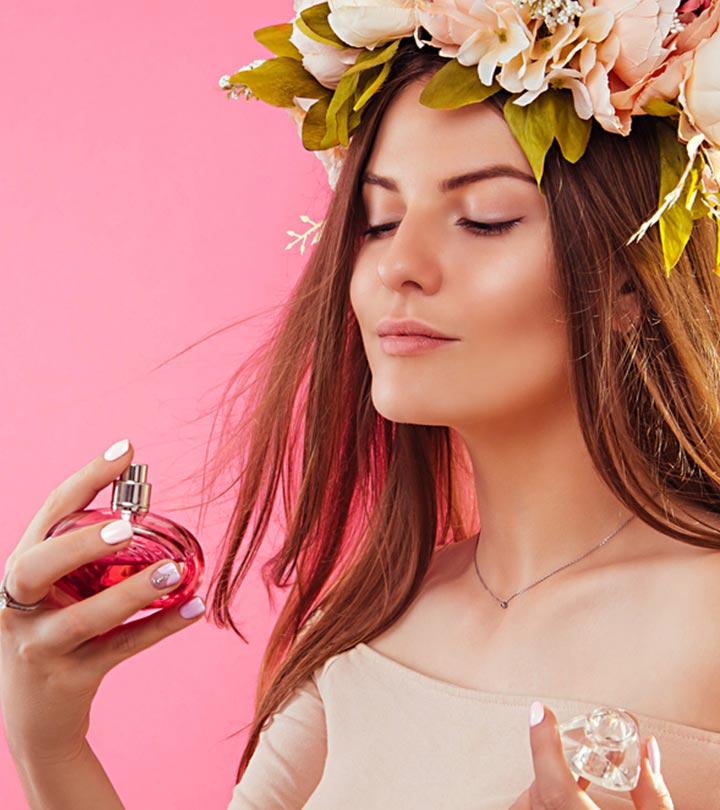 You don't need heavy chemicals and alcohol bases in perfumes to get a great sillage. Sillage refers to the lingering scent that a person leaves behind as they move and the best clean perfume can deliver it perfectly well. Perfumes, as they create imagery through the sense of smell, can instantly draw attention. It can also do wonders for your mood and confidence, so you should always consider investing in the best that you can get! If you want to be a part of the clean revolution, you should ideally aim for clean perfumes as the chemicals and alcohol in regular perfumes may irritate your skin, especially if you happen to have sensitive skin. We have gathered some of the most well-reviewed clean perfumes on the market right now so that you can explore your options at ease!
What Are Clean Perfumes?
A clean or non-toxic fragrance is formulated to keep you smelling delicious while also being kind to your skin. Unlike traditional perfumes, they are formulated with ingredients that won't irritate your skin or cause flare-ups. A host of natural ingredients that go into making clean perfumes are plant-based, organic, and natural such as flower extracts and essential oils. Natural perfumes also steer clear from harmful parabens, phthalates, sulfates, and no synthetic fragrances and chemicals. Additionally, they're also cruelty-free and vegan. A good clean perfume is not only good for you, but also for the environment. Let's take a look at the 11 best clean perfumes in 2023, shall we?
11 Best Clean Perfumes Of 2023 To Keep You Smelling Like A Dream
A whiff of this clean fragrance will help you detect an elegant blend of rose, white lily, ylang ylang, and white freesia resting on notes of warm musk, sandalwood, and crushed moss. A hint of sea grass and fresh ocean air lingers on top, making this a floral clean perfume hybrid with aquatic scents. Perfect for day or night, Mixologie's natural clean breathable perfume leaves behind a subtle fragrance that isn't overpowering on your senses. Apply this oil-based floral delicate scent roller to your wrists and neck and we're sure this alcohol-free clean scent will evoke memories of light-hearted summers spent at the beach with your loved ones by your side.
Pros
Paraben-free
Travel-friendly size
Phthalate-free
Long-lasting scent
Scent isn't overpowering
Cruelty-free
Cons
Some may find it slightly oily
Vanilla is a classic scent that keeps you coming back for more. That's why LAVANILA's clean-smelling perfume is already a winner in our books. With the presence of pure Madagascar vanilla, creamy tonka bean, and a soft heliotrope blend, it will remind you of all the times you spent being one with nature. This non-sensitizing handcrafted clean scent perfume infuses organic cane sugar alcohol with botanical extracts and essential oils like olive leaf and chamomile to give you the ultimate pampered feeling. Spritz this fresh clean perfume before that first date or any important event to cast a promising first impression! Check out this video on YouTube to know more about a tester's experience with the product.
Pros
Vegan
Cruelty-free
Lasts a long time
Safe on sensitive skin
Free from parabens, phthalates and mineral oils
Cons
May only be best suited for mature women
If you're a lover of the simpler things in life, you must also be a fan of fresh sheets after a warm wash. A clean fresh laundry perfume inspired by lazy weekend mornings and breakfasts in bed, Fresh Linens by Clean Classic is a warm, comforting scent. With top notes of clean sheet accord, Asian pear and clementine along with middle notes that have nuances of rain lily, lady orchid, and blonde woods, the base notes are subtle with the fusion of skin musk, sandalwood, and smooth amber in this clean laundry perfume. Lounging around on Sundays just got more fragrant! Go ahead and check out this YouTuber's video for more details based on a reviewer's experience with the product.
Pros
Vegan
Non-irritating formula
Doesn't contain mineral oil or artificial dyes
Paraben-free
Phthalate-free
Gluten-free
Cons
The fragrance might not be long-lasting
For a clean skin perfume that's alluring and awakens your feminine energy, look no further than Good Chemistry's Queen Bee. With a balanced blend of amber, black currant, and peony, this is one of the best clean floral perfumes out there. For a woman that's bold and not afraid to speak her mind, this expertly crafted perfume will heighten your confidence to take on the world. With infused essential oils, this fresh and clean perfume feels like a warm summer's breeze on your skin.
Pros
Cruelty-free
Subtle yet empowering scent
Free from artificial dyes and phthalates
Vegan
Doesn't contain parabens or propylene glycol
Cons
May not be best suited for winter
If you love gifting and receiving perfumes for birthdays or Christmas, PHLUR's Perfume Sample Set should be next on your hunt list! This clean perfume set contains 3 fragrances of which Hanami contains notes of ripe fig with warm white floral mixed with sandalwood and musk for a charming woody scent. And one of these clean perfume scents is Sandara, a strong earth-friendly fragrance for when you're in the mood for something cool and soothing. The timur pepper mixes with violet, warm cedar, and damp oakmoss for a woody original clean perfume. And a final star, Olmsted & Vaux is a classic citrus scent which contains notes of bergamot, sweet orange blossoms and earthy vetiver, which reminds us of a natural elegance and strengthens mind-body connection. According to Amazon reviews, the pretty package this clean fragrance set comes in makes it a perfect present for someone special or even yourself!
Pros
Made with non-toxic ingredients
Cruelty-free
Gender-neutral scents
Vegan
Free from parabens, phthalates and BHT
Hypoallergenic
Doesn't contain polycyclic or alicyclic musks or phenoxyethanol
Cons
Some may find the scent a little to musty for their liking
An airy scent is brought to you by the best light, clean-smelling perfume by LAKE & SKYE. With a musky blend of white ambers infused in organic sugar cane alcohol, this clean musk perfume is perfect for the spring months. According to reviewers, there is an ethereal and crisp vibe with this clean air perfume that will make you unforgettable after you leave any room. Just spritz some on your pulse points before starting your day and you're good to go!
Pros
Paraben-free
Vegan
Cruelty-free
Subtle, airy fragrance
Phthalate-free
Sulfate-free
Cons
Dare we say this is the best clean-smelling perfume? It contains key notes of nude musk and vanilla with a slight hint of sweet rose. A pinch of floral action with the musk makes for a beautiful, balanced woody and fresh scent, which evokes images of laying around in your cashmere jumpers on a cozy winter night. Wear this pleasant clean cashmere perfume with no artificial additives the next time you're huddled near the fireplace with a cup of hot chocolate for a light, sensuous feel. According to Amazon reviewers, this is one of the best modern scents that'll find a permanent place on your dresser!
Pros
Can be layered with other scents
Cruelty-free
Recyclable packaging
Free from parabens, phthalates and BHT
Vegan
Cons
May not be the best choice for summer
In our list of clean perfume reviews, we absolutely could not leave out the statement-making OUAI's fresh fragrance. Inspired by Bondi Beach in Sydney, Australia, this clean summer perfume is reminiscent of salty waters and energetic waves. With a subtle blend of rich floral notes and sheer white musk, the key notes in this fresh, clean-smelling perfume are those of bergamot, Italian lemon, rose de mai and violet. The beachy, floral and aquatic hybrid scent will transport you to all those times you spent kicking back with your friends at the beach. Reviewers have noted that the perfume is suitable for wearing for both day and night. This classic clean perfume will bring the sea to you as soon as you spritz some on yourself.
Pros
Recyclable glass bottle
Fragrance is light and subtle
Good staying power
Floran notes
Cons
Reacting beautifully with your body's natural chemistry, ZENTS' ORE gives out a soft and subtle scent. The potent potion in this glam bottle has a scent with notes of bay laurel, ylang ylang, clove, and black pepper to exude a spicy and sexy fragrance. When you spray a whiff of this, you're declaring that you're ready to own the night. The perfect scent layering to liven up, it is the perfect embodiment of living in the moment. It almost feels like this is what 'Carpe diem' must smell like. This just might become one of your favorite signature scents and can be used in aromatherapy as well! However, make sure to conduct a patch test before using the product.
Pros
Phthalate-free
Can be layered with other scents
Cruelty-free and vegan
Can be used on the body and hair
Gluten-free
Doesn't contain parabens, petroleum, dyes, sulfates, or palm oil
Cons
May not be suitable for day-time wear
This rich, luxury clean perfume will put you on your way to smelling and feeling like a million dollars! With key top notes of rose and pink pepper there is a nuanced blend of goji berries and some chypre-patchouli for an extravagant scent that's going to make you impossible to forget. Made with and bottled in everything pink, this floral magic potion is soon going to be your secret to having made a lasting impression, no matter where you go. Be ready to turn some heads and receive some compliments with this fresh clean scent perfume by the celebrity-endorsed Givenchy.
Pros
Subtle rose scent
Long lasting smell
Ideal for gifting
Wearable from day to night time
Cons
This clean linen perfume brings the comforting feeling of freshly-washed laundry drying out in the sun on a Sunday morning and adds to natural beauty. A perfect combination of citrusy and woody, this clean laundry perfume wears beautifully in the day and isn't harsh on your senses. Kaffir lime and lemon zests on the top notes followed by baby powder in the middle and African violet and jasmine resting on base notes of white musk makes this clean, warm cotton perfume seem almost nostalgic. We're sure the smells of childhood are very prominent in this roll-on, with the baby powder and the tangy lemonade on hot summer days. Make sure to conduct a patch test before applying the product consistently.
Pros
Travel-sized
Refreshing and subtle smell
Alcohol-free
Cruelty-free and vegan
Free from parabens and sulfates
Doesn't contain phthalates or mineral oils
Cons
Might need to be reapplied frequently
Now that we have looked at the best clean perfumes, let's dive into how you can choose the best one for yourself.
How To Choose The Best Clean Perfume
Formulated with high-quality ingredients that are non-toxic, clean fragrance brands use essential oils in their base. If you're sensitive to them, you might get a skin reaction. It is wise to check the label before making your purchase. Also make sure to confirm that a cosmetologist-approved clean perfume doesn't contain any parabens, sulfates, alcohols, or mineral oils as these can irritate the skin. Always keep an eye out for synthetic alternatives.
This is a matter of preference and convenience. Perfumes can come with a nozzle that sprays liquid, or they can come in a bottle with a roll-on applicator. The latter are perfect for traveling because of their compact size, but as they are directly applied on the skin, they might leave behind oil stains. Similarly, some people may find sprays to be a nuisance as there are dangers of the perfume spilling or being ingested.
A perfume is made up of a scent profile with top, middle, and base notes, so when you spray it, the scent evolves, or comes to be. As each layer of notes is established, it fades slightly to allow the next one to shine through and finally the notes combine to give you the overall fragrance. When you first catch a whiff, what you're smelling is the top notes and they're usually the lightest of the three, hence making them the first to fade. But they still play an important role, as they're what helps you make that first impression. Top notes are usually citrusy like lemon, fruity like berries, or made from herbs like lavender. After this initial layer fades off, you're introduced to middle notes, also called heart notes. They make up most of the fragrance, and they generally contain well-rounded scents like cinnamon, rose, lemongrass and neroli. Heart notes appear just when the top notes are starting to fade and they also have an impact on base notes. When base notes arrive, the top notes are completely evaporated, so the heart and base notes combine to make up the remaining fragrance. They're what stays behind and help make that lasting impression as they linger the longest. Ingredients that are rich and warm can usually be found in base notes such as vanilla, cedarwood and musk.
Choosing a dermatologist-tested perfume suited to a particular season helps set the tone for that time of year. For spring, think fresh and green by looking for fragrances that have orange blossom, basil, and mint. They're light, crisp, and easy on the senses. Florals are a must for the summers as bright and shiny days call for stronger scents like rose, jasmine, and bergamot. Winters and spicier fragrances are a match made in heaven, so reach out for an oriental fragrance for a guaranteed impact. Vanilla, cinnamon, and spices bring about a warmth to the olfactory sense during the colder months. Autumn and rainy seasons call for vetiver, sandalwood, and patchouli as they help prepare for the transition to the cold weather.
Why Trust StyleCraze?
The author of this article, Srijita De, is passionate about makeup and perfumes. She believes perfumes can draw your attention instantly and raise your mood. Hence, the author researched various perfumes on different forums and read reviews to provide the best clean perfume. The perfumes listed above in this article are made of non-toxic ingredients and keep you feel refreshed all day long.
Frequently Asked Questions
Is clean perfume cruelty-free?
Yes, most clean perfumes are cruelty-free as they are formulated with natural, non-toxic ingredients and they don't test on animals.
Is clean perfume vegan?
Made with mostly natural and non-toxic elements, clean perfumes are mostly vegan. A majority of them use plants and plant products in the formulation.
Are clean perfume tested on animals?
No, clean perfumes are made without harming animals or the environment. They contain natural and clean ingredients like plants and essential oils.
Is there such a thing as clean perfume?
Yes. Many perfume brands like Clean, Good Chemistry, and PHLUR manufacture fragrances from organic ingredients. They do not use any toxic chemicals.
Is clean perfume actually clean?
Yes. Clean perfume brands exclude harmful chemicals like formaldehyde, talc, and parabens in their formulas. Therefore, they are actually clean.
What does Clean perfume smell like?
The light aroma of clean perfumes depends on the notes of the fragrances. Some may release a flowery calming aroma like the Givenchy Live Irresistible Rosy Crush Eau De Parfum, while the ZENTS ORE Attar Roll-On Perfume has a spicy fragrance.
Is Clean perfume safe?
Yes. Clean perfumes are made of skin-friendly ingredients that do not irritate your skin and cause redness.
Recommended Articles