10 Best Cleansing Milk Products For Oily Skin – 2022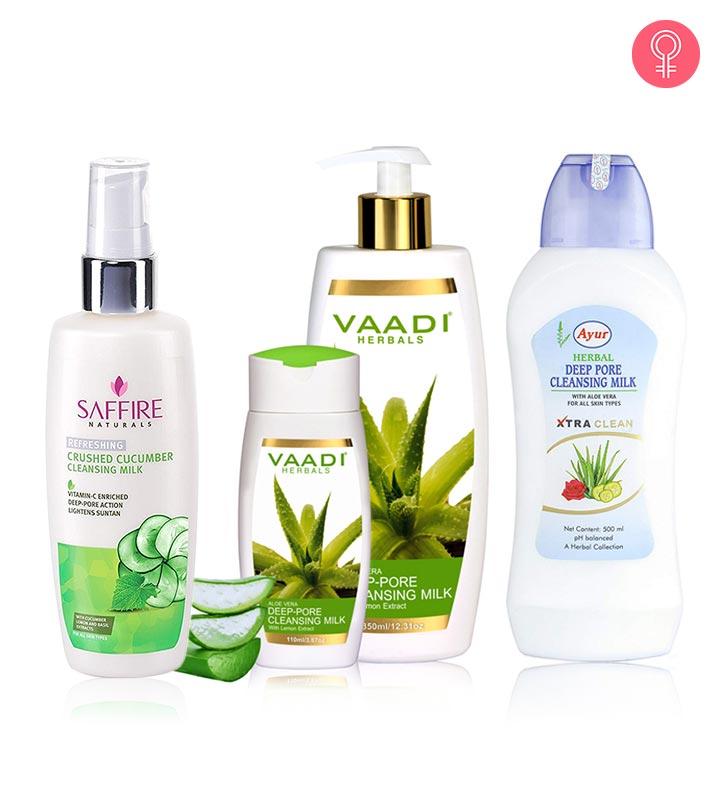 Cleansing milks are light and creamy formulations that cleanse oily skin effectively. The consistency of cleansing milk lies somewhere between a gel and an oil. It eliminates makeup without causing inflammation or drying out your skin. Its milky texture gives your skin care routine a luxurious and indulgent feel. Read on to find out the best cleansing milk products suitable for oily skin.
Top 10 Cleansing Milk Products For Oily Skin
Product Claims
Vaadi Herbals Aloe Vera Deep Pore Cleansing Milk is a multi-tasking product that cleanses and moisturizes your face at the same time. Its formula penetrates deep into your pores for effective cleansing. It eliminates dirt and moisture without stripping your skin of its natural moisture. The aloe vera in it nourishes dull and dry skin from within, while the lemon extract cleanses and exfoliates it.
Pros
Gentle on sensitive skin
Organic ingredients
Ideal for daily use
Cruelty-free
Chemical-free
Paraben-free
Non-drying
Non-greasy
Travel-friendly packaging
Pleasant fragrance
Cons
None
Product Claims
Himalaya Herbals Refreshing Cleansing Milk is formulated with a unique combination of herbs that gently remove dirt, makeup, and daily impurities while maintaining your skin's natural moisture balance. It contains lemon, a natural cleanser and astringent that clarifies and refreshes your skin. The grape seed and mint extracts in it rejuvenate and soothe your skin to keep it looking clear, healthy, and radiant.
Pros
Suitable for all skin types
Ideal for daily use
Effectively removes makeup
Non-greasy
Non-drying
Does not cause breakouts
Travel-friendly packaging
Refreshing fragrance
Long-lasting
Cons
The VLCC Sandal Cleansing Milk helps cleanse and nourish your skin. It t contains sandalwood, almond, and Indian berberry extracts that can treat various skin issues. This cleansing milk balances oil secretion, prevents dryness, reduces pimples, and eliminates dark circles.
Pros
Reduces pimples
Non-greasy
Makes the skin soft and supple
Suitable for normal to dry skin
Cons
Thick consistency
Might cause sweating
Product Claims
Cleanse and refresh your skin every day by using Khadi Natural Cucumber And Aloe Vera Herbal Cleansing Milk. This creamy cleanser not only cleanses and refreshes your skin but also removes makeup, grime, and dirt from its surface. Cucumber acts as a cooling agent that keeps your skin refreshed while aloe vera moisturizes your skin, making it soft and supple.
Pros
Suitable for all skin types
Ideal for daily use
Gets absorbed quickly
Paraben-free
No harmful chemicals
Non-drying
Cruelty-free
Cons
May irritate sensitive skin
Strong fragrance
Product Claims
Biotique Bio Berberry Hydrating Cleanser is formulated with the pure and natural extracts of berberry, red sandalwood, fenugreek, lodhra bark, and almond oil. This cleanser dissolves makeup and grime to leave you with refreshed skin that feels soft and smooth. It effectively removes dirt, excess oil, and impurities from your skin and improves your natural radiance.
Pros
Suitable for all skin types
Preservative-free
Non-drying
Dermatologist-tested
Cruelty-free
Travel-friendly packaging
No harmful chemicals
Cons
Strong fragrance
Thick consistency
Product Claims
Ayur Herbal Deep Pore Cleansing Milk contains a unique blend of natural ingredients that cleanse, moisturize, and refresh your skin. It penetrates deep into your skin to remove dirt, grime, and makeup residue. Its gentle formula is enriched with aloe vera, cucumber, and rose extracts that leave your skin looking clean, healthy, and glowing. It contains vitamin E and olive oil that protect your skin from free radical damage.
Pros
Suitable for all skin types
Ideal for daily use
Gentle on sensitive skin
Pleasant fragrance
Herbal ingredients
pH-balanced
Cons
Contains parabens
Not travel-friendly packaging
Product Claims
Plum Hello Aloe Gentle Cleansing Lotion is formulated with the natural goodness of pure aloe juice. It is tough on makeup and grime, yet gentle on your skin. It leaves your skin feeling squeaky clean and refreshingly soft. Using this chemical-free cleansing milk as part of your daily cleansing-toning-moisturizing routine will leave your skin with a fresh and healthy glow.
Pros
Suitable for all skin types
No harmful chemicals
Paraben-free
Phthalate-free
Cruelty-free
Travel-friendly packaging
Cons
Artificial fragrance
Synthetic colors
Not effective on eye makeup
Product Claims
Lotus Herbals White Glow Cleansing Milk removes excess sebum, dirt, and impurities from your skin after a long day. It also removes dead skin cells and controls melanin production to prevent skin darkening. This skin whitening and brightening formula delivers a soft and revitalized appearance. It is enriched with minerals, aloe vera, and milk enzymes.
Pros
Suitable for all skin types
Ideal for daily use
Travel-friendly packaging
Hydrates dry skin
Clinically tested
Cons
Contains parabens
Contains artificial fragrance
May cause breakouts
The Lakme Cleansing Milk Deep Cleanser removes impurities, dirt, and makeup,  leaving your skin soft and radiant. It contains avocado and vitamin E that exhibit antioxidant properties. This cleanser also eliminates excess oil and helps purify your skin. It nourishes and conditions your skin and makes it supple. This product unclogs your pores and enables your skin to breathe.
Pros
Affordable
Gentle formula
Pleasant smell
Value for money
Cons
Product Claims
L'Oreal Skin Perfection Cleansing and Perfecting Milk is a luxurious cleansing milk designed to remove makeup and impurities without irritating your skin. It refines the texture of your skin and provides sufficient hydration to leave it feeling soft, smooth, and soothed. This gentle formula is easy to apply all over the face and removes eye makeup without a fuss.
Pros
Gentle on sensitive skin
Removes waterproof makeup
Hypoallergenic
Alcohol-free
Cons
Expensive
Artificial fragrance
Contains parabens
Now that you know the best cleansing milk products, it is time to be aware of the factors to be considered before buying one.
What To Consider When Buying Cleansing Milk Products
It is necessary to choose a product that suits your skin requirements. For oily skin, look for a non-comedogenic cleansing milk. For dry skin, a moisturizing cleansing milk is recommended.
Since cleansing milk penetrates the skin to clean it thoroughly, it is vital to opt for products with mild to no additives. Below are some ingredients you must check for before making a purchase.
Water: Awater-based cleansing milk product boosts hydration to keep your skin soft and supple. Such a product also makes for a perfect choice for oily skin.
Moisturizer: Look for moisturizing additives like hyaluronic acid and glycerin, and some natural alternatives like bamboo leaf, cactus fruit, and green tea. These offer moisture to the skin and aid water retention to prevent dehydration.
Essential Oils: Cleansing milk products that contain lavender or eucalyptus essential oils help soothe and calm the skin. However, keep in mind that these oils can lead to skin sensitivity, especially to those with acne-prone skin. Therefore, check for these ingredients only if you have dry or normal skin.
Shea Butter: Shea butter moisturizes skin and also has anti-inflammatory properties. It helps soothe skin and reduces inflammation and redness. However, avoid shea butter if you have acne-prone skin. It would only make your skin feel heavy.
These are the best cleansing milk products for oily skin available on the market right now. Which of these would you love to try? Let us know in the comments section below!
Recommended Articles:
The following two tabs change content below.