12 Best Cleansing Milks Available In India
Get that glowing skin you have always dreamt of with nourishing formulas.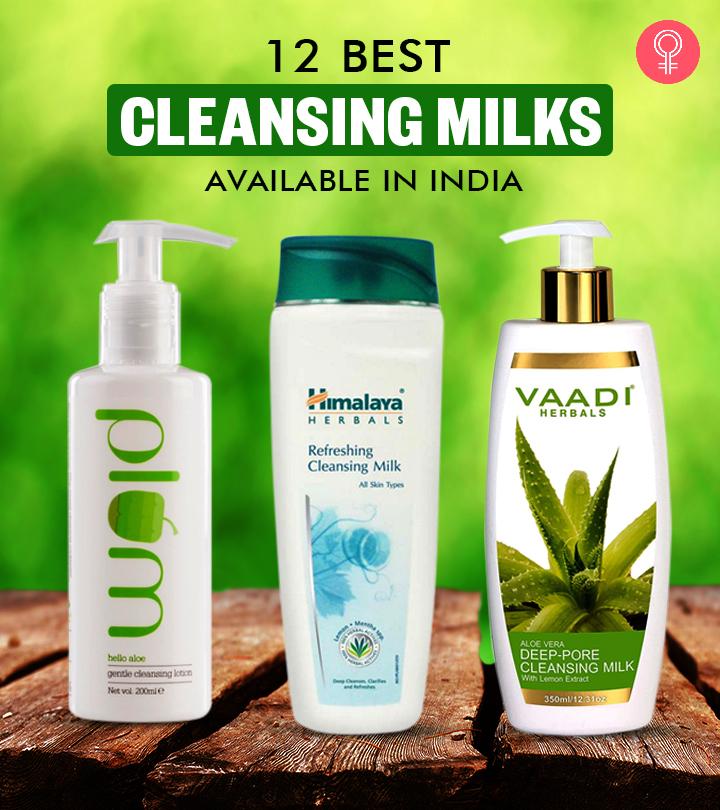 No matter what skin type you have, indulging in a regular CTM – cleansing, toning, and moisturizing – routine can help in giving you clear and flawless skin. Cleansing your face is the first and most important step in even the most basic CTM routine. A regular face wash cleans your skin's top layer, but the best cleansing milk will remove the dirt, excess sebum, and makeup residue embedded deep in your pores to prevent them from getting clogged.
Some cleansing milks can be too drying while others are way too rich in oils. But, both of these can disturb the oil balance of your skin. So, opt for the best cleansing milk that will help you maintain your's skin pH balance and retain its moisture. Here, we have rounded up the 12 best cleansing milks available in India to help you pick from nothing but the best available in the market. Check them out!
12 Best Cleansing Milks Available In India
The Vaadi Herbals Aloe Vera Deep Pore Cleansing Milk is a dual-purpose product that works seamlessly as a cleanser and a moisturizer. This is the best deep cleansing milk as it is enriched with the goodness of both aloe vera and lemon, which work together effectively to deeply cleanse your pores and moisturize your skin. It eliminates the dirt, impurities, and sebum clogging your pores without stripping away the natural oil and moisture from your skin.
Aloe vera has skin-repairing abilities that moisturize post-acne dry patches and easily remove accumulated dead cells, trapped impurities, and dirt to give you flawless skin. Lemon is known as an astringent that cleans and enhances your skin's texture. It also reduces the occurrence of pimples and blackheads with its exfoliation properties. The vitamin C present in lemon plays the role of being an anti-aging agent anda skin protection shield from pollution and environmental aggressors to keep your skin supple and clear.
Key Ingredients: Aloe Vera, Lemon
Best Suitable For: Dry Skin
Pros
Moisturizes the skin
Does not rip off the natural moisture
Repairs skin damage
Fades fine lines and wrinkles
Protects skin from environmental aggressors
Improves skin texture
Cons
Lakme Cleansing Milk Deep Cleanser is loaded with nourishing and cleansing properties that are extremely gentle on your skin. This cleansing milk deeply extracts excess oil, dirt, and impurities from your skin and leaves it feeling fresh after a long day.
It is infused with avocado and vitamin E that help in purifying, nourishing, and cleansing your skin while also removing your makeup thoroughly. The antioxidant properties help in conditioning your skin and makingit supple and soft while unclogging your pores for a better skin texture. The blend of avocado and vitamin E replenishes your skin and boosts moisture and nourishment into your dry skin.
Key Ingredients: Avocado, Vitamin E
Best Suitable For: Normal, Combination, Oily, Dry Skin
Pros
Removes impurities and makeup
Softens the skin
Improves skin texture
Unclogs pores
Boosts natural radiance
Affordable
Cons
May cause tingling sensation on sensitive skin
The Himalaya Herbals Refreshing Cleansing Milk is blended with special herbs that are gentle on the skin while eliminating impurities and dirt from the pores. It is formulated with lemon, grape seed, and mint that help to remove daily impurities, dirt, and makeup while maintaining the skin's natural moisture level.
Lemon acts as a natural astringent and cleanser to refresh and clarify the skin, while grape seed and the antiseptic properties of mint help in rejuvenating the skin, making it clear, healthy, and naturally radiant. This blend serves as a boost of hydration and moisture that tones and tightens the skin, soothes any irritation or itchiness, and leaves your skin feeling refreshed, smooth, and supple.
Key Ingredients: Lemon, Mint, Grape Seed
Best Suitable For: All Skin Types
Pros
Soothes irritated and itchy skin
Tightens the skin
Moisturizes and nourishes the skin
Antiseptic properties
Gentle on the skin
Budget-friendly
Cons
Slightly strong fragrance
The Lotus Herbals Lemonpure Turmeric and Lemon Cleansing Milk has a dual formula that not only deeply cleanses your skin but also removes makeup easily. This cleansing milk is blended with wild turmeric, lemon, and vetiver extract that remove impurities and makeup from your skin without drying out your skin and, instead, leaving it feeling soft and supple. The formula is potent, and even a little amount of this best deep cleansing milk goes a long way!
Wild turmeric has antiseptic properties that prevent acne breakouts, maintains skin's moisture level, and preserve elasticity. Lemon peel extract is a natural antioxidant and skin cleanser that easily extracts impurities from the skin and is a natural source of vitamin C. Vetiver extract rejuvenates and revitalizes the skin, thus boosting its natural radiance.
Key Ingredients: Wild Turmeric, Lemon Peel Extract, Vetiver Extract
Best Suitable For: Normal, Dry Skin
Pros
Repairs skin damage
Antiseptic properties
Boosts natural radiance
Moisturizes the skin
Cons
Leaves skin greasy and oily
Expensive
The KHADI NATURAL Herbal Cleansing Milk is infused with ingredients that not only cleanse but also soothe irritated skin. It is infused with cucumber and aloe vera are known for their moisturizing and soothing properties, which makes this the best cleansing milk in India.
Cucumber deeply cleanses by penetrating into your skin and gently removing the grime, dirt, and makeup. Meanwhile, aloe vera helps in calming irritated and sensitive skin by moisturizing it thoroughly. The blend acts as a cooling agent and nourishes your skin thoroughly to make it supple, soft, and refreshed.
Key Ingredients: Cucumber, Aloe Vera
Best Suitable For: All Skin Types
Pros
Refreshing fragrance
Soothes the skin
Gentle on the skin
Moisturizes the skin
Softens the skin
SLS-free
Paraben-free
Cons
Leaves behind a sticky residue
Does not remove makeup instantly
Refresh and nourish your skin with the VLCC Sandal Cleansing Milk. This non-foaming and ultra-nourishing cleansing foam is your one-stop solution to various skin concerns. It combats dryness, pimples, dark circles, and excess sebum secretion.
It is enriched with the goodness of sandalwood, almond, and Indian berberry extract that cleans, heals, and nourishes the skin effectively. It is mild and gentle, soothes the skin, and boosts its natural radiance.
Key Ingredients: Sandalwood, Almond, Indian Berberry Extracts
Best Suitable For: Normal, Dry Skin
Pros
Nourishes deeply
Combats various skin concerns
Balances oil secretion
Non-foaming formula
Cons
Not suitable for sensitive and acne-prone skin
Give your skin a blast of radiance, nourishment, and hydration with the Plum Hello Aloe Gentle Cleansing Lotion. What makes it the best cleansing milk for the face is the fact that it is loaded with the ultra-moisturizing pure organic aloe vera juice, capric triglycerides, vitamin E, and glycerin.
The natural oils from this potent blend break down the impurities and makeup on your skin and remove them thoroughly to cleanse your skin without stripping away its essential nutrients. This cleansing milk leaves your skin refreshed and naturally radiant, thanks to its nourishing vitamins and antioxidant properties.
Key Ingredients: Pure Organic Aloe Vera Juice, Capric Triglycerides, Vitamin E, Glycerin
Best Suitable For: Combination Skin
Pros
Gentle on the skin
Does not dry out the skin
Pleasant fragrance
Phthalate-free
Paraben-free
SLS-free
Harmful chemicals
Vegan
Cruelty-free
Cons
The Luster Organic Whitening Cleansing Milk With Coconut Water refreshes your skin with its high-quality organic ingredients. It helps in getting rid of dull skin and stimulating epidermal renewal. Thus, it rejuvenates stressed and dull skin by boosting its natural radiance and glow.
It deeply cleanses the pores and helps in smoothening the skin's texture to give you a matte finish look. You are sure to notice visible results like natural radiance and clearer skin texture as the cleansing milk exfoliates and extracts the dead skin cells from the inner layers of your skin along with impurities from your clogged pores. With constant use, this cleansing milk also improves your complexion, evens out the skin tone, and works effectively as a makeup remover.
Key Ingredient: Organic Coconut Water
Best Suitable For: All Skin Types
Pros
Refreshing and soothing
Makes skin naturally radiant
Improves skin texture
Clears blemishes
Evens out the skin tone
Removes dead skin cells
Unclogs pores
Effective and visible results
Paraben-free
Sulfate-free
Cons
The Olivia Cleansing Milk For Deep Pore Cleansing has a light formula that gently but effectively works its way to remove the dirt, pollutants, and makeup clogging your pores. The mild formula is infused with aloe vera extract that boosts hydration and nourishment into your skin while deeply cleansing it.
It removes your makeup effectively and leaves your skin feeling smooth, soft, and radiant. This cleansing milk soothes and repairs irritated and damaged skin with the moisturizing properties of aloe vera and hydrates your skin thoroughly. It makes sure to exfoliate and rinse dead skin cells from your skin. It gives you smooth, supple, younger-looking, and radiant skin.
Key Ingredient: Aloe Vera
Best Suitable For: Normal, Combination, Dry, Oily Skin
Pros
Lightweight
Boosts hydration
Soothes the skin
Heals irritated skin
Exfoliates the skin
Enhances radiance
Cons
Rejuvenate your skin and boost its natural radiance with the Jovees Citrus Cleansing Milk. This cleansing milk for the face is gentle on the skin as it is formulated with herbal extracts that nourish the skin without causing any harm or irritation. It deeply cleanses the skin and helps you achieve healthy-looking, even-toned, and clear skin.
It is infused with lemon extracts, sunflower oil, and almond oil that are loaded with vitamin C. This potent blend revitalizes your dull skin and enhances your complexion by extracting dirt and impurities from your skin. It reduces dark spots, pigmentation, redness, and inflammation to make sure that your skin is exceptionally well-hydrated. The lemon extract works as an astringent to remove dead skin cells that clog the pores. Thus, it enhances the skin's overall texture.
Key Ingredients: Lemon Extract, Almond Oil, Sunflower Oil
Best Suitable For: Normal, Dry Skin
Pros
Enhances complexion
Tones the skin
Reduces discoloration and other skin concerns
Soothes inflammation
Enhances skin's texture
Paraben-free
Alcohol-free
Cruelty-free
Cons
None
The Ayur Herbal Deep Cleansing Milk consists of a potent blend of herbs that gently removes dirt, daily impurities, and makeup residue. This gentle formula is enriched with aloe vera, cucumber, and rose extract that leave your skin feeling clean, refreshed, healthy, and naturally radiant. This blend helps in maintaining your skin's natural moisture balance and improves its ability to absorb the nourishment. It creates a soothing effect on inflamed skin and keeps it supple and soft.
This cleansing milk penetrates deep into your pores and removes all the impurities to prevent acne, redness, and any unwanted skin allergies. It keeps your skin rash-free and maintains its natural pH balance to control the oil secretion for a healthy skin-healing effect. It eventually brightens your complexion and even out your skin tone for a supple finish.
Key Ingredients: Aloe Vera, Cucumber, Rose Extract
Best Suitable For: All Skin Types
Pros
Gentle on the skin
Removes makeup effectively
Exfoliates pores deeply
Moisturizes the skin
Soothes inflamed skin
Controls oil secretion
Boosts skin healing
Cons
Causes slight tingling sensation and irritation
Dr Batra's Natural Cleansing Milk is a non-greasy formula that nourishes the skin and makes it supple and soft. It is infused with a potent blend of echinacea and chamomile extracts that promote younger-looking, flawless skin. Echinacea has natural cleansing properties, while the soothing properties of chamomile protect the skin and leave it thoroughly nourished and with a healthy radiance.
Chamomile helps in improving the texture by keeping the skin constantly refreshed and well-protected from any environmental aggressors. The natural antiseptic properties of echinacea prevent premature aging and keep your skin healthy from within. This effective and mild cleansing milk works its way deep into your pores to clean them and gently remove makeup residue along with dirt and daily impurities.
Key Ingredients: Echinacea, Chamomile
Best Suitable For: Normal Skin
Pros
Non-greasy
Rejuvenates the skin
Soothes the skin
Antiseptic properties
Boosts natural radiance
Promotes younger-looking skin
Softens the skin
Pleasant fragrance
Cons
Watery consistency
Not suitable for sensitive and acne-prone skin
Now that you know all about the best cleansing milks available in India, check out the next section to pick the best one for your skin's needs.
How To Choose The Best Cleansing Milk?
Cleansing milk is usually formulated with mild ingredients, but it is still important to know which cleansing milk suits what skin type. While some cleansing milks dry out your skin, others hydrate it.
If your skin falls under the dry skin type, opt for a cleansing milk with oil- or butter-based ingredients. If you have oily skin, opt for a lemon- or oil control-based cleansing milk that helps in balancing your skin's natural oil. There are various cleaning milk options available in the market that are categorized by skin type, so pick the ideal one that suits your skin.
Cleansing milks come in various formulas, and one of the common ones is cream-based with a lotion-like texture. These cleansing milks are gentle on the skin even as they exfoliate it thoroughly. They infuse hydration and nourishment into your skin to enhance its texture.
Some other formulas are water-based, oil-based, moisturizer creams, foaming, and lotions. You can opt for the one that you are comfortable with, but cream-based and lotion-textured cleansing milks suit all skin types and work seamlessly to nourish, cleanse deeply, and hydrate your skin.
As cleansing milk penetrates deep into your pores to rinse out impurities, it is essential to check if certain ingredients are suitable for your skin type. Reading labels and checking the ingredient list is one of the most important things to do when it comes to picking skin care products. Avoid any products that contain parabens, sulfates, or any other harmful chemicals that might damage your skin's texture in the long run.
Instead, pick a cleansing milk that has a herbal or organic formula with ingredients like aloe vera, hyaluronic acid, glycerin, or other natural oils. These ingredients not only infuse moisture into the skin and keep it hydrated but also are skin-friendly.
Never blindly trust any random advertisement and go for a product instantly. Instead, take your time to do some research. Read the product reviews online or ask your friends for a recommendation. Opt for a brand that has been in the market for a while now and has good reviews. Check if it is vegan, cruelty-free, or FDA-approved and is safe to use on your skin without causing any adverse reaction.
Having a cleansing milk in your regular skin care routine is a must! Daily makeup application and pollution often hamper and harass your skin's texture. These best cleansing milks in India not only remove makeup thoroughly but also enhance your skin's texture by deeply cleansing it and nourishing it while getting rid of deep skin impurities. Try out one of them to experience the benefits yourself!
Frequently Asked Questions
Is cleansing milk like a face wash?
Yes, cleansing milk works much like a face wash as it helps to remove dirt, debris, and light makeup. It is super-gentle on the skin and helps to hydrate and nourish the skin along with cleansing it.
Does cleansing milk brighten skin?
Yes, cleansing milk with skin-brightening ingredients like vitamin C, such as Vaadi Herbals Aloe Vera Deep Pore Cleansing Milk, can help combat dullness and reveal clear, bright-looking skin.
Can cleansing milk remove tan?
Yes, using cleansing milk containing active ingredients like vitamin C and fruit extracts can help remove stubborn tan and brighten the skin.
Recommended Articles