13 Best Clear Heels Every Trendsetter Needs In 2023
Add the extra oomph to your boring outfits with these trendy transparent heels.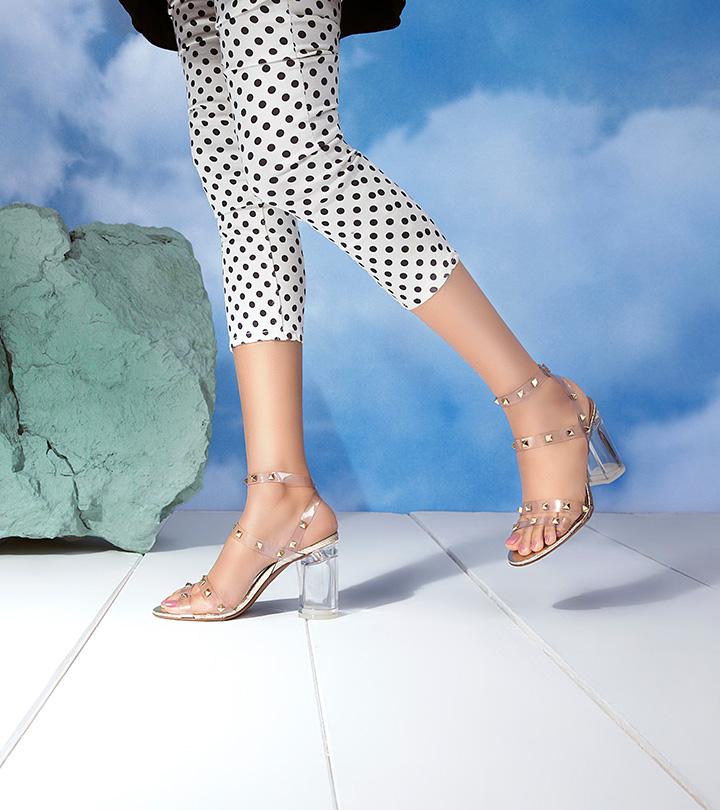 The best way to keep things fashion-forward when it comes to your shoe selection is so much easier than you might think. Transparent heels look chic, minimalist, and they have been trending for quite some time now. The best clear heels will add class, sophistication, and that extra oomph to even the most boring outfits. It can transform your look into oh-so-stylish in an instant. Clear heels are available in different styles and patterns. So, whether you are someone who takes comfort in block heels or the diva who aces the catwalk in high stilettos, there is a perfect pair out there for you. You can wear the versatile transparent heels to your office parties, date night, or any other special occasion. But, if you don't know where to begin, check out this list of the 13 best clear heels, and get ready to show off your style with elegance and charisma. Keep scrolling!
13 Best Comfortable Clear Heels You Can Buy In 2023
These gorgeous nude clear high heels combine comfort with style with a 4-inch block heel and an open-toe design, which allow you to maneuver about your day with confidence. This pair of heels feature an elastic heel strap with an adjustable buckle and a lightly padded insole for comfort. The versatile nude color means this pair of stylish, minimalist sandals can be paired with any color outfit and will travel effortlessly from an office day to a shopping trip to a date night or special occasion.
Pros
Open-toe design
Versatile nude color
Lightly padded insole
Ankle strap with adjustable buckle

Cons
Some might find that these shoes are a bit narrow and might not be best suited for those with wide feet.
Price at the time of publication: $31.99
If you're looking for a pair of stylish clear chunky heels that are both comfortable and trendy, your search ends here. With a classy black sole, this pair of transparent heels are sure to dress up any outfit. The toe strap and ankle strap are transparent, with a gorgeous gold adjustable buckle. The block heels are 3- 4-inch high, which means you can walk around comfortably and wear them all day long. With its minimalist and clean design, this pair of transparent heels are an ideal wardrobe staple in any smart woman's closet.
Pros
Black padded insole
Adjustable buckle
Well-fitted toe strap to prevent sliding
Available in multiple sizes
Cons
Some might find that the sizes run a bit small.
Price at the time of publication: $39.95
If you're not comfortable with pointy heels and are looking for a pair of comfortable clear heels, wedge-style heels might be the way to go. These pretty slip-on shoes combine clear open-toe sandals with a clear wedge for a style that is both versatile and easy to use. The padded insole is made of a soft, breathable material which ensures you can wear these shoes all day long without worrying about shoe bites or achy feet. The gorgeous heel measures approximately 4 inches which makes it perfect for both office and nighttime use.
Pros
Convenient slip-on design
Padded insole for comfort
Suitable for all-day use
Available in multiple sizes
Cons
Some might find that these shoes are a bit heavy.
Price at the time of publication: $39.99
Look slim and elegant with the Katlis Women's Clear Pointed Heels Sandals. They come with soft cushioned insoles that make them comfortable for walking or standing. The open-toe heels make your feet look sexy while allowing good aeration. You can pair your heels with skirts, jeans, hot pants, and dresses. The double clear straps hold the feet securely, preventing your feet from sliding forward.
Pros
Versatile
Fashionable
Clear straps
Cons
May not be suitable for wide feet
Price at the time of publication: $43.99
Here's a pair of gorgeous crystal clear heels that will have you feeling like a superstar on the red carpet! The front of the shoe has a light platform elevation, whereas the heel stands at 4-inch height. The entire platform and heel are embellished with beautiful crystals that reflect light in all angles for an oh-so-glamorous effect. The open-toe has a wide, comfortable clear strap, and the clear ankle strap comes with an adjustable buckle. The soft, padded sole ensures a comfortable ride, so don't hesitate to strap these pretty shoes on and get your glam on.
Pros
Crystal embellishments
Adjustable ankle strap
Soft, padded sole
Available in multiple sizes
Cons
Some might find that the sizes run a bit small.
Price at the time of publication: $65.95
Make your feet appear stylish with the Vivianly Clear Pointed Toe Sandals. It is crafted with a rubber sole, PU leather insole, and upper TPU. The open pointed toe sandals allow good aeration and keep you comfortable. You can wear this with jeans, skirts, and dresses.  It comes with a perfect finish making it apt for all occasions. In addition, a non-slip and wear-resistant sole keeps you safe and comfortable.
Pros
Clear straps
Comfortable and stylish
Soft and skin-friendly
Cons
None
Price at the time of publication: $39.99
Here's the perfect pair of clear strappy heelsto wear out on a fun night of dancing. This unique pair of heels are embellished with beautiful glossy rhinestones studded all along the instep. The clear strap has an adjustable buckle around the ankle, and the open-toe ensures added comfort. Handmade with high-quality materials, each pair of these glamorous heels is truly a masterpiece. These 4.7-inch classic stiletto heels feature a slip-resistant outsole and a soft cushion insole for added stability so that you can dance the night away without worry.
Pros
Embellished with dazzling rhinestones
Slip-resistant outsole
Soft cushion insole
Adjustable gold buckle strap
Cons
Some might find that these shoes are not best suited for those with wide feet.
Price at the time of publication: $49.99
Looking for a cute yet elegant pair of heels to pair with your favorite skirt, dress, or shorts? This pair of clear slingback sandals have a 2-inch clear stiletto heel and an attractive flower rhinestone design, making it the perfect style to wear all day long without tiring out. These shoes feature a soft cushioned insole and an elastic ankle strap which help to ensure comfort with every step. The base color of the shoe is classy gold, which means you can pair this pretty pair with almost any outfit in your closet.
Pros
Attractive floral rhinestone design
Comfortable cushioned insole
Elastic ankle strap
Anti-slip design
Cons
Some might find these shoes a bit narrow.
Price at the time of publication: $40.99
Here's an understated pair of clear strap heels that will allow your outfit to take center stage while making your legs look oh-so-long. The soft ankle straps are made of high-quality PVC material and will ensure your feet remain free of shoe bites, blisters, and redness. The cushioned sole is made of rubber which will keep you feeling comfortable for hours in the end. The pointed peep toe and 4-inch stiletto heel make this pair of shoes a wardrobe staple that is both subtle and stylish.
Pros
Made of high-quality soft PVC material
Cushioned rubber insole
Adjustable ankle strap
Available in multiple sizes
Cons
Some might find that these shoes run a bit small.
Price at the time of publication: $46.99
This classic pair of clear pump heels is what all Cinderella dreams are made of. The 4-inch heels are thin and glossy gold, giving your final look a sleek and polished appearance. These clear see-through shoes can be paired with skirts, cocktail dresses, ripped jeans, and even fishnet stockings, saving you from unnecessary wardrobe dilemmas. The soft rubber sole and convenient slip-on design make this gorgeous, chic pair of closed-toe clear heels an all-time wardrobe favorite.
Pros
Cushioned rubber sole
Convenient slip-on design
Made of water-resistant lucite
Available in multiple sizes
Cons
Some might find the heels of these shoes a bit unstable.
Price at the time of publication: $49.99
Are you looking for the perfect pair of clear chunky heels for that impromptu Instagram photoshoot? Here's a pair that promises comfort, style, and oodles of that oomph factor. With a comfortable 4-inch heel, this pair of nude clear heels have adjustable ankle straps and is handcrafted with high-quality transparent lucite. The soft rubber sole ensures you can wear this pair all day long without getting tired. Pair this fashionable pair with a cute outfit, and get ready to blow up your social media feed.
Pros
Comfortable chunky heel
Adjustable ankle straps
Soft rubber sole
Handcrafted with high-quality materials
Cons
Some might find the ankle strap a bit loose.
Price at the time of publication: $48.99
Here's a fun and edgy pair of clear heels that is not for the faint-hearted. These shoes feature a 4-inch platform that will ensure you're the show-stealer at any party. The silver-toned adjustable ankle buckle and the soft rubber sole ensure you can combine comfort with style. The toe and ankle straps are crystal clear, which means this pair of stylish heels will make your legs long and toned. Ideal for an evening out in the town, this pair is suitable for those with narrow feet.
Pros
Soft rubber padded footbed
Adjustable ankle buckle
Made with high-quality PVC
Available in multiple sizes
Cons
Might not be best suited for those with wide feet.
Price at the time of publication: $61.95
Say hello to this pair of gorgeous clear heels that look as pretty as a Christmas present. Stylish and chic, this fashionable pair features a cute red bow and a unique studded design all over. Designed with comfort in mind, these shoes follow the foot's natural curves and have a wear-resistant rubber outsole to ensure comfort as you transition from day to night. The stylishly thin high heels measure approximately 4.5-inch and will see you through a cocktail hour with unparalleled sophistication and grace.
Pros
Handmade and customizable
Convenient slip-on design
Wear-resistant rubber outsole
Unique studded design
Cons
Some might find these shoes a bit loose around the heel.
Price at the time of publication: $86.99
Now that we've had a look at our carefully curated list of the 13 best clear heels in 2023, let us look at some things to consider when picking a style that is perfect for you.
How Do I Choose The Right Clear Heels?
Nothing will ruin your day faster than shoes that don't fit right and leave your feet with bruises, redness, and shoe bites. Getting the right size when shoe shopping is essential to ensure you can enjoy your pair of gorgeous clear heels day and night. Have a good look at the sizing chart when ordering a pair, as brands have slight variations in how they measure shoe sizes. When you're shoe shopping, it is best to try on a new pair in the evening as your feet tend to swell up slightly as the day progresses, and a pair that fits you in the morning might get a bit snug by nighttime.
As much as we would love to, not all of us have the capability of running a marathon in 6-inch stilettos. Just because you're not as graceful as the next girl walking around in thin high heels doesn't mean you have to shun high heels altogether. Transparent block heels are a great way to get your fix of gorgeous clear heels without breaking your neck, as they offer more stability and comfort than pointy heels. There's also the choice between pumps and strappy heels. Pick a style that is comfortable and versatile while being stylish and chic.
While clear heels have the versatility of matching almost any outfit in your wardrobe, the color of the base matters when making a choice. A nude-base color will allow you to transition effortlessly from day to night, whereas a black base color conveys a classy and muted look. Want to add a bit of grit to your look? Pick a bright and cheerful base color like pink or green which adds a fun, peppy element to your outfit.
Which Outfits Go Best With Clear Heels?
The thing we love the most about clear heels is how well they go with almost any look or outfit, including party dresses and formal dresses. Are you spending the day in a high-powered office meeting? Wear a pair of nude clear pumps for a polished and professional look. A date night or special occasion? It is time to take out your stylish clear stilettos and pair them with that lovely summer dress. Clear heels make it easy to go through an entire day of wardrobe changes with the same trusty pair of classy shoes.
Why Trust StyleCraze?
Chaitra Krishnan is a product writer and a fashionista who keeps up with the latest fashion trends. She has compiled this list of the top trendy clear heels to make your outfit a style statement. Chaitra has described each product in detail and mentioned their pros and cons. She has also included a buying guide and offered advice on choosing the right pair of heels to compliment your outfit.
Frequently Asked Questions
Do clear heels fog up?
Yes, in some designs, clear heels can gather fog, making the look sweaty and unpleasant.
Do clear heels elongate legs?
Yes, clear heels instantly make your legs look longer.
Do feet sweat in clear heels?
If the design does not support any breathability for the feet, your feet can get sweaty with your clear heels on. However, you can choose premium-designed footwear to avoid this situation and still look fashionable.
Are clear heels tacky?
No, clear heels are the hottest trend in town now. If you take good care of your feet and have healthy feet skin, you have nothing to worry about.
How do you wear clear heels without fogging?
You can use anti-sweat sprays on your foot or even switch to specially designed clear heels that offer better breathability. For example, the Shoe Land Clear Block Heel Sandal is the best-in-class clear heel that provides comfort and never lets the feet sweat.
Recommended Articles