9 Best Clear Lip Glosses That Suit Everyone's Budget – 2023
Add a few swipes of smudge-free sheen to your lips and keep them soft and supple all day.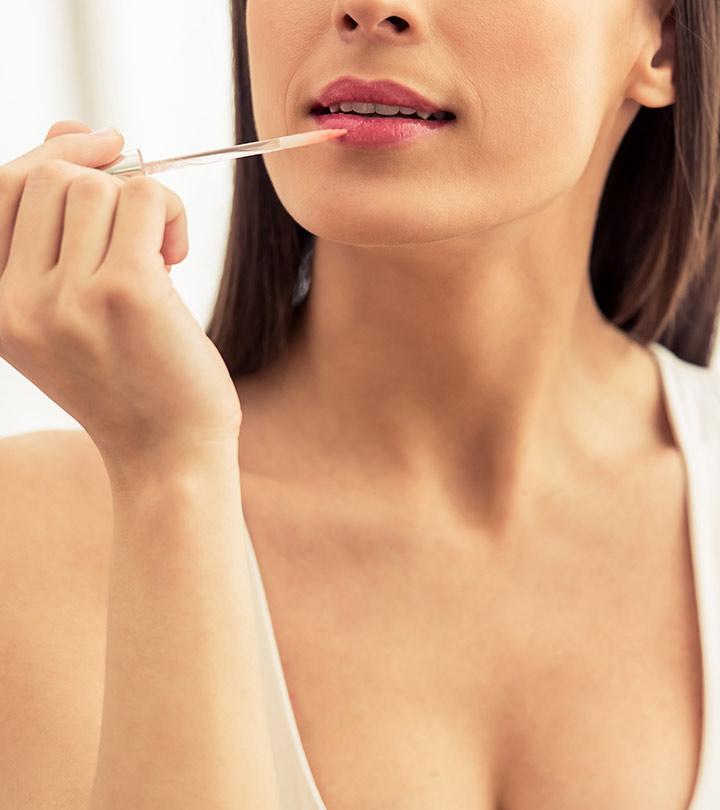 Clear lip glosses were extremely popular during the 90s and have recently made a comeback. The best clear lip gloss is a super cool budget-friendly option to make your pout luscious. Even celebs like Kendall Jenner, JLo, and other such artists are bringing back the practice of applying clear lip gloss over their lipsticks to get that natural shine and glossy finish. It looks luxurious, feels smooth and cool, and also protects your lips from getting chapped, dry, or cracked.
However, clear lip glosses have developed with the latest techniques, and the formula is no longer chunky, runny, or too slimy. They stay on the lips without smudging and stay put all day long. These lip glosses can be found in your nearby drugstore. Scroll down to check out the 9 best clear lipgloss you can buy online.
What Is Clear Lip Gloss?
Lip gloss, also known as lip topcoat or lip gel, is a cosmetic product that adds a glossy finish to your lips with a hint of color. Clear lip glosses are nothing but transparent formulas that can be used to give your lips a naturally shiny appearance and accentuate your lips.
How To Get Lip Gloss To Stay On All Day
Ask any lip gloss connoisseur, and they will tell you applying lip gloss on your lips won't even take you a minute. Just take the right amount, swipe it, and you are good to go. But getting your lip gloss to stay on for longer may not be that easy. Yes, using the right formula is extremely important, but there are a few other points you need to consider. Read on to find how to make clear lip gloss stay on all day or for longer than usual.
Exfoliate your lips at least twice a day; the easiest way to do it is with a toothbrush. This helps remove dead skin from the surface of your lips. Additionally, it would help if you also moisturize your lips with a lip balm every day. Following this routine, as suggested, will give you smooth and supple lips.
Matte lipsticks make lip glosses stay on for long.
Line your lips with a lip liner with the shade that matches your natural lip color. You could also fill your lips with the liner. This creates a smooth surface for the lip gloss to adhere to.
You could also use a foundation or a lip primer as a base to increase its staying power.
Whether you like it or not, sticky formulas tend to last longer. But most of us don't like the look and feel of it. So, after applying lip gloss, run an ice cube on your lips to reduce the stickiness.
Without further ado, let's take a look at the list of the best clear lip glosses that give you the perfect pout.
9 Best Clear Lip Glosses
Not one or two, but you get 3 clear lip glosses in this set! Plus, this trio features different active ingredients that have distinct properties. With these in your makeup kit, it's easy to alternate between three lip glosses based on your preference. These tube lip glosses have moisturizing benefits that make your lips soft and healthy-looking. And one swipe of any of these thick clear glosses will provide high-impact shine without any stickiness. While the mint oil gloss helps heal cracked lips, the lip gloss infused with rosehip oil reduces the appearance of fine lines on the lips. And if you're looking for a gloss to keep your lips hydrated, Then coconut oil is the best cheap lip gloss to go for. To make an informed decision before buying, you can check out this video.
Pros
Moisturizes and hydrates lips
Adds shine
Mint oil lip gloss offers a cooling effect
Rosehip oil gloss is enriched with vitamin A
Coconut oil locks in moisture
Pleasant-scented lip gloss
Long-lasting
Thick consistency
Cons
May not be suitable for sensitive skin
Price at the time of publication: $3.99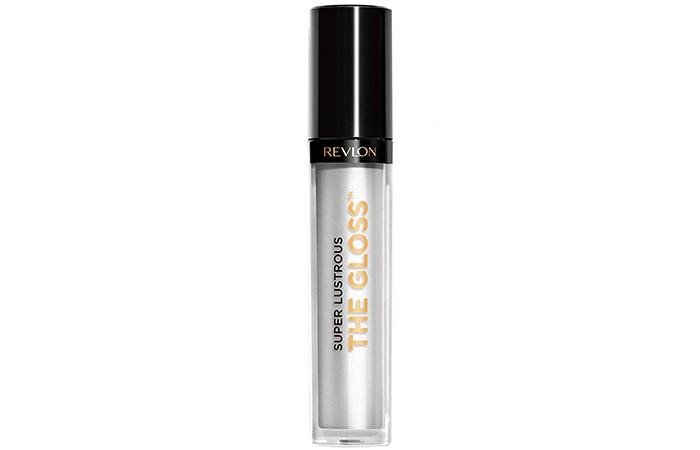 As the name suggests, this crystal clear lip gloss will give you super lustrous lips instantly. Non-sticky and iridescent finish, with this lip gloss, you can have it all. This drugstore clear lip gloss, formulated with agave, moringa oil, and cupuacu butter, is high on moisture and will help keep your lips hydrated. Who needs a lip balm, when you have a lip gloss that does it all! It also features an oversized applicator with a reservoir tip that adds a generous layer of gloss in a single swipe. Here's a pro tip: you could layer this transparent gloss over your lipstick for an intense glow. Click here to check out this YouTuber's unbiased review.
Pros
Lightweight and non-sticky formula
Delivers a dewy glow
Keeps lips moisturized
Makes lips look plumper
Comes with an oversized applicator
Rich in antioxidants
Cons
Price at the time of publication: $7.34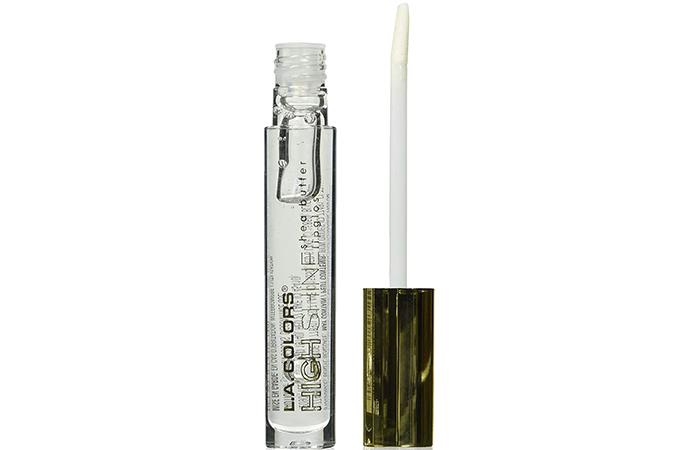 L.A. Colors High Shine clear lip gloss smells as great as it looks! It has a light vanilla scent that smells so delicious that you will never want to remove it. Not only does this shimmer lip gloss offer hydrating and moisturizing benefits (thanks to ingredients like shea butter and vitamin E) but it also delivers high shine and non-sticky finish. Swap your regular balm with this lip gloss that will give you softer and luscious lips.
Pros
Formulated with shea butter and vitamin E
Moisturizes and prevents lips from drying
Keeps lips soft
High-shine lip gloss with non-sticky finish
Vanilla-scented lip gloss
Cons
May not work well as a topcoat
May not be suitable for sensitive skin
Price at the time of publication: $1.98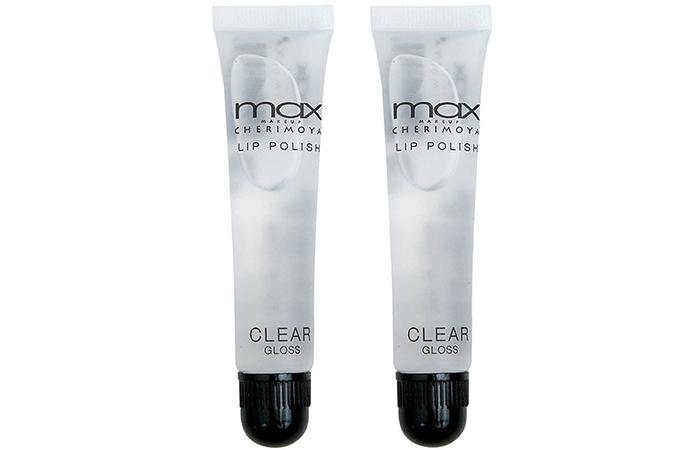 If you are on the hunt for the best clear lip gloss that delivers the perfect shine and also moisturizes your lips, consider this one by MAX Makeup. Enriched with vitamin E, this lip gloss will give you fuller-looking and beautiful lips. This odorless gloss comes enclosed in a tube for ease of application and has a thick consistency, which means a little goes a long way. Dab this transparent lip gloss to make your favorite lipstick shinier and your pout glossy. It is the best natural looking lip gloss
Alysha Tucker, a permanent makeup artist, states, "You may notice your foundation or lip liners bleed into the clear gloss applicator and change its color. Therefore, invest in disposable lip wands, and use those to apply clear glosses."
Pros
Two lip glosses in a pack
Moisturizing formula
Delivers a shiny finish
Easy to apply
Fruit-flavored
Long-lasting
Cons
Might be a tad bit sticky
Price at the time of publication: $4.28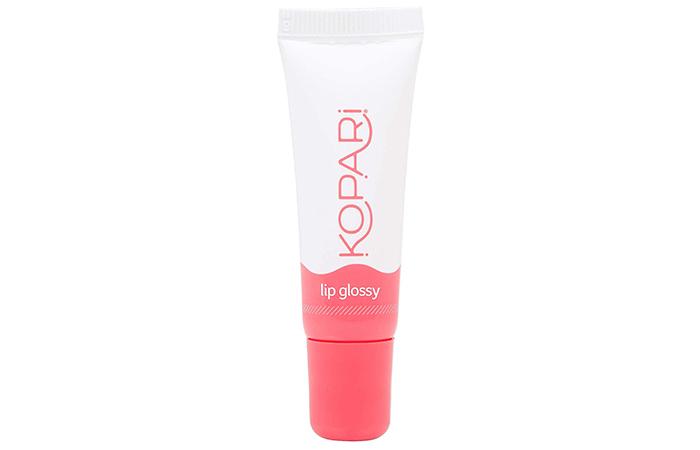 Formulated with ultra-hydrating ingredients such as 100% pure organic coconut oil and shea butter, Kopari Lip Glossy might be the solution to all your lip problems. It takes care of your dry or chapped lips by locking in moisture and making your lips smooth and supple. It also contains ingredients like vitamin E and antioxidants that keep your lips moisturized. It's long-lasting, non-sticky, delivers a sheer glossy sheen, and comes in a squeezable tube that allows you to control the amount of product you want to apply. It is the best Lip Gloss Clear.
Pros
Non-sticky and long-wearing lip gloss
Contains sustainably sourced organic coconut oil
Hydrating and nourishing formula
Coconut-scented lip gloss
Delivers the perfect amount of shine
Silicone, sulfate, and paraben-free
Cruelty-free and vegan
Cons
May not be suitable for sensitive skin
Price at the time of publication: $14.0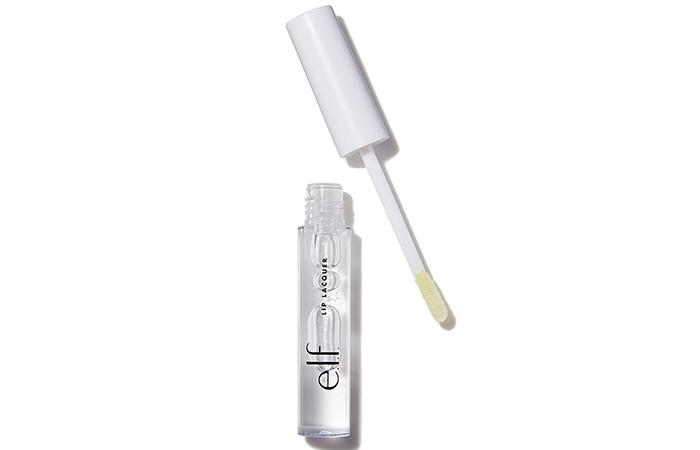 Coat your bare lips with e.l.f. Lip Lacquer for the shiniest pout that lasts long and will make your lips look the best, be it day or night. This lip treatment comes with a flexible applicator wand that picks the right amount of formula and glides effortlessly onto your lips to provide an ultra-glossy finish without making it look tacky. In addition to that, this clear liquid lacquer is enriched with vitamin E that will moisturize your lips with every application and make it look plump.
Pros
Easy-to-use applicator
Infused with vitamin E
Has moisturizing and plumping benefits
Offers a non-sticky, glossy finish
100% vegan
Cruelty-free
Free from phthalates, parabens, and other chemicals
Cons
The consistency of the gloss may be too thick for some
Price at the time of publication: $3.0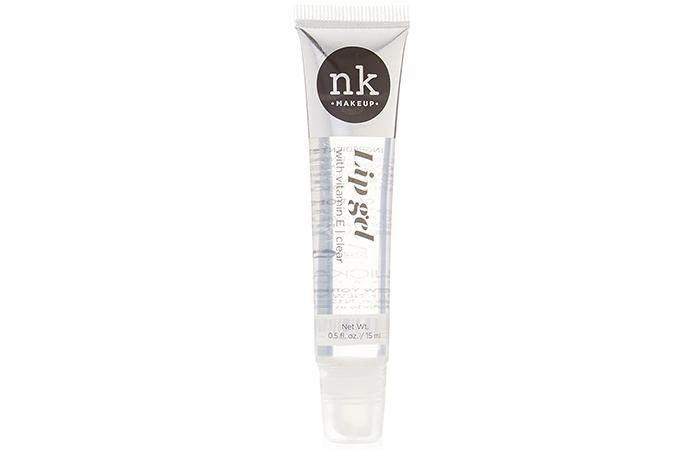 Not a fan of lip glosses that leave a tinted sheen on your lips? Then this clear lip gel by Nicka K is the perfect lip gloss for you! It adds a pop to your lips by providing a spectacular mirror-like finish. This clear sparkly lip gloss is lightweight and comes in an easy-squeeze tube that helps you create makeup artist-like strokes on your lips and imparts the right amount of glow. With the addition of vitamin E as one of the key ingredients, this high-shine lip gloss keeps your lips soft and nourished, just the way you want.
Pros
Super hydrating formula
Non-sticky and mirror-like finish
Gives you soft and supple lips
Glides smoothly
Lightweight and easy to use
Cons
May be difficult to take off
Price at the time of publication: $5.98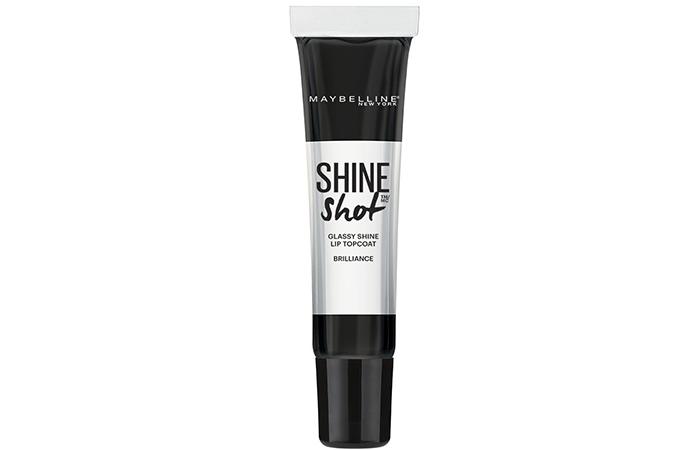 A transparent lip gloss such as Maybelline New York Shine Shot Lip Topcoat deserves a place in your everyday makeup kit. Using this clear gloss as a topcoat is a great way of amplifying the intensity of your lipstick. If you are anything like us, you are sure to love the reflective shine and the clear, glassy texture this gloss provides. One of the best drugstore clear lip glosses, it has an impressive staying power and glides on easily. The thick texture of the formula offers great coverage in a single swipe.
Pros
Primarily used as a topcoat
Highly-reflective shine
Long-wearing lip gloss
Elevates your lip look
Smooth, glossy lip gel
Glass-like finish
Cons
Formula may be a little sticky
Price at the time of publication: $5.07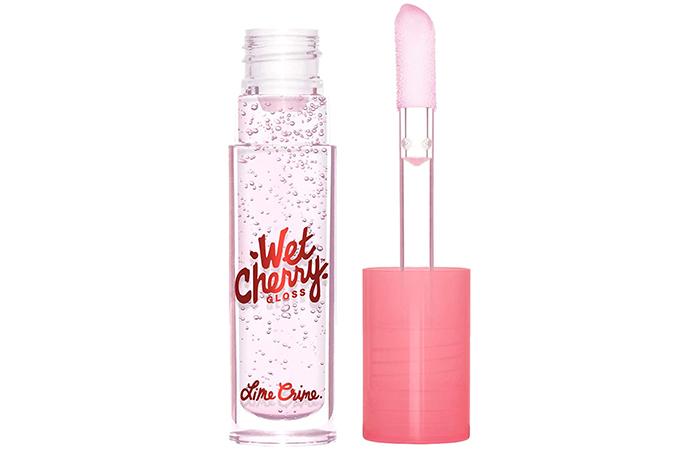 For days when you feel like keeping your makeup look simple, a clear gloss is an excellent choice. Lime Crime Wet Cherry Lip Gloss is one of the best clear lip glosses available. It is a must-try if you are looking for a gloss that is lightweight and looks divine on your lips. This cherry-scented gloss imparts an ultra-glossy sheen that stays put for hours, while the oversized doe-foot applicator goes on smoothly and provides maximum coverage in a few coats. Plus, the formula is non-sticky, so you won't have to worry about hair strands getting stuck on your lips.
Pros
Comfortable to wear
Scented lip gloss
Does not bleed, stain, or crease
Non-sticky and smooth texture
Large applicator
Cruelty-free and vegan
Cons
The fragrance may be too strong for some
Price at the time of publication: $18.0
Maintaining moisturized and soft lips is essential. Clear lip glosses are a terrific way to keep your lips looking shiny without giving them additional color. Before purchasing the best clear lip gloss, take into account the following.
Things To Consider Before Buying The Best Clear Lip Glosses
Ingredients: Always choose clear lip glosses with safer ingredients to safeguard your lips and skin. Use lip glosses, for instance, that have vitamin E, mint, or coconut oils, and other moisturizing components.
Lip glosses provide dry, chapped lips with instant moisturizing. Choose lip gloss which has a long-lasting effect. Look for a lip gloss that contains mango, shea butter, and minerals to provide long-lasting moisture to your lips.
Avoid clear lip glosses containing alcohol, glycol, preservative, sulfates, parabens, and synthetic additives. Always opt for the ones with formulas that are lead- and cruelty-free.
Texture: Sticky clear lip glosses can feel tense when worn. They might stick to the lips and are uncomfortable when speaking. Instead, look for non-sticky, lightweight lip glosses. They leave no unwanted residue and are simple to remove when needed. Ensure the lip gloss you buy is non-greasy, user-friendly, and comfortable to wear even for extended periods.
Skin-Friendly: Some lip glosses might result in rashes, pimples, and other skin irritation. Choose lip glosses that are not overly strong or harsh. Pick lip glosses with a soft consistency and minimal fragrance. Try the product on a tiny patch of skin to prevent skin irritation.
Flavor: Consistently using lip gloss with a pleasant scent makes you feel wonderful. Pick flavored lip glosses with flavors like tangerine, cherry, and vanilla, as you often taste them.
Finish: Different sorts of formulae that are available offer unique finishes. Clear liquid lip glosses have a heavier texture and a sparkly appearance. If you select creamy lip glosses, they have a subtle color finish and are incredibly silky and smooth. You can choose the best one that soothes your skin and complements your makeup.
Why Trust StyleCraze?
The author, Srijani Roy Chowdhury, is a makeup aficionado who loves experimenting and recommending makeup items to users. She has compiled this list of the best clear lip glosses considering their benefits. These products offer smooth lips with a glossy finish and prevent chapped lips. Moreover, these lip glosses are endorsed by numerous users through their reviews.
Frequently Asked Questions
Is clear lip gloss worth it?
Yes, clear lip gloss is the best way to enhance natural beauty without using additional products.
How do you apply lip gloss perfectly?
Begin by applying lip gloss to the center of the lips and dragging the applicator along the size of the lips. Apply the gloss no higher than the lip line. Blot the excess lip gloss with tissue paper.
Do you put lip gloss over lipstick?
Yes, you can use lip gloss over lipstick to get a luminous finish and make it look more beautiful.
How often should you apply lip gloss?
Apply lipgloss 2-4 times per day, or as desired.
Can you wear lip gloss without makeup?
Yes, you can wear lip gloss without makeup to add a pop of color to your face.
Recommended Articles