15 Best Clinique Makeup Products For Long Lasting Results – Top Picks Of 2023
Enhance your natural beauty with these skin-loving makeup goodies from Clinique.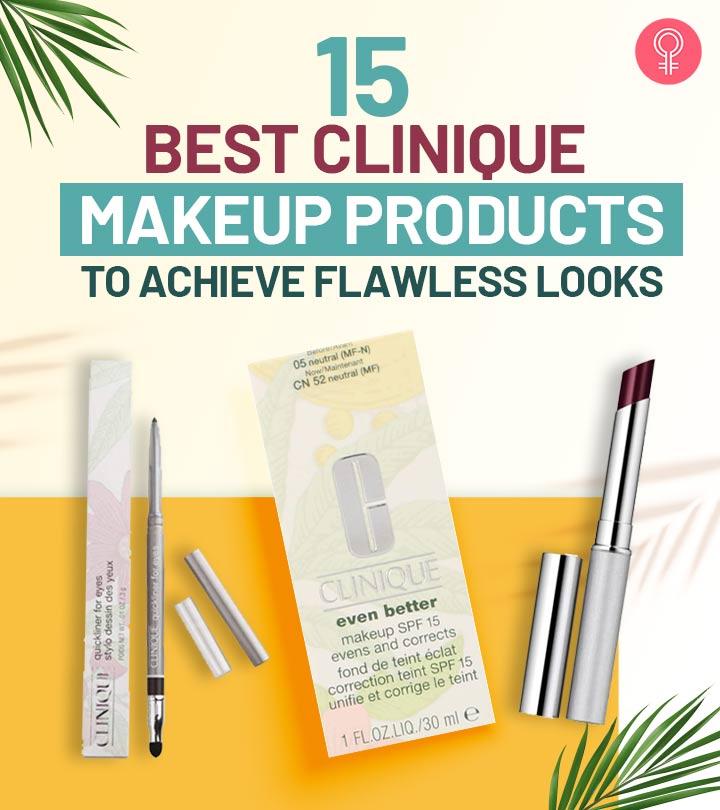 Clinique is a widely adored cosmetic brand founded by Evelyn Lauder in 1968. Over the years, the brand has earned immense popularity and has found a permanent place in almost everyone's vanity. It has an array of unique makeup products that are developed and tested by skin specialists to ensure the safety of use on all skin types, especially sensitive skin. All its products are designed to enhance natural beauty and restore the innate glow of the users. They are also loaded with skin-benefitting ingredients that improve the overall health of your skin and bring back its youthful radiance. The brand is globally acknowledged for its commitment to eco-friendly practices. It uses recyclable packaging and always strives to contribute a part in the journey of making the world a better place.
We have reviewed the 15 best Clinique makeup products in this article that you can add to your makeup bag. Scroll down.
Top 15 Clinique Makeup Products That Every Makeup Lover Should Try
If you are seeking a good foundation that provides moderate to full coverage to your skin, go no further than the Clinique Even Better Makeup SPF 15. This dermatologist-tested liquid formula improves your skin tone by fading dark spots in just 12 weeks. The formula is powdered with SPF 15 and several antioxidants that prevent the development of new discolored patches on the skin. This sweat- and humidity-resistant formula is suitable for both oily and dry skin types. Check this video on Youtube to know more about the product.
Pros
Dermatologist-tested
Sweat-resistant
Humidity-resistant
Easy to apply
Medium to full coverage
Cons
Price at the time of publication: $26.89
The Clinique Quickliner is a long-lasting eyeliner pencil that easily glides on your lids. It has a vivid pigment that enhances the look of your eyes. It is water-resistant and smudge-proof, so it will stay put all day. The pencil also comes with a smudger. So, you can create different liner looks, from a basic crisp wing to a smokey eye. Moreover, its retractable design saves you from sharpening the tip every time you want to use it.
Pros
Retractable
Easy to apply
Comes with a smudger
Smudge-resistant
Transfer-resistant
Water-resistant
Portable
Cons
Price at the time of publication: $16.75
The Clinique Almost Lipstick in the shade '06 Black Honey' has long been a cult-classic lip color, beloved by lipstick lovers. It has a chameleon-like tint that complements all skin tones. The lipstick is enriched with waxes and emollient oils that nourish and protect the lips. It imparts a soft shine finish to your lips and has sheer coverage. It can be worn alone or layered with other lip tints. If you are still unsure, check this honest review on YouTube and decide if you would buy it.
Pros
Suitable for all skin tones
Soft-shiny finish
Non-staining pigment
Universally flattering color
Lightweight
Soothing formula
Paraben-free
Phthalate-free
Fragrance-free
Cons
Price at the time of publication: $20.5
The Clinique Superpowder combines the benefits of a foundation and compact in one. This long-lasting, oil-free formula imparts medium to full coverage to your blemishes and mattifies the skin. It also blurs your pores and evens out your skin tone. It is available in 12 shades catering to different skin tones.
Pros
Non-greasy
Matte finish
Flake-resistant
Full coverage
Long-wearing
Cons
Price at the time of publication: $27.75
The Clinique High Impact Waterproof Mascara is a non-clumping formula that adds instant volume to your lashes. It is flake-resistant, so you do not have to worry about getting panda eyes. Plus, its rich pigment gives your lashes a plusher, lusher, and bolder appearance.
Pros
Clump-free
Non-irritating formula
Long-wearing
Flake-resistant
Smudge-resistant
Cons
The pigment may dry out quickly
Price at the time of publication: $20.98
The Clinique Face Care Soft Pressed Powder Blusher has a sheer, buildable color that gives your cheeks a superb, radiant glow. This buildable formula lasts all day. It is ideal for everyday wear and can also be used for special occasions.
Pros
Suitable for all skin tones
Buildable color
Natural finish
Long-wearing
Cons
Price at the time of publication: $30.55
The Clinique Take the Day Off Makeup Remover is known for its ability to dissolve even the most stubborn makeup, including waterproof mascara. This non-irritating formula does not sting your eyes. This Clinique makeup remover is suitable for all skin types and is very easy to use.
Pros
Suitable for all skin types
Non-stinging
Non-irritating
A little goes a long way
Hypoallergenic
Fragrance-free
Cons
Price at the time of publication: $19.48
The Clinique Redness Solutions Makeup SPF15 is an oil-free, lightweight foundation. It neutralizes redness and rosacea marks on your skin. It is formulated using probiotic technology, which strengthens the skin's moisture barrier. It is powered with SPF 15 which protects your skin from damaging UV rays. The foundation is available in six shades, catering to many skin tones.
Pros
Non-greasy
Oil-free
Lightweight
Available in six shades
Cons
Price at the time of publication: $45
The Clinique All About Shadow Duo has two crease-resistant and fade-proof shades (one base color and one transition shade). The shades are ophthalmologist-tested, so they are safe for contact lens wearers. They impart a gorgeous satin finish to your lids. The colors stay put on your lids for many hours. The palette comes with a built-in mirror and a sponge-tip applicator.
Pros
Crease-resistant
Fade-resistant
Ophthalmologist-tested
Safe for contact lens wear
Safe for sensitive eyes
Comes with a mirror and an applicator
Long-wearing
Satin finish
Cons
Price at the time of publication: $38.99
The Clinique True Bronze Pressed Powder Bronzer helps you achieve a natural-looking, sun-kissed glow. You can use it to define your cheekbones, contour your face, or add a touch of warmth to your overall facial skin. It is also very buildable, so you can achieve the desired intensity easily. The product is long-lasting and does not fade or crease throughout the day.
Pros
Lightweight
Oil-free
Allergy-tested
Buildable
Fragrance-free
Long-wearing
Fade-resistant
Cons
Does not come with an applicator
Price at the time of publication: $29.14
The Clinique All About Shadow Quad in the shade 'Pink Chocolate' is highly pigmented and blendable. It comes with four eyeshadows that help you create a variety of looks. The eyeshadows are ophthalmologist-tested, making them suitable for people with sensitive eyes and ideal for contact lens wearers. The palette comes with a mirror and two sponge-tip applicators. Plus, the shadows are crease- and fade-resistant.
Pros
Ophthalmologist-tested
Highly pigmented
Buildable colors
Safe for sensitive eyes
Safe for contact lens wearers
Fade-resistant
Crease-resistant
Comes with a mirror and applicators
Cons
Price at the time of publication: $34
The Clinique Brow Shaper is a brow powder that is designed to fill out the sparse areas on your eyebrows and define their shapes. The fine-pressed powder of the product has a soft texture that goes on smoothly on your brows and last all day. You can achieve natural-looking, perfect eyebrows easily with this product.
Pros
Ideal for daily use
No harsh lines
Long-wearing
Comes with an angled brush
Easy to apply
Fine-pressed powders
Cons
Some may find the color too light
The Clinique Moisture Surge CC Cream conceals skin imperfections like dull patches and redness. The lightweight, oil-free product comes with SPF 30 which protects your skin against UV rays. The CC cream is enriched with hyaluronic acid that keeps your skin moisturized and plump throughout the day. It is available in 5 shades, catering to different skin tones and undertones.
Pros
Lightweight
UV protection with SPF 30
Oil-free
Allergy-tested
Fragrance-free
Cons
Price at the time of publication: $35.8
The Clinique Line Smoothing Concealer is an oil-free product that camouflages wrinkles and fine lines. The cream smoothes and minimizes skin imperfections, giving you an even skin tone. It counteracts shadows and reduces redness. The smooth texture of the product blends easily on your skin and revives the natural radiance of your skin. It also boosts skin's firmness.
Pros
Oil-free
Long-wearing
Buildable
Full-coverage
Suitable for all skin types
Cons
The Clinique Touch Base For Eyes is a long-lasting cream product that can work amazingly as an eyeshadow base. It stays put on your eyes without fading, creasing, or smearing. It helps to keep your eye makeup fresh for up to 12 hours. Plus, it is lightweight, so you can wear it for extended periods. It can also be worn on its own as it adds a nice glimmer to your eyes.
Pros
Fade-resistant
Easy to apply
Lightweight
Ophthalmologist-tested
Crease-resistant
Smear-proof
Long-wearing
Subtle color
Cons
Price at the time of publication: $20
Clinique products have a fan base of their own and the credit goes to their skin-benefiting makeup formulas. And what makes these formulas premium are their key ingredients These ingredients improve the health of your skin and boost its innate glow. Read more about them in the section below.
Key Ingredients In Clinique Makeup Products
Moisturizing Ingredients: Clinique makeup products are enriched with hydrating ingredients like aloe vera, safflower seed oil, and hyaluronic acid that keep your skin nourished and soft. These ingredients are commonly found in Clinique foundations and primers.
Anti-Aging Ingredients: Peptides, retinoids, and retinol are commonly found in Clinique all makeup products. They accelerate cell turnover, promote skin elasticity, and diminish the appearance of fine lines and wrinkles.
Antioxidants: Clinique makeup products are packed withvitamins E and C and provitamin D that shield your skin against damaging free radicals and UV rays.
Soothing Ingredients: Clinique products also contain calming agents like cica, green tea, and lactobacillus probiotic ferment that treat inflamed skin, calm itchiness, and eliminate redness.
Clinique makeup products are well-known for catering to the overall health of your skin while enhancing its beauty. In the following section, we will read about the factors which make Clinique cosmetics amazing.
Why Should You Choose Clinique Makeup Products?
Dermatologist-Developed: Clinique makeup products are formulated and tested under the supervision of skincare professionals. The products are allergy-tested and are potentially harmless.
Sensitive Skin-Friendly: Clinique makeup products are gentle and free of common irritants. The products are formulated to be safe for the most sensitive skin.
Skincare Benefits: Clinique makeup products are packed with skin-benefitting ingredients that moisturize, soothe, and protect your skin while enhancing its look.
Diverse Range Of Shades: Clinique makeup products comes in a wide variety of shades catering to different skin tones, undertones, and types. There is something for everyone.
Why Trust StyleCraze?
The author of this article, Srijita De is a makeup enthusiast. She has thoroughly studied authentic user reviews on various e-commerce sites before coming up with the 15 best Clinique makeup products. She has also analyzed makeup experts' viewpoints on all the products before adding them to the list.
Frequently Asked Questions
Is Clinique chemical-free?
No. Clinique uses a combination of natural and chemical ingredients to achieve the desired effect of the products. The products are free of irritants and they undergo rigorous testing to ensure skin safety.
Is Clinique a paraben-free brand?
Yes. Clinique does not use common irritants like parabens in formulating the products.
Which Clinique foundation is the best for older skin?
The Clinique Even Better Makeup SPF 15 is designed to improve the appearance of mature skin. It masks up age spots, fine lines, and wrinkles and imparts your skin a youthful, natural finish.
Which celebrities use Clinique Black Honey?
Celebrities like Drew Barrymore, Emilia Clarke, Liv Tyler, Julia Roberts, and Zooey Deschanel enjoy wearing the Clinique Black Honey lipstick.
Is Clinique Black Honey's tone cool or warm?
Clinique Black Honey has a moderately warm tone. It is a light plum lipstick with a natural finish.
Does Clinique Black Honey suit everyone?
Yes. The Clinique Black Honey lipstick has blue, red, and yellow pigments that fuse with the natural lip color. Therefore, it works on all skin tones and looks unique on everyone.
Are Clinique eye products ophthalmologist-tested?
Yes. Clinique's eye products are ophthalmologist-tested. They are suitable for contact lens wearers and safe for users with sensitive eyes.
How do you remove Clinique mascara?
Follow these steps to remove Clinique mascara from your lashes:
•  Dampen a cotton pad with a few drops of makeup remover.
•  Press the pad against your lashes for 10 seconds.
•  Wipe the pad on the lashes to remove the mascara.
•  Move the pad on the under lashes to clean them.
How long is Clinique mascara good for?
The shelf life of Clinique mascara is three to five years.