15 Best Clip-In Hair Extensions That Give Volume & Length
Experiment with many hair looks with these accessories and add length to your tresses!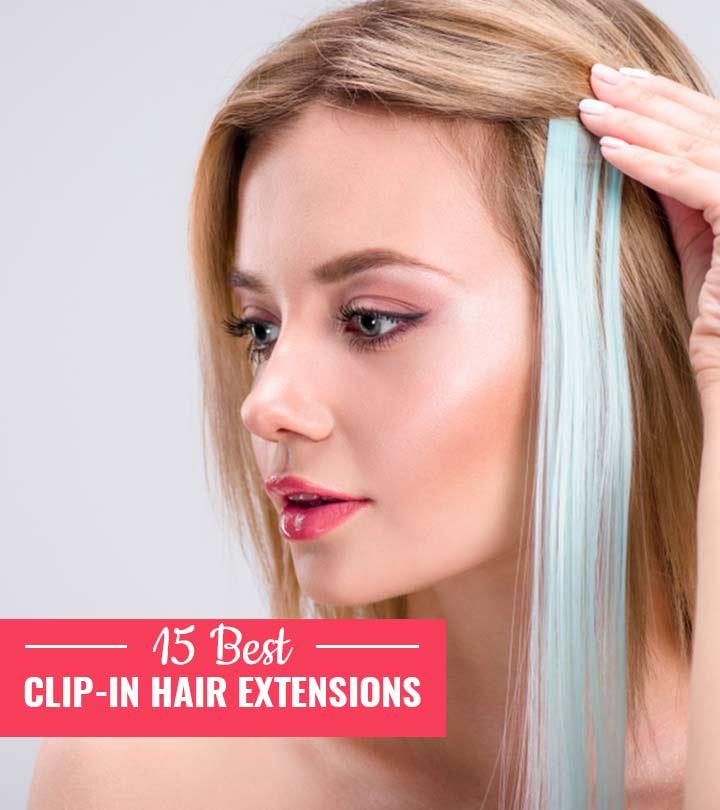 Finding and setting the best clip-in hair extensions that match your hair texture and color, can reduce your salon expenses. Clip-in extensions are easy to put on by yourself and once in place, they can completely transform your tresses, giving it volume, length, or both! Also called artificial hair integrations, these extensions can be made out of synthetic hair or natural human hair.
The trickiest part of finding the right extensions for you is getting the color and the quality right. To make the task easier for you, we have carefully selected the best-reviewed and most well-crafted 15 clip-in hair extensions. So, if you want to experience the easiest way to get celeb-like hair, check out our list now!
15 Best Clip-In Hair Extensions
Pros
Great quality hair extensions
Super soft
Easily match with your hair color
Hand-made wefts
Breathable
Straight, thick texture from top to bottom
9A quality grade wefts
Available in vibrant colors
Money-back guarantee
Cons
May change texture after just one wash.
Expensive
Price at the time of publication: $145.99
Pros
Available in various shades
Easy to apply
No bad fragrance
Convenient to use
Suitable for adults and kids
Cons
May get tangled
Slightly low quality
Price at the time of publication: $11.99
Pros
99% human hair
No tangles
No shedding
Premium quality stainless steel clips
Seamless look
Easy to change the style
Easy to wear
Thick double weft
9A grade Brazilian hair
Cons
Price at the time of publication: $133.28
Pros
Double weft
Made of 99% pure human hair
No tangles, knots, or shedding
Stainless hair clips
Easy to install
Durable hair extensions
Reusable
Washable
1-year shelf life
Available in different colors
Cons
Not soft
Good for limited uses
Thin
Pros
Appears invisible
Soft and bouncy
Comfortable
Suitable for straight hair
Adds depth and volume to hair
Cons
Price at the time of publication: $198.88
Pros
High-quality stainless steel clips
Durable double weft
100% high-quality Brazilian hair
Clips firmly sewed in wefts
Easy to wear
Long-lasting
Affordable
Blends well with hair quality
Rust-resistant
Available in different colors
Cons
Clips slip when loosely tugged.
Price at the time of publication: $72.99
Pros
No split ends
Easy to wear and remove
High-quality
Real human hair
Cons
None
Price at the time of publication: $52.99
Pros
100% human hair
Comfortable
Easily blends with natural hair
Natural-looking
Cons
Price at the time of publication: $55.99
Pros
100% Remy human hair
Provides 3A and 4A kinky screw curls
Easy to install
Easy to slide away when not in use
Stainless steel clips
Rust-resistant
Blends well with natural hair
Cost-effective
Cons
Thin
Short-length extensions
Low volume hair extensions
Price at the time of publication: $87.9
Pros
100% Remy human hair
Silicone-coated clips for better hold
Rust-resistant
Suitable for African American Hair types
Hassle-free installation
Easy to wash and dry
Made with non-damaging material
Minimal shedding
Blends easily with natural hair
Intact hair cuticle
Cons
Price at the time of publication: $71.9
Pros
Seamlessly blends with your natural hair
Available in single and two-tone colors
4 weft lengths
Soft texture
Adds intense volume
Cons
Price at the time of publication: $27.59
Pros
Heat-resistant synthetic fiber
5 clips-in-one synthetic hair extensions
Easy to wear in 2-3 minutes
Available in mixed colors for an ombre look
Cons
Synthetic fiber may get tangled.
Need additional care
May look like artificial doll hair.
Non-returnable
Can't be styled
Price at the time of publication: $9.99
Pros
100% real human hair
Natural-looking
High-quality
Blends well with natural hair
Soft and silky
Cons
Price at the time of publication: $35.9
Pros
5 clips in one extension
100% Korean synthetic hair
Heat-resistant
Premium quality attached clips
Easy to wear
Comfortable to carry
Can be restyled
Available in different tones of colors
Cons
Need extra care to keep them tangle-free
Hard clips
Difficult to unclip
The color of the extensions may not totally match with hair.
Price at the time of publication: $8.99
Pros
Pre-styled
Ready-to-wear
Impeccably tailored
Feels like natural hair
Easy to put on
Cons
Price at the time of publication: $20.99
This is the list of the top quality clip-in hair extensions you can try. These can help you achieve a voluminous look within minutes. Apart from clip-ins, hair extensions are available in other types as well. We will look at them in the following section.
What Are The Best Types Of Hair Extensions?
Most hair extensions are made of 100% Remy human hair that gives a natural look. The market also has synthetic hair extensions. These extensions are available in any of the following types:
Clip-Ins: Clip-in wefts (also known as clip-in hair extensions) come as a strand of contoured pieces attached to a stainless steel silicone-coated clip at the base. You need to clip each strand with your own hair to give a healthy, fuller look. You can easily clip-in and unclip these extensions whenever you want.
Sew-Ins: Sew-in extensions (also known as weave-in extensions) involve an age-old process of sewing artificial hair into your natural hair. Using a needle and thread, the hair extensions are weaved into the braids to increase the thickness and volume of natural hair. It is a long process and can strain the scalp. Such extensions can also be quite uncomfortable to carry.
Tape-Ins: Tape-ins are much thicker bonded extensions that give you the perfect, thick hair you wanted. The extensions are pre-taped and then taped/glued together on either side of your own hair by using high heat tools.
Glue-Ins: Gluing-in is an expensive method to increase your hair volume. Artificial hair strands are attached by melting a plastic keratin bond to the size of a grain of rice around your natural strand. These extensions are a permanent solution to increase hair thickness and volume.
If you are using hair extensions for the first time, the following section may help you.
How To Install Clip-In Hair Extensions
Clip-in hair extensions are perfect bonded extensions that are easy to install, carry, and unclip whenever you want. Follow these steps for proper installation:
Use your fingers to make sure your natural hair is dry and tangle-free.
Section off hair, after leaving a 1-inch gap from the nape of your neck.
Keep sectioning off hair on both the sides of your head. At the back of your head, section off the bottom part and clip up the rest of your hair.
Select the weft of hair.
Open up the clips on the first weft.
Always attach the middle clip first. Comb your natural hair, and then snap the clip shut. Check whether the attachment is secure.
Snap the clip close and use your fingers to smooth out the hair.
Repeat with the clips on the left and right side of the weft.
Attach another weft in the same process as the first.
Make a horizontal part to attach the smaller side pieces above the ear. You can attach the remaining wefts the same way.
Installing clip-in hair extensions is simple. However, it is important to choose the right extension that suits your needs. In the following section, we have discussed the factors you need to check before you can pick one.
How To Choose The Best Hair Extensions For You
Decide the length you want to extend your hair by. Clip-in hair extensions work best if your natural hair is at least 10 cm long.
Decide how much volume you want. You must know your hair type (thick or thin) before you can add volume. If you have thin or medium-thick hair, you can go with standard extension sets weighing 100-120g (depending on the extension length). If you have thick hair, you need go for slightly heavier extensions.
Choose the right color as per your natural hair color and texture.
If you want a natural hair look, choose natural hair extensions. Though expensive, they are more durable than their synthetic counterparts and also have a good shelf life.
Why Trust StyleCraze?
The author of this article, Oyendrila Kanjilal, is a certified skin care coach who is also a hair care enthusiast. She consulted several online forums and directed hours of research to list the best clip-in hair extensions. She went through thousands of reviews to hand-pick the best products keeping in mind the quality, volume, length, and color of these extensions. These hair extensions are easy to wear and a real treat for those that want to style their hair frequently without causing damage.
Frequently Asked Questions
How long should you wear clip-in hair extensions?
Wear clip-in hair extensions for as long as you want in a day. But remove them before sleep to prevent damaging the extension and tearing your natural scalp.
What kind of hair extensions are the best?
Clip-in hair extensions are the best. They are user-friendly and affordable. In addition, these extensions can be styled easily and are long-lasting.
How long do hair extensions last?
The shelf life of clip-hair extensions is two to three months. They tend to wear out after that and become difficult to set.
Do clip-in hair extensions damage the hair?
Yes. Daily use of clip-in hair extensions can disrupt natural hair growth and cause breakages. Heavy extensions also cause scalp pain.
How do you wash hair extensions?
• Use a wide-toothed comb and brush the extension to remove tangles and knots.
• Fill your sink with warm water and mix two to three drops of moisturizing shampoo.
• Hold the extension taut and immerse the hair in the soapy water.
• Apply your desired amount of shampoo to the extension and cleanse them thoroughly.
• Apply a conditioner and leave it on for 5 to 10 minutes.
• Place your extension under running water and wash the leftover products.
• Gently squeeze the extension to remove the excess water.
• Use a comb to brush the extension gently and smoothen the knots.
• Hang the extension in a well-ventilated area and air dry it.