13 Best Co-Washes For Natural Hair According To A Hairstylist (2023)
Switch to these gentle co-washes to keep your kinky hair oil- and dirt-free.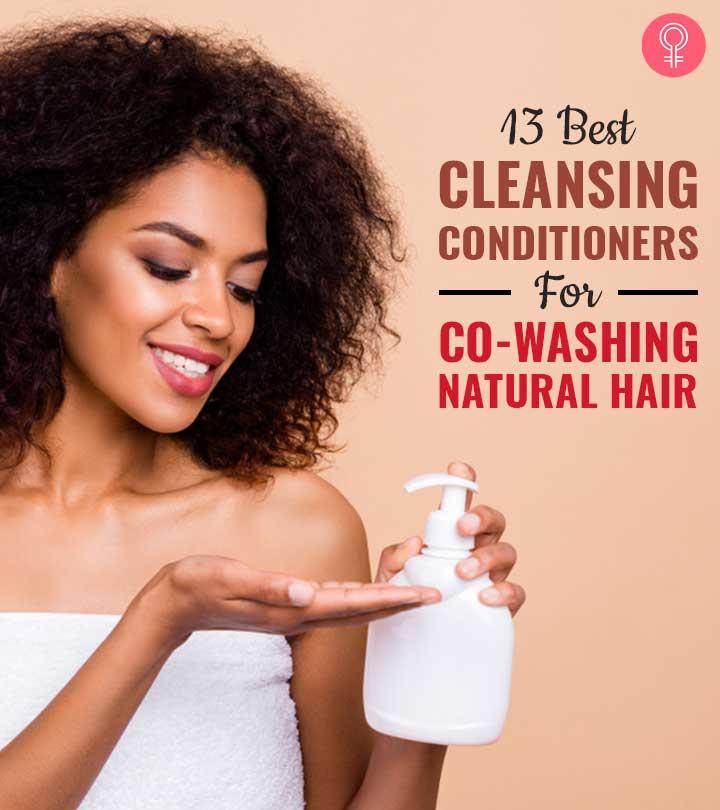 Shampooing your hair every day is not the only solution if your scalp becomes oily and uncomfortable too frequently. You need the best co-wash for natural hair to keep your scalp squeaky clean. Co-washing, also known as conditioner-only washing, involves washing your hair using only a conditioner. Co-washing has become popular, especially with those who have curly and wavy hair. If you are someone with type 4 hair, you probably know this method already.
Curly hair might turn dry and brittle too frequently, so co-washing will be the best remedy. It helps in scalp care, tames frizzy hair, adds curl definition, and retains moisture while being gentle on textured hair. Here, we have listed the best co-wash conditioners that are laden with special cleansing ingredients to remove buildup, so you can try if you want to moisturize your hair without making it greasy. Scroll down!
13 Best Cleansing Conditioners For Co-Washing Natural Hair – 2023
This is a concentrated and creamy cleansing conditioner that is extremely lightweight. It gently cleanses your hair and scalp and removes dirt, impurities, oil, waxes, silicones, and mineral deposits left on your scalp by styling products and hard water. It preps your hair without over-drying it. This product is good for even color-treated hair.
Pros
Contains 97% natural and naturally derived ingredients
Doesn't weigh the hair down
Works well on high porosity hair
Cons
May not work for all hair types/hair textures.
The fragrance may be overpowering for some users.
This organic co-wash contains coconut oil that lubricates your hair and protects it from damage. The co-washing conditioner gently removes all impurities. The formula is infused with keratin, amino acids, and protein that help in hair repair, restore strength, and make your hair smooth and shiny. It also contains shea butter that has proven efficacy in conditioning the damaged areas and providing protective lipids to your hair. Made with organic ingredients, it does not contain parabens, sulfates, or harsh salts.
Pros
Sulfate-free
Dye-free
Paraben-free
Gluten-free
No sodium chloride
No harsh salts
Makes hair soft and bouncy
Prevents tangles
Keeps hair super soft
Cons
The pump might malfunction.
This is an ultra-rich, triple-action conditioner that helps replenish moisture and remove dust, build-up, and impurities from your hair. It contains flaxseed, which is a source of omega fatty acids. It helps prevent hair thinning and shedding. This gentle cleansing conditioner also contains nourishing ingredients like avocado and coconut oils that help improve overall hair health and scalp health. It is gentle enough to be used daily and is suitable for all types and textures of hair. Before buying, have a look at this video highlighting a tester's experience with the product for more details.
Pros
Sulfate-free
Paraben-free
Mineral oil-free
Petrolatum-free
Also suits type 4 hair
Non-sticky
Prevents frizz
Cons
This is a lightweight and no-foam co-washing conditioning cream. It gently removes all dirt, build-up, and residue from your hair and scalp and helps maintain your natural curls/coils. It is formulated with a perfect blend of natural ingredients that work at the follicular level to keep your hair healthy and hair growth. It keeps the hair moisturized and maintains moisture until your next wash. Check out this video to explore a reviewer's experience with the conditioner to know more about it.
Pros
Safe for color-treated hair
Gentle for everyday use
Spreads easily
Detangles the hair
Deep conditioning
Pleasant fragrance
Cons
The container packaging causes product wastage.
This daily cleansing conditioner is meant for curls, coils, kinks, and waves. It is a no-lather cleansing conditioner that washes away all impurities, deeply moisturizes your hair, and creates a healthy environment for hair growth. It detangles your hair and defines your natural curls, so it is easy for you to run your fingers through them. Suitable for relaxed hair, it is made with agave nectar that moisturizes and conditions hair from root to tip and contains pro-vitamin B5 and biotin that helps in hair strengthening.
Pros
Sulfate-free
Paraben-free
Mineral oil-free
Petrolatum-free
No artificial color
Prevents frizz
Cons
None

If you are looking for a suds-free co-wash for natural hair, you can try this product. It is a silky conditioning cream that helps remove residue from your hair and scalp and keep it fresh in between regular washes. This cleansing conditioner for curly hair texture contains nourishing ingredients like coconut oil, shea butter, aloe vera extracts, and avocado oil that work together to keep your hair hydrated and lock in moisture to prevent dryness. Multiple reviewers agree that the product removes residue and product build-up from the scalp while moisturizing it.
Pros
Sulfate-free
Mineral oil-free
No artificial dyes
Cruelty-free
Suitable for transitioning hair
Suits 4C low-porosity hair
Detangles hair easily
Pleasant fragrance
Cons
This cleansing conditioner is for textured, dry, thick, and/or color or chemical treated hair. This co-wash is a 4-in-1 formula that cleanses and conditions your hair effectively. It helps detangle the hair, making it easy to comb, and deeply nourishes it. This ultra-hydrating cleanser contains nourishing ingredients like shea butter, avocado oil, and quinoa extracts that help remove impurities without stripping the natural oils. It also contains aloe vera extracts that improve manageability and make your hair healthy. This conditioner does not contain any harmful chemicals and preservatives.
Pros
Sulfate-free
Silicone-free
Phthalate-free
Paraben-free
DEA-free
No artificial dyes
Vegan
Cruelty-free
Gluten-free
Cons
Less quantity for the price.
This is a lightweight co-washing conditioner for natural hair. It has a color-safe formula that is infused with argan oil. It gently cleanses your hair and removes dirt and product residue from your scalp and hair. The argan oil hydrates your natural hair and keeps it frizz-free and defines your curls, coils, kinks, and waves. This product does not contain any parabens and sulfates (both SLS and SLES).
Pros
Sulfate-free
Silicone-free
Petrolatum-free
Mineral oil-free
Paraben-free
Cons
Some users may not like the fragrance.
The co-wash cleansing conditioner has a sulfate-free formula and is gentle enough for daily use. It does not strip the natural oils of your hair. The formula contains botanical ingredients like jojoba oil and peppermint oil that hydrate the hair, protect it, and make it soft while ensuring your scalp feels clean and refreshed. It has a pleasant fresh peach scent, so you can be sure that your hair will keep smelling good.
Pros
Contains botanical extracts
Paraben-free
Sulfate-free
Contains silk amino proteins
Contains food-grade preservative
No harmful chemicals
Cons
None
This shine-enhancing, creamy, and no-lather cleansing conditioner. It gently cleanses the scalp and keeps it nourished. It makes dry, coarse, and natural hair more manageable. This product helps replenish the hair moisture with its blend of pequi, monoi, and jojoba oils. It controls frizz, detangles the hair, and adds shine to it. Moreover, it has an extremely soothing lavender-mint fragrance that invigorates your senses and helps relax your mind and spirit.
Pros
Paraben-free
Gluten-free
Vegan
Safe for color-treated hair
Cons
This co-wash conditioner is perfect for 3C and 4C hair types. It gently cleanses and detangles your hair without making it excessively dry. It is so gentle that you can also use it as a leave-in conditioner after you have shampooed your hair. It is enriched with nourishing oils, like sesame and coconut oils, and shea butter that help eliminate frizz and make your hair soft to touch.
Pros
Paraben-free
Sulfate-free
No harmful chemicals
Lightweight
Cons
None
This keratin-infused LuxeOrganix Cleansing Conditioner is perfect for curly hair and color-safe. Your hair will feel softer, smoother, and easy to maintain after using it. Additionally, this softening cleanser also enhances your mood as it has a minty fresh scent and helps tame hair that is prone to tangling. It removes excess buildup, doesn't leave any residue behind nor contains any harmful chemicals. It is safe to use, efficient and works quickly without stripping your hair or drying out your scalp.
Pros
Sulfate-free
Prevents frizz
Detangles hair easily
Pleasant fragrance
No harmful chemicals
Safe for color-treated hair
Cons
This product is enriched with coconut and Australian jojoba oil. If your hair is curly and kinky, this product is the best choice for the in-between days before you wash your hair. It nourishes your hair from root to tip and cleanses your scalp and hair thoroughly to keep you feeling refreshed even when you do not shampoo your hair. It keeps your hair smooth and bouncy and is extremely gentle on your kinks and coils.
Pros
Paraben-free
Sulfate-free
Pleasant fragrance
Dye-free
Doesn't weigh down hair
Prevents frizz
Makes hair smooth and soft
Cons
None
*The prices provided in this article are based on the latest available information. However, they may vary due to changes in pricing by the seller and/or promotional offers.
Whatever your hair type, you must know how to choose the best co-wash product for the perfect result. Below are some guidelines for you to follow while buying the best cleansing conditioners for co-washing your tresses.
Things To Consider While Buying The Best Cleansing Conditioner For Co-Washing Natural Hair
Porosity of the hair refers to how much water your hair can repel or absorb. If you have low porosity hair, you require a lightweight cleansing conditioner. A heavy product will weigh the hair down with build up. High porosity hair will require a conditioner enriched with proteins, natural oils and butter that will keep them nourished.
Whether you have dry or normal hair, you need a rich conditioning formula infused with moisturizers like shea butter and natural oils like olive oil, castor oil, coconut oil. If your hair is oily, look for more lightweight oils like almond and argan oil which will not weigh the hair down.
Pick a natural product which is non-toxic, hypoallergenic, cruelty-free, and devoid of parabens, sulfates, mineral oils, and petroleum. These chemical ingredients are bad for hair health.
If you have type 4 hair, you know how tangled your hair can get! Pick a detangling condition with lubricating ingredients like coconut oil that free-up your curls, while amino acids, keratin, and protein restore strength in the brittle strands.
Natural hair is prone to frizz and flyaways. Pick a co-wash that moisturizes the hair and keeps it smooth and in control. Formulas with nourishing ingredients like coconut and avocado oil condition the hair and balance the oil and natural moisture level to reduce frizz.
If you suffer from hair loss and split ends, look for flaxseed in the formula. Flaxseed is rich in omega fatty acids that have proven efficacy in preventing hair shedding and thinning. Shea butter offers lipids that condition the damaged areas.
Co-washing your hair can be beneficial in the long run if you use the right product and do it the right way. Here are a few tips to follow to co-wash curly and coily hair.
How To Co-Wash Your Curls: Best Practices
When you are not using shampoo for cleaning your hair, you need to adjust your methods of rinsing and cleaning. Here is how you can properly co-wash your hair:
Wet Your Hair Properly: Soak each strand of your hair to the point that water drips from each of them. Water helps to loosen the dirt and debris from your hair and makes it easy to clean. It also helps spread the product evenly.
Take A Good Amount Of The Product: You will need a dollop of the cleansing conditioner to coat each strand of your hair from root to tip. If your hair is dense, you may need more of the conditioner, but make sure it is enough to cover your hair.
Massage The Conditioner Thoroughly: Massage it well on the scalp and your hair. This helps break down oil and dirt. Leave it for 3-5 minutes and let your hair soak it. After that, wash your hair with water and rinse as usual.
Use A Clarifying Shampoo Once In Two Weeks: Product build-up is inevitable, and you need to shampoo once in a while to avoid it. Usually, shampooing once or twice in a month is fine. If you feel your hair is weighed down, you can shampoo and co-wash alternatively.
Remember, if you are co-washing for the first time, your hair and your scalp need time to adjust to this new washing routine. You might experience greasiness and no difference in the beginning. However, after a month of following this new natural haircare routine, you may start noticing results.
Why Trust StyleCraze?
The author, Oyendrila Kanjilal, is a haircare enthusiast. She is driven by her keen interest in finding and reviewing the best hair care products. She has prepared this list of the best co-wash conditioners after thoroughly checking numerous online reviews and closely examining the product specifications of multiple products from different brands. The products shortlisted here help tame frizzy hair, retain moisture, and leave natural hair non-greasy and manageable.
Frequently Asked Questions
Can I co-wash with any conditioner?
AnsYes, you can. However, a cleansing conditioner has a better formula and is specially meant for co-washing. You will get better results with cleansing conditioners.wer
Will co-washing make the hair greasy?
It depends on your hair type. If you have curly hair and your scalp is not used to co-washing, it might become greasy initially or leave you with an irritated scalp. However, with time, your scalp will adjust to it and produce less oil.
How often should I co-wash?
Whenever you normally shampoo your hair, instead of shampooing, just co-wash it.
When to use co-wash?
Use a co-wash if you have dry, coarse, and damaged hair. It cleanses the dirt from your hair and moisturizes it from the roots. Skip using two different hair cleansing products and opt for a co-wash and save your time.
Does co-washing cause hair loss?
No. Co-washing does not cause hair loss. However, if you do not rinse the hair properly after using a co-wash, the accumulated product may dry out the strands and cause hair loss.
Is co-washing better than shampoo?
Co-washing cleanses and moisturizes the scalp, while regular shampoo only removes the dirt. Therefore, co-washing is better than shampooing.
Is co-washing good for 4c hair?
Yes. 4c hair gets dry and brittle as it traps more product, dirt, and oil inside the locks. Therefore, co-washing is highly effective in cleansing product buildup, smoothening rough curls, and adding moisture.
Is co-washing good for low-porosity hair?
No. Low-porous hair has closed pores. Therefore, co-washing causes more product buildup and turns the hair dry and brittle. Instead, wash your low-porous hair with a clarifying shampoo to open the flat pores, then use a deep conditioner.
Recommended Articles