15 Best Co-Washes For Curly Hair
The ultimate guide to pampering your hair for smooth, bouncy, and healthy locks.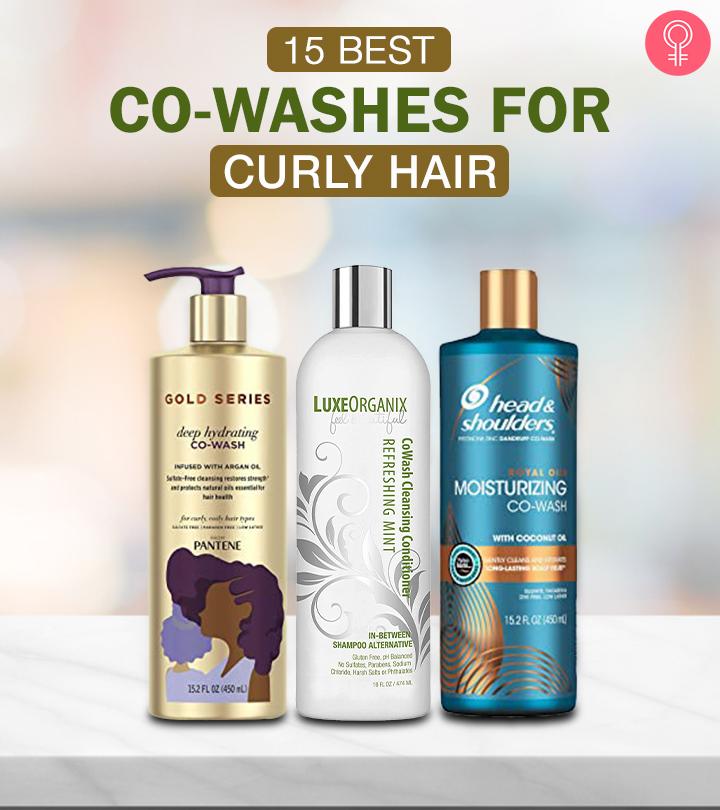 Co-washing means washing your hair only with conditioner, and not a shampoo. Thick, wavy, curly hair may love the TLC from this nourishing and mosituring conditioner wash. If you are here looking for the best co-washes for curly hair, we got you covered. You can choose any of the 15 co-washes enlisted below to help you get started with this recent trend.
What Is Co-Washing?
Co-washing stands for Conditioner Only Washing. It means skipping the shampoo and using only a conditioner to cleanse your hair. If you are new to this concept, it may sound bizarre since most conditioners are meant to moisturize your hair and not remove the grease and buildup it accumulates between washes.
But here's the thing. Most shampoos contain a lot of sulfates and other surfactants that create that rich lather we all love. However, our hair does not always need that much cleansing. In fact, regular shampooing can even strip your hair of its essential oils, leaving it dull and dry.
With co-washing, you can gently remove dirt and buildup from your hair while still giving your gorgeous curls some much-needed moisture and hydration. However, you need not forget about shampoo entirely. Co-washes are meant to be used between regular shampoo washes and can provide enough cleansing that you can delay your next shampoo wash by a couple more days. Depending on your hair type, texture, and other requirements, you may alter your co-washing frequency according to what suits you best.
Here are a few simple steps to help you figure out the correct way to co-wash curly hair.
How To Co-Wash Curly Hair
Start with soaking wet hair as it is easier to detangle and helps spread the product better.
Apply the co-wash to the top of your head.
Massage it into your scalp using your finger pads. This motion will help lift grease and dirt. You can also use a shampoo brush for better results.
Divide your hair into two sections and repeat the above steps on the back of your head.
Apply the co-wash along the lengths of your hair, gently detangling it with your fingers.
Allow the product to sit for a minimum of 3-5 minutes to let your hair absorb all the nourishment it needs.
Finally, rinse your hair thoroughly with water.
We hope that helped give you some ideas on how to use co-wash correctly. Now, let's take a look at the 11 best co-washes for curly hair that can help you achieve gorgeous locks without a fuss.
Top 15 Co-Washes For Curly Hair
Aunt Jackie's Flaxseed Recipes Purify Me Moisturizing Co-wash Cleanser is just what you need to keep your curls free of impurities and buildup without stripping them of moisture. This co-wash for curly hair works to improve the overall health of your hair while providing deep cleansing. It is perfect for chronically dry hair and gentle enough for daily use. The formula is rich and creamy, helping to soften your hair and replenish your curls with moisture. You may check this video for a better understanding of this product.
Pros
Suitable for all hair types
Gentle enough for daily use
Deeply cleanses and removes buildup
Nourishes hair with moisture
Improves hair health
Paraben-free
Sulfate-free
Mineral oil-free
Petrolatum-free
Cons
None
Price at the time of publication: $8.99
The Royal Oils Moisturizing Co-Wash from Head & Shoulders is enriched with coconut oil to help provide long-lasting scalp relief while gently cleansing and hydrating your hair. With regular use, this co-wash cleanser can help balance and restore the health of your scalp. The rich, conditioning formula provides gentle cleansing and provides soothing relief from dry scalp and itchiness. Your hair becomes softer and more moisturized with every use. The co-wash is ideal for natural, curly, coily, and kinky hair.
Pros
Ideal for curly hair
Gentle enough for daily use
Provides intense hydration
Provides relief from dry, itchy scalp
Pleasant fragrance
Dye-free
Paraben-free
Sulfate-free
Low lather
Cons
None
Price at the time of publication: $16.93
The Renpure Coconut Creme Cowash Cleansing Conditioner helps make your hair healthier and more beautiful. The extra virgin coconut oil in the formula protects your hair by lubricating every strand thoroughly. The gentle coconut cleansers remove buildup and impurities without stripping your hair or over-drying it. The co-wash also contains amino acids, protein, and keratin that help hydrate and repair damaged hair. Regular use leaves your hair looking smooth and shiny.
Pros
Provides gentle cleansing
Keeps hair hydrated
Pleasant fragrance
No harsh salts
Paraben-free
Sulfate-free
Dye-free
Gluten-free
Convenient pump dispenser
Cons
The As I Am Coconut Cowash Cleansing Conditioner is a favorite product of most curly haired beauties. It is best suited for coiled and curly hair textures. The coconut co-wash gently cleanses your scalp and hair without stripping the moisture. The formula is enriched with a revitalizing blend of tangerine, castor oil, and coconut oil. It entirely removes product buildup and impurities from your hair while nourishing it to promote healthy hair growth. Regular use leaves you with soft, shiny, hydrated locks that are effortlessly manageable. This video review will help you learn more about the product.
Pros
Suitable for daily use.
Safe for color-treated hair.
Contains natural ingredients
Keeps hair hydrated
Spreads easily
Gently removes residue
Paraben-free
Sulfate-free
Pleasant fragrance
Cons
May not work on all hair types.
Price at the time of publication: $20.38
The Pantene Gold Series Deep Hydrating Co-Wash is hailed as the "gold standard in moisture." It can work wonders on dry, damaged hair. This deeply moisturizing co-wash has been formulated with the help and expertise of scientists and stylists. It is an ultra-rich cleansing conditioner that not only cleans your hair and gets rid of dirt and impurities but also makes it soft and manageable. The co-wash is free of harsh chemicals and is infused with argan oil. It helps preserve the natural essential oils in your hair. This video will help you make an informed decision about your purchase.
Pros
Suitable for curly, coily hair types
Preserves the hair's natural oils
Low lather formula
Paraben-free
Sulfate-free
Dye-free
Convenient pump dispenser
Pleasant fragrance
Cons
May leave some hair types feeling greasy.
Price at the time of publication: $5.99
The Tea Tree Lavender Mint Moisturizing Cowash has a creamy, no-lather formula that provides gentle cleansing for your hair and scalp. It is nourishing for dry, coarse hair with natural curls, making them more manageable. The hydrating co-wash contains oils of monoi, pequi, and jojoba that replenish dry hair with moisture, calm frizzy hair, and make your locks shiny. The gentle co-wash is perfect for using between regular shampoo routines to help your hair stay nourished and moisturized.
Pros
Non-lathering formula
Provides intense hydration
Calms frizz
Makes hair shiny
Adds shine
Helps reduce static
Vegan
Pleasant fragrance
Cons
Price at the time of publication: $55.5
Eden BodyWorks Natural Cleansing CoWash helps provide conditioning for your hair between regular shampoo routines. It restores moisture into the hair while eliminating product buildup, grease, and residue. It nourishes the hair and scalp to create a healthy environment that promotes hair growth. The co-wash contains a host of moisturizing ingredients, such as shea butter, coconut oil, aloe vera, and avocado oil. The hydrating formula is easily absorbed into the hair, where it works to keep the moisture in and prevent your hair strands from drying out.
Pros
Provides intense moisture
Gently removes buildup
Makes hair soft and shiny
Makes curls more manageable
Travel-friendly packaging
Paraben-free
Sulfate-free
Cons
May leave behind some residue.
May irritate sensitive skin.
Price at the time of publication: $8.47
The Cantu Complete Conditioning Co-Wash is perfect for cleansing your curls and scalp while keeping it all from drying out and becoming frizzy. It prevents product buildup and contains a unique blend of more than 15 natural butters and oils that intensely moisturize your hair. The co-wash for curly hair includes 100% pure shea butter, and the formula is free of any harsh chemicals that might damage your hair. This creamy cleansing conditioner is the ideal product for wavy, curly, and kinky hair.
Pros
Provides intense hydration
Gently removes buildup
Travel-friendly packaging
Mineral oil-free
Sulfate-free
Paraben-free
Silicone-free
Cons
May leave a residue.
Does not have enough slip.
Price at the time of publication: $4.97
The Luxe Organix CoWash Cleansing Conditioner can help you extend your shampoo days by getting rid of buildup without drying out your hair. It leaves you with softer, smoother curls that are easier to manage. It is safe for color-treated and keratin-treated hair as well. The cruelty-free co-wash is made without harsh salts and chemicals that can damage your hair in the long run, leaving it dull, dehydrated and lifeless. It restores shine and moisture to hair damaged by chemical treatments, leaving it as soft as if you just stepped out of a salon. 
Pros
pH-balanced
Color-safe
Keratin-safe
Cruelty-free
Sulfate-free
Paraben-free
Phthalate-free
Gluten-free
Cons
Expensive
May make hair greasy.
Price at the time of publication: $32.47
As I Am Olive & Tea Tree Oil Dandruff Cowash helps treat dryness and itchiness in the scalp caused by dandruff. It provides soothing relief using olive oil and tea tree oil. The scalp care co-wash helps provide relief from dry flakes and irritation due to dandruff and seborrheic dermatitis. It offers intense hydration for dry and curly hair and helps make your curls more vibrant and manageable.
Pros
Removes product buildup
Keeps hair hydrated
Soothes itchy scalp
Travel-friendly packaging
Affordable
Paraben-free
Sulfate-free
Cons
May irritate sensitive skin.
Strong smell
Price at the time of publication: $10.99
The DNA Hydrating CoWash is enriched with natural ingredients that help remove residue and product buildup from your hair without stripping it of natural oils. It nourishes the hair and prevents excessive hair loss. The hydrating conditioning cleanser can be used on all kinds of natural hair and straight, wavy, spiral, coily, or kinky textures. It removes sebum, excess oil, dirt, and pollution from the scalp, helping extend the time between your regular shampoo washes.
Pros
Loaded with natural ingredients
Provides intense hydration
Makes hair soft and manageable
Strengthens hair to prevent hair fall
Travel-friendly packaging
Sulfate-free
Cons
May leave hair greasy with repeated use.
Does not detangle hair easily.
Price at the time of publication: $18.0
The Curl Drench Cleansing Conditioning CoWash is the perfect solution for keeping curly hair clean and nourished. It contains a generous dose of hydration in its essential conditioning ingredients. It gently cleanses your hair while nourishing the scalp and preserving its natural oils. It works to maintain the shape of every curl on your head, giving you softer and more manageable locks with every wash.
Pros
Suitable for extremely curly and coily hair
Provides gentle cleansing
Keeps hair hydrated
Makes hair more manageable
Reduces frizz
Sulfate-free
Cons
Availability may be an issue.
Expensive
Price at the time of publication: $18.38
The Moptop Co-Wash Cleansing Conditioner provides lightweight moisture to curly, wavy, and kinky-coily hair types, helping smooth the hair shaft. The formula contains calming aloe extract and sea botanicals that infuse dry hair with much-needed moisture. It helps make hair more manageable and adds a healthy shine. The co-wash also contains honey, which helps balance the natural oils in your scalp to prevent buildup during no-shampoo days.
Pros
Easy to use
Suitable for wavy, curly, coily hair
Provides moisture
Reduces frizz
Color-safe
Cons
May not work for fine hair.
May irritate sensitive skin.
Price at the time of publication: $17.99
The Alikay Naturals Cowash Me Cleansing Conditioner helps break down and remove excess buildup and residue on the scalp and hair roots. It fills the cracks of the hair cuticles to help repair damage caused by heat and pollution. It provides intense hydration to the hair from within and promotes healthy hair growth. Regular use stimulates blood flow in the scalp, makes curls soft and manageable, and adds a healthy shine.
Pros
Natural, organic ingredients
Sulfate-free
Keeps hair moisturized
No harsh chemicals
Pleasant fragrance
Cons
Expensive
May not be easily available.
Price at the time of publication: $14.97
This co-wash from Hairiette is enriched with kokum butter and marula oil, making it incredibly nourishing for damaged and dehydrated hair. It cleanses hair gently without stripping your curls of essential oils and moisture. The oil blend provides gentle detangling without pulling or tugging on your hair. The formula also contains castor seed oil, chamomile, henna extracts, and coconut oil that provide a ton of benefits for your curls.
Pros
Paraben-free
Sulfate-free
Silicone-free
Cruelty-free
Travel-friendly packaging
Cons
Contains isopropyl alcohol
Expensive
Co-washing is a great alternative to traditional shampooing when it comes to cleansing your curls. It is a method of cleansing your hair and conditioning it. Co-washes help to preserve the natural oils of your scalp and keep your hair hydrated. So, co-washes are always in demand. There are a few things you should look for when choosing a co-wash for your curly hair:
Things To Look For In Co-Washes For Curly Hair
Curl-Specific: Look at the labels and choose a co-wash specifically designed for curly hair. They offer deep hydration to your tight curls and improve their appearance.
Ingredients To Look For: Look for a co-wash that contains natural conditioning ingredients like aloe vera, honey, shea butter, hyaluronic acid, and glycerin. These agents replenish the lost moisture and nourish your strands. Curly hair tends to be more delicate than other types of hair, so you want to make sure you are using a product that will be gentle on your strands.
Ingredients To Avoid: Avoid co-washes free of harsh chemicals and irritants like parabens, phthalates, alcohol, mineral oil, petrolatum, and synthetic dyes. They dry your strands, weigh down your curls, and make them look dull. Additionally, choose a sulfate-free co-wash. Sulfates are harsh chemicals that can strip away natural oils and moisture from your hair.
Formula: Opt for a creamy formula that gently cleanses your scalp and reveals soft, shiny curls. In addition, pick a formula that lathers quickly and removes the product buildup between your tight curls.
Fragrance: Fragrance is an essential aspect to keep in mind. Strong scents cause nausea. Therefore look for a formula that is either odorless or has a mild, pleasant fragrance.
Packaging: Invest in a co-wash that comes in a compact, travel-friendly bottle. Choose pump-dispenser bottles over tub containers as they are more hygienic and easy to use.
Why Trust StyleCraze?
Sakshi Bahal is passionate about all things hair and loves to try out new hair care products. Co-washes are her go-to method to moisturize her tresses once in a while. Her list of the best co-washes for curly hair has been based on carefully weighing the most popular options on the market. Co-washing allows you to clear away dirt and buildup while giving your beautiful curly locks the hydration they need.
Frequently Asked Questions
How often should curly hair co-wash?
People with curly hair can try co-washing once or twice every seven to ten days. Some people co-wash more frequently, but it is not recommended to do so since there is a risk of accumulating unwanted buildup on curly tresses.
Is co-wash better than shampoo for curly hair?
A co-wash is definitely good for curly hair. Since curly hair tends to look dried up faster than straight hair, co-washes in between shampoos help to deeply moisturize the tresses to make them appear silky.
Do you use a conditioner after co-wash?
While conditioning is not essential after co-washing, you should pair the two up if your hair is extra dry.
Is co-washing helpful for curly hair wigs?
Yes, you can use co-washes on curly hair wigs. Co-washing can help you detangle the tresses and keep your wig frizz-free.
Does co-washing make hair greasy?
No, co-washing your hair once every 3 days will not make your hair greasy. However, excessive use will lead to greasy tresses and product buildup on your scalp.
When co-washing your hair, should you use a hair mask after or before?
You can use a hair mask after co-washing your hair. This process will moisturize your scalp and add more strength to your tresses.
Recommended Articles