7 Best Coach Handbags Of 2023: Add These To Your Must-Have List
Take your style a notch above with the most stylish and chic bags for your essentials.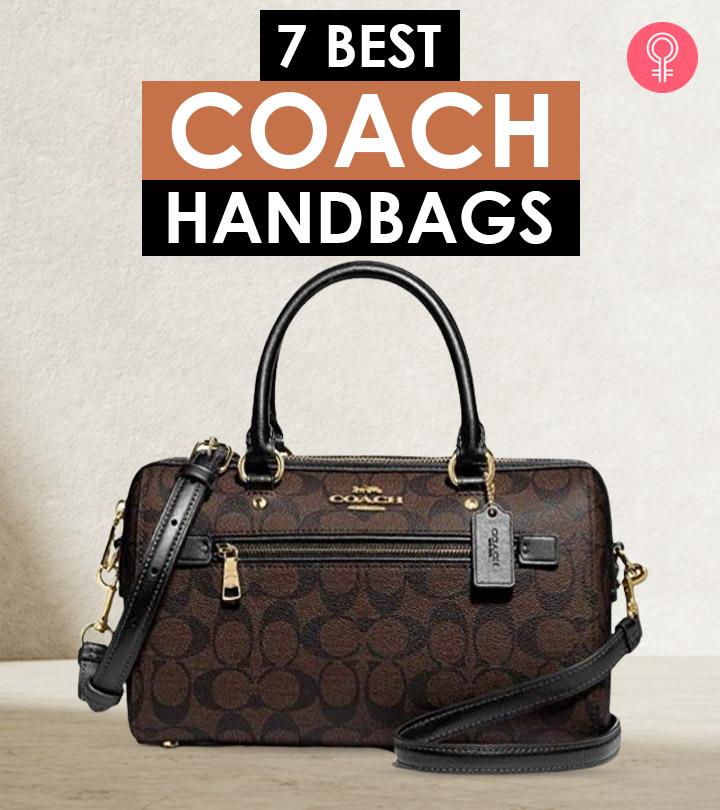 All we handbag connoisseurs want is a classy design at an affordable price. And the best Coach handbags are here make our dreams come true. Coach is an iconic and celebrated brand, offering the most elegant and versatile designs since its inception 1941. It offers a wide array of products including leather bags, perfumes, watches, and other luxury accessories. Swipe to find the 7 bestselling handbags offered by Coach.
7 Best Coach Handbags
This timeless creation by Coach is an absolute conversation starter. It has an exceptional design made of a signature coated canvas and smooth leather and has the official logo embellished in gold. This bag is a perfect size with multiple pockets. The pockets include an inside zipped compartment, two credit card slots, and an outer zipped pocket. The adjustable leather straps are designed with fabric lining and have a 4 ¼ -inch drop, while the detachable shoulders strap has a 23 ½-inch drop for shoulder or cross-body wear. This bag is available in 20+ colors, ranging from bright pinks, reds, and blues to warm browns, black, and beige!
Best For: Everyday Use
Features
Smooth leather fabric
Two card slots
Inner zippered compartment
Outer zippered compartment
Fabric lined handles
Detachable strap
Pros
Multiple compartments
Durable
Long strap
Available in multiple colors
Cons
None
This tote shoulder bag by Coach is made of its signature coated canvas and smooth, durable, cross grain leather for a plush and chic feel. It has multifunction pockets, including a cell phone holder, card slots, and discreet zippers. According to the reviewers, the zip top closure opens wide, allowing you to go through your bag conveniently. The designer handbag measures 12.25 x 10.5x 5.5 inches and is available in 17 different colors, ranging from solid block designs to cheeky prints.
Best For: Travel
Features
Zippered opening
Zippered interior pockets
Cell phone holder and card slots
Zippered exterior pocket
Fabric lined handle
Suitable as an everyday handbag
Pros
Spacious
Durable
Sturdy
Multiple compartments
Cons
None

Not a fan of huge bags? Then, check out this handy wristlet by Coach! It features a trend-setting style, is made of perforated leather, and measures approximately 6.25×4×5 inches. The wristlet has two credit card pockets and a zip closure. The wrist strap attached to this purse is lined with quality fabric and measures 6.25×4 × 0.5 inches. Michelle Wagman, a fashion stylist, says, "This bag is in the current spring 23 trend." This convenient wristlet is available in five colors – chalk, light khaki, metallic blue, midnight, and brown/true red, which can fit in your essentials like keys, phones, and other small items.
Best For: Daily use
Features
Premium material
Fabric line wrist strap
Two credit card pockets
Corner zip closure
Pros
Compact
Durable
Budget-friendly
Cons
None
This is yet another Coach tote bag that has made it to our list. It is made of signature coated canvas and has a smooth leather detailing for a modern feel. The extra wide opening has a snap closure for ease of use. The bag measures 13 × 11.50 × 6.25 inches and fits all your belongings with ease. The handles have a 9 ½-inch drop and are lined with fabric. This bag with exquisite detailing is available in multiple colors and from floral prints to block designs.
Best For: Everyday use
Features
Zipper openings
Support interior pockets
Zipper and exterior pocket
Fabric lined handle
Pros
Ample storage
Multiple compartments
Durable
Sturdy leather
Ideal for everyday use
Cons
None
This elegant file bag by Coach is a must have for every businesswoman. It is made of smooth leather and signature coated canvas and features a zip top closure. There are multiple pockets on the inside, along with a zipper pocket on the outside. The bag measures 10.05×9.34 × 1.05 inches, and the adjustable shoulder or crossbody strap measures 21 ¾ inches. It is comfortable to carry and available in two colors – Brown/Red and Brown/Black.
Best For: Work
Features
Multifunction pockets
Adjustable drop shoulder or crossbody strap
Convenient closure
Zipper outer pocket
Pros
Stylish
Multiple compartments
Extra-long adjustable strap
Budget-friendly
Cons
None
This gorgeous satchel bag by Coach is perfect for you if you need statement-making designs. It is designed with the signature coated canvas and smooth leather. The insides and the handle feature a quality fabric lining for superior durability. The timeless design of the bag features multiple compartments, like an inner zip pocket and an outside zipper pocket. The handles have a 3 ¾-inch drop, and the detachable shoulder cross-body strap has a 22-inch drop. The bag measures 11 ¾ × 7 ¾ × 4 inches and is available in five classy colors.
Best For: Nights
Features
Zippered opening
Zippered interior pockets
Zippered exterior pocket
Fabric lined handle
Pros
Spacious
Durable
Sturdy leather
Ideal for everyday use
Multiple compartments
Cons
None

The Coach Signature Zip Tote Shoulder Handbag looks like an elegant tote! It is made of its signature jacquard and accompanied by smooth leather details. It is a spacious bag with various interior compartments, including three multifunction slip pockets. Its zip-top closure, fabric lining, and official logo embellished in gold makes the tote bag a luxury symbol to carry around. The handles have an 8 ¾ inches drop, and the bag measures 10 ½ inches x 10 ¼ inches x 4 ¼ inches. According to the reviews on online forums, if you are looking for a bag that is versatile and fit for any occasion, this is the perfect one!
Features
Zip-top closure
Fabric lining
Three multifunction slip pockets
Pros
Spacious design
Quality leather
Durable
Cons
None
*The prices provided in this article are based on the latest available information. However, they may vary due to changes in pricing by the seller and/or promotional offers.
When it comes to handbags, Coach is a name that needs no introduction. The brand has been around for decades and is known for its quality craftsmanship, timeless elegance, and fashion-forward designs. If you are looking for a new handbag, Coach should definitely be at the top of your list to add to your handbag collection. To help you find the perfect Coach handbag, we have put together this handy buying guide.
Things To Look For In A Coach Handbag
1. Size: Decide your preferred size. Coach handbags come in a range of sizes, from small crossbody bags to large totes. Think about how you would be using the bag and what items you shall need to carry with you on a daily basis.
2. Style: Consider the style statement you aim to pull off with the bag! Coach offers a variety of styles, from classic and sophisticated silhouettes to more modern designs. Browse through their selection and decide which style best suits your personal taste and lifestyle.
3. Color And Print: Choose your favorite color or print. With so many elegant designs to choose from, this is admittedly one of the hardest parts! Narrow down your options by choosing a color or print that you love and that will add effortless glamor to your existing wardrobe.
4. Use: Another important thing to keep in mind is what you will be using the bag for. If you need a bag for work, then you will want to look for one that is professional and has plenty of space for all of your essentials. On the other hand, if you are looking for a leisurely weekend bag, then you can afford to be a little more choosy about style and color.
5. Budget: Determine your budget. Coach handbags can range in price depending on the size, style, and materials used. Set a budget for yourself before beginning your search so that you can narrow down your options and find a bag that fits both your needs and your budget.
Why Trust StyleCraze?
The author, Baishali Bhattacharya, is a certified image consultant and fashion lover. She is always on the lookout for the best products the market has to offer. Coach is an iconic brand selling a wide range of luxury bags for decades. Knowing how her users love fashion on a budget, she sifted through many reviews and has carefully handpicked the best Coach handbags that offer versatility, elegance, and utility for every occasion.
Frequently Asked Questions
Are Coach bags real leather?
Yes, the majority of Coach bags are of real leather. The brand is from Original American House of Leather, which manufactures beautiful leather products like handbags.
What is the difference between Coach and Coach Factory purses?
Coach Boutiques have more selection of handbags with an array of colors and designs. On the other hand, Coach Factory outlets have collections specially designed for their factory, like the signature collection, where the designs are customized and contain less bling.
Do celebrities wear Coach?
Yes. Celebrities like Jordan, Megan Thee Stallion, and many more stars use the trusted brand's collections.
How do you take care of a Coach bag?
Wipe the bag carefully with a dry cloth to remove dirt or dust from the surface. To deep clean, mix fabric detergent or mild soap into lukewarm water and use a piece of cloth to gently clean the interior. Finally, air dry the bag but avoid direct sunlight.
Recommended Articles