17 Best Coachella Outfit Ideas For Women That Are Stylish
Take some hints from these amazing ideas and let your outfit stand out from the crowd.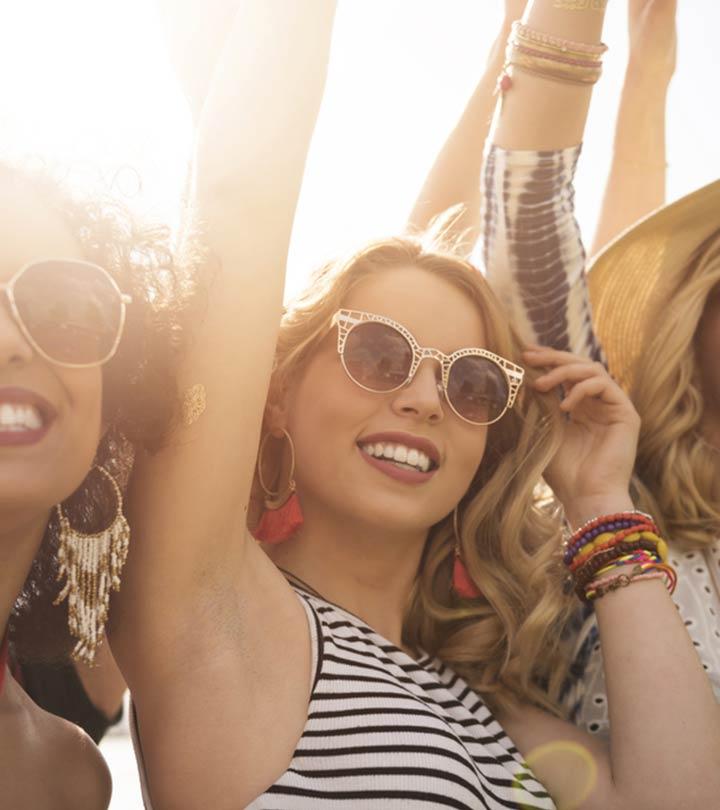 Unlike other music fests or concerts, Coachella is an experience, and therefore, needs to be planned. And you know where the first step of preparation starts, right? Choosing your outfits! If you are headed to Coachella for your first time and think it's not as big a deal as people make it out to be, you are mistaken. Trust me – it is worth all of that, and more. The kind of music that plays, the people you meet, the food you eat, and everything else – it is simply mind-boggling, and this is an understatement! But let's get straight to what we are here to talk about – Coachella outfit ideas, and what we think are exciting options that will make you fit right in and get the party started.
Ace The Look
Pastel Colors: Soft pastel colors like lavender and baby blue are perfect for a Coachella outfit. Light colors also help you stay cool in the desert. Avoid wearing all-black outfits.
Sun Protection: Wearing a wide-brim hat or a scarf in a paisley print is a great way to protect yourself from the desert sun while looking cute.
Footwear: Many people make the mistake of wearing high heels or uncomfortable boots to stay true to their outfit. It is best to stick to sneakers, flats, or boots you have broken into to enjoy the concerts in comfort.
What Is Coachella Style?
Coachella style is synonymous with flowing dresses, one piece florals, shorts, short skirts, and everything that defines Bohemian chic in the most real sense. The event takes place in the middle of a desert in California, with temperatures ranging between 80 to 100 degrees F; so remember, whatever you decide to wear, it needs to be soft, breathable, and above all, comfortable. So, unless you cannot survive without your denim, choose linen pants, cotton dresses, suede shorts, and maxi dresses – you get the drift, right? Check out the list of ideas for Coachella outfits for women and pick the best one for yourself!

Quick Tip
In recent years, Coachella crowds have received backlash for cultural appropriation. So, avoid feathers, braids, headgear, and face paint looks that resemble elements from native cultures.
17 Best Celebrity Coachella Outfit Ideas
1. Queen Of Coachella – Vanessa Hudgens' Outfit
How do we start a Coachella post without it being about Vanessa Hudgens? She is the unofficial 'Queen of Coachella.' She has been attending the festival every year and seems to have figured out a way to nail the Coachella dressing. Hudgens is the biggest style icon with a couple of million followers on social media. Her looks are all about tinted glasses, colorful and printed separates, boho accessories, bindi, hats, boots, and a whole lot of glitter. If you are looking for a style inspiration, and want to replicate only the best, you now know who your Coachella Guru is!
2. Rihanna's Diamond Studded Coachella Outfit
Rihanna is honestly the best thing that has happened to us. Let's establish that. Everything about Riri is great, and if that's not enough, she ups her style game with her Coachella outfits. She dazzled and looked like a million bucks in this sparkling attire. Just how effortlessly she pulls off this look is beyond me. And, if this doesn't inspire you, I don't know what will.
3. Kendall Jenner's Coachella Outfit
The Kardashian sisters are a collective bunch of style icons, but if you are looking for some inspiration and style ideas for Coachella – you should turn to Kendall Jenner. She's got this Egyptian Bohemian aura about her, and that's what we need if we are headed to Indio, California this time of the year. A side slit skirt, head accessory, ankle boots, side bag with fringes, and some glitter – what Coachella dreams are made of!
4. Bohemian Style Skirt And Crop Top
If you do not want to carry too many things, take a capsule wardrobe with you. Meaning, just carry one versatile piece of clothing like a Bohemian skirt, shorts, or a chambray shirt and play around with it. Here's a floral skirt that sets the mood right. You can try styling it with a crop top one day, and an off-shoulder the next. Nobody will notice anything except that you are on top of your fashion game.
Jess, a YouTube vlogger, is in the process of selecting outfits for Coachella. While considering a bohemian white co-ord set, she expresses, "I kind of like that it's really old-school coachella, and it's also very me (i)."
5. Cargo Pants And One Sided Tops
We often don't get a chance to wear our craziness and rarely do we get a chance to be fashionable, so when you do – do it like you know it all. Joggers, cargo or khaki pants with a one-sided crop top, ankle boots – and a hat too, maybe? Make sure your boots are not new and are comfortable because it's going to get really hot during the day and if you can deal with that, don't forget the shuttling between stages, concerts, and the endless walks.


Quick Tip
Avoid heeled boots. You do not want your feet hurting or your shoes sinking in the swampy areas that the venues are notorious for.
6. One Piece Summer Dress
This one piece Coachella dress is ideal for the festival and looks stunning on everyone.  Pair it with pom pom earrings, wedges, oversized sunglasses, and a big bamboo hat for good measure and also protect yourself from the sun.
7. Ruffled Skirt And Denim Jacket
For the love of denim jackets, and the fact that we cannot live without them, go ahead and throw it over anything and everything you are going to be wearing at Coachella. Wear a dreamy peach organza skirt with a tube top, gladiator or platform sandals, and a side body bag.
8. Bodysuit And A Kimono Dress
If you want to go all out, which you can at the Coachella, go with a bodysuit that is versatile and in vogue too. Add definition to this with a layer like a kimono dress which doubles up as a dress or just to throw it on for a dramatic element.
9. Off-Shoulder Playsuit
Playsuits are airy, comfortable, and impeccably stylish. You hardly need any accessories and can do just with aviators, fine body jewelry, a choker, and some beachy waves.
10. Denim Skirt And Crochet Top
The airier an outfit, the better it is for Coachella, for it is hot and humid this time of the year in Southern California. Moreover, it happens to take place in a desert, in the middle of nowhere. Pair your Coachella attire with hats, retro eyewear, boots, etc to jazz up the whole look.
11. Strip Palazzos, Crop Top, And Hat
Your Coachella outfit cannot get any more comfortable and stylish than this. If breathable and loose clothing is your thing, look no further than dresses like these. A hat makes all the difference to these outfits, so make sure you carry them along.
12. Denim And Chambray Shirt
We just cannot get enough of our denim, can we? And if you are one of them who cannot live without their jeans, go right ahead and take them with you. And, you don't need any fancy tops – tank tops, crop tops, plaid shirt, chambray, or tube tops are all fitting.
13. White Lace Dress
A long lace dress – sleeveless or otherwise is perfect too. Throw on a vibrant silk slip on a spaghetti dress – and some rose gold jewelry, aviators, and gladiator flats – elegant and on point.
14. Crochet Kimono
Coachella is the best time to ring in your new spring outfits and bring them all in. Bring out those linen pants and cotton shirts, and break the monotone with a crochet kimono. Oh, and do not forget the chunky, tribal jewelery.
15. Bandana, Hat, And Other Boho Accessories
Accessories are your game changers for Coachella and give you tons of opportunities to flaunt the vibe. Hats, head or neck bandana, glitter, tribal jewelry, scarves, boots, shades, etc. are all ways to spruce up your outfits. Pack your regular clothes and turn them funky, it's a lot of fun.
16. Tie-Front Top
Get ready to turn heads at Coachella with the ultimate festival vibe: this flower-printed tie-front top, paired with sleek black jeans, has an effortless rock 'n' roll flair. The knot in the front adds a touch of oomph. Its harmony of floral chic and edgy denim is a surefire way to rock festivals!
17. Micro Mini Dress
Slay the Coachella scene in a micro mini dress, a splash of purple perfection paired with a stylish brown hat. It's not just an outfit, it's a vibe. Picture yourself grooving to the beats, feeling the desert breeze in this chic ensemble—a festival fantasy in every swish of the mini dress and tilt of the hat.
Infographic: Top 6 Coachella Outfit Ideas
Coachella is a great opportunity to let your hair down and experiment with your style. It is synonymous with colorful lowly dresses and heavy unique accessories, and you can go all out with your fashion skills. Whether your esthetic is dark goth, cottage-core, or purely bohemian, you can create an outfit that defines the real you. The infographic below lists the top 6 ideas to help you with your Coachella outfit. Check it out!


Coachella music festival is a once-in-a-lifetime experience that everyone should add to their bucket list. If you are going to Coachella for the first time, understanding the dress code is essential to standing out in the crowd. Since Coachella takes place in the middle of a Californian desert, you need to wear comfortable, soft, and breathable clothes. Be it a flowy dress, kimono, or a bohemian skirt and crop top, you can pair it with some fun accessories to turn your Coachella outfit idea up a notch.
Frequently Asked Questions
What should you not wear to Coachella?
Tights, fake jewelry, heels, and flip-flops are a few things you should not wear to Coachella.
Do I need a jacket for Coachella?
Yes, a jacket is a must-need Coachella trend, as you may feel cold in the evenings. Leather jackets in bold colors can be a good addition.
Can I wear a swimsuit to Coachella?
Yes, you can wear a swimsuit to Coachella. You can pair it with a jacket or cover-up and zhuzh up the game by accessorizing it with a statement piece.
How can I incorporate cultural influences into my Coachella outfit?
Use accessories, fabrics, and prints that celebrate and appreciate your culture and traditions. Also, avoid cultural appropriation of any sort.
Should I prioritize fashion or functionality when planning my Coachella outfit?
Prioritize both fashion and functionality. Choose comfortable and breathable clothes with stylish accessories, and wear comfortable shoes, avoiding heels.
Key Takeaways
Coachella fashion includes flowy dresses, one-piece floral outfits, shorts, miniskirts, and everything that is Bohemian and chic.
Since the event takes place in the middle of a desert, it is advisable to wear soft, breathable, and comfortable clothes. Linen and cotton are good choices.
Comfortable footwear is a must as you may have to walk on your feet and spend hours under the sun.
This music and arts festival is the perfect place to wear bold and vibrant prints and colored outfits.
Statement accessories are your best friends! You can style your outfits with hats, sunglasses, and chunky jewelry.
Searching for inspiration and what to avoid for Coachella? Check out this video to find out the 10 best and worst celebrity Coachella fashion looks, from the most stylish to most outrageous.
Personal Experience: Source
i. COACHELLA/FESTIVAL OUTFIT IDEAS | PLAN MY OUTFITS + PACK WITH ME APRIL 2022 | jessmsheppard
https://www.youtube.com/watch?v=fc6TumWJ7hI
The following two tabs change content below.