Best Cocoa Butter Lotions – Our Top 10 Picks For 2023
Enhance your skin with gently formulated lotion that makes it feel smooth and supple.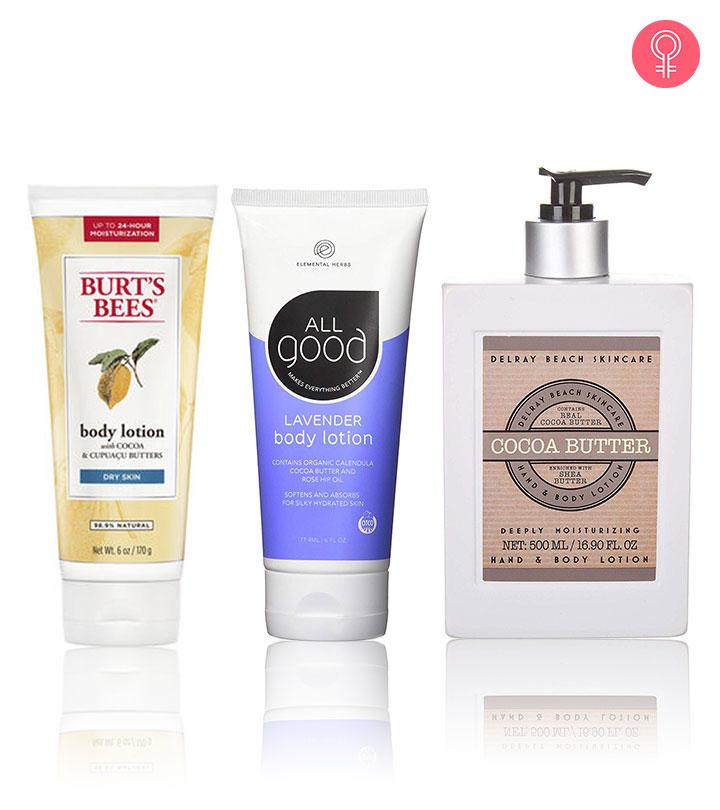 The best cocoa butter lotions keep your skin moisturized and supple even in the driest of winters. Anti-inflammatory cocoa butter is rich in antioxidants and is an excellent ingredient for body lotions and creams. It is especially suitable for people with dry, dull skin. Dr. Anna H. Chacon, a board-certified dermatologist, says, "As a moisturizer, cocoa butter excels. As an after-sun balm, it's frequently utilized. Stunningly, it has a chocolate bar-like aroma. Additionally, skin blemishes, such as those left over after acne outbreaks, are attempted to be removed with cocoa butter."
Top-Rated Cocoa Butter Lotions
Pros
Clinically proven formula
24-hour moisturization
98.9% natural
Dermatologically tested
No parabens
No phthalates
Natural fragrance
Cons
None
Price at the time of publication: $27.49
Pros
No artificial colors
No parabens
No petrolatum
Doesn't contain animal by-products
No GMOs
No sulfates
Cruelty-free
No phthalates
Cons
None

Price at the time of publication: $9.49
Pros
 Non-sticky
 Suitable for extra dry skin
 Pleasant fragrance
Cons
None
Price at the time of publication: $5.99
Pros
Dermatologist-tested
Cruelty-Free
Certified by PETA
Instantly relief from dry skin
Pleasant fragrance
No parabens
Non-greasy
Clinically tested
Cons
None
Pros
Vegan
Cruelty-free
Paraben-free
Dermatologist tested
24-hour deep hydration
Cons
Might feel sticky
The smell might not be pleasant for all noses
Pros
Long-lasting moisture
Contains Vitamin E
Suitable for extremely dry skin
Keep skin hydrated
Pleasant fragrance
Affordable
Cons
Product Claims
If you have extremely dry skin, this body lotion is your savior! It is specially formulated for rough and dry skin. It moisturizes your skin, locks in hydration, and makes it smooth and healthy. It protects your skin from the drying weather and provides 24-hour moisturization.
Pros
Clinically tested
Dermatologically tested
Hypoallergenic
Non-greasy
No parabens
Fast absorbing
Contains natural carbohydrates
Cons
Contains mineral oils
Contains PEG-40
Contains alcohol
Contains artificial color
Price at the time of publication: $11
Pros
Contains vitamin E
Reduces stretch marks and scars
Pleasant fragrance
24-hour moisturization
Evens out skin
Cons
Contains parabens
Contains alcohol
Price at the time of publication: $9.99
Pros
Cruelty-free
Hypoallergenic
No artificial colors
Sulfate-free
Paraben-free
Phthalate-free
pH-balanced
Non-greasy
Cons
Price at the time of publication: $6.13
Pros
Ideal for dry and rough skin
48-hour hydration
Dermatologically tested
Absorbed quickly
Non-greasy
Cons
None
Price at the time of publication: $655.0
Cocoa butter contains antioxidants that protect your skin from free radical damage and keep it looking youthful. Adding this to skin care regimes is essential for people with dull, dry skin because it will keep the skin soft and supple during the harsh winter. We have developed a list of factors to help you choose the best cocoa butter lotion for your skin.
How To Choose The Best Cocoa Butter Lotion
Unrefined cocoa butter offers fatty acids and therefore offers the highest moisture content to the skin. The purest form of cocoa butter contains palmitic, oleic, and stearic acids, which nourish the skin deeply.
Make sure the lotion has an adequate quantity of cocoa butter. The amount of moisturization will increase with the concentration. To keep your skin nourished all day, it will effectively form a barrier that will seal in the moisture over long periods.
Other Natural Ingredients
Cocoa butter on its own may feel greasy and sticky. But when combined with the right ingredients, it becomes fast-absorbing. Natural ingredients like shea butter, vitamin E, and aloe vera add moisture without drying out the skin and make the lotion easy to glide.
Check the ingredient list to ensure your lotion does not contain parabens, phthalates, SLS, or sulfates. These harmful chemicals reduce the product's effectiveness while damaging your skin.
Dermatologically Tested Lotions
If you want to manage other skin issues like dry and flaky skin or eczema, then opt for a dermatologically tested and approved lotion. It ensures the lotion is made-safe for all skin types, including sensitive skin.
Why Trust StyleCraze?
Shiboli Chakraborti, the author of this article, is our in-house skin care expert. She has reviewed multiple brands and products after looking at various reliable sources before presenting you the list of best cocoa butter lotions. These products will help moisturize and nourish your skin, leaving it soft and glowing. Besides the well-research descriptions, Shiboli has also listed pros and cons to help make your shopping experience effortless.
Frequently Asked Questions
What does cocoa butter lotion do?
Cocoa butter contains a high amount of fatty acids that help to hydrate the skin. It creates a protective barrier on the skin that holds moisture and prevents your skin from drying.
Does cocoa butter lotion make you darker?
No, cocoa butter doesn't darken or lighten the skin. Instead, it helps in toning the skin evenly.
Does cocoa butter lotion help with scars?
No. Cocoa butter lotions stop scars from drying and prevent scars from forming. However, regular use of cocoa butter can slightly improve the appearance of scars to some extent.
Is cocoa butter lotion good for your body?
Yes. Cocoa butter contains vitamin E and a high amount of fatty acids, which support the skin to keep it soft and glowing. Hence they are often used as a primary ingredient in skin cream.
Can I use cocoa butter lotion on my face?
Yes. You can apply cocoa butter to your face once or twice a day. Using cocoa butter improves the overall appearance of the skin. It moisturizes the skin, improves elasticity, and provides sun protection to keep the skin healthy.
Which is better – cocoa or shea butter?
Cocoa butter and shea butter are moisturizing products with different properties. Shea butter is the better choice for acne-prone skin, as it is lightweight and prevents stretch marks and other skin blemishes. Cocoa butter is commonly used for massages to improve skin elasticity. In addition, it is widely used due to its calming aroma.
Recommended Articles: