8 Best Coconut Products For Babies
Give your little one a nourishing massage enriched with tropical ingredients.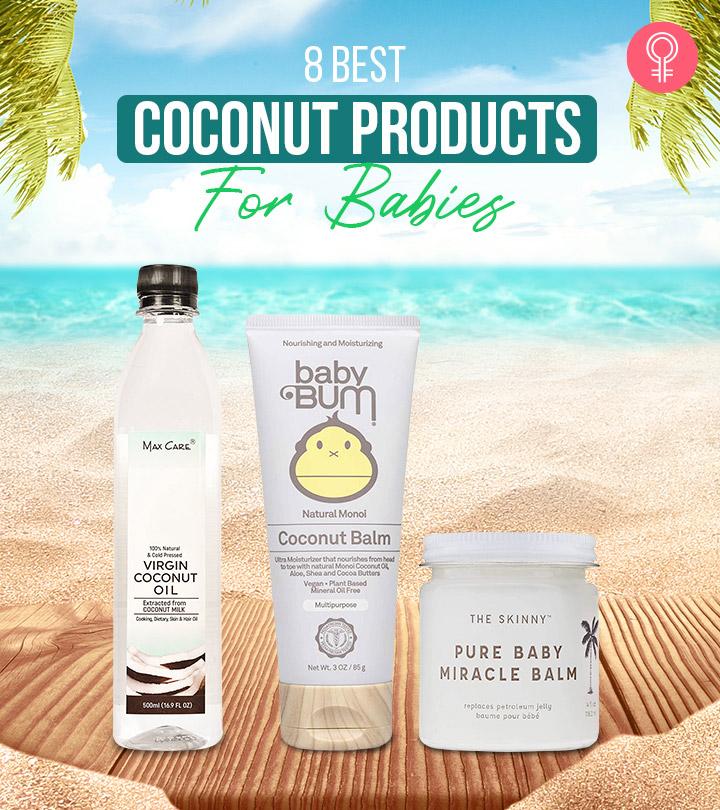 If you want to nourish your baby's skin right from the start, you need to lay your hands on the best coconut oil for baby massage. Massages not only help ensure that the joints and muscles of your baby stay healthy, but they are also a great way of enriching your baby's skin when the right product is used. And to help you find something that suits your baby's delicate skin and is exceptionally gentle, here's our list of the top-rated coconut oils that you can use for your little one's massages.
8 Best Coconut Products For Babies
The gentle Maxcare virgin coconut oil is extracted from fresh coconut milk and prepared in cold-pressed method to ensure the retention of vital nutrients during preparation. It works as a body and scalp massage oil for babies. The oil's anti-inflammatory and anti-bacterial properties soothe nappy rash and irritation. Its moisturizing benefits keeps baby skin soft and supple. Its gentle formula is used for strengthening your baby's hair. This oil can also be used in cooking as a healthy option.
Pros
Unrefined
Cold-pressed
Preservatives-free
Mild aroma
Multipurpose
Cons
Price at the time of publication: $356.0
Shea Moisture 100% Virgin Coconut Oil Baby Lotion is a nourishing formula to soothe your baby's skin. It is crafted with certified raw organic shea butter to protect and calm your baby's skin. A massage with this nutrient-rich baby lotion softens the skin. The hydrating lotion is fortified with fatty acid-rich coconut oil and murumuru butter. Its conditioning properties soothe and moisturize your skin. It also contains a gentle fragrance of sweetpea.
Pros
Gentle
Soothing
Cruelty-free
A little quantity goes a long way.
Cons
May trigger smell sensitivity
Price at the time of publication: $9.99
Make your baby's bath time extra special with the Shea Moisture 100% Virgin Coconut Oil Baby Wash & Shampoo. It is a soothing and nourishing formula for delicate baby skin. It is formulated with pure fatty acid-rich virgin coconut oil to promote healthy skin. It is additionally blended with murumuru and sweetpea to condition, soften, and hydrate your baby's skin. The gentle formula cleanses dry skin without using any harmful additives.
Pros
Gentle
Soothing
Sulfate-free
Paraben-free
Phthalate-free
Propylene glycol-free
Mineral oil-free
Petroleum-free
Cruelty-free
Cons
Price at the time of publication: $9.99
The Pacific Islanders-inspired Baby Bum Natural Monoi Coconut Balm is a plant-based formula to soothe, smoothen, and nourish all baby skin types. The balm is created by blending coconut oil with tiara flower petals, known as monoi, to moisturize both baby and mama's skin. It also contains aloe, shea butter, and cocoa butter to enhance the suppleness of your child's skin. The formula is tested by pediatricians to ensure safety.
Pros
Dermatologist-tested
Pediatrician-tested
Hypoallergenic
Paraben-free
Phthalate-free
Gluten-free
No mineral oil
Cruelty-free
Vegan
Cons
Price at the time of publication: $9.99
The All Good Makes Everything Better Kid's Sunscreen Butter Stick is made with a potent blend of zinc oxide and botanical ingredients and has a broad spectrum SPF 50 that protects the baby's skin against harsh UVA and UVB rays. The coconut and jojoba oil in the formula makes it easy to blend on their skin and imparts intensive moisturizing benefits. This sunscreen stick also contains chamomile that soothes the baby's skin while the beeswax enhances its water-resistant power for 80 minutes.
Pros
USDA-certified
Hypoallergenic
Water-resistant for 80 minutes of wear time
SPF 50
No-mess application
Creamy consistency
Easy to apply
Cruelty-free
Oxybenzone-free
GMO-free
Paraben-free
Gluten-free
Biodegradable packaging
Cons
None
Price at the time of publication: $31.98
The luscious Nature's Baby Organics Mandarin Coconut Massage & Baby Oil is specially crafted to soothe your baby's delicate skin. It is powered with natural essential oils of sunflower, olive, tamanu, and jojoba to nourish and moisturize your baby's skin before bath time. The non-greasy formula absorbs into the skin post-massage to keep it soft and silky for the rest of the day.
Pros
Travel-friendly
Gluten-free
Vegan
Cruelty-free
Fragrance-free
Organic
Cons
None
Price at the time of publication: $10.95
The Kupuluan Organic Pressed Coconut Oil is enriched with vitamin E that reverses dry and brittle skin and hair. The formula is loaded with antioxidants that protect your baby's skin from free radical damage. This moisturizing formula eliminates acne and keeps their skin smooth and soft. It also protects their skin from harsh UV rays. This non-greasy formula also repairs split ends, promotes healthy hair growth, and prevents hair discoloration.
Pros
Non-greasy
Clean, mild smell
Prevents UV damage
Fairtrade-Certified
Non-GMO
Recyclable packaging
Safe for pets
Cons
Price at the time of publication: $9.99
The Hello Bello Creamy Coconut Shampoo And Body Wash is infused with coconut, marshmallow root, and aloe extracts that moisturize and soothe your baby's hair and skin. This hypoallergenic formula is pH-balanced and is made without gluten, soy, dairy, and peanut. It is an ultra-mild formula that is dermatologist-tested and has an easy-breezy vanilla fragrance.
Pros
Hypoallergenic
Lightweight
pH-balanced
Dermatologist-tested
Mild formula
Soothing vanilla fragrance
Artificial fragrance-free
Synthetic dyes-free
Paraben-free
Gluten-free
Soy-free
Peanut-free
Dairy-free
Cons
None
Price at the time of publication: $6.98
Read the next section for an overview of the various coconut oils available on the market.
Types Of Coconut Oil For Babies
1. Natural Coconut Oil: Obtained from dry coconut, which is crushed and milled without using any harmful chemicals.
2. Refined Coconut Oil: Derived after refining coconut through a chemical process. The oil is bleached to make it colorless and deodorized to make it odorless.
3. Virgin Coconut Oil: Made with fresh coconut milk that is high in antioxidants. It has a pleasant smell and taste.
4. Organic Coconut Oil: Formulated from organically grown coconuts without any harmful pesticides or chemicals.
Now that you have a fair idea of the types of coconut oils made for babies, it's time to learn the method of using one for your little ones.
How To Use Coconut Oil For Newborn Baby Massage
Warm up the oil a little in winters but during summers, use it at room temperature.
Apply the oil to your baby's chest and start massaging gently in a circular motion.
Continue applying oil on their hands, legs, back, and head.
Keep massaging in a circular and upward motion until it becomes dry on the body.
Avoid the nose, eyes, and ears as it might cause fungal infection, if not absorbed properly.
Regular massage with this oil increases blood circulation and keeps the skin healthy.
If you are wondering about the advantages of using coconut oil on the skin, then the next section is just for you. Keep scrolling to know more.
Coconut Oil Benefits For Baby Skin
1. Moisturizes The Skin: Massaging every day with coconut oil will keep the infant's skin soft, supple, and moisturized.
2. Soothes Eczema And Diaper Rash: This oil calms dry and itchy skin as it keeps your skin moisturized. It also soothes rashes caused by the continuous wearing of diapers.
3. Soothes Insect Bites: Coconut oil has antibacterial and anti-inflammatory properties that soothe itchiness caused by insect bites.
The next sections cover information on the safety of coconut oil.
Is Coconut Oil Safe For Babies?
Coconut oil is completely safe for babies as it has moisturizing and therapeutic effects on the skin. This lightweight oil absorbs quickly into the skin and keeps it hydrated.
When To Avoid Coconut Oil For Babies
Coconut oil is highly beneficial for the skin of your baby. However, avoid it if your child is allergic to coconut.
Coconut oil offers multiple benefits to maintain the tender skin of babies. If you want to reap its benefits, include any of the products listed above to give your baby's skin the gentle care it deserves.
Frequently Asked Questions
Why should I use coconut oil for my baby?
Coconut oil contains fatty acids and has anti-inflammatory, antifungal, and antibacterial properties, which heal your baby's skin and keep it moisturized.
Can other members of the family use coconut oil?
Coconut oil is highly beneficial for everyone, irrespective of age. It can be used by anyone in the family.
How do I store coconut oil?
The storage depends on the oil quality. Virgin or refined coconut oil can be stored in any cool, dry place as it does not solidify in any climate. Natural oil solidifies in winters and should be kept at a warm temperature.
Which oil is not good for baby massage?
Olive oil has high oleic acid content that will make your baby's skin dry. So, it is not recommended for baby's skin.
Can I use coconut oil on my 3-month-old's hair?
Yes, you can use coconut oil on your 3-month-old's hair. It will help smoothen the cradle cap and help remove it.
How do I use coconut oil on my newborn?
You can apply a thin layer of coconut oil on the scalp of your newborn. Leave it on for 10-15 minutes and then rinse it.
When can I start massaging my newborn?
You can start massaging your newborn after the first few weeks. Babies start to develop many important physical abilities at this time. So, it is important you start massaging their muscles to help them get stronger.
Recommended Articles