15 Best Coconut Oils For Hair Available In India (2023)
Pamper your tresses with these hair conditioning formulas to get healthy, shiny locks.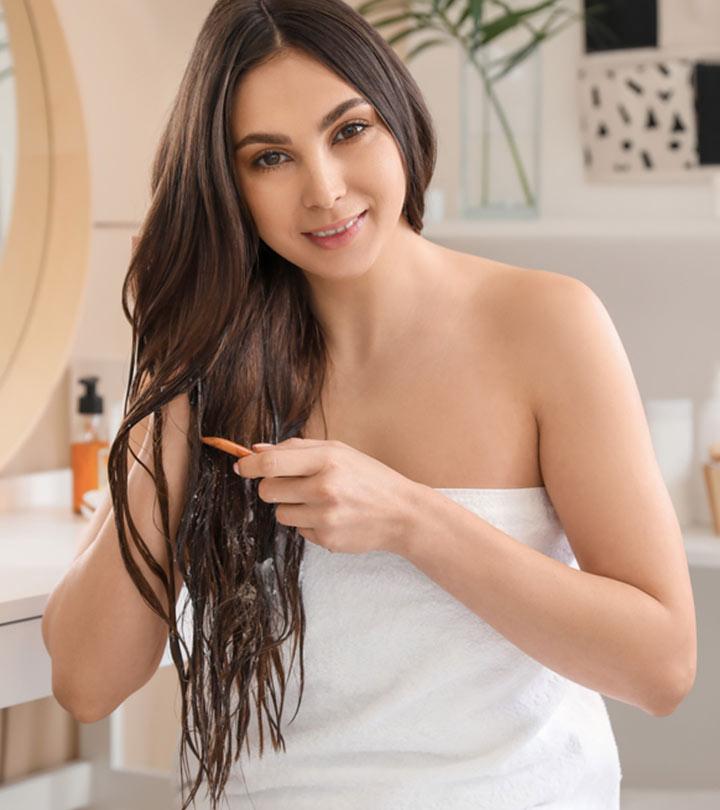 When you need a champi (head massage), there is no oil better than coconut oil to apply on your hair. It is one of the popular hair oils in India you will find in most households, and in fact, the ritual of applying it a night before is also common here.
Parachute and Vatika might be a few of the brands you must have heard and used while growing up. Also, many use coconut oil for skincare and cooking as well. While coconut oil provides several benefits, it becomes difficult to choose the right one considering many new brands have entered the market. Why not check out our list of the 15 best coconut oils for hair in India that will nourish your hair and moisturize your dry scalp? Take a look!
Top 15 Best Coconut Oils For Hair In India
Get nourished silky hair with this cold-pressed virgin coconut oil that is naturally extracted from coconut milk and is not refined with chemicals. Your hair will be strong and dandruff-free with this oil that produces the soothing aroma of coconut. It provides sufficient nutrients and nourishment to make your tresses silky and beautiful with less hair fall. This antioxidant-rich oil contains essential lauric acid that helps minimize protein loss in hair and makes it easy to absorb into the hair shaft. Apply this oil directly on your hair or slightly heat it and massage your dry scalp after application.
Pros
Vegetarian
Unbleached
Better immunity
Can be used for cooking
Boosts healthy metabolism
Great for skin and baby care
Cons
May not come with a flip cap for easy pouring
Price at the time of publication: ₹356.0
We haven't met anyone who doesn't know this brand! At some point, every household must have used this Indian brand of coconut oil that has pure coconut oil. Whether you want to apply it at night before shampooing your hair or use the melted lukewarm oil during winters, this coconut oil will never disappoint you with its benefits. It is made from naturally sun-dried coconuts extracted carefully through a hands-free process and goes through five stages of the purification process and 27 quality tests. This oil heals your dry scalp, nourishes your hair, and helps grow and strengthen it. It is free of chemicals, preservatives, additives, and artificial fragrance.
Pros
Value for money
Soothing smell
Tamper-proof seal
Long-lasting freshness
Safe for sensitive skin
Cons
Scalp might feel greasy if not washed properly
Get this pure coconut oil extracted from the dried kernel of coconuts, known as copra, to achieve healthy and shiny hair. The triple-filtered process of making this age-old oil takes only seven days. This multi-purpose oil enriched with rich and natural saturated fats can also be used for cooking and skincare. Free of trans fat, this oil is one of the healthiest hair products in India. To get a smooth and silky texture, apply this oil an hour before washing your hair with shampoo. If you have an extremely dry scalp, you can massage this oil into your hair after a shower. It provides warmth to your scalp, resulting in a nourished and moisturized scalp.
Pros
Fresh aroma
Easy pouring
Chemical-free
Helps in hair growth
No additives and preservatives
Cons
May not be suitable for sensitive skin
Price at the time of publication: ₹192
Want the soothing aroma of jasmine in your coconut oil? Use this oil that is powered by three ingredients — coconut oil, jasmine extract, and vitamin E. While coconut oil provides nourishment from within to strengthen your hair, jasmine extract and vitamin E soothe and improve your scalp and hair's health. This Parachute product penetrates deep into your scalp and works from root to tip to increase your hair growth. To achieve soft and shiny hair, apply this oil in the night and wash your hair the next morning. This process helps the oil seep deep into the roots and nourish your hair. You can even dab a few drops of this coconut oil on damp hair for shine and smoothness. This pack also includes a 90 ml Parachute Advansed Jasmine Coconut Oil.
Pros
Affordable
Non-sticky
Light hair oil
Prevents hair fall
Suitable for all hair types
Cons
May not be effective to treat dry scalp in winter
Price at the time of publication: ₹176
Are you looking for unrefined multi-purpose coconut oil? Well, you can stop your search here as this coconut oil is loaded with health benefits. As amazing it is for your hair, it is also used for dietary, cooking, skincare, and baby care purposes. This unrefined pure virgin coconut oil is extracted from coconut milk using the cold-pressed method to preserve vital nutrients. It contains 63% of medium-chain fatty acid (MCFA) and no added minerals while keeping the natural aroma intact. Massaging your scalp with this oil containing high lauric acid will strengthen your hair, provide nourishment, and help you get rid of dandruff.
Pros
Vegan
Non-GMO
No heat process
Boosts scalp health
Helps in hair growth
No added preservatives
Cons
Heating this oil may affect the aroma
Price at the time of publication: ₹159
Are you a follower of Ayurveda? Then this Patanjali Coconut Oil is the perfect choice for you! This Indian brand brings this fantastic oil that nourishes, heals, and moisturizes your dry scalp. As it is Ayurvedic, you will not find any chemicals or preservatives that can harm or irritate your skin. You can even apply this oil on cuts and rashes without worrying about any side effects. This oil makes your scalp dandruff-free and treats your dryness. For silky and shiny hair, apply it an hour before hair wash or after on your damp hair. Massage this pure coconut-smelling oil into your roots to achieve strong, beautiful tresses.
Pros
Edible oil
Non-sticky
Value for money
Easy to carry
Helps in hair regrowth
Cons
May take time to entirely wash off from hair
Price at the time of publication: ₹7.99
Get this antioxidant-rich coconut oil containing essential nutrients like vitamin E to treat your scalp and make your hair healthy and nourished. It strengthens your hair follicles and heals damaged hair, resulting in strong and silky smooth hair. This cold-pressed extra virgin oil is derived from naturally extracted fresh coconut milk that helps fight against dandruff, hair frizziness, and itchy scalp. Apply this oil and massage your scalp for a few minutes before or after hair wash. This non-sticky oil can be used for various purposes, such as hair oil, head-to-toe moisturizer, makeup remover, and baby oil.
Pros
Cruelty-free
Paraben-free
Lightweight
Reduces split ends
No chemicals or additives
Strengthens hair from the root
Cons
Price at the time of publication: ₹233
Are you running out of hair products to treat your hair breakage and split ends? Check out this virgin coconut oil, which is cold-pressed and organic, and rest assured your hair will get loads of nourishment. Extracted from fresh coconut milk, this oil contains all the vital nutrients required to heal your dry scalp and treat hair breakage, lending you strong, shiny hair. Infused with vitamin E, this coconut oil provides a healthy scalp and contributes to the lengthening of hair. It comes with an open and stop-push knob that helps in preventing accidental spilling of the oil. A good massage with this aromatic coconut oil will make your hair lice and dandruff-free. This oil does not contain paraben, sulfate, mineral oils, or any additive.
Pros
Cruelty-free
Travel-friendly
Pure and unrefined
Prevents flaky scalp
Suitable for all hair types
Anti-fungal and anti-bacterial
Cons
Melting the oil during winters may be difficult as it turns hard
Achieve a damage-free conditioned hair with this coconut oil with all its essential nutrients retained because of its cold-pressed method. This extra virgin oil is extracted from fresh coconut milk; thus, it is filled with the goodness and natural aroma of coconuts. This lightweight oil moisturizes your scalp and hair to provide shiny and silky smooth tresses. Plus, it helps you get rid of dandruff and dry scalp. To achieve an excellent result, give yourself a head massage with this oil 30 minutes before hair wash, and also, you can apply it on your face and body for soft and even skin texture. This Ayurvedic oil prevents your hair from turning grey and makes it lustrous.
Pros
Non-sticky
High-quality
Chemical-free
Prevents hair fall
Easily absorbed
Cons
Price at the time of publication: ₹21.9
Can your hair product reduce hair fall by 50% in four weeks? Well, this coconut oil can as it promotes hair growth. It is purely created by the Ayurvedic process of making oils, known as tail pak vidhi, helping you heal your dry scalp and strengthen your hair. Enriched with seven Ayurvedic herbs, this oil is a blend of natural ingredients such as Brahmi, Kapur Kachri, amla, bahera, Harad, henna, lemon, rosemary oil, and coconut. You can apply this oil an hour or night before hair wash to achieve long lustrous hair. Keeping this oil for a long period, for instance, a day, helps it to condition your scalp deeply.
Pros
Non-toxic
Affordable
Dandruff-free scalp
Maintains thickness
Preserves natural hair color
Cons
May not be suitable for colored hair
Price at the time of publication: ₹130
Want a fast-absorbing coconut oil for your hair? Get this Nature's Absolutes Virgin Coconut Oil that will easily absorb into your scalp and nourish your hair. Extracted from fresh coconut milk, this 100% organic and pure oil is made by the cold-pressed method to retain all the vital nutrients that help make your tresses strong and healthy. While it conditions each strand to make your hair voluminous and vibrant, this non-sticky hair oil improves the quality of lifeless and damaged hair. For best results, dab a few drops of this coconut oil on your scalp and slowly massage the roots to absorb the oil. Also, you can apply it before or after you shampoo your hair.
Pros
Light hair oil
Reduces split ends
Prevents hair fall
Fresh coconut aroma
Used as cleanser and makeup remover
Cons
May not be suitable for oily scalp
Keep your hair healthy and shiny with this virgin coconut oil that is processed via the cold-pressed method. This means the oil has been extracted from fresh coconut milk by the traditional handmade process, without using chemicals or heat to keep all essential nutrients intact in the oil. This Ayurvedic formula moisturizes and keeps your hair healthy, making it lice and dandruff-free. Its warmth helps strengthen and grow your lifeless and damaged hair. This oil is also beneficial for your skin as it works as an excellent moisturizer. For scalp treatment, apply this oil from scalp to the tip and wrap your hair with a lukewarm towel for 30 minutes before washing it off with shampoo.
Pros
Non-greasy
Anti-microbial
Soothing smell
Superior quality
Anti-inflammatory
Cons
Price at the time of publication: ₹995
Get the benefits of jasmine and methi (fenugreek) with this coconut oil that lends you strong, thick, and shiny hair. This coconut oil will seep deep into your scalp to repair damaged hair and nourish each strand. While methi will promote hair growth and keep your hair moisturized, jasmine adds a soothing aroma and relaxes your mind. This coconut oil works best when you apply and leave it overnight. Also, it can be used on damp hair after wash and mixed with water and sprayed on dry hair to achieve frizz-free locks.
Pros
Non-sticky
Easy pouring
Prevents hair fall
Value for money
Suitable for all hair types
Cons
May not be recommended for those allergic to fenugreek
Price at the time of publication: ₹170
Are you looking for an organic carrier oil for hair? Then this cold-pressed coconut oil is perfect for you! Made from the finest and fresh coconut kernel, this oil contains all the highest nutrients required to treat hair problems. This antioxidant-rich oil helps hair grow, protects from sun damage, and detangles strands. Apply a few drops to achieve manageable, healthier, and shinier hair. This oil is rich in fatty acid and can provide several benefits to hair as well as skin. You can use it as a body moisturizer, makeup remover, and for other skincare purposes. It does not contain artificial fragrance, SLS, paraben, mineral oil, hexane, alcohol, or additives.
Pros
Vegan
Cruelty-free
Fast-absorbing oil
Deeply conditions hair
Soothing natural fragrance
Cons
Price at the time of publication: ₹297
Are you looking for high-quality organic coconut oil? This coconut oil is made of raw, unrefined, and pure coconuts via the cold-pressed method to retain all the essential nutrients. This super-healthy oil helps your hair grow stronger and beautiful, with less hair fall and damage. It will make your lifeless hair ultra-vibrant and voluminous while healing your dry scalp. Just apply it on your hair, massage your scalp slowly with your fingertips, then wash your hair. You can also apply and leave the oil overnight so that the roots absorb it well. This oil is one of the best products for hair, skin, and consumption.
Pros
Non-sticky
Fresh coconut aroma
No harmful chemicals
Suitable for all hair types
Deeply moisturizes your hair
Cons
Price at the time of publication: ₹696
Before you choose, take a look at a few points while making your decision.
Why Is Coconut Oil Good For Hair
Coconut oil nourishes and helps your hair grow thicker, longer, and faster. Science and Ayurveda have proved that coconut oil is good for hair. According to researchers, this hair product tops their list of healthy oils as it contains vitamins and essential fatty acids that provide nourishment to the scalp and help treat damaged hair, dandruff, premature greying, and other hair breakage problems. Coconut oil is mainly made of a medium-chain fatty acid called lauric acid that lowers protein loss in hair, which helps it penetrate deep into your hair shaft.
According to Ayurveda, the coconut tree is referred to as Kalpa Vriksha, a wish-fulfilling tree that provides everything needed to live. Also, it suggests that something that cannot be eaten should not be applied to the body. Thus, coconut oil is not just a hair oil but has a wide range of purposes. It gives your hair a silky smooth texture along with providing protection from UV rays and other harmful particles.
How To Choose The Best Coconut Oil For Hair
Type: Coconut oil is available in various types such as virgin, extra-virgin, refined, and fractionated. While virgin and extra-virgin have no difference and are pure grade oils derived from mature coconuts and do not contain any chemicals, refined and fractionated oils lose certain nutrients during their extraction process. So, choose your coconut oil as per your requirement.
Cold-pressed: Cold-pressed technology has been in high demand nowadays. Usually applied for virgin or organic coconut hair oil, it is a mechanical method of pressing the coconut skin to extract the milk without using high temperatures. It helps keep all the vital nutrients intact without losing its natural aroma and is easily absorbed by the skin.
Fragrance-free: If you do not enjoy the strong smell of coconuts, you can opt for refined coconut oil. Since this is a chemically extracted oil derived from older and dried coconuts, it tends to lose its natural form and scent.
Winter oil: These oils stay in liquid form all year because of its extraction process known as fractionating. However, it loses certain fatty acids and nutrients like lauric acid in the process. This oil is beneficial for those with heat-damaged hair as it contains antioxidant-rich ingredients.
Coconut oil has a lot of benefits to offer and is popular among every age group and gender. It makes your hair silky smooth by nourishing it and treating your dry scalp. Besides being the best oil for head massage, you can use this beneficial oil before or after washing your hair to achieve a better result. Most households have been using one popular brand for decades, but it's time to look at other coconut oil brands that provide the same and more benefits to your hair. Hopefully, our list of the top 15 best coconut oils for hair might prove helpful.
Frequently Asked Questions
Are there any side effects or precautions when using coconut oil on hair?
No, generally coconut oil is considered safe and does not cause any side effects. However, if you are allergic to coconuts, avoid using this oil. Also, do a patch test with a little oil, especially if you have acne-prone or sensitive skin, on the back of your neck or your forearm to check for adverse reactions like redness, swelling, flare ups, or irritation. And, applying excess oil may cause buildup on the scalp and hair that may affect scalp health.
How long should I leave coconut oil in my hair?
It is best recommended to leave coconut oil for at least 30 minutes so that it gets absorbed well and strengthens the follicles to boost hair growth. You can also leave it overnight to really absorb into your scalp and hair strands. But wash it off in the morning as it may leave product residue on your scalp.
What are the advantages of using coconut oil as a hair conditioner?
Coconut oil is one of the best hair conditioners as it penetrates into each strand and provides effective hydration and protection. It also strengthens the roots to enhance natural hair growth. It prevents protein loss and increases hair thickness as well.