11 Best Coconut Oils For Flawless Skin – Reviews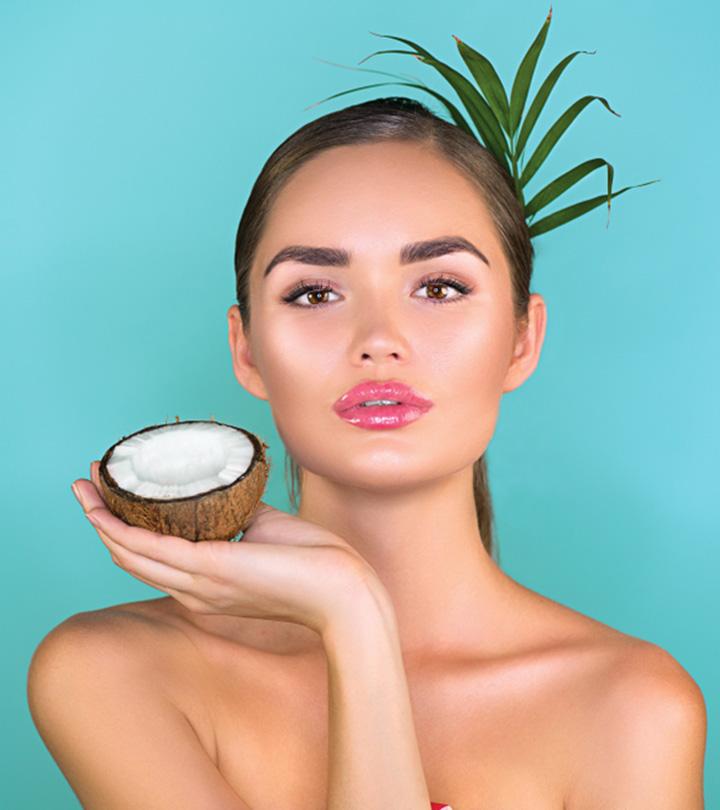 Ahoy skincare lovers! Do you want to have clear and healthy skin with a lustrous glow? If yes, we have got you! With rising pollution and lifestyle stressors, unhealthy skin has become a prevalent problem. Other factors such as junk intake, lack of proper hygiene, insufficient hydration, and product build-up can also cause skin-related issues like lack of moisture, damaged skin cells, pigmentation, and more. To combat such conditions, you need to get your hands on the right skincare products.
Our skin loves essential oils, and one of the most helpful among them is coconut oil! They offer tremendous skin benefits, including improving evenness, providing adequate hydration, repair, and nourishment. It can also be used as a natural sunscreen and protects your skin from harmful UV rays. However, with a varied range of such coconut oil-infused products, it can be challenging to choose the one that suits your preferences. Thus, we have compiled a list of the 11 best coconut oils for skin, so you can choose what works best for you.
Top 11 Coconut Oils for Skin – Reviews And Buying Guide
Who doesn't love healthy skin! This extra virgin coconut oil for skin by Viva Naturals repairs damaged skin, while delivering an even and smooth look. It is abundant in lauric acid and encourages the growth of collagen production and improves elasticity. Extra virgin coconut oil is known for its anti-inflammatory properties and soothes irritated skin. Dry, lacklustre skin will be a thing of the past, as this coconut oil improves the skin's protective barrier and locks in moisture. Within no time, you will be left with supple, plum, glowing skin.
Pros
Non-sticky
Gluten-free
Non-greasy
Free of GMOs
USDA-certified
Keto and paleo-friendly
Has a pleasant aroma
Cons
Might not be effective in healing skin rashes and wounds
Flaunt clear and glowing skin you have always dreamt of, with this fractionated coconut oil by Majestic Pure. This medium-chain triglyceride (MCT) oil is safe to use and consume. Being a fractionated liquid oil, it comprises capric and caprylic acids which are rich in antioxidants and heal rashes and skin irritations by soothing, moisturizing, and nourishing your skin. This raw coconut oil for skin can also be used as a deodorant, makeup remover, lip balm, shaving cream, hair conditioner, aromatherapy, massage, cooking oil, and more.
Pros
Odorless
Grease-free
Heals sunburns
Suits all skin types
Excellent moisturizer
Packed with antioxidants
Contains medium-chain fatty acids
Blends easily with other essential oils
Cons
Might not be long-lasting
Do you prefer organic coconut oil for the skin? This one by Garden Of Life may be the right choice for you. It deep-conditions and hydrates all skin types. The best part is that it is packed with natural saturated fats, which penetrates deep into the skin and provides nourishment. This product includes lauric acid, which possesses antibacterial properties to treat acne effectively. If this wasn't all, it also contains capric and caprylic acid to soften your skin with its anti-inflammatory properties.
Pros
Unbleached oil
Free of GMOs
USDA-certified
Provides a soothing effect
Non-hydrogenated
Gluten-free formula
Ensures shine and moisture to skin
Cons
Might take time to entirely remove oil from the skin
Don't miss out on this coconut oil for skin that comes with a bunch of benefits! The fractionated liquid coconut oil delivers complete hydration and nourishment to your skin. It combats and prevents dryness even in extreme conditions, with ease. Free of harsh and toxic chemicals, it shields and protects the skin while boosting its glow and health. Besides, this non-greasy formulation also acts as a UV light protectant, preventing sun damage. The vitamin E in this liquid helps provide moisture, leaving behind a youthful, radiant glow.
Pros
Mild formulation
No color and odor
Unclogs the pores
Gets easily absorbed
Can be used in massage therapy and hair care
Cons
The formula might be watery
Are you looking for high-quality natural coconut oil for your skin? This coconut oil is the one you should try. Rich in vitamin E and essential fatty acids, they nourish your skin, making it look softer and younger. This super-healthy oil contains beneficial fatty acids, which correct blemishes, fight age spots, wrinkles, and marks. You will be left with clear, even, and glowing skin in no time. Besides this, this product comes in a smooth, silky consistency, which doesn't possess any greasiness or unpleasant odors.
Pros
Vegan
No gluten
Sulfate-free
Cruelty-free
Paraben-free
Phthalate-free
Rich in nutrients
Non-toxic chemicals
100% raw and organic
Light and clear formula
Cons
Heating this oil may affect the aroma
Keep your skin healthy and glowing with this coconut oil skincare processed without any chemicals and fragrance. This oil is extracted from organic coconuts, pampers your skin with all the essential nutrients. The mild formula hydrates and keeps your skin healthy, making it smooth and clear. This coconut oil unclogs your pores, fights against allergy and infection-causing microbes with its antibacterial and antifungal properties. If you are worried about essential oils being too harsh on your skin, you could mix them with this coconut oil to dilute its potency.
Pros
Cruelty-free
100% Vegan
Perfect carrier oil
Rich in antioxidants
Free of harsh chemicals
Ideal for massages and aromatherapy
Cons
The skin might feel slightly greasy
Get soft and nourished skin with this USDA-certified cold-pressed coconut oil. It is extracted from handpicked traditional non-crossbred coconut trees. Rich in nourishing fatty acids, they help retain moisture and act as a great moisturizer to the skin. It comes with various other benefits, including being a good makeup remover, hair care product, cooking oil, massage oil, and alternative to butter.
Pros
BPA-free
Non-GMOs
Cruelty-free
Unbleached
100% organic
Free of trans fat and hexane
Mixes easily with other essential oils for an aromatherapy
Cons
The scent may be overpowering for some
Achieve acne-free, healthy skin with this pure coconut oil by Okay. This deep-hydrating oil is extracted from fresh and organic coconut milk, is filled with the goodness of essential nutrients. This oil is rich in vitamins and antioxidants such as vitamin E and boosts collagen production, and prevents sunburn. Plus, with its antibacterial and antifungal properties, it also helps in healing skin allergies and infections.
Pros
Cruelty-free
Contains antibacterial and antifungal properties
Adds glow to the skin
Treats dry and flaky skin
Free of silicones, parabens, and sulfates
Cons
The consistency may feel slightly watery
Are you fond of coconut skin oil that suits all skin types? Well, this one by Sky Organics may be something you want to try. This multipurpose product contains essential fatty acids that facilitate intense moisturization to various skin types. It is derived from pure and high-quality coconuts and ensures softness, evenness, and health to the skin. It also doubles as a hair mask.
Pros
Cruelty-free
100% vegan
Cold-pressed
Organic product
Ideal for usage in both face and body
USDA-certified extra virgin coconut oil
Serves as a good hair mask for all hair types and textures
Cons
A revitalizing coconut oil paves the way for a healthy lifestyle. This one by Pursonic may be of great help! This organic ingredient is known for its moisturizing and antimicrobial properties and can repair dry and flaky skin. It unclogs pores, treats inflammation, and leaves a calming effect on your skin. With this lightweight formula, achieve soft, supple, and glowing skin. Another added benefit is that this coconut oil easily blends with other essential oils.
Pros
100% pure
Non-greasy
Heals sun-damaged skin
Restores shine and health in dull hair strands
Best carrier oil for massage and aromatherapy
Cons
Might not be long-lasting
Do you love keeping your skin nourished and hydrated? Well, say hello to this bottle of goodness by Sports Research, which is crafted with organic virgin coconut oil for skin. It lends you a long-lasting moisturization, combating dryness, and damage.  A USDA-proven product, it is completely free of toxic chemicals and is 100% pure to ensure your safety and wellness.
Pros
No added colors
Effective carrier oil
Multipurpose product
Delivers soft and silky skin
Cons
Might possess a strong smell
When it comes to choosing a coconut oil that is best for your skin, there are a few important points to consider.
How To Choose The Best Coconut Oil For Your Skin
1. Type
Coconut oil comes in different types: virgin, extra-virgin, refined, unrefined, and fractionated. Unrefined, virgin, and extra-virgin are the purest form of oils as they are extracted from fresh coconuts and are not processed with any chemicals. Being rich in nutrients, these oils retain them for a long time. These oils are best suitable for dry, sensitive, and normal/combination skin as they are organic and contain antioxidants. Refined and fractionated tend to lose some of their nutrients during the process of extraction. They are non-greasy, lightweight and thus, ideal for oily skin type. It can also be used as a good carrier oil for massage. Thus, choose the product as per your needs.
2. Cold-pressed form
Make sure that the oil you choose is cold-pressed. This means that it doesn't involve any heat or chemicals during its extraction process. Cold-pressed oils are rich in potent nutrients like antioxidants to enhance the overall health of your body.
3. Taste and fragrance
If you do not prefer the strong odor of coconuts, go for refined or fractionated coconut oils. Since they are chemically extracted from dried coconuts, they lose their natural taste and aroma.
How To Use Coconut Oil On Skin
Take a quantity of 1 tbsp of coconut oil and rub them gently onto your palm and fingers to heat them slightly.
Spread and apply evenly on your face, neck, and body.
You can remove any residue out of the skin by using a soft tissue. Avoid cotton balls as they tend to stick with the oil.
If you are going to leave the oil overnight, make sure that you apply just a thin layer of it to avoid extreme oiliness.
Coconut oil serves as an excellent makeup remover as it clears away dirt, grime, excess makeup to lend you clear and glowing skin.
Benefits Of Coconut Oil For Skin
1. Facilitates adequate hydration
Forget expensive serums and creams when you have coconut oil! As it contains fatty acids, It provides excellent moisturization to your skin and hair all day and treats eczema which is caused due to dehydration.
2. Healing properties
With its antibacterial, antifungal, and antiviral qualities, coconut oil treats and fights against infections, allergies, and wounds. It can be used as a natural sunscreen to prevent sunburn.  It also lightens marks, scars, and blemishes on  the skin, ensuring an even-tone.
3. Acne treatment
As this super-beneficial oil is rich in antioxidants and possesses anti-inflammatory properties and  is an effective acne treatment ingredient. It unclogs your pores, tightens them, reduces acne, and adds glow to your skin. Coconut oil heals redness and puffiness too.
4. Slows down aging
Coconut oil slows down the aging process and prevents wrinkles, fine lines, and age spots. Since the oil boosts natural collagen production in skin, it is helpful for mature and crepey skin to correct sagging and achieve firmness.
Side Effects Of Coconut Oil
Too much intake of coconut oil may cause mild side effects such as:
Diarrhea
Cramps
Gastrointestinal discomfort
Adding a lot of bad cholesterol to the body
However, these conditions are rare and dependent on the health of a particular person. Mostly coconut oil is harmless and provides numerous benefits to skin, hair, and body.
Choosing the best coconut oil for your skin is important to ensure glow, hydration, evenness, and firmness and also essential for its treatment and protection, too! It offers countless benefits to your hair, skin, and body as it is rich in antioxidants and other nutrients. This multipurpose oil can be used as a skin cleanser, lip balm, makeup remover, sunscreen, hair conditioner, cooking oil, carrier oil for massage, and more. It is also vital that you choose an oil that does not contain GMOs, parabens, sulfates, silicones, and other toxic chemicals to ensure glowing, healthy skin. To make it easy for you, we compiled a list of the 11 best coconut oils for skin along with a buying guide. So then, what are you waiting for? Go, find the best coconut oil, and enhance your skin like never before!
Frequently Asked Questions
Is coconut oil good for your skin?
As coconut oil contains lauric acid, linoleic acid, and other essential fatty acids, it hydrates, nourishes, and protects the skin from damage.
Is coconut oil a good skin moisturizer?
Yes, coconut oil locks in moisture to your skin for a longer time to prevent dryness. It also lends you soft and supple skin.
Is refined coconut oil good for your skin?
Yes, refined coconut oil possesses a mild aroma, color, and flavor, which is suitable for your skin. It will also not lead to extreme oiliness. However, virgin oil is considered the best for the skin as it is infused with all the essential nutrients.
Is there a difference between coconut oil for cooking and skin?
Refined oil is mostly ideal for cooking and baking while virgin or pure coconut oil is suitable for skin and hair. This is because virgin oils are rich in nutrients required for the wellbeing of skin and hair, whereas refined oils lose some of their nutrients during extraction.
Can I use coconut oil for skin brightening?
Coconut oil helps in lightening age marks, dark spots, blemishes, and scars. It helps you achieve even, firm, and bright skin.
Can I use cooking coconut oil for the skin?
The antimicrobial and anti-aging qualities of coconut oil make it highly suitable for all types of skin. It is also a great acne treatment.
The following two tabs change content below.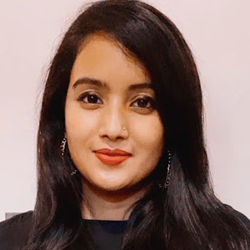 Kirtana developed a deep passion for writing ever since she was a little girl after reading the brilliant works of Enid Blyton and Roald Dahl. She completed her Master's in Mass Communication and Journalism from St. Joseph's College, Bengaluru and has chosen a career that is driven by creativity. A fashion enthusiast who believes in communicating effectively with a personal touch, she writes about beauty, skin care, fashion, and just about anything else.