8 Best Coconut Perfumes For Women That Smell Delightful
Surround yourself with uniquely exotic aromas derived from coconut extracts.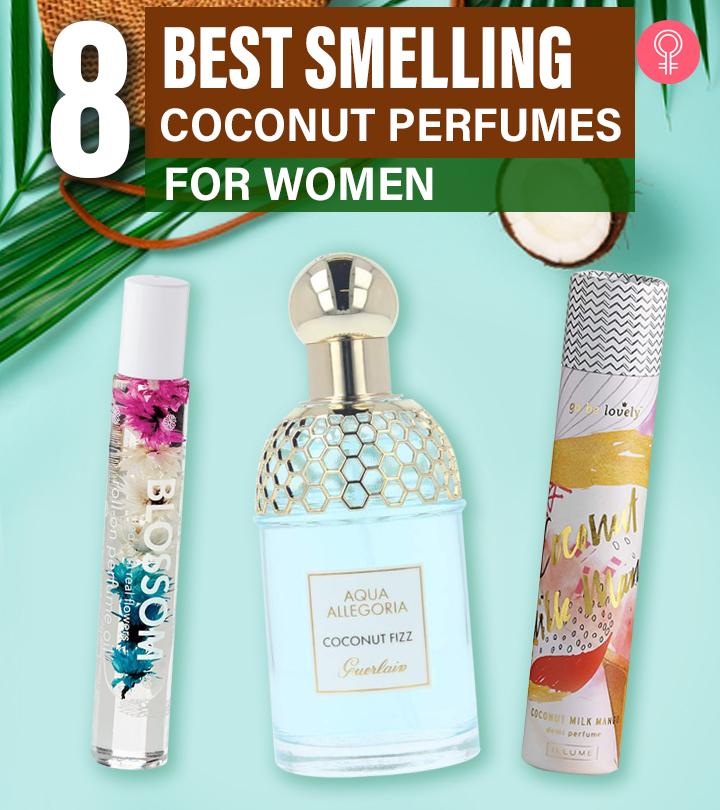 Coconuts smell so tropical and rich that they can transport you to a paradise-like place almost instantly with their fragrance. That's part of the reason why they're used in making coconut perfumes. The best coconut perfumes, however, are the ones that don't just smell sweet but also smell warm, summery, exotic, and fresh. Here's a list of the best coconut perfumes that can transport you to a paradise-like feeling in just one spray. Take a look.
8 Best Smelling Coconut Perfumes For Women
The Pacifica Beauty Spray perfume is a blend of light vanilla, exotic creamy vetiver, and fresh and sultry coconut. The micro-batched perfumes are formulated with the best non-GMO natural grain alcohol extracted from corn. The ambrosial fragrance is delicate and tropical and is concocted with natural and essential oils from all around the world. The Indian Coconut Nectar spray perfume can be used on its own or as a layer to other scents.
Pros
Sulfate-free
Phthalate-free
Gluten-free
Paraben-free
Petroleum-free
Mineral oil-free
Cruelty-free
100% vegan
Recyclable glass bottle
Cons
Strong sweet smell
Doesn't last long.
Price at the time of publication: $20.85
The LAYALI Rouge Perfume Oil has a flirty, fruity fragrance. The top notes of this oil consist of pineapple, papaya, lemon, juicy, sweet mangoes, and fresh florals. This tropical note has the frolic of a beach cocktail. The middle notes burst into juicy peaches, sandalwood, and enticing roses and lead to a final note of coconut and hibiscus. This fragrance is perfect for a romantic evening or a date night and engulfs you in a magical and irresistible aura.
Pros
Alcohol-free
Natural
Organic
Vegan
Cruelty-free
Cons
Contains chemicals and synthetic ingredients.
Price at the time of publication: $23.57
This Body Exotics perfume is a sensual blend of juicy lime, fresh coconut, tantalizing verbena, and exotic vanilla. The mist has a refreshing scent with higher notes of lime. It does not have any unpleasant undertones or any strong alcohol whiff. Be it a light spray or a lavish spritz, this perfume will definitely turn heads. With the freshness of coconut at the beach and other seaside fruits, the fragrance of vanilla and lime almost melt into each other, making you smell irresistible.
Pros
Vegan
Cruelty-free
Alcohol-free
Cons
None
Price at the time of publication: $23.2
The Healthy Fragrance coconut perfume is crafted with the scents of Madagascar vanilla and Tahitian tiare flower. The blend with coconut encapsulates an enticing island escape fragrance.
This perfume is infused with the tropical scent of coconut oil and the sweet tanginess of goji berry. Its lingering fragrance transports you to a beautiful and sandy beach. Madagascar vanilla beans soothe and calm the skin with their aromatic properties. They are blended with the gooey heliotrope and creamy tonka bean to create a formula enriched with pure essential oils and sugar cane alcohol. Lavanila has long-lasting fragrance and is gentle on the skin.
Pros
Vegan
Paraben-free
Petrochemical-free
Phthalate-free
Propylene glycol-free
Mineral oil-free
Silicone-free
Synthetic fye-free
Synthetic fragrance-free
Chemical sunscreen-free
Sulfate-free
Aluminum-free
Cruelty-free
Cons
Price at the time of publication: $67.0
The Aqua Allegoria Coconut Fizz is crafted with a cologne-like freshness and a lingering hold of a signature Guerlain perfume. The perfume is infused with bergamot, a citrus fruit also known as the Calabrian green gold. It transports you to an exotic tropical garden with floating whiffs of fresh coconut water.
This perfume makes a wonderful base of coconut water and fresh fruit to create your own olfactory signature fragrance. The majestic yet petite bottle is a tribute to the Bee bottle held in a delicate golden mesh. It is a woody scent with notes of watery fruits and sandalwood and leaves you feeling refreshed and delightful.
Pros
Recyclable packaging
Layerable scent
Cons
None
Price at the time of publication: $99.0
The Estee Lauder Eau Fraîche scent is inspired by the traditional cult fragrance. The enticing and velvety texture of tiare flowers is blended with creamy coconuts and the sensual notes of warm amber, vanilla, vetiver, myrrh, and sandalwood. It gives you the aura of a desirable woman. With middle notes of lemon, Sicilian bergamot, juicy mandarin, and orange pulp and final notes of lavender, orange flower, magnolia, and jasmine, this perfume from the Bronze Goddess range imbibes the sensuality of solar floral.
Pros
Alluring
Attractive bottle
Cons
None
Price at the time of publication: $54.0
The Go Be Lovely perfume gives you an adventurous and warm aura. The tropical fragrance blend of coconut, mango, and palm leaf almost transports you to a deserted island. The subtle scent is also infused with lush papaya, sugarcane, island pineapple, and Tahitian vanilla. The Illume Demi rollerball perfume comes in an easy-to-carry bottle and can simply be applied on the body's pulse points for a slow-emitting perfume that will lead you to paradise.
Pros
Fits in the purse
Roll-on perfume
Refreshing
Cons
Price at the time of publication: $19.99
The Blossom Perfume Oil is infused with real flowers that provide a subtle yet captivating scent. The unique formula is enriched with jojoba oil for a soft texture. The fragrance is a fresh blend of coconut with floral blossoms. The coconut nectar perfume oil contains other essential oils of safflower, meadowfoam, and natural dried flowers. The roll-on perfume should be applied to the pulse points of the body to smell fresh and delightful for a long time.
Pros
Vegan
Cruelty-free
Fits in the purse
Cons
Price at the time of publication: $6.79
Why Trust StyleCraze?
The author, Baishali Bhattacharya, is certified in makeup techniques and is passionate about perfumes. She is particularly fond of coconut perfumes that not only smell sweet but also have a refreshing fragrance. The above list of the best coconut perfumes is based on research and is backed by the reviews posted by users on different online platforms.
Frequently Asked Questions
Is coconut a good fragrance?
Yes. The coconut scent is rejuvenating and mind-soothing. It is a versatile fragrance that is evocative.
What fragrance type is coconut?
Coconut is a fresh tropical fragrance. It is made from coconut pulp and water that smell exotic, sweet, and cool.
Is coconut a floral scent?
No. Although derived from the flowers of the coconut tree, the coconut aroma offers a sweet but fruity and nutty fragrance.
How does coconut perfume make you feel?
The smell of the coconut perfume relaxes your senses and makes you feel satisfied. It is highly effective in reducing your anxiety and stress levels.
Is coconut a winter or summer perfume?
Coconut fragrances work well in the hot months. It releases a cool and fresh aroma that lifts your spirits.
Recommended Articles