10 Best Coffee Mugs (2023) – Reviews And Buyer's Guide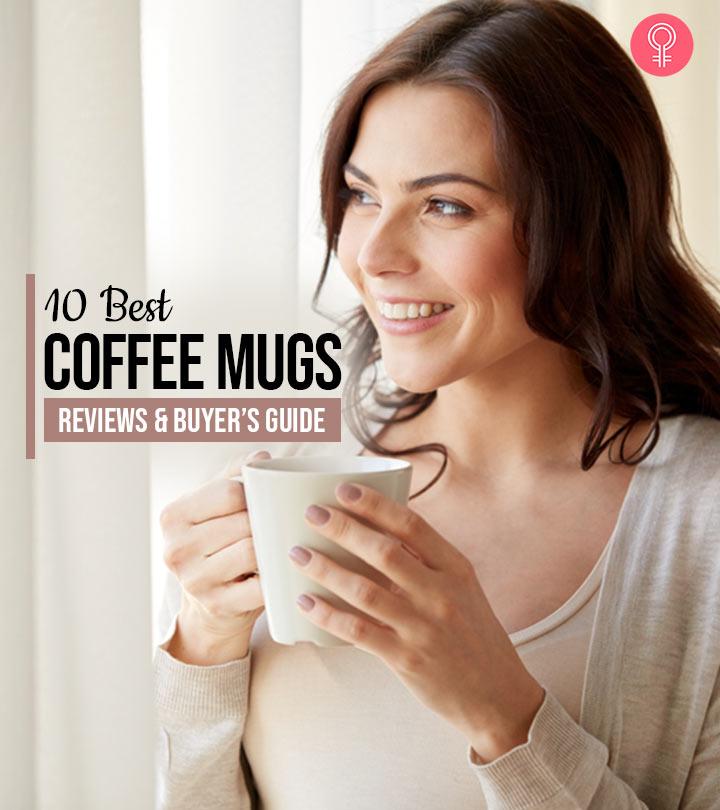 A coffee mug might seem like an inconsequential kitchen item, but we all have a favorite one that we reach for every morning when brewing our morning cuppa. Somehow, coffee tastes better in it! The process of drinking coffee (or tea) is a multisensory adventure. Everything – from the color and material to the shape, temperature, and design of the coffee mug – can dictate your experience.
There have been many innovations and developments in the design of coffee mugs to cater to our growing needs. Daily commuters need coffee mugs that can keep their beverage warm without spilling. There are cups that can keep your beverage at an optimal temperature that can be controlled by your smartphone! Artisanal coffee mugs that are elegantly designed or double-wall insulated mugs that are preferred by campers are also some popular variants of this humble kitchen item.
We have compiled a list of the 10 best coffee mugs currently available, along with a buying guide to help make your purchase. Keep reading to pick your favorite!
10 Best Coffee Mugs Available Right Now
Ember Temperature Control Smart Mug keeps your drink at a specific temperature of your choosing (120°-145° F). It can be connected to an app on your mobile device that lets you customize the heat settings so you can enjoy your coffee at any time without compromising on its taste. You never have to worry about reheating your coffee ever again! This ember ceramic mug has a customizable LED color light at the bottom. It has a battery life of one hour, and it comes with a coaster that can be used throughout the day. It can be washed by hand.
This set of six porcelain mugs from Sweese come in vibrant colors that can cheer up your dreary mornings! They are durable with a simple but beautiful design. These multipurpose mugs can be used to sip coffee, hot cocoa, tea, soup, or any of your favorite beverages. These handy mugs are made with professional-grade porcelain and are dishwasher-safe. These lead-free, non-toxic ceramic mugs can be safely used in the microwave, oven, and freezer. They are sturdy and do not chip quickly.
Pros
Vibrant colors
Durable
High-quality porcelain
Lead-free
Non-toxic
Dishwasher-safe
Microwave-safe
Oven-safe
Freezer-safe
Chip-resistant
Cons
The YETI Rambler Mug is a stainless steel vacuum-insulated mug. It keeps your beverage insulated from the external temperature. It has a wide-mouth opening for easy accessibility. Its protective lid helps in keeping your coffee/tea insulated and safe. This stainless steel mug is BPA-free, dishwasher-safe, and has a Duracoat coating that prevents it from cracking, peeling, and fading. Its no-sweat design keeps your hands dry. The full-loop triple-grip handle offers a great grip, even when you are wearing your morning mitts. This durable mug is the perfect camping accessory as it is shatter-resistant.
Zojirushi SM 48-BA Stainless Steel Coffee Mug has vacuum insulation that provides superior heat retention so that your beverages stay hot or cold for a long time. This compact and lightweight mug can hold up to 16 oz. of any beverage. It has a non-stick interior and a lid that can be disassembled for easy cleaning. The lids fit snugly and prevent the contents from spilling or getting hot/cold. This BPA-free mug also has a pictograph lock for safety. Its air vent prevents the liquid from gushing out, and the flip-open lid prevents splattering.
Pros
Superior heat retention
Locking mechanism
Splatter-proof
Compact
Lightweight
Portable
Easy to clean
BPA-free
Polished interior
Stainless steel
Leak-proof
Cons
MiiR Insulated Camp Cup is made with stainless steel and double-wall vacuum insulation to retain temperatures for a longer duration. It keeps drinks hot for 6 hours and cold for 12 hours. The high-quality medical-grade materials it is made of are safe for use. They do not transfer flavor or leave behind a metallic aftertaste. This BPA-free mug has a hard-shell powder coating for better grip. It is convenient to hold as it does not get too hot to touch. The double-wall vacuum insulation eliminates condensation. It keeps the contents insulated from temperature fluctuations. The lid is designed to prevent the contents from splashing and to provide insulation. This coffee mug can be washed in the top rack of a dishwasher.
GROSCHE Cyprus Double-Walled Glass Coffee Mug has a unique design because it is handmade by expert artisans. It is the perfect coffee mug to use on special occasions. The inner and outer glass is mouth-blown individually and carefully. The heat-resistant borosilicate glass can withstand temperature fluctuations to prevent cracking or shattering. It is 100% lead-free and flavor-neutral. It is strong, durable, and an excellent choice for beverages like coffee or tea. It can hold up to 500 ml of liquid. It is microwave- and dishwasher-safe.
Pros
Heatproof
Handmade
Microwave-safe (up to 350° F/180° C)
Food-safe
Dishwasher-safe
Double-wall insulation
Lead-free
Flavor-neutral
Cons
Zyliss French Press Travel HotMug can be used to brew coffee or loose tea as it comes with a clip-in coffee press. This portable mug has double-wall insulation to keep your beverage safe from temperature fluctuations. The fine mesh filters are great for brewing coffee. This portable French press mug is BPA-free and dishwasher-safe. It can be used to drink other beverages like milk, soup, or hot chocolate as well. It is easy to hold and clean and is durable. It is perfect for road trips and camping.
Bodum Bistro Coffee Mug is made with mouth-blown borosilicate glass with double-wall insulation to keep drinks cold or hot for longer. A silicone vent equalizes air pressure and improves insulation. No coasters are needed as this design eliminates condensation. The glass is heat-resistant and can be used safely in an oven up to 350° F. This 10 oz. mug is also dishwasher- and microwave-safe.
Pros
Handmade
Double-wall insulation
Heat-resistant
Dishwasher-safe
Microwave-safe
Eliminates condensation
Equalizes air pressure
Cons
Le Creuset Stoneware Mug is made with high-quality glazed stoneware that is strong and durable. It has a non-porous enamel finish that prevents odors, cracking, chipping, and staining. This 12 oz. coffee mug has a curved loop handle for a comfortable hold. It can withstand temperatures up to 500° F, so it is safe to use in an oven or a dishwasher.
Contigo Autoseal West Loop Stainless Steel Travel Mug has patented Autoseal technology that prevents spillage. Its Thermalock vacuum insulation keeps the temperature of your beverage locked in for hours. It keeps drinks hot for up to 5 hours and cold for up to 12 hours. It is easy to clean and fits in most car cup-holders. The lid can be washed in the top rack of the dishwasher, and the body has to be hand-washed. This versatile and durable coffee mug is the perfect travel companion.
Pros
Leak-proof
Spill-proof
Excellent heat retention
Push-button for one-handed drinking
Lid locking mechanism
Fits most car cup-holders
Top-rack dishwasher-safe lid
Cons
Not flavor-neutral
Body needs to be hand-washed
Those were our top 10 picks for coffee mugs available right now. Now, let's learn more about what to look for in a good coffee mug.
Important Factors To Consider While Buying A Coffee Mug
Material: The most common materials used to make coffee mugs are ceramic, steel, glass, and hard plastic. Ceramic mugs leave no aftertaste and keep water hot for a long time, but they are also fragile. Travel mugs are made of steel as it retains heat well. It is also sturdy and durable. Glass mugs may be delicate, but they are also flavor-neutral and can be recycled. Hard plastics offer superior heat retention and durability but leave an aftertaste.
Design: The experience of drinking coffee or tea engages all our senses. The size, shape, color, and design play a crucial role in this experience. Bright colors may cheer you up! The texture of the cup may soothe you. The warmth from the cup may comfort you. All of these factors influence the taste of the beverage.
Volume: The capacity of the coffee mug should be considered before purchasing it. This largely depends on how much of your preferred beverage you consume at a time.
Price: Coffee mugs with innovative technologies – like smart temperature control – may be expensive. You should consider your budget before splurging on one of these fancy mugs. For daily use, a more sturdy and economic coffee mug would be a better choice.
The market is flooded with coffee mugs in various designs, shapes, and colors. It is important to choose the one that suits your needs and enhances your daily morning ritual. Coffee cups for travel and camping need to be sturdy while providing insulation. Lightweight, compact, durable, and reusable mugs are preferable. It is also better to choose coffee mugs that are easy to clean and maintain.
Pick a coffee mug from the ones listed above to elevate your coffee-drinking experience today!
Recommended Articles
The following two tabs change content below.