10 Best Coffee Tables Available In India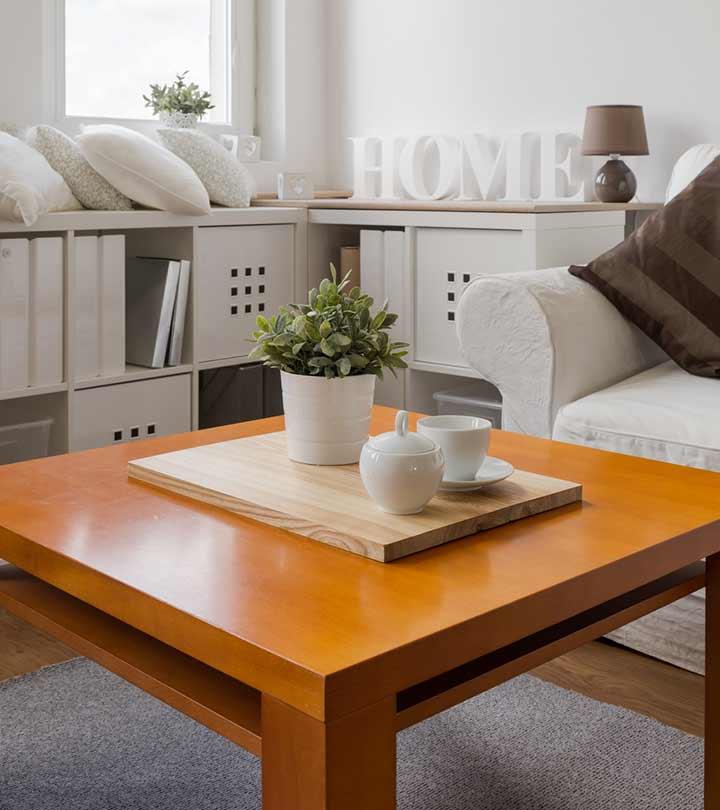 A coffee table is the center of attraction in your living space. A well-designed table can go a long way in adding a touch of elegance to your home décor. This essential piece of furniture adds style to your lounge while offering an excellent canvas to display all your curios and coffee table books. Some of them also provide extra storage options with shelves on multiple levels. There are various tables available in different materials and styles that may make it difficult for you to pick one. Don't worry, we've got you covered. Scroll through our list of 10 best coffee tables available in India that are designed to make a statement.
10 Best Coffee Tables Available in India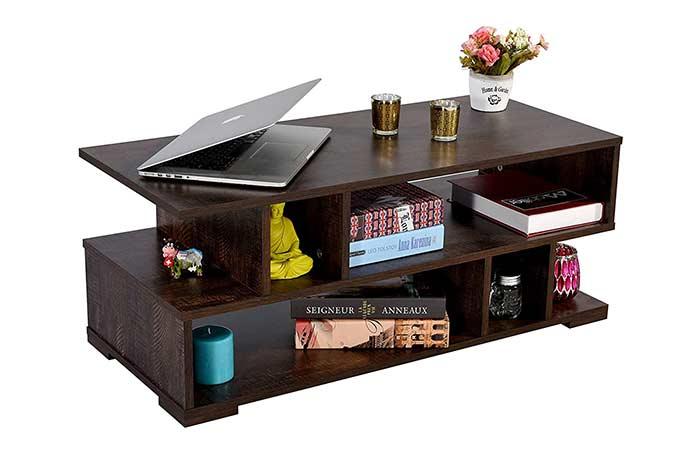 The contemporary Z shape of the Siena coffee table from DeckUp adds an elegant touch to the room. It features six separate compartments that offer ample storage options for books, curios, and decorative items. The large tabletop can double up as a dining table for TV nights or even as a work table on weekdays. The laminated finish promotes easy wipe-clean maintenance and lends a luxurious look to the unit.
Specifications
Dimensions: 90 X 40 X 37 cm
Material: Engineered wood
Weight: 18 kg
Color: Wenge
Pros
Easy to assemble
Sturdy
Contemporary design
Space-saving storage
Cons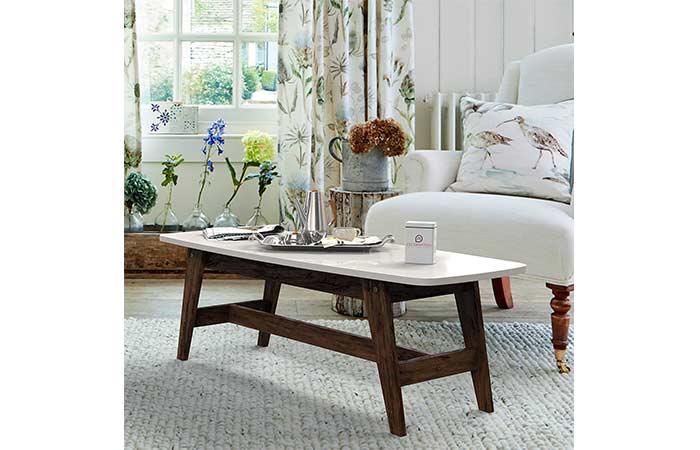 The DecorNation coffee table has a minimalistic, sleek look with an oval-shaped top. The contrasting white oval-shaped top on wooden angular legs makes it eye-catching. This unit can be used as a breakfast table or a work table. The central footrest is accessible from all sides, adding to the comfort of the table. It is lightweight and portable, which gives the freedom of using it outdoors on the patio as well.      
Specifications
Dimensions: 126 X 44 X 45.7 cm
Material: Engineered wood
Weight: 15 kg
Color: White
Pros
Sturdy
Easy to assemble
Safe rounded edges
Cons
Limited weight-bearing capacity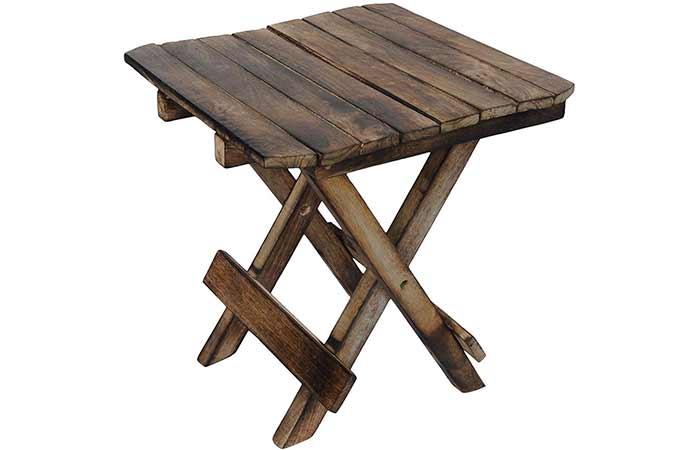 The foldable coffee table from Indian Karigars is fabricated from heavy-duty mango wood to make it last longer. The adjustable design offers easy portability and multipurpose use indoors and outdoors for an evening cup of coffee or tea. It can be used as a side table to place a potted plant or small knickknacks. This table requires no assembly as it comes folded and ready to use. It is also ideal for children to use as a study table or for arts and crafts.
Specifications
Dimensions: 30 X 30 X 30 cm
Material: Mango wood
Weight: 28 kg
Color: Brown
Pros
Foldable
Lightweight
Portable
No assembly required
Cons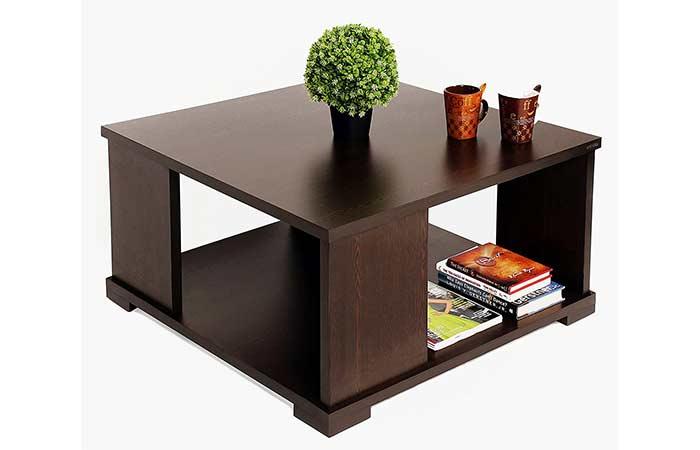 The sophisticated style and square shape of the Bluewud Noel center table make it a welcome addition to any room. It is made of premium-grade engineered wood with a natural wood grain finish to fit in with all decors. This spacious unit goes well with a three-seater sofa set up and can easily accommodate numerous cups and glasses, along with a potted plant and decorative items. The lower shelf has wide openings on all four sides for easy accessibility.
Specifications
Dimensions: 70 X 70 X 37.5 cm
Material: Engineered wood
Weight:8 kg
Color: Wenge
Pros
Spacious
Sturdy
Easy to assemble
Easy to clean
Cons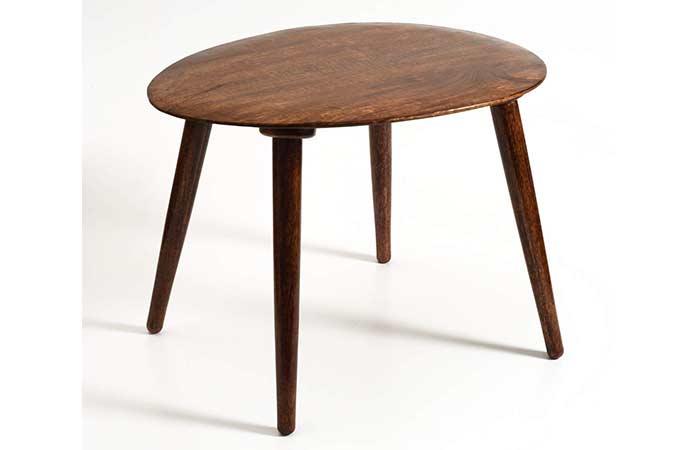 The versatile coffee table from Amaze Shoppee is crafted from high-quality mango wood and has a modern oval shape that allows it to be placed in any room. It has the perfect size and can be used as a center table or a sofa side table to place cups and glasses while entertaining guests. This multipurpose unit can also be used near the bedside to place water, candles, and photo frames. The premium-grade workmanship ensures it is long-lasting and perfectly stable.
Specifications
Dimensions: 48 X 38 X 35 cm
Material: Mango wood
Weight:5kgs
Color: Brown
Pros
Lightweight
Safe rounded edges
Easy maintenance
Easy assembly
Cons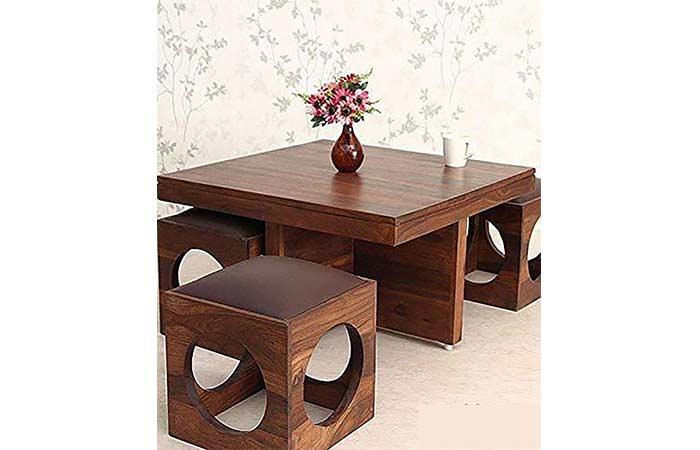 The innovative coffee table set from Custom Decor is more than just a coffee table as it also includes four stools that fit in perfectly underneath the table to save space when not in use. The simple square outline is supported by a cross-frame base that accommodates the chairs. The stools are equipped with soft cushions to offer comfortable pull-out seating. The classic geometrical lines of this unit allow it to blend in seamlessly in any setting. The large surface provides ample space for placing cups and glasses along with dinner plates for casual dining.
Specifications
Dimensions: 87 X 87 X 45 cm
Material: Sheesham wood
Weight: 30 kg
Color: Brown
Pros
Sturdy
Space-saving design
No assembly required
Comfortable
Cons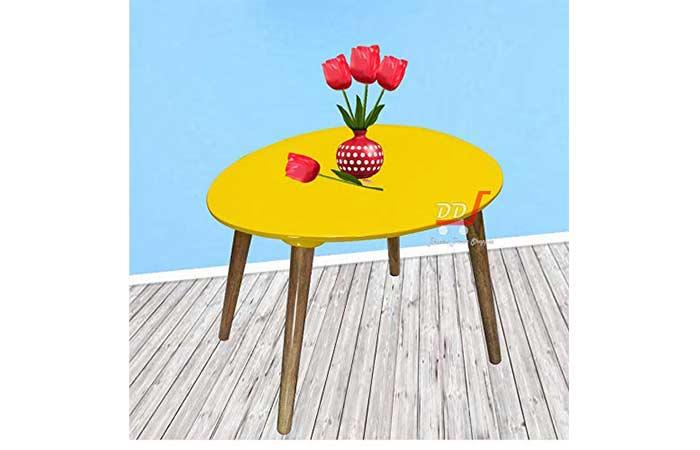 The bright yellow color of the DDS Dream Decor Shoppee Coffee Table adds a burst of brightness to the room. The detachable legs give you the freedom to change the table's location quickly with no hassles.  It has an oval shape with smooth round corners, making it safe for children. This compact coffee table can be used as a breakfast table, study table, workstation, and end table. The surface is easy to clean with a soft, damp cloth.
Specifications
Dimensions: 50 X 40 X 38 cm
Material: Solid wood and engineered wood
Weight: 2 kg
Color: Yellow
Pros
Lightweight
Collapsible
Easy to assemble
Safe rounded edges
Portable
Cons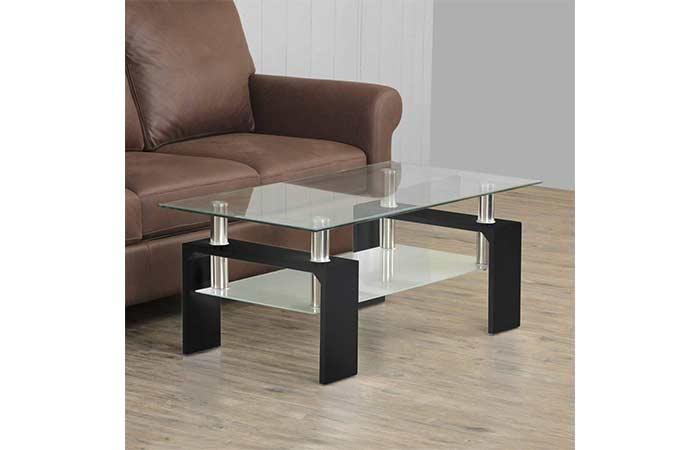 The two-tiered design and high gloss finish of the Finn coffee table from Home Centre gives a contemporary look to the room. The table is fitted with a clear tempered glass, which is thermally processed to eliminate the risk of breakage and make it resistant to heat and scratches. The tinted glass shelf provides storage space for magazines, newspapers, and small curios. This table is supported with metal legs on the top level to optimize the load-bearing capacity.
Specifications
Dimensions: 110 X 60 X 45 cm
Material: Compressed wood and glass
Weight: 25 kg
Color: Black
Pros
High-gloss finish
Compact design
Sturdy
Value for money
Cons
None
The Capella Modern Coffee Table by Amazon Brand – Solimo is crafted with engineering wood. It is made as per European standards to ensure durability. The coffee table provides an elegant touch with its Espresso finish. In addition, this spacious table allows you to store magazines, ornaments, and much more; and can bear a weight of up to 133 kg. The smooth edge design prevents the possibility of cuts and scrapes. Moreover it is stain- and humidity-resistant and also hot water-proof.
Specifications
Dimensions: 110 x 60 x 42.5 cm
Material: Engineered wood
Weight: 20 Kg
Color: Oak Durance
Pros
Elegant design
Spacious storage
Durable and safe
Easy to clean
3-year warranty on manufacturing defects
Cons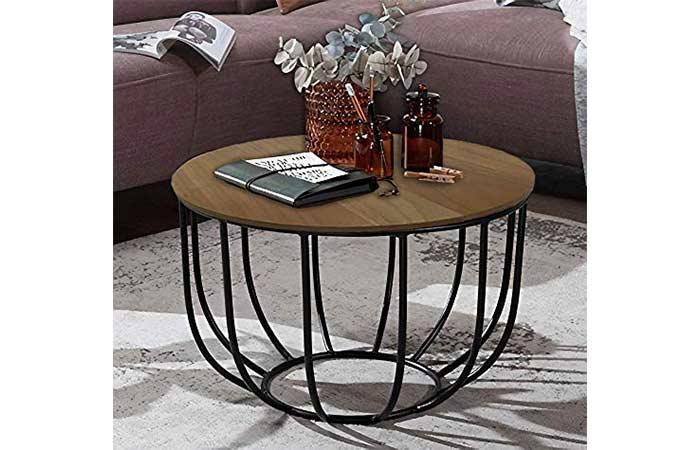 The combination of wrought iron and wood gives the Priti Indiana Coffee table a rustic charm that adds graceful elegance to the room. The unique bow-shaped legs make it easy to maneuver around and safe for children and boisterous pets. The compact size of this table allows it to fit easily in any space. It is crafted from thick wood with a matte finish to make it long-lasting.
Specifications
Dimensions: 60 X 60 X 39 cm
Material: Engineered wood
Weight: 4 kg
Color: Black
Pros
Compact design
No assembly required
Sturdy
Cons
None
Now that you know what the best coffee tables in India are, here are a few points to consider while picking one.
How To Choose The Best Coffee Table
Check the table's height to make sure it is compatible with the height of your sofa.
Coffee tables are constructed from different materials like wood, glass, and engineered wood. Choose according to your personal preference once you have checked for durability and longevity.
Keep in mind the space you have. The coffee table should not crowd your room. Ensure you have a sufficient amount of space between the sofa and the table.
Choose a color and design to complement the interiors of your room.
In case you have children and energetic pets, go for a table with safe and smooth edges.
If you require storage options, look for tables with lower shelves that can accommodate books, magazines, etc.
Added features like heat and water-resistant are always beneficial for easy maintenance of the table.
 A well-designed coffee table can be a convenient and trendy addition to any room decor. Now that you know how easy it is to spruce up your living area go ahead and choose from our list of the best coffee tables available in India that are functional and aesthetically pleasing.