10 Best Coffee Tables – Reviews + Buying Guide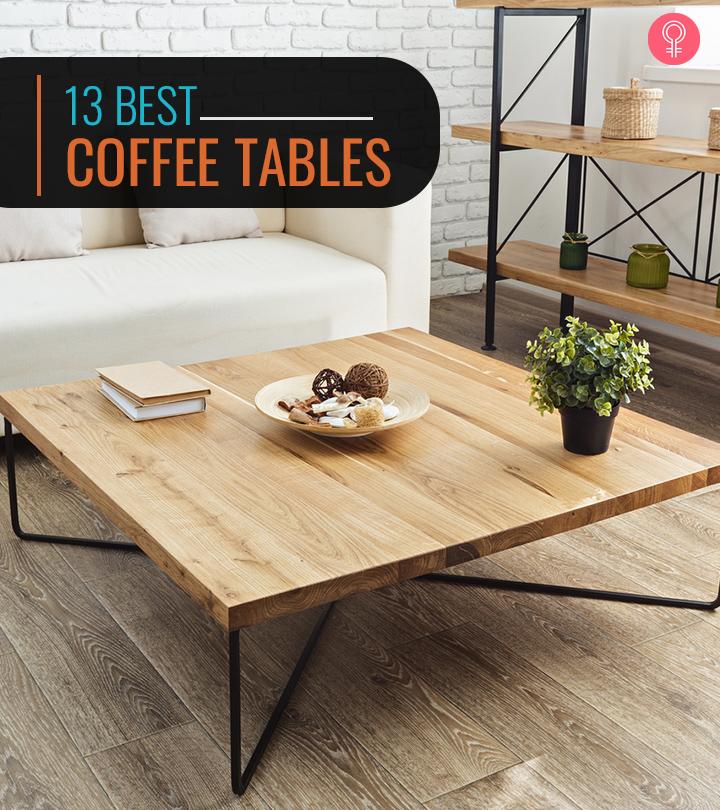 Choosing a coffee table for your home can seem overwhelming and daunting. Unlike paintings, showpieces, rugs, carpets, and other accessories designed to beautify a room, a coffee table's purpose is also its functionality. It can be used to put things on or as a focal point. It may take up space in your room, but it can also help you save space by acting as storage.
Today, the market is flooded with nontraditional coffee tables with unique designs and materials. From the mid-century designs to the crazy ones, there is one for everyone.
To help you find the perfect coffee table for your home within your budget and according to your taste, here is a list of 10 coffee tables that have wowed costumers. Take a peek and decide which one is best suited for your needs.
Top 10 Coffee Tables You Can Buy Online
The Sauder North Avenue Coffee Table has a charter oak finish. It has an open shelf for storage and display and a beautiful black metal frame. It is made of engineered wood, which makes it lightweight and easy to move around. You can also purchase matching side tables and a sofa table with this unit.
Features
Dimensions: 5 x 20 x 16.54 inches
Material: Engineered wood and metal
Weight:6 pounds
Pros
Easy assembly
Durable metal frame
Perfect for small apartments
Cons
Sharp corners
Quality issues
This Nathan James Coffee Table is a classy, minimalist table with an open-frame design. It adds visual space to any room. It is made of dark brown engineered wood and acacia veneer and has a sturdy black metal frame and storage space. It is very easy to assemble and just takes around 15 minutes to set up.
Features
Dimensions: 44.09 x 22.05 x 16.93 inches
Material: Engineered wood, acacia veneer, and metal
Weight: 31.3 pounds
Pros
Easy to assemble
Affordable
Goes with most decors
Lifetime manufacturer warranty
Cons
Fragile
Prone to scratches
This is a unique round coffee table with a distressed Ashwood decorative top and black metal frame. It has a smooth laminated top that is very easy to clean – all you need is a cloth or a feather duster. The stylish X frame legs provide ample space for you to tuck your legs in when sitting nearby. The coffee table has a distressed gray-toned wood finish. You can also purchase a matching side table with this unit. This table also comes in gray slate and walnut colors.
Features
Dimensions: 16 x 31.5 x 31.5 inches
Material: Engineered wood and metal
Weight: 17 pounds
Pros
Easy to assemble
Versatile
Easy to clean
Lightweight
Compact
Cons
Not durable
Thin laminate covering
This vintage-looking classy coffee table complements any kind of room décor. It can be used as a coffee table,an office table, a cocktail table, or an end table. The tabletop and bottom are made of solid pine wood, andthe legs are made of steel. The shelf at the bottom offers plenty of space for storage.
Features
Dimensions: 46 x 24 x 18 inches
Material: Pinewood and steel
Weight: 31 pounds
Pros
Sturdy
Easy to assemble
Multi-use
Cons
This beautiful Walker Edison Coffee Tablehas a mid-century modern feel to complement your home décor. It is made of tempered safety glass, metal, and laminate. The faux marble tabletop has a UV coating that gives it a high gloss shine and protects it from moisture. It can support up to 75 lbs and comes in several color combinations. You can purchase matching side tables for a complete living room set.
Features
Dimensions: 32 x 32 x 17 inches
Material:Wood, glass, and metal
Weight: 19 pounds
Pros
Durable construction
Easy and quick assembly
Comes with UV coating
Cons
The YAHEETECH Coffee Table has a lift-top design. The tabletop can be lifted easily and pulled forward to create a study/work surface. You can use your laptop or even dine on it. The hidden compartment beneath the top is designed to be used as a storage for your remotes, magazines, laptop, game controllers, stationery, etc. It also has three lower open shelves that can hold all your knick-knacks. This is the perfect piece of furniture for compact rooms and can hold up to 55 kg/ 121 lb in total.
Features
Dimensions: 41.1 x 19.3 x 24.6 inches
Material: P2 Certified MDF, metal, and solid wood
Weight: 46.9 pounds
Pros
Space-saving
Does not wobble
Sturdy lift-up mechanism
Water-resistant surface
Ample storage space
Cons
The Ameriwood Home Parsons Coffee Table has a minimalistic, simple design. It is perfect for confined spaces, such as small apartments and dorm rooms. The table is made of PVC laminated hollow coreand can hold up to 50 lbs. It has a water-resistant finish, so you can easily clean spills by wiping the table with a damp cloth.
Features
Dimensions: 19 x 39 x 17.7 inches
Material: Medium density fiberboard
Weight: 10 pounds
Pros
Easy to assemble
Water-resistant finish
Goes with most décors
Cons
Not durable
Paint peeling issues
The FURINNO Coffee Table has a compact, stylish design and is suitable for small spaces. It is made of medium density composite wood that has a UV-resistant laminate. The rounded corners reduce the chance of you or your kids bumping into it and getting injured. It is very easy to assemble – all you need to do is attach the legs. It is also scratch- and water-resistant and has no foul smell.
Features
Dimensions: 35.5 x 21.5 x 16.25 inches
Material:Particleboard, engineered wood
Weight: 17.5 pounds
Pros
Scratch-resistant
Water-resistant
Easy to set up
Compact
Cons
Not sturdy
Mediocre quality
This beautiful mid-century style coffee table is made of high-quality particle board material. The overall finish is quite smooth. It looks very classy and goes with most home décors. The best part is the storage space – you can use it to store daily necessities, books, toys, office supplies, video game console, TV box, and router. You can use it as an entryway table, hallway table, or even a sofa table. It comes in three different colors and is easy to clean.
Features
Dimensions: 42.9 x 21.45 x 17.75 inches
Material:Wood
Weight: 41.8 pounds
Pros
Easy to set up
Easy to clean
Has a drawer
Durable particleboard frame
Cons
The surface color fades over time.
Absorbs water and gets warped.
This beautiful coffee table is a modern style table that goes with most home decors. It is set atop a crossed iron base, made from lacquer and melamine veneer finish. It has a pop-up top over a hidden storage space. The top can be lifted and usedas a work surface. This mechanism works effortlessly and noiselessly. The hidden storage space beneath the top can be used for keeping often-used items like laptops, board games, remotes, game controllers, and magazines. The open shelves below allow you to store your collection of DVDs or whatever you want to stow away.
Features
Dimensions: 39 x 29 x 22 inches
Material: Press wood, lacquer and melamine veneer, metal
Pros
Sturdy
Comes with extra storage space
Large capacity
Cons
Sharp edges
Not easy to assemble
Now that we know about the top 10 coffee tables, let's look at the different types.
Types Of Coffee Tables 
Based On Construction
Wood – Wood is the most common material used for coffee tables. These tables are usually durable and sturdy and available in various shapes and sizes.
Metal–This is the second most common material used in the construction of coffee tables. These are sturdy and lightweight compared to their wooden counterparts.
Glass – Glass tables are a popular element in modern décors. While some tables are 100% glass constructions, others are connected through metal joints.
Rattan – Rattan is also known as wicker. It is long-lasting and lends a cozy feel to the room.
Acrylic – Acrylic looks like glass but is lighter and cheaper. Acrylic coffee tables complement modern settings.
Based On The Surface Material
Glass – Glass top tables are hugely popular and for a good reason. They not only add sparkle and sheen to the table but also enhance the visual space. They are also stain-proof and damage-proof.
Wood – Wood top tables go with most home décors. They lend timeless charm to the furniture.
Metal – Metal tabletops are stain- and water-resistant and go well with modern décors.
Marble–Marble exudes elegance, timelessness, and class. A marble tabletop adds an element of intrigue and charm to any room.
Rattan–Rattan tables are lightweight and easy to move around. They exude a sense of casual elegance.
Leather – These look like a hybrid version of Ottomans. They offer soft cushioning and provide a surface to rest your feet when the table is not in use.
Pallet –Pallet coffee tables are usually made using discarded wood pallets. A pallet table top lends a casual look to the décor.
Based On Style
Traditional – Traditional coffee tables are generally carved from wood and are round or oval-shaped.
Contemporary – Contemporary coffee tables come in a myriad of shapes and features to suit the modern-day living.
Modern – Modern coffee tables are simple, elegant, and a wonderful blend of functionality and aesthetics.
Rustic – Rustic coffee tables are usually carved out of wood into simple designs and patterns.
Coastal – Coastal coffee tables exude a casual, airy, and beachy feel and use natural shapes and light-toned wood.
Industrial – Industrial style coffee tables use wood and metal and have sturdy construction.
Vintage – Vintage coffee tables lend a classic, unique touch to the décor. They use repurposed materials like reclaimed wood.
Novelty – These coffee tables come in different shapes and forms – like a football, a car, etc.
Novel – These coffee tables explore the gamut of human imagination and come in unique shapes and sizes.
Based On Design
Ottoman Coffee Tables – Ottomans are increasingly being used as coffee tables. They come in round, rectangle, and square shapes.
Stacking Or Nesting Coffee Tables–These coffee tables are highly functional and look cool. They are a set of 2-3 tables of different heights and sizes that can be put together to form a coffee table cluster.
Folding Coffee Tables – These space-saving tables are lightweight, flexible, durable, and portable. When not in use, you can store them away in a closet.
Low Platform-Style Coffee Tables – These go well with minimalistic décors.
Geo Coffee Tables –Unlike the traditional shaped coffee tables, these tables are available in a variety of geometric shapes and patterns.
Trunk Coffee Tables – These are a trendy alternative to the usual four-legged coffee table. Trunk coffee tables add a unique style factor to the décor and also offer storage space for your knick-knacks.
Mirrored Coffee Table– These tables reflect light and create a sense of airiness and visual spaciousness.
Tray-top Coffee Tables–As the name suggests, the top has a tray-style rim to keep your remotes and coffee mugs from falling off the edge.
Lift-top Coffee Tables–These tables are not only decorative but also offer hidden extra storage.
Coffee Tables With Casters/Rollers–These make it easy to move the table from one room to another.
Now that we are aware of the different types of coffee tables, here are a few factors to consider while buying one. 
What To Keep In Mind While Purchasing A Coffee Table – Buying Guide
The table's size needs to be perfect to fit the room you want to put it in. Measure the amount of free space you have in the roomandwhere you want to put the coffee table.Take into account how much you can move the rest of your furniture around to free up the required space. This step would be extra useful if you find a great table in your budget that is bigger than the free space you have. Make sure you also account for the space you need to put your legs when sitting.
Also, measure the height of the rest of your furniture. Ensure that you align the coffee table with the rest of the furniture – this will prevent bumps and falls. If you plan to use the table for dining, make sure that it is a few inches lower than the chair or the sofa. Don't opt for a coffee table that is over an inch taller than your seating space is.
Consider your cleaning habits.If you don't clean your home regularly, you should avoid getting coffee tables with easily stainable surfaces like glossy metals or glass. You should opt for materials like wood. If you need to put many heavy objects on the table or have kids or pets, get a table with a durable tabletop – something made from metal or wood. Otherwise, you could opt for more delicate materials like glass. The material and look of your existing furniture pieces are also important factors to consider. You don't want to buy a table that will make your room look chaotic and unorganized.
If your other furniture pieces have lots of curves, a round top table will look good. If there are a lot of angles and hard lines in the room, a rectangular or square coffee table will look great.
If you want a coffee table for a tiny room, you should opt for an oval or rectangular coffee table. Oval or round tables are safer for kids as they don't have sharp corners. Round or square coffee tables, even the large ones, are awesome for a variety of seating arrangements. These tables could also be put in front of sofas.
Make sure to take into account the style of the rest of the furniture. Opting for a coffee table of the same décor will create a sense of cohesiveness and order. However, you can mix and match to lend a unique touch to the room.
Keep in mind the existing color scheme of your room. In general, you should opt for a table that isn't too jarring.However, if you are all for bold colors and contrasts, go ahead and play around.
If you want to store anything on the table, pick one with a storage shelf at the bottom. A few coffee tables also have storage boxes or drawers to keep your things hidden from view. Some tables have tops that can be lifted and pulled forward to make it nearer to where you are sitting. If you want to use your table for working on the laptop, suchtables would be a great choice. There is usually a boxed-in storage area underneath the lifting part as well. Tables with adjustable legs where you can increase or decrease the height could also be useful, especially if you plan to use them in different rooms. Adjustable legs allow you to use the coffee table with a greater number of furniture items.
If you want your floors to remain scratch-free, make sure that the coffee table has protective caps screwed to its legs. Some coffee tables also come with wheels – this makes moving them around a breeze. However, if you are going for a coffee table with wheels, ensure that they have a locking system to prevent rolling.
This was our listing of the best coffee tables in the market. You can make an informed choice before investing in a table that would make your room go from an 8 to a 10. A coffee table may not influence the room's design, but it does make a statement. Hence, choose wisely, and enjoy your furniture for years to come.
Recommended Articles
The following two tabs change content below.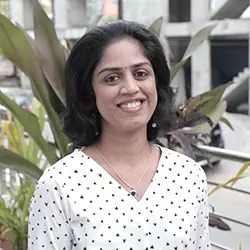 Harini Natarajan
As Chief Editor, Harini sets the tone and editorial direction for StyleCraze to deliver engaging, interesting, and authentic content revolving around women's health, wellness, and beauty. She has over 14 years of experience in content writing and editing for online media. She specializes in the areas of Beauty, Lifestyle, and Health & Wellness and is proficient in Medical Sciences (Biology, Human Anatomy and Physiology, and Biochemistry). Her background in Biomedical Engineering helps her decode and interpret the finer nuances of scientific research for her team. Harini is a certified bibliophile and a closet poet. She also loves dancing and traveling to offbeat destinations.