Top 13 Must-Have Cold Creams For Dry Skin, As Per An Esthetician – 2023
Ultra-hydrating ingredients in these formulas soothe, nourish, and rejuvenate the skin.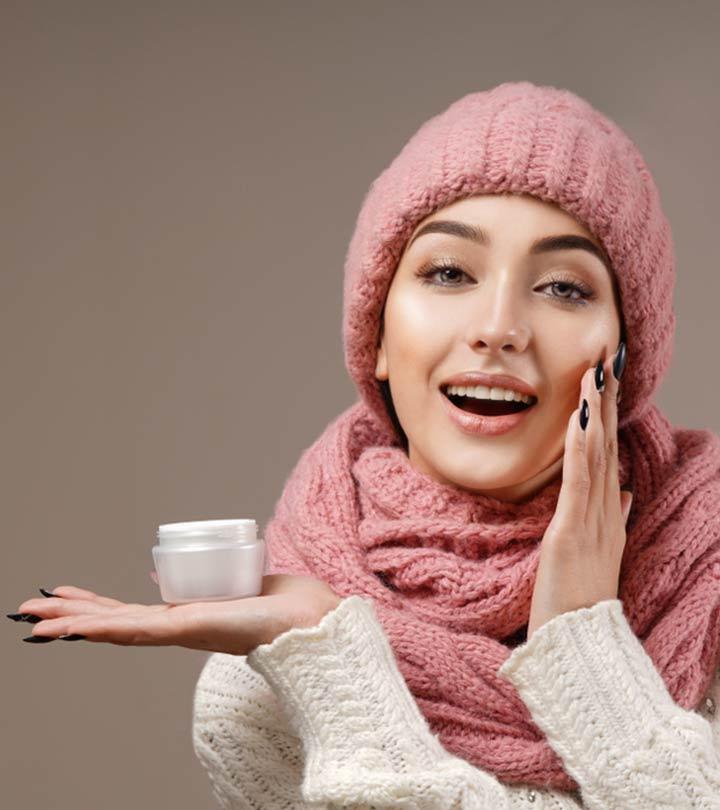 Using the best cold cream for dry skin is not exactly a novel notion. It is an old-fashioned favorite, and you will always find one in your mother's or grandmother's skin care kit. What is surprising is that not many people know how incredibly nourishing cold creams are. And, with so many moisturizers, serums, and lotions on the market, the mystery around these creams persists as most of us wonder how to incorporate them into our beauty routines. This article will clear your doubts. Scroll down to learn the benefits of cold creams and check out our list of the 13 best cold creams.
What Does A Cold Cream Do?
For those who have ultra-dry, rough, irritated, and dehydrated skin, the best cold cream would be like a godsend balm. Why? They are rich, creamy, and packed with oils, and also, they restore the moisture balance of the skin effortlessly. And although some of them are comedogenic, they can be used as makeup removers as well, provided you rinse your skin clean after removing all the makeup residue.
Yep, calling them the "deep nourisher" would not be wrong at all! Now, are you ready to bask in some cold and creamy love? Check out our list of the 13 best cold creams of 2023 for you.
Read on to know more!
Comfort Your Dry Skin With The 13 Best Cold Creams
1.
Best Intensely Moisturizing Formula:
NIVEA Creme
Just the cold cream you'll find your mother or grandma obsessing over! And believe us when we say its nourishing power is no joke. Making even the roughest and toughest skin on your body (elbows, knees, and heels) soft and smooth, it's an ideal multi-purpose cream for dry skin. Packed with provitamin B5, this dermatologically-approved formula moisturizes intensely, soothes, and protects the skin from extreme dryness too.
Pros
Dermatologist-tested
Rich and creamy texture
Restores moisture levels
Suitable to apply on hands, face, and body
Cons
Has fragrance
Not suitable for oily skin
Even the most stubborn makeup stands no chance against this powerful blend of oil and water! Pond's cold cream cleanser is formulated with beeswax and mineral oil to remove regular and even waterproof makeup effortlessly. Claiming to be 50% moisturizer as it cleanses without drying the skin out, try this dermatologist-tested formula and watch it leave the skin radiant, smooth, and soft after every use. So, if you are looking for the best cleanser for intense moisturizing and cleansing benefits, then Pond's Cold Cream Cleanser could be the one! Make it a part of your winter skincare routine today.
Pros
Increases moistures levels
Clinically-tested formula
Dissolves makeup and dirt instantly
Ideal to use as an eye makeup remover
Dermatologist-tested and a natural cold cream cleanser
Cons
May leave a slightly greasy feeling
Winter can be painfully harsh on the skin. And one of the best ways to help your skin stay supple and glowing would be with this natural cold cream by Weleda. Staying true to its name, it salves the affected areas with its all-natural, dermatologically-tested soothing, and nourishing blend made of organic almond oil and beeswax. And that's not all; it repairs the skin's natural barrier, prevents moisture loss, and protects from skin-damaging free radicals as well. Still unsure? This clinically backed skincare formula is the deep moisture therapy is the pamper your cracked and dry skin deserves! Give it a try.
Pros
Fragrance-free cold cream
Dermatologist-tested
Leaves skin soft and hydrated
Ensures long-lasting and intense care
Skin barrier protection and repair
Suitable for dry and very dry skin
Free from petrochemicals and petroleum-derived ingredients
Cons
VLCC Liquorice Cold Cream is enriched with liquorice extracts which help to soften rough and dry skin. The skin defense formula comes with SPF 10, which protects the skin from harmful sun rays. This dermatologist-recommended cream effectively moisturizes the skin, keeping it soft and supple. It is ideal for normal to dry skin. The special blends of botanical extracts protect the skin and provide nourishment. This cream also boosts the skin's moisture level, locks the moisture, and promotes better skin defense.
Pros
Easy-to-use
Price worthy
Creamy and lightweight texture
Absorbs easily
Skin-brightening effect
Cons
Dryness spares no one, not even newborns and toddlers. So, for all the worried mommies out there, Mustela Baby Face Cream with the benefits of cold cream promises the gentlest care! Made of 95% plant-derived ingredients, this dermatologist-tested formula contains ceramides, shea butter, coconut oil, sunflower seed oil, and avocado perseose, along with Mustela's trademark fragrance. Yep, it's all-natural here and no chemicals to harm your baby's precious skin. Try it if you haven't already!
Pros
Dermatologist-tested
Pediatrician-tested
Ensures long-lasting moisture
Fights environmental damages
Absorbs quickly and boosts hydration
Hypoallergenic, pediatric-tested, and travel-friendly
Paraben-free, phthalate-free, and phenoxyethanol-free
Cons
6.
Best Pregnancy-Safe Cream Cleanser:
EVE LOM Cleanser
If this cold cream cleanser with a blend of essential oils does not make you go wow, then we wonder which will. More like a balm that unfurls a spa-like experience once you apply it on the skin, its enriching formula contains nourishing ingredients like clove oil, Egyptian chamomile oil, eucalyptus oil, and hops oil. Exfoliating, cleansing, hydrating, and toning all in one go, this vegan and dermatologist-tested cold cream works its charm without drying out the skin. Ideal to remove waterproof makeup, it strips all the toxins to leave nothing but a natural and long-lasting radiance. Try it to witness a glowing difference!
Pros
Pregnancy-safe
Dermatologist-tested
Exfoliates gently
Clinically proven to improve hydration
Improves blood circulation
Suitable for all skin types
Ideal to use with a muslin cloth
Gluten-free, oats-free, diary-free, palm oil-free, and more
It does not contain synthetic fragrances, sulfates, parabens, phthalates, and more.
Cons
Watch your baby enjoy bath time with this dermatologically tested, ultra-creamy cleanser! And also, don't let its rich texture confuse you! 100% a body wash, it has intense moisturizing benefits. Soothing, nourishing, and protecting your child's skin, especially if they are dealing with dryness, its formula has the goodness of organic almond oil and shea extracts to aid in skin rejuvenation. Yep, no more burns and tears with this one! Also, this formula has received positive reviews for effectiveness on dry and delicate skin.
Pros
Cleanses gently
Dermatologist-tested
Tested under pediatric supervision
Soap-free and paraben-free
Clinically-tested formula
Suitable for dry and sensitive skin
Cons
Not suitable if you prefer fragrance-free products
Dull skin can be a nuisance if not dealt with early on. And Charmis Deep Nourishing Cold Cream can help you restore your natural glow. How? With its vitamin-rich formula. Packed with vitamins A, C, and E, it moisturizes intensely to encourage the growth of healthy skin. And also, are you dealing with sun damages? If yes, then you must try this cold cream with skin healing properties as it guarantees protection against sun damages. Yep, Charmis in, dullness out!
Pros
Ultra-nourishing
Plumps and hydrates skin
Leaves skin soft and smooth
Suitable for dry and dull skin
Cons
Not suitable for oily skin
Are your hands feeling dry as a desert due to frequent washing? If yes, then you need something ultra-soothing and moisturizing like this hand cream to restore and regenerate the optimal softness. More like an indulgence for your hands to bask in and rejuvenate, this dermatologist-recommended emollient cream is formulated with pure white beeswax, mineral oil (pharmaceutical grade), and Avene thermal spring water. Manicure-worthy glow, anyone?
Pros
Rich texture
Non-greasy cold cream
Clinically-proven efficacy
Repairs cracked and dry skin
Protects from environmental aggressors
Ideal for nails, hands, elbows, and heels
Cons
This cold cream cleanser will amaze you with its rich and creamy texture. Massage it on your skin to enjoy its luxuriously-soft touch as it cleanses and moisturizes effortlessly. And although it's soft on your skin, it's fiercely tough on dirt, impurities, and waterproof makeup. So, if you are dealing with dull and dry skin, this creamy cleanser could be the solution you are looking for. Try it!
Pros
Gentle formula
Glides on smoothly
Nourishes and soothes intensely
Leaves skin soft, smooth, and hydrated
Suitable for sensitive skin
Fragrance-free, alcohol-free, and color-free
It comes off easily with water.
Cons
Skin may turn slightly greasy
This premium cold cream by Thalgo is a clinically backed skincare that screams top-notch inside out. Besides looking every bit plush in its unique azure bottle, this nutria-soothing cream guarantees comfort for your skin up to 24 hours. Soothing, repairing, and replenishing your skin intensely, this dermatologist-tested formula contains a blend of cold cream marine that contains phytoplankton microalgae oil, marine wax, and Sève Bleue des Océans (also known as beauty water). Worth a try, don't you think?
Pros
Gentle formula
Irritation and redness reduction
Ideal to use during harsh winters
Suitable for dry and sensitive skin
Cons
Let your skin enjoy the goodness of roses every day! Leaving a petal-soft feeling on your skin after every use, you can say goodbye to dry, dull, and damaged skin with this rose oil and vitamin E formula. Whether you are dealing with winter dryness or skin damage, Dabur Gulabari Moisturizing Cold Cream is so nourishing that your skin has no choice but to rejuvenate and glow up again. This product is quite well-received by reviewers on Amazon for its ability to render a fresh, radiant glow on the skin.
Pros
Non-oily formula
Non-sticky texture
Leaves a healthy radiance
Protects skin and maintains moisture balance
Suitable cold cream for oily skin
Cons
Not ideal if you are sensitive to smell
Perricone MD Cold Plasma Plus+ Neck & Chest Broad Spectrum SPF 25 is a whipped, light moisturizing therapy formula for the neck and chest. This clinically backed skincare formula smoothens the visible wrinkles, creases, and crepey skin on the chest. It also evens out the skin tone, and repairs sun damage along with firming the face and neck. This cream is proven to deliver visible results in fixing dry skin, wrinkles, and other early signs of aging.
Pros
Contains SPF
Moisturizing properties
Improves skin texture
Tightens skin
Lightweight
Smooth texture
Absorbs easily
Effectively repairs and prevents sun damage
Cons
*The prices provided in this article are based on the latest available information. However, they may vary due to changes in pricing by the seller and/or promotional offers.
Creamy, rich, and luxurious, it's a crime not to have one of the above creams for your precious skin this season! There you go, those were the 13 best products to pamper your skin in 2023. Still, not sure how to pick the right one for your skin? We've collated some tips for you in our buying guide below.
Buying Guide
How Do I Choose the Right Cold Cream?
Look out for the following features in the product before buying:
Skin type: Unless you want to end up with breakouts or greasy skin, pick a cold cream suitable for your skin type. Also, cold creams are available for all skin types, tones, textures, and conditions too.
Ingredients: Always read what's going onto your skin to not end up with allergic reactions. To be on the safe side, opt for allergy-tested formulas or ones that show clinically proven results. given that your skin is already lacking moisture and is sensitive, you wouldn't want to apply a formula that'll worsen the condition. Hence, scrutinize before buying, and of course conduct a patch test before committing.
Moisturization: Cold creams are loaded with oils and rich ingredients to deep-moisturize and restore the skin's optimal suppleness. However, the intensity of moisturization may differ from cream to cream. Some may be formulated for intense nourishment while others for a light one. So, inspect this feature before buying.
Long-lasting benefit: One of the best things about a cold cream is its long-lasting effects. And although all cold creams are formulated to last long, only a few of them guarantee this claim.
Dermatologist-tested: Lastly, if you have sensitive or extremely dry or damaged skin, you must opt for a dermatologist-tested or dermatologist recommended cold cream for the best experience.
Why Trust StyleCraze?
The author, Krati Darak, is a skin care enthusiast who experiments with different products and reviews them. After going through numerous reviews and feedback on multiple forums, she has curated a list of the best cold creams for dry skin. The products listed in this post can make the rough skin on your body soft and smooth.
Frequently Asked Questions
Is cold cream good for removing makeup?
Yes, absolutely! Cold creams are loaded with oil and water content, making them ideal for removing regular and waterproof makeup.
Does cold cream clog pores?
Yes, unfortunately, they do. However, there are cold creams out there that are non-comedogenic, such as Eclat Retinol Cream.
Can I leave cold cream on overnight?
Yes, you can. Cold creams are ideally meant for an overnight or nighttime skincare routine as they repair and nourish your skin while you sleep.
Is cold cream better than moisturizer?
Cold creams keep your skin hydrated but do not cater to specific skin types. Hence, if you want to address specific skin issues, go for special moisturizers over cold creams.
Do you wash off cold cream?
Yes, use a cold cream overnight and wash it off the following morning.
What is the difference between cold cream and vanishing cream?
Cold creams are emulsions of water in a large amount of oil while vanishing creams have oil in water emulsion.
Does cold cream affect skin color?
No, cold creams are not meant to affect your skin color but if you use them in extra amounts, the oil in the formulation attracts a lot of dirt and pollutants that make you look tanned.
Related Articles
Best Winter Skin Care Products For Every Skin Type
Best Moisturizers For Winter To Get Mochi-Like Soft Skin
Best Moisturizers For Dry Skin
Best Products For Sensitive Skin