10 Best Cold-Weather Pajamas To Turn Up The Heat This Winter
Stay cozy and comfortable, and enjoy your lazy winter days at home by the fire.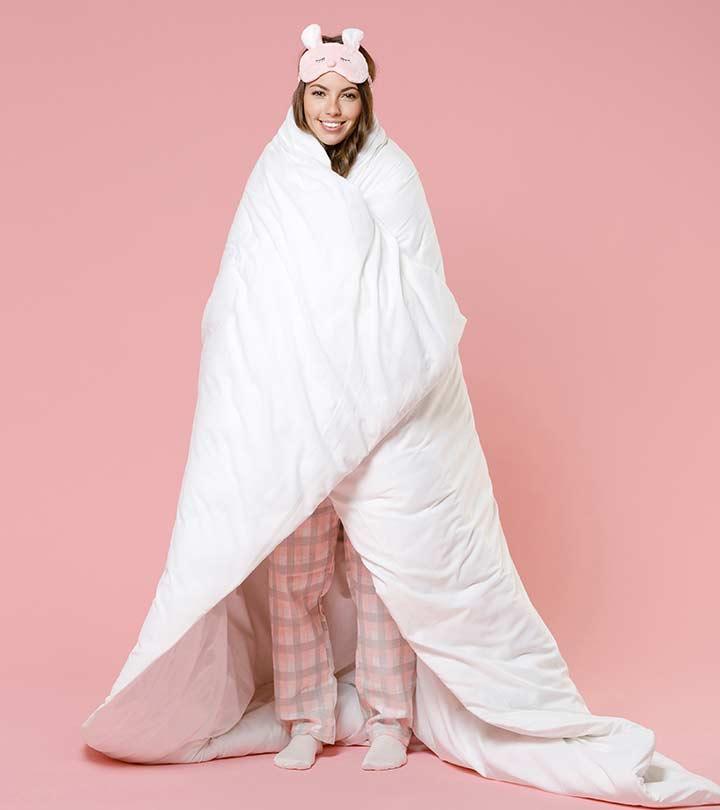 Winter days are for lazy times when you always want to stay warm and cozy. You can layer up with trench coats, special winter collection attire, and knee-high boots. But for home, you need something different cozier, like the best cold-weather pajamas. They keep you warm and do not let you freeze out. These pajamas are crafted using spandex, polyester, rayon, and other soft fabrics. They are ideal for afternoon naps or lazy nights and are a treat during your much-awaited holidays, sipping of hot chocolate, and playing winter sports. In addition, they can also make you appear fashionable.
Whether you want to be lazily sitting on your sofa watching Netflix or going to a nearby grocery store, these cold-weather pajamas are effective, and they also give you a stylish look. You can also wear them for family parties.
Let's check out the list of the best cold-weather pajamas that keep you toasty. Keep reading!
10 Best Cold Weather Pajamas To Stay Toasty Wherever You Go
PRETTYGARDEN offers the best pajamas for cold weather as they have the classic long-sleeved look with a snug crew neckline. Made with 85% polyester and 15% spandex, the set is soft and wicks away moisture to keep you dry. The matching tie-dye pants have an adjustable waistband with a drawstring to customize the fit and end with elastic cuffs to prevent any slippage while also maintaining body temperature. Both casual and stylish, this set is perfect for chilling around with your family during the holidays. Amy Salinger, the founder of Style Method NYC, says, "The best part about these pajamas is they double as a cute athliesure look. No need to change when going out of the house!"
Pros
Available in 11 colors
Moisture-wicking
Breathable
Soft and smooth texture
Adjustable waistband with drawstring
Elastic cuffs
Cons
Might not be resistant to pilling over time
These cozy winter pajamas by PajamaGram have a relaxed fit made of fleece for inside-out warmth. Without being too heavy, the fabric traps heat in but not to the point of giving you a case of the sweats. Super durable, the fibers of these comfortable pajamas don't fade and are sturdy enough to be washed in the machine, giving you ease of cleaning and maintenance. The plain satin V-neck top combines with the cute printed pants to give you a classic fit this holiday season. Amy Salinger, the founder of Style Method NYC, says, "Fleece is hands-down the warmest fabric out there. This pajama option is best for the coldest of days."
Pros
Available in 4 colors
Midweight fleece
Anti-fade
Machine washable
Satin-trimmed V-neckline
Drawstring waistband
Cons
Might not be as breathable
If your winter is incomplete without at least one onesie, Just Love is here for you. These are the warmest pajamas that feature a front zipper closure that will make you feel like you're being swaddled with a blanket. The cute prints only add to the festive nature of this season, and the animal-shaped hood works to keep your head, ears, and neck toasty when it is chilly out. Ideal for pajama parties or cosplay events, this pair is sure to be your favorite pajamas and something you wouldn't want to miss out on! Amy Salinger, the founder of Style Method NYC, says, "A onesie is a great option for a party because it definitely gets a conversation started. This style is not just for kids!"
Pros
Non-irritating
Super-soft
Front zipper closure
Graphic hoodie
Long sleeves with elasticated cuffs
Cons
Might not be ideal for longer torsos
U.S. Polo Assn. boasts a collection of the best winter pajamas that can also be worn as a base layer under bulkier clothing. A blend of polyester, rayon, and spandex is used to give you a 4-way stretch for maximum freedom of movement. Lightweight with the ability to wick away moisture, this set keeps you dry and doesn't cause any chafing whatsoever. The snug fit of these pajamas for women ensures body compression, allowing for better blood circulation, which feels soothing in the wintertime.
Pros
4-way stretch fabric
Elasticated waistband with repeating logo
Front button closure and printed logo
Moisture-wicking
Anti-chafe fabric blend
Offers compression
Cons
Might shrink slightly in the wash
IN'VOLAND brings you the best cold weather pajamas for plus-size women that are composed of rayon and spandex. This fabric blend stretches optimally, allowing you to move around with no restrictions. Working well as a base layer, this set can also be donned to your workout classes owing to its excellent breathability and moisture-wicking properties. Whether you are simply lounging around at home or going for a run along your favorite trail, these pajamas make for the most comfortable company.
Pros
Available in 6 colors
Satin-trimmed neckline
4-way stretch fabric
Moisture-wicking
Breathable
Lightweight
Cons
Might be slightly see-through
Onesie pajamas for cold weather are a must-have if you don't want to miss out on any fun. The snug fit of this bodysuit traps your body heat and prevents it from escaping to keep you super toasty. With buttons for the front closure, Hotouch's onesie comes with a flattering V-shaped neckline. The long-sleeved look on this cold-weather sleepwear is a classic for chilly weather while the soft and smooth fabric will keep you comfortable during office or family get-togethers.
Pros
Available in 6 colors
Stretchable
Breathable
Front button closure
Flattering V-neckline
Can be worn as a base layer
Cons
Might be slightly short for some
These warm pajamas for winter are tie-dyed to have you feeling like a unicorn all holiday season. The elastic cuffs at the wrists and ankles not only guarantee a secure fit but also work hard to keep you super-warm no matter how cold it gets. The front zipper makes wearing and removing a breeze, and you won't have to bother with multiple items of clothing. Complete with side pockets, you're not going to want to get out of this onesie by COSUSKET. Amy Salinger, the founder of Style Method NYC, says, "This type of onesie is like a wearable blanket, perfect for the coldest nights."
Pros
Available in 5 colors
Elasticated cuffs at wrists and ankles
Front zipper closure
Side pockets
Wide hood
Cons
Might not be resistant to shrinkage
TwinBoat's warm PJs for women are made of soft microfleece and feature a classic notch collar design. With fun prints all over, these sets feature pants that have 2 side pockets and an elasticated waistband with a fancy drawstring. Making the perfect outfit to wear to fun-laden sleepovers or gatherings, these fleece pajamas keep you warm and on top of your style game single-handedly.
Pros
Available in 8 colors
Classic notch collar
Elastic waistband with drawstring
2 side pockets
Relaxed fit
Cons
Might shrink slightly in the wash
 Equipped with frontal button closure, these soft warm pajamas can be donned as a thermal base layer when it's freezing outside. Polyester and cotton are blended together to create a fabric that keeps you warm and snug without overheating. The fit of these warm cotton pajamas is rather cozy on the body as it accentuates your curves, and the elastic ankle cuffs prevent any sliding or slipping. They also allow you to adjust the fitting and tighten the cuffs to ensure more warmth.
Pros
Available in 6 colors
Elastic ankle openings
Front button closure
Anti-wrinkle
High elasticity
Comfortable crew neck
Cons
Some might find the crotch area slightly baggy
If Femofit's best warm pajama set isn't on your wishlist this year, we urge you to get on with it. Looking and feeling super plush with double-sided shu velveteen, the top has a front zipper closure and 2 pockets that double as hand warmers. The pants have an adjustable waistband with a drawstring to secure the fit and the cherry on top is that they feature 2 side pockets, too! As the nights are long, you are sure to feel like you're sleeping on a cloud in this set. Amy Salinger, the founder of Style Method NYC, says, "These pajamas can also be worn separately. The top half doubles as a cute layering piece."
Pros
2 color options available
Front zipper closure and 2 pockets
Adjustable waistband with drawstring
2 side pockets
Plush feeling
Large hood
Cons
Might be slightly short for some
Now that we've gone over some of the warmest nightwear for winter, let's learn how you can pick out the right kind of pajamas for yourself.
What To Look For In Cold Weather Pajamas
If you happen to live in an area that experiences harsh winters, flannel is ideal  fabric for cold weather pajamas because of its excellent ability to keep you warm while maintaining breathability. This means you won't overheat and wake up sweating in the middle of the night. So now all you need is some matching printed flannel pajama sets and you're set for the winter!
Fleece is also super-warm, but it isn't the best at air circulation, which means there's a chance you might heat up and wake in sweats.
Made with box-weaved cotton that can be mixed with polyester, thermal pajamas are also something people often reach out for. As the fit is tight and snug, it traps your body heat and keeps you warm.
If you're the type who gets too hot too easily, cotton is a great fabric for you. It can keep you warm but also has optimum breathability. If you live in a warmer climate, cotton can be chosen with blends of other warm fabrics.
The mention of silk pajamas here might surprise you, but this fabric is temperature-regulating, meaning it keeps you warm when the weather is cold and vice versa. This means you can use it all year-round. Satin is also a strong contender in this category, being a sister of silk but thicker and heavier with minimal breathability. The only downside of these luxurious materials is that they are quite expensive and can be difficult to maintain.
There are a wide array of options to choose from when it comes to pajama style. Depending on your preference, needs, and personality, you can choose whatever you are comfortable with. classic pajama sets that match in solid colors or prints can be the t-shirt or button-down tops with roomy pants. Onesies are a fun option that can be available in animal-inspired designs or other fun colors, making them great for cosplays or holiday parties. Some are super snug and tight-fitting like Long Johns, which can be worn as a base layer under heavier winter clothes.
Pockets are a feature that some pajamas possess and some don't. If you happen to get cold hands all the time, they can act as hand-warmers and serve the dual purpose of letting you store some belongings. A few tops have buttons or zippers as front closures, while some are a pullover style. Depending on what is easier for you, you can make your choice. Some pants have elasticated waistbands that might or might not have drawstrings. If you need to customize your fit and keep it secure, this is a good feature to look out for. Elasticated cuffs at the sleeves or ankles can also help trap in body heat and work to keep you extra warm while preventing slippage.
Apart from winter sports, sleeping is probably our choicest activity when the temperatures go down. Whether you love layering up or like to stay cozy in a trusted one-piece, a good pair of cold weather pajamas is essential. Swaddling you like a baby and keeping you warm, these sets are also soft against the skin and we're sure you'll never want to take them off! A plethora of designs, colors, and styles are offered so you won't have to stick to boring ensembles. As winter is also the time for peak festivities, choosing holiday-esque pajamas will have you receiving tons of compliments at all the parties, too.
Why Trust StyleCraze?
Priyam Gupta, the author of this article, loves all things fashion and helps her readers find their perfect fashion items through her articles. She read several product details and customer reviews to make a list of the best cold weather pajamas. These listed items will not only keep you warm and cozy but they will also up your fashion game.
Frequently Asked Questions
Which types of pajamas are the warmest?
Flannel and fleece pajamas are great options for winters as they work towards keeping you warm. However, they don't allow for much air circulation and might lead to night sweats.
Can you wear satin pajamas in the winter?
Yes, satin is a thick and heavy fabric that traps in body heat with minimal breathability, making it a solid option for winter pajamas.
Why do silk pajamas keep you warm?
Silk pajamas are made of natural protein fibers with high moisture-wicking potential. Thus, they keep you warm during the winter.
Do pajamas keep you warm?
Yes. Pajamas cover your legs and offer you a cozy feeling. They prevent the cold breeze from touching your legs and reduce your risk of catching a cold.
Are fleece pajamas warmer?
Yes. Fleece is a synthetic fabric that does not regulate body temperature and keeps your skin warm. Therefore, fleece pajamas do not allow much air circulation and are warmer.
Which is warmer, wool or silk?
Silk allows easy air circulation, unlike wool. Therefore wool keeps you warm throughout, but silk may release the heat after a certain time.
Are bamboo pajamas warm?
Yes, bamboo pajamas feature insulating properties. So, they keep you warm in the cold months. Bamboo pajamas release the heat and let your skin breathe easily in the warmer months.
Do silk pajamas make you sweat?
Yes. Silk has moisture-wicking properties. So, silk pajamas will help boost your sweat production if you tend to sweat a lot.
Recommended Articles