11 Best Collagen Creams, According To Reviews (2023)
To keep skin firm, supple, and ageless, make collagen your go-to skin care ingredient!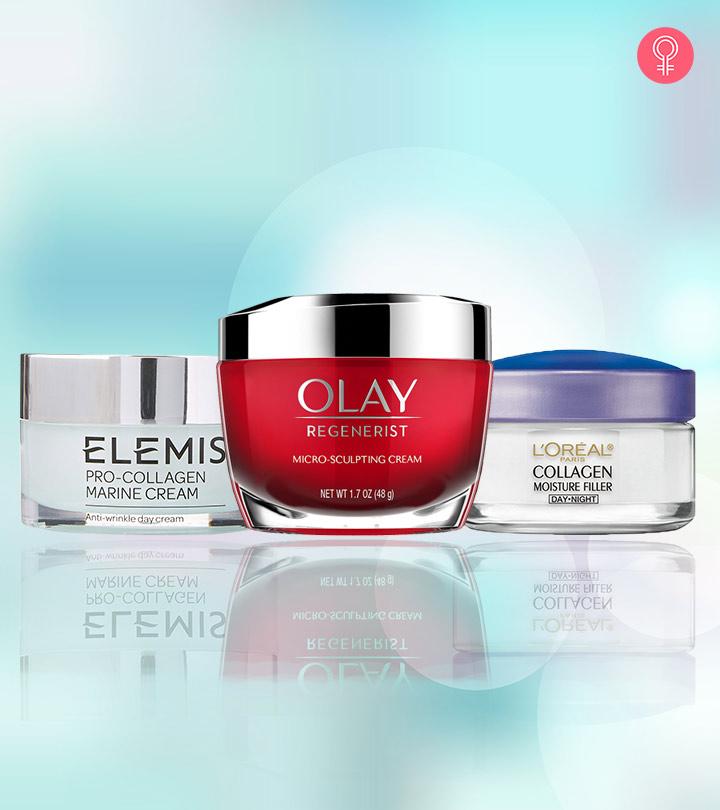 When it comes to anti-aging skin care, the one thing that instantly comes to mind is collagen. There has been a lot of buzz about collagen because it is known to restore a youthful and glowing complexion for your skin. However, camera filters might not be enough to make your skin look plump, and that is why you need the best collagen creams. Collagen is a key building block to make your skin firm, smooth, and youthful. In addition, some ingredients like vitamin C and retinol also help in boosting collagen production. This article brings you the 10 best collagen creams, also known as "botox in a bottle," that are worth it.
11 Best Collagen Creams Of 2023
This anti-wrinkle cream contains collagen and vitamin E that reduce wrinkles and fine lines with regular usage. It contains lactose nutrients and AHA that get rid of the dull surface skin gently and brighten your face. The product offers a hydration boost along with a healthy plumping effect leaving a radiant complexion behind.
Pros
Hypoallergenic
Non-comedogenic
Lightweight
Non-oily
Pleasing fragrance
Hydrating
Cons
None

Price at the time of publication: $9.99
This anti-aging cream targets the fine lines and wrinkles on your skin. It is developed with collagen infusion technology and treats your skin with collagen amino acids to reduce any visible signs of aging. The doctor-recommended formula improves the smoothness of your skin and makes it youthful, offering visible results in just 2 hours. The reviewers have indicated that this can help with wrinkle reduction and radiance-boosting results with just a dollop.
Pros
Dermatologically tested
Cruelty-free
Visible results in 2 hours
Cellular hydro lock technology
Clinically proven results
Cons
None
Price at the time of publication: $84.0
This clinically-proven pro-collagen marine cream penetrates deep into your skin and reduces the appearance of wrinkles and fine lines. It claims to improve the hydration levels and firmness of your skin within 15 days with proven efficacy. The product promotes natural collagen production, moisture retention, and skin resilience. It contains gingko biloba extracts and marine algae patina pavonica that give a youthful glow to your skin.
Pros
No artificial colors
No parabens, SLC, SLES, and mineral oils
Plant extracts
Suitable for all skin types
Cons
None
Price at the time of publication: $225.0
The Remedial Pax Day & Night Collagen Cream is formulated to fight anti-aging signs and reveal soft and smooth revitalized skin. It is infused with retinol that stimulates the production of collagen and elastin. It improves skin elasticity and reduces fine lines. The results-driven formula is enriched with hyaluronic acid and coconut oil that moisturizes your skin, protects it against UV rays, and restores the skin barrier. It provides a skin-firming effect that reverses signs of aging and reduces sagging. This collagen cream promotes dermal rejuvenation and creates an air-tight moisture-retaining layer on your skin to prevent moisture loss. The product comes in a special jar that prevents oxidation and inhibits the penetration of pollutants. For users with sensitive skin, a patch test is highly recommended.
Pros
Lightweight
Non-toxic
Unisex
Cruelty-free
Artificial fragrance-free
Comes in a safe jar packaging
Cons
May cause burning sensations
Price at the time of publication: $19.99
The Majestic Pure Collagen Cream is a unique blend of potent skin-renewing ingredients that reverse aging skin. It is formulated with plant-derived marine collagen that rejuvenates your skin, reduces puffiness under your eyes, and eliminates fine lines. The skin care formula is enriched with antioxidants that protect your skin from free radicals. The cream has a youth-enhancing effect and offers firming and lifting properties along with adequate suppleness. The hyaluronic acid in the formula hydrates your skin and softens its texture. The cream imparts a fresh, matte finish to your skin. Conduct a patch test before adding the cream to your daily skin care regimen to avoid adverse reactions.
Pros
Non-greasy
Easy to apply
Unisex
Odorless
Gives smooth, refreshed skin
Value for money
Cruelty-free
Cons
Price at the time of publication: $9.95
This is among the best-selling products of Olay. This rich anti-aging cream is a combination of hyaluronic acid and amino-peptide complex that instantly plumps your skin cells. It improves the texture of your skin and makes it elastic. It regenerates the skin cells and reduces signs of aging and dark spots. Know more about this product in this video based on the reviewer's experience.
Pros
Moisturizes the skin
Shrinks skin pores
Fine line reduction
Hydrates the skin
Cons
None
Price at the time of publication: $24.01
The Elastalift Firm+Lift Collagen Concentrated Skin Rescue is a lightweight cream that stimulates elastin production and improves the look of your saggy skin. The formula is enriched with green tea extracts and aloe vera that soothe your skin and reduce itchiness and redness. It is also enriched with chamomile and glycerin that protect your skin from free radicals and fight skin irritants. The collagen in the cream restores elasticity, eliminates the appearance of fine lines and wrinkles and improves skin tone. It is a non-greasy formula that absorbs quickly and gives your skin a hydrated and dewy look.
Pros
Dermatologist-tested
Clinically-tested
Allergy-tested
Lightweight
Suitable for all skin types
Gentle
Non-greasy
Absorbs quickly
Fast-absorbing formula
Paraben-free
PEG-free
Formaldehyde-free
Dye-free
Sulfate-free
Fragrance-free
Cons
None
Price at the time of publication: $14.99
This face gel is absorbed quickly into your skin and keeps it toned and hydrated according to the reviews. The face gel contains Astaxanthin collagen that brightens the skin. It is lightweight and can be used as both day cream and night cream. It also contains hyaluronic acid that makes the skin firm. Learn more about this product in this video.
Pros
Proven to deliver visible results
Reduces age spots
Makes skin plump
Maintains elasticity of your skin
Hydrating
Adds a glow to the skin
Cons
Contains alcohol
Price at the time of publication: $37.1
This is a daily facial moisturizer made with 100% natural safflower oil. The safflower is sourced from Argentina and Austria and is known for its moisturizing properties. This dermatologist-tested face cream gives your skin a youthful glow. It contains collagen and elastin proteins that keep your skin smooth and healthy.
Pros
Paraben-free
Non-comedogenic
Natural ingredients
Cons
Contains mineral oils
Price at the time of publication: $37.34
This anti-aging cream contains elastin and collagen that promote skin regeneration and make it firm. It boosts the elasticity of your skin and makes it youthful. It contains vitamin E that moisturizes your skin and keeps it hydrated.
Pros
Hydrating formula
Visible results
Reduce fine lines and dark spots
For all skin types
Cons
Contains parabens
Price at the time of publication: $14.99
This is a favorite among those who love drugstore brands. This collagen-boosting day and night cream is extremely hydrating. It not only restores the moisture in your skin but also helps in filling up the wrinkles and fine lines. The formula claims to give overnight results and keep the skin nourished for long.
Pros
Professional-grade
Visible results
Dermatologist-recommended
Suitable for all skin types
Doesn't clog your skin pores
Cons
Contains parabens
Price at the time of publication: $8.98
There are unique collagen creams to buy at the market that come with anti-aging properties. However, it might be tough to pick the most appropriate collagen cream suitable for your skin. We are right here to help you in selecting the perfect collagen cream and improve your skin.
How To Pick The Best Collagen Creams – Buying Guide
Choose creams with hyaluronic acid and retinol that help promote collagen production. Your collagen cream should also contain skin-friendly ingredients such as vitamin C, shea butter, and aloe vera. These ingredients have healing and emollient properties that help you regenerate cells and neutralize damage caused due to excessive exposure to sun and pollution. A blend of natural oils such as olive oil and jojoba oil act as antioxidants and protect and strengthen your skin effectively.
Formulas which include parabens, sulfates, and phthalates are not suitable for your skin as they dry out essential moisture and leave your skin feeling dry. Avoid mineral oils as they are prone to causing irritation and may give rise to acne breakouts.
For oily skin, choose collagen creams with salicylic acid, glycolic acid, and hyaluronic acid. These ingredients treat acne and reduce excess sebum production while increasing your skin's collagen levels. For dry skin, choose products with moisturizing ingredients like shea butter and lactic acid that would heal the drier parts of your skin without compromising on collagen production. People with sensitive skin should opt for collagen creams with tested, skin-friendly ingredients like aloe vera and oatmeal.
To make certain your cream formula is effortlessly absorbable, search for lightweight products. Additionally, look for products with long-lasting moisturization and hydration. Your collagen cream should have a smooth application and must be appropriate for your skin type and issues.
Why Trust StyleCraze?
Shiboli Chakraborti, the author of this article, is a certified skin care coach. She is passionate about the latest trends in the skin care world, which has made her learn about collagen and how it helps your skin remain firm and youthful. She went through numerous reviews and did deep research to prepare this list of the best collagen creams for youthful skin. These creams help make your skin firm, smooth, and youthful.
Frequently Asked Questions
Do collagen creams really work?
Yes, collagen creams are enriched with collagen peptides that reduce aging signs like fine lines and wrinkles while hydrating your skin.
What skin cream has the most collagen?
The Pond's Rejuveness Anti-Wrinkle Face Cream has the most collagen concentration. It brightens your face and gets rid of aging signs.
Are retinol or collagen peptides better for aging skin?
Collagen peptides are gentler and moisturizing on mature skin that retinol. While retinol also stimulates collagen production, it causes skin dryness and sensitivity.
Does collagen cream have side effects?
Yes, collagen creams may have side effects on sensitive skin. They include allergic reactions, or the triggering of eczema and psoriasis.
Can collagen reverse sagging skin?
Yes, collagen improves your overall skin appearance. It reverses sagging skin while tightening it and increasing its elasticity.
How long does it take collagen to tighten skin?
It might take up to six months for collagen to tighten the skin. The results stay for two to three years.
Recommended Articles: