11 Best Collagen Creams, According To Reviews (2022)
To keep skin firm, supple, and ageless, make collagen your go-to skincare ingredient!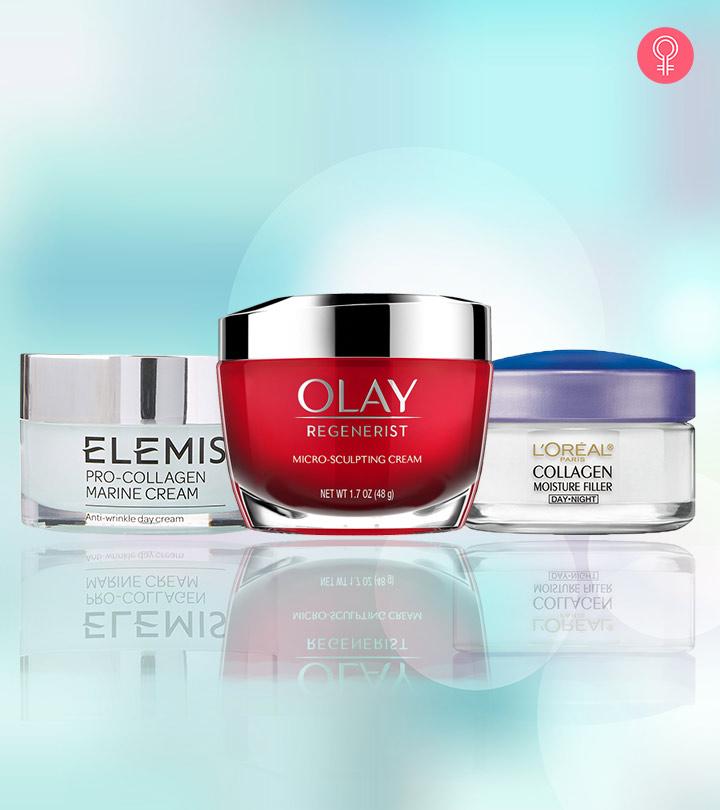 When it comes to anti-aging skin care, the one thing that instantly comes to mind is collagen. There has been a lot of buzz about collagen because it is known to restore a youthful and glowing complexion for your skin. However, camera filters might not be enough to make your skin look plump, and that is why you need the best collagen creams. Collagen is a key building block to make your skin firm, smooth, and youthful. In addition, some ingredients like vitamin C and retinol also help in boosting collagen production. This article brings you the 10 best collagen creams, also known as "botox in a bottle," that are worth it.
11 Best Collagen Creams Of 2022
This anti-wrinkle cream contains collagen and vitamin E that reduce wrinkles and fine lines with regular usage. It contains lactose nutrients and AHA that get rid of the dull surface skin gently and brighten your face.
Pros
Hypoallergenic
Non-comedogenic
Lightweight
Non-oily
Pleasing fragrance
Hydrating
Cons
None
This anti-aging cream targets the fine lines and wrinkles on your skin. It is developed with collagen infusion technology and treats your skin with collagen amino acids to reduce any visible signs of aging. It improves the smoothness of your skin and makes it youthful.
Pros
Dermatologically tested
Cruelty-free
Visible results in 2 hours
Cellular hydro lock technology
Cons
None
This pro-collagen marine cream penetrates deep into your skin and reduces the appearance of wrinkles and fine lines. It claims to improve the hydration levels and firmness of your skin within 15 days. It contains gingko biloba extracts and marine algae patina pavonica that give a youthful glow to your skin.
Pros
No artificial colors
No parabens, SLC, SLES, and mineral oils
Plant extracts
Suitable for all skin types
Cons
None
This product has a fast-absorbing formula. The 3-O Vitamin C technology of this cream reduces wrinkles, age spots, fine lines, and signs of aging. It contains a blend of natural oils that prevent moisture loss and gives your skin a hydrated and dewy look.
Pros
Contains collagen amino acids
Natural extracts
Does what it claims
No parabens
Cons
None
This day cream contains vitamins A, C, and E, along with shea butter. The unique formulation of this product strengthens the skin, improves its natural defenses, and gives it a youthful glow. It moisturizes and hydrates the skin and can be used on your face, neck, and eye area. It improves the skin tone and rate of cell regeneration and restores the elasticity of your skin. It contains green tea extracts that neutralize the damage caused by harmful free radicals.
Note: It contains propolis oil. Patch test and allergy test are recommended before using it.
Pros
Has SPF 21 and PA+++
Contains retinol and hyaluronic acid
Contains botanical extracts
Cons
Might leave a residue after application.
This is among the best-selling products of Olay. This rich anti-aging cream is a combination of hyaluronic acid and amino-peptide complex that instantly plumps your skin cells. It improves the texture of your skin and makes it elastic. It regenerates the skin cells and reduces dark spots and signs of aging. Know more about this product in this video.
Pros
Moisturizes the skin
Shrinks skin pores
Fine line reduction
Hydrates the skin
Cons
None
This cream works like a miracle for your skin. It not only boosts the collagen production of your skin but also protects it from harmful free radicals. This cream contains shea butter, beeswax, algae, and coconut oil that makes your skin feel refreshed.
Pros
Natural ingredients
Paraben-free
Gluten-free
Cruelty-free
100% vegan
Cons
None
This face gel is absorbed quickly into your skin and keeps it toned and hydrated. The face gel contains Astaxanthin collagen that brightens the skin. It is lightweight and can be used as both day and night cream. It also contains hyaluronic acid that makes the skin firm. Learn more about this product in this video.
Pros
Visible results
Reduces age spots
Makes skin plump
Maintains elasticity of your skin
Hydrating
Adds a glow to the skin
Cons
Contains alcohol
This is a daily facial moisturizer made with 100% natural safflower oil. The safflower is sourced from Argentina and Austria and is known for its moisturizing properties. This face cream gives your skin a youthful glow. It contains collagen and elastin proteins that keep your skin smooth and healthy.
Pros
Paraben-free
Dermatologically tested
Non-comedogenic
Natural ingredients
Cons
Contains mineral oils
This anti-aging cream contains elastin and collagen that promote skin regeneration and make it firm. It boosts the elasticity of your skin and makes it youthful. It contains vitamin E that moisturizes your skin and keeps it hydrated.
Pros
Hydrating formula
Visible results
Reduce fine lines and dark spots
For all skin types
Cons
Contains parabens
This is a favorite among those who love drugstore brands. This collagen-boosting day and night cream is extremely hydrating. It not only restores the moisture in your skin but also helps in filling up the wrinkles and fine lines. It claims to give overnight results and keep the skin nourished for long.
Pros
Visible results
Dermatologically tested
Suitable for all skin types
Doesn't clog your skin pores
Cons
Contains parabens
Why Trust StyleCraze?
Shiboli Chakraborti, the author of this article, is a certified skin care coach. She is passionate about the latest trends in the skin care world, which has made her learn about collagen and how it helps your skin remain firm and youthful. She went through numerous reviews and did deep research to prepare this list of the best collagen creams for youthful skin. These creams help make your skin firm, smooth, and youthful.
Recommended Articles: