10 Best Collagen Eye Masks To Make You Feel Refreshed – 2023
Fight the first signs of wrinkles with these hydrating and nourishing skin care products.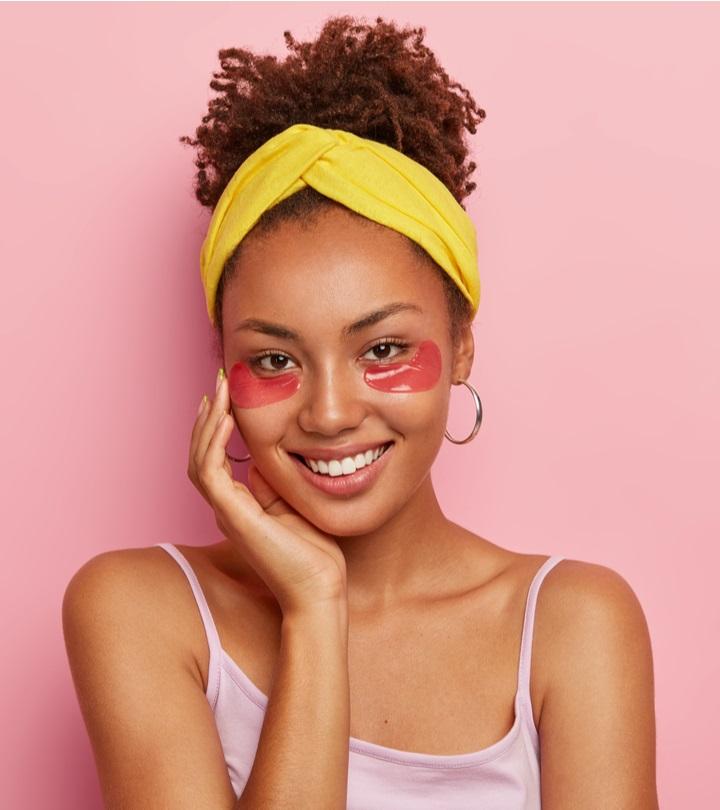 Youthful skin is everybody's dream but the first signs of aging appear around the eye area, that's why collagen eye masks should be your go-to product to begin your anti-aging skincare routine. We are always experiencing stress in some form or the other, whether in our personal life or work life. It is, therefore, very important to take care of your skin generally. Our facial skin, especially, is made up of collagen, a protein component that keeps your skin firm. When our age keeps increasing year by year, the collagen in our skin starts reducing, that's when the skin starts coming loose and wrinkles appear. To begin with, your routine, make sure you take care of the eye area by using the best collagen eye mask.
Some masks, you can leave overnight and some you can rinse out after a few minutes of applying. These masks help in preventing fine lines, the puffiness around your eyes, and all the aging signs around your eyes. Go ahead and scroll through, to find the 10 best collagen eye masks curated especially for you. There is no age limit as to when you can use these, as you can start taking care of your skin anytime post 25 yrs of age or more. Constant and daily care will lead to youthful-looking skin and eyes. It not only builds confidence but also gives great looks.
10 Best Collagen Eye Masks Of 2023 To Smoothen Your Skin
If you're looking for a luxe yet naturally formulated eye mask to help reduce puffiness and wrinkles under your eyes, and give an overall exceptional results, then go for the Le Gushe collagen eye mask. It comes infused with nano-active 24 karat gold, a protective effect that keeps your skin from sagging. These easy-to-use eye patches help reduce dark circles and fine lines. They also contain hyaluronic acid for moisturization so that your skin feels fresh and hydrated. Infused with natural ingredients such as seaweed, oat peptide, rose essential oil, among others, this gel mask is great for use for both men and women. It provides an instant cooling sensation and works by replenishing the under-eye area, making it a perfect anti-fatigue mask. If you need further convincing, check out this YouTuber's review.
Pros
 Infused with nano-active 24 karat gold
 Reduces dark circles, wrinkles, and puffiness
 Smooths out skin
 Hydro cooling eye gel mask
 Enriched with hyaluronic acid
Cons
 May not be suitable for sensitive skin
The Celor Gold Under Eye Mask is enriched with amino acids and collagen, which help to depuff your under-eye area and reduce dark circles. The plumping mask contains glycerin, and centella asiatica to soothe skin, hydrate it, and improve skin elasticity for youthful-looking skin. The chamomile and matricaria flower extract are both natural astringents that calm the skin and eliminate puffiness. The mask is excellent for wrinkle reduction and makes your skin smooth and youthful.
Pros
Reduce puffiness
Delays wrinkles formation
Restores skin elasticity
Hydrates skin
Affordable
Cons
Sensitive skin may experience burning sensation
For those looking for a firming collagen eye mask that provides intense hydration and moisturization, you can try Brouger's hydrogel eye mask. It is infused with 24 karat nano gold and peptides that help restore elasticity to your skin. Keep your skin radiant with these eye contour masks that help reduce puffiness, wrinkles, and eye bags while smoothing your skin and helping keep it as young as ever. This reviving mask nourishes the skin under your eyes and defends your skin from cell damage with its naturally formulated solution.
Pros
 Reduces dark circles, wrinkles, and puffiness
 Provides hydration and moisturizing effect
 Smooths out skin
 Firms and lifts under-eye skin
 Restores elasticity of skin
 Infused with nano-active 24 karat gold
Cons
 May not stay in place during application
Get ready for an illuminating glow with La Pure collagen eye treatment made up of plant-based collagen that helps restore elasticity to your skin and get rid of fine lines, wrinkles, and puffiness. These dermatologically-tested hydrating collagen eye pads are infused with hyaluronic acid, grape seed extract, and rose seed extract for moisturizing your skin and naturally reducing inflammation and redness which may occur. Refresh your skin with one of the best collagen eye masks around. They offer enhanced beauty of the under-eye area and improve the overall appearance.
Pros
 Reduces dark circles, wrinkles, and puffiness
 Infused with hyaluronic acid
 Contains grape and rose seed extract
 Smooths out skin
 Refines skin texture
 Firms under-eye skin
 Restores elasticity of skin
 Plant-based collagen
 Hydrates skin
Cons
The Grace & Stella Under Eye Mask is an excellent collagen mask to refresh your under-eye area. It is like an energy drink for your skin that reduces swelling, bags, and puffiness with the help of its calming ingredients. Hydrolyzed vegetable protein, allantoin, propylene glycol, glycerin, and amino acids from corn gluten are added to this mask to enrich it. It aids in minimizing the appearance of aging, treating dry under-eye skin, and reducing dark circles under the eyes. Incorporate these gold under-eye patches into your daily self-care routine for a refreshed, awake, brightened, and youthful look. According to reviewers, the product makes the skin around the eyes plump and smooth and reduces the appearance of fine lines.
Pros
Enhances skin elasticity
Reduces dark circles
Paraben-free
Cruelty-free
Vegan
Affordable
Cons
Not suitable for extremely dry and sensitive skin
This 4-in-1 Olrom Collagen-Enriched Recovery Eye Mask is the ultimate game changer for your dull and tired-looking eyes. You can use it as under-eye patches, between the eyebrows, or on the forehead to fight signs of aging and to soothe dryness. The white mask is a hydrating collagen eye gel patch that reduces fine lines, crow's feet, and dark circles, and helps with skin repair. The green mask is loaded with hyaluronic acid, coconut milk amino acids, and aloe vera juice to hydrate and retain moisture. The black mask is infused with dead sea minerals that eliminate puffiness and diminishes fine lines, wrinkles, and crow's feet. The 24K colloidal gold mask rejuvenates the skin, increases skin elasticity, and diminishes fine lines and wrinkles.
Pros
Reduces signs of aging
Hydrates the skin
Dermatologist-tested
100% organic formula
Cruelty-free
Doesn't cause irritation
Cons
Infused with the goodness of caffeine, hyaluronate, centella asiatica, collagen, and portulaca oleracea extract, this Patchology Rejuvenating Under Eye Gels works like a charm to eliminate dark circles, fine lines, and wrinkles reduce puffiness and hydrate dry skin. The collagen content helps reduce under-eye bags and fade dark circles while improving the elasticity and firmness of the skin as blood circulation is activated. Use these gel masks overnight for a hydration boost and improved elasticity. According to reviews, the product offers a super-refreshed look after overnight use.
Pros
Lighten dark circles
Provides hydration
Revitalizes eyes
Firms and lifts under-eye skin
Restores skin elasticity
Cons
The BIOAQUA Gold Osmanthus Lemon Eye Mask is great to rejuvenate and re-energize your skin. If you're experiencing dullness, tired-looking skin, and dark circles, this eye mask is the best pick. It helps to decrease wrinkles, puffiness, and dark circles. It aids in enhancing the flexibility of your skin and collagen synthesis, making your skin appear more youthful. The patches will smoothen your skin and minimize fine lines on your face, nourishing and hydrating it. According to a reviewer's experience, the patches are moisturizing and reduce puffiness.
Pros
Improves skin texture
Smooths out skin
Firms and lifts under-eye skin
Restores elasticity of skin
Brightens and refreshes
Cons
May not suit sensitive skin
The Cobor Chlorella Extract Collagen Under Eye Mask is a great collagen eye mask to combat wrinkles, saggy skin, and crow's feet and refresh your under-eye area. It is infused with the goodness of seaweed extract, tiny collagen molecules, ophiopogon japonicus extract, and tea leaf extract. It is shaped to comfortably fit under your eyes, forehead, and even neckline. It is gentle on the skin and does not slip off easily, thus providing ample hydration and firm skin with utmost comfort.
Pros
Soothes the skin
Gets rid of dark circles
Refreshes the skin
Eliminates dull skin
Gentle on sensitive skin
Cons
None

Revitalize your skin and eyes with Azally's hydrogel mask, which has an infusion of plant collagen, hyaluronic acid, rose oil, and grape seed extract, which help reduce puffiness and fine lines on your face. It also helps alleviate dryness, wrinkles, crow's feet and leaves you with refreshed and younger-looking skin. It is suitable for all skin types and consists of a vegan formula that helps moisturize and brighten the skin.
Pros
 Smooths out skin
 Natural ingredients
 Firms and lifts under-eye skin
 Reduces wrinkles
 Reduces dark circles
 Helps reduce puffiness
 Reduces dryness
 Infused with rose oil and grape seed extract
 Contains hyaluronic acid
Cons
 May not comfortably stay in place during application
If you're still finding it hard to pick the perfect collagen eye mask for you after reading our list of the 10 best collagen eye masks available, here are some tips you can keep in mind while making your purchase.
How To Choose The Best Collagen Eye Mask For You
Nearly all collagen-infused eye masks target a similar range of issues, such as reducing fine lines, wrinkles, and dark circles. However, not all target dryness and provide hydration, so if this is important to you, then you should consider going for a collagen eye mask that contains hyaluronic acid, which is an ingredient that provides moisture and hydration to your face for a smoothing texture.
Companies are catching onto consumers' needs these days and are producing products with more natural ingredients and less chemical ones. Many products use plant or vegetable-based collagen as well as natural extracts of ingredients like green tea, grape seed, rose, honey, and others. You can look at the kind of ingredients that go into the product and pick one accordingly. If you have sensitive skin then definitely do a patch test and opt for dermatologist-tested products.
If you're looking for the total package when it comes to an under-eye mask, you can pick one which lifts and smooths your skin while brightening it to give your under-eye area a perfect radiance. Masks with antioxidants and ingredients like aloe vera, hyaluronic acid, and vitamin C can really help.
The Bottom Line
These are the 10 best collagen eye masks you can find in 2023, and you can use them anytime when you feel like your under-eye area needs a refresher. These days, most of us have hectic schedules, resulting in late nights and dark circles. Added stress can also contribute to the aging process, and you can start to try slowing it down using these collagen protein eye patches. It's always great to have an additional way to keep your skin looking firm and healthy, and these fast-absorbing under-eye patches are easy and convenient to use as well. If you want to moisturize your roots and add volume, go for the Le Gushe Collagen Eye Zone Gel Mask.The Patchology Rejuvenating Under Eye Gels helps improve skin elasticity along with reducing dark circles and puffiness, while the Grace and Stella Under Eye Mask is a great for tackling aging signs and undereye brightening. You can also buy ones that give your skin a moisturized feel and targeted ones that have anti-inflammatory and anti-aging properties to cover problem areas, including reduction of puffiness, crow's feet, and wrinkles.
Frequently Asked Questions
Are Collagen Eye Masks Reusable?
No, unless it specified that it is reusable, most collagen eye masks are designed for a one-time use.
How Often Should We Use Collagen Eye Masks?
One can use collagen eye masks daily for a tightening effect, though it is recommended for use between 2-3 times per week.
How Long Should We Keep Collagen Eye Masks On?
The eye mask you buy will have the amount of time that you can keep the mask on for, but the usual recommendation is normally between 15-25 minutes.
When Should We Use Collagen Eye Masks?
If you want to keep the area under your eyes looking firm and taut, then you can start using a collagen eye mask.
Can you sleep with a collagen eye mask on?
Yes, some collagen masks are suitable for overnight use. You can leave them on overnight to get the best results. However, some masks deliver the results in just 15-20 minutes. Therefore, they are not suitable for overnight use.
Should you use a collagen eye mask after applying moisturizer?
No, apply your collagen mask on freshly cleansed skin. Once you remove the collagen mask, apply a thin layer of moisturizer to seal all the goodness from the mask.