15 Collagen Face Masks For Clear And Healthy Skin
Brighten up the skin and let it speak for you with these rejuvenating face masks.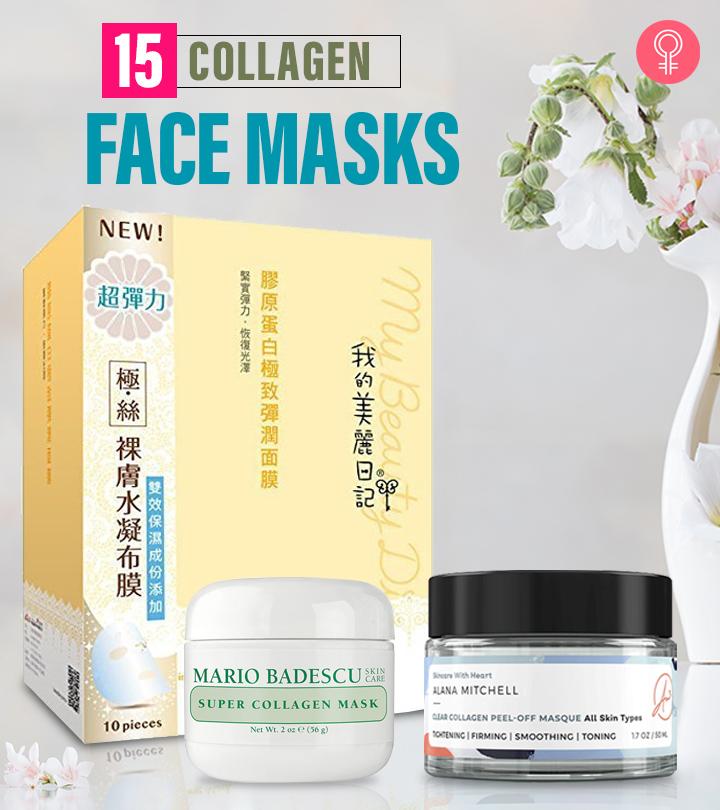 Despite regular exercise, having a healthy diet, and sufficient sleep, anxiety, stress, and hormonal imbalances can leave our skin feeling dull and lifeless. Losing collagen is another reason for your skin looking tired and hollow. But, fret not. The best collagen face mask can help you get clear and radiant skin. Collagen helps boost skin elasticity and the best masks contain ingredients that help restore dull skin. Here, we have listed the 15 best collagen face masks that will give your skin a youthful glow. Scroll down to check out the list!
15 Collagen Face Masks You Must Try
The Dermal Korea Collagen Essence Facial Mask is a full-face sheet mask soaked in minerals, vitamin E, and collagen. It contains natural extracts of cucumber, green tea, aloe, charcoal, and bee venom. These natural ingredients get absorbed into your skin easily and keep it healthy, spotless, and tight. For best results, apply the sheet mask on a clean and dry face. Leave it on for 10-15 minutes, remove, and moisturize.
Pros
Easy to use
Value for money
Refreshing scent
Softens the skin
Cruelty-free
Moisturizes the skin
Cons
Contain parabens
Might leave residue.
Might cause breakouts.
Price at the time of publication: $11.99
The Celavi Collagen Facial Face Mask is infused with easily absorbable antioxidants, natural extracts, and nutrients. When used regularly, these ingredients help reduce dark spots, pigmentation, dark circles, and puffiness. This mask deeply hydrates, firms, and softens your skin and improves skin tone.
Pros
Suitable for sensitive and oily skin
Cost-effective
Moisturizes the skin
Long-lasting
Subtle fragrance
Cons
Contains animal by-products and extracts.
Might dry out quickly.
Price at the time of publication: $9.99
The Ebanel Collagen Face Mask contains hyaluronic acid, aloe extracts, ascorbic acid, and peptides, along with collagen molecules. These allergen-free ingredients deeply moisturize the skin and boost anti-aging mechanisms. The face mask also contains extracts from tomato, purslane, and chamomile. Using this mask will brighten, lift, and add bounce to your skin.
Pros
Rejuvenating smell
Vegan
Value for money
Hypoallergenic
Brightens the skin
Alcohol-free
Oil-free
Non-irritating
Vegan
Cruelty-free
Hypoallergenic
cGMP-certified
Cons
Price at the time of publication: $31.99
The Azure Collagen & Peptide Face Firming Mask is an easy-to-use product suitable for oily, combination, dry, and normal skin types. It is infused with collagen and peptides that promote skin elasticity and reduces the appearance of pigmented patches, fine lines, and wrinkles. The mask is also enriched with hyaluronic acid that moisturizes your skin while the vitamins B3 and B5 smooth the skin and soften its texture. In addition, the mask is powered with zeolite that intensely cleanses and exfoliates the skin to impart a fresh glow to your face. This 95% natural face mask is 100% vegan and cruelty-free.
Pros
Easy to use
Cruelty-free
Vegan
Paraben-free
Phthalate-free
GMO-free
Cons
None
Price at the time of publication: $9.99
The Alana Mitchell Clear Collagen Peel-Off Masque contains liquid/hydrolyzed collagen formula. It tones and tightens your skin while imparting a natural glow within 20 minutes. It is ideal for busy women and frequent travelers. This peel-off mask is clinically proven to reduce wrinkles, fine lines, and other signs of aging.
Pros
Easy to use
Adds glow
Ideal for aging skin
Suitable for all skin types
Brightens the skin
Revitalizes the skin
Paraben-free
Cruelty-free
No artificial fragrance
Cons
Expensive
Insufficient quantity
Price at the time of publication: $9.99
The Eve Hansen Collagen Boosting Sheet Mask is loaded with hyaluronic acid, blueberry, tangerine, and spinach extracts. It boosts collagen production and increases the firmness of the skin, irrespective of the skin type. Use it regularly to reduce wrinkles, dark spots, and fine lines. For best results, apply the excess serum of the mask on your arms, neck, and face after washing.
Pros
Suitable for dry and sensitive skin
Calms the skin
Smoothens the skin
Brightens the skin
Detoxifies the skin
Prevents breakouts
Vegan
Cruelty-free
Paraben-free
Sulfate-free
Phthalate-free
Cons
Might not fit all face shapes.
Price at the time of publication: $20.98
The Gold Facial Premium Hydrogel Sheet Face Mask is a luxurious hamper. It is made of premium hydrogel base infused with 24-carat nano gold, collagen, and vitamins C and E. Along with hyaluronic acid, these ingredients brighten and plump your skin in a single use. This mask works on allergies, redness, puffiness, and signs of aging.
Pros
Suits all skin types
Deeply nourishing
Long-lasting
Convenient to wear
Sulfate-free
Paraben-free
Cruelty-free
Dermatologist-tested
Cons
Might tear.
Might not fit the face curves.
Price at the time of publication: $20.95
This classic collagen and clay mask by Mario Badescu reduces the appearance of fine lines and signs of aging on the skin. It primarily contains collagen, kaolin clay, and oatmeal that smoothen the skin. This mask also clears clogged pores and tightens them. It soothes sensitive skin by calming redness and irritation. Yolanda Moore, an ethnic skin care and medical esthetics specialist, remarks, "Oil control and anti-inflammatory properties make this another great choice for anyone with acne-prone skin."
Pros
Gentle formula
Ideal for sensitive skin
Refreshing scent
Cleans skin pores
Nourishes the skin
Smoothens the skin
Cons
Price at the time of publication: $15.3
The LAPCOS Collagen Sheet Mask is infused with collagen peptides that revive tired and aging skin. It diminishes the appearance of wrinkles, fine lines, and crow's feet. Collagen is the primary ingredient of this K-Beauty mask that tightens and revives the skin. Unfold a single sheet and spread it over a clean and dry face gently. Leave it on for 10-20 minutes. Remove the mask gently by patting the remaining serum until fully absorbed.
Pros
Value for money
Easy to apply and remove
Pleasant smell
Suitable for daily use
Cons
May cause breakouts.
The skin might get oily and clogged.
Price at the time of publication: $16
The Advanced Clinicals Collagen Anti-Aging Gel Mask has ferulic acid, rosewater, coconut oil, and collagen as active ingredients. It reduces the appearance of fine lines and wrinkles by tightening, nourishing, and purifying your skin. This mask also prevents the secretion of excess oil and redness, especially in sensitive skin types. With regular use, the chamomile, fruit, and ferulic acid extracts clarify clogged pores and rejuvenate your skin. Rosewater soothes, hydrates, and brightens dull skin and imparts a youthful glow.
Pros
Value for money
Moisturizes the skin
Tightens the skin
Reduces excess oil
Purifies the skin
Cons
May cause breakouts.
Strong fragrance
Price at the time of publication: $13.99
Mother Made Rich Snail Deep Moisturizing Sheet Mask is all you need when your skin craves a little extra attention. The mask is hydrating, soothing, and moisturizing to the skin. It helps reduce the appearance of wrinkles, fine lines, and other aging signs. The mask contains nourishing ingredients like snail mucin, marine collagen, antioxidant vitamins C & E, hyaluronic acid, and ceramide that penetrates deep into the skin and nourishes it.
Pros
Oil-free
Propylene glycol-free
Artificial color-free
Paraben-free
Formaldehyde-free
Cruelty-free
Intensely nourishing
Cons
Price at the time of publication: $48
The ANAI RUI Rose Clay Mask includes natural organic rose flower extracts along with hyaluronic acid and collagen to help you achieve clear and healthy skin. The mask helps to brighten and moisturize the skin with every use. It also helps to exfoliate your skin and reduce acne formation on the skin due to the presence of niacinamide and lactic acid.
Pros
Vegan
Cruelty-free
Paraben-free
SLS-free
Safe for all skin types
Anti-aging benefits
Cons
Price at the time of publication: $12.99
The KOSE Clear Turn Essence Collagen Facial Mask contains a beauty essence that enhances the natural elasticity and moisture-holding capacity of your skin. This mask is perfect for sensitive skin types because it has a high pH and low acidity. The Laminaria japonica (brown seaweed) extract soothes sore and inflamed spots, acne, and redness. The castor oil complex moisturizes dry and stressed skin deeply without clogging the pores.
Pros
Pleasant smell
Suitable for daily use
Gentle formula
Easy to wear and remove
Value for money
Ideal for sensitive skin
Moisturizes the skin
Cons
Price at the time of publication: $16.8
The Mediheal Essential Collagen Lifting & Firming Mask is formulated with hydrolyzed collagen and elastin that improves your skin tone and texture. It consists of peptides, beta-glucan, and aloe vera to moisturize your skin, giving a more smooth and plump appearance. The mask fits well and supports maximum serum absorption.
Pros
Soothing
Gentle formula
Breathable
Soft
Improves skin tone
Cons
Price at the time of publication: $9.95
The Rael Bamboo Face Sheet Mask contains skin-smoothing botanical ingredients and hydrolyzed collagen that instantly boosts hydration and plumps your skin. The soft bamboo yarn used to make this mask prevents skin irritation. They are easy and quick to use. Make sure to massage the remaining serum into your neck, arms, and hands and experience the softest skin ever!
Pros
Paraben-free
Fragrance-free
Phthalates-free
Sulfate-free
Vegan
Cruelty-free
Cons
None
Price at the time of publication: $14.99
Why Trust StyleCraze?
Oyendrila Kanjilal is a certified skincare coach who loves providing customized and sustainable solutions to her user's skincare needs. She is aware of the damaging effects of a poor diet and stress on your skin. To ensure your skin looks happy and shiny, she has curated this list of t he best collagen face masks. She has extensively gone through product formulations on brand websites and user feedback to curate this list. These face masks boost the production of collagen, which leaves your skin feeling soft and radiant.
Frequently Asked Questions
How often do you use a collagen mask?
Use a collagen mask 1-3 times a week for the best results.
Should I wash my face after a collagen mask?
No, do not wash your face after using a collagen mask. Instead, massage the remaining product into your skin.
Should I use a collagen face mask in the morning or at night?
Use a collagen mask at night after cleansing and toning your skin.
How long do you leave a collagen mask on?
Leave your collagen mask on for 25-40 minutes.
Is it okay for a teenager to use collagen face masks?
There is no harm in using collagen masks as a teenager, but a collagen mask is best suited for women in their mid-20s and above.
Recommended Articles