13 Best Color-Changing Beauty Products Ideal For Parties In 2022
Transform yourself with a makeup look that complements your outfit for late night parties.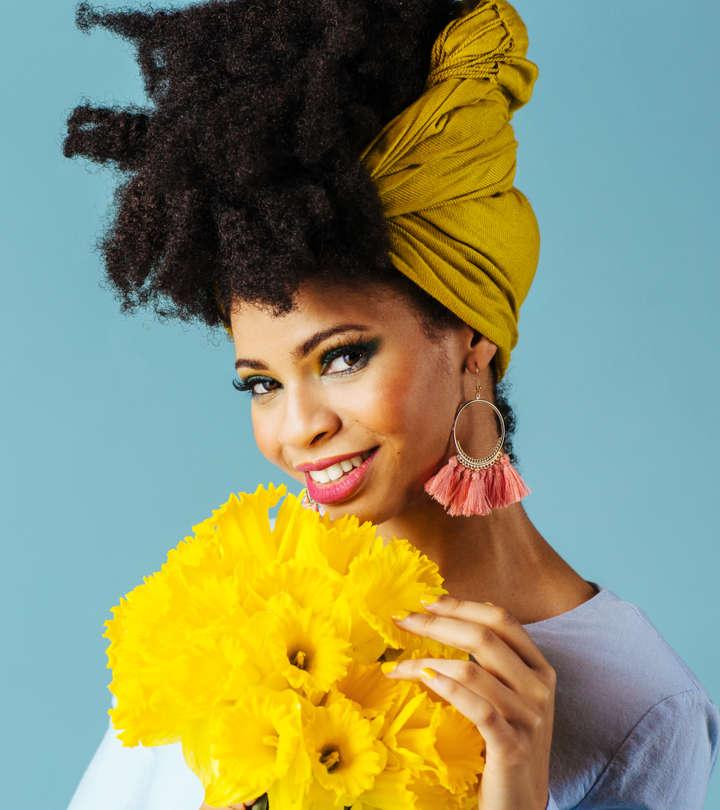 Wouldn't it be fun seeing your nail polish change its color with temperature or the skin's pH? Wouldn't it be even better if the changing color is not restricted to only nail polis?. Hence, we bring you the best color-changing makeup items so that you can enjoy the ride of color-changing lipsticks, nail polish, lip balms, even highlighters, and much more. These color-changing beauty products are ideal for wearing during Halloween parties, day parties, night parties, and other different occasions.
These products are specially crafted with carefully picked ingredients that are blended together to give a beautiful color. Color-changing products are like magic that transform their color using self-adjusting pigments that respond to sunlight or body chemistry. The color-changing products add fun to your makeup and make you look unique.
But which color-changing product will you buy? The thought can be overwhelming. So, we have sifted a list of the 13 best color-changing beauty products for an easy pick. Grab one and enjoy the colors. Scroll down to know more!
The 13 Best Color-Changing Beauty Products In 2022
Inspired by beautiful, sparkling ombre cocktails that attract attention at every party, each gel nail polish has a trendy ombre shade. The top gel coat is sensitive to the temperature of your nails as well as the outside temperature and changes color accordingly. This DIY fun gel nail polish is great for Halloween or any fun party where your changing nail color can make you the talk of the town. It is made with natural resin, has close to no odor, and does not need many coats as it is formulated with a color-morphing pigment to give you a rich color in a single coat.
Pros
 Natural resin gel nail polish
 Low odor
 SGS-certified
 Great color in a single coat
 Long lasting
Cons
 For best results, you might have to apply this on long nails
Price at the time of publication: $19.99
Get your dream nails with your desired color changing effect with this easy to use dip powder that does not need any curing under a LED or UV lamp. This dip powder gives your nails a natural look and finish while the color lasts for up to 21 days without chipping. It has low odor and uses no harsh ingredients that could damage your skin or nail bed after prolonged use. Get your nails to change color as per the temperature of your nail and pack in great shine too. Let your hands do the talking with this fun color changing dip powder for your nails.
Pros
 No need for curing with UV or LED lamps
 No harsh chemicals
 Lasts for up to 21 days
 Low odor
 Dries fast
 Glossy finish
Cons
 The coats might feel too thick for some
Price at the time of publication: $11.99
This aloe vera color changing lipstick does not only keep your lips supple, hydrated, and conditioned, it also changes from a transparent to a pink by reacting to multiple things such as the temperature of your lips and the humidity. Packed with the benefits of healthy ingredients such as aloe vera, avocado, jojoba oil, vitamin E, castor oil and olive oil, this color changing beauty product ensures that your lips stay healthy and feel good too. The great thing about this lip product is that it not only provides hydration but also lip color that does not fade away easily.
Pros
 Provides hydration for a long time
 Contains essential oils, cocoa butter, and beeswax
 Suitable for casual and formal use
 Color does not fade easily
Cons
 Might not be suitable for sensitive skin
Price at the time of publication: $7.99
Never get tired of seeing your nails dramatically change colors with this color changing gel nail polish in a dark red hue as this product reacts to the changes in both your body temperature as well as outside temperature. Surprise your friends at a party by simply warming your hands at the bonfire and watch the look of surprise as they witness your nails changing color instantly. The change of color creates an ombre effect that is on trend at the moment. This gel nail polish is easy to apply and quick to dry, so that you can instantly get the nails of your dream.
Pros
 Changes color to create an ombre effect
 Reacts to both body and outside temperature
 Easy to apply
 Stays on for weeks
Cons
 May need several coats of application
Price at the time of publication: $14.5
Thought that color changing foundations were not invented yet? Well, think again as this TLM color changing foundation goes on white and almost instantly adjusts to match the color of your skin. It blends in easily, offers great coverage, and works to even out your complexion. This foundation also contains SPF 15, which means you don't have to pile on another layer of sunblock. The foundation gives your skin an illuminating finish and makes dull skin tones look brighter instantly by adjusting to it.
Pros
 Brightens up dull skin
 Evens out complexion
 Contains SPF 15
 Gives a silky finish
 Makes skin look radiant
Cons
 A concealer is recommended for good coverage
Price at the time of publication: $8.99
This magical lip balm packs the goodness of flowers and botanicals and changes color as per the pH level of your skin to give you a flirty pink glow. It is made of natural ingredients and comes in the form of a gel lipstick that has real chrysanthemum flowers inside. Use it as a gloss or a base and watch how it adds a warm pink tone to your lips. Vitamins in the lip balm help your lips look plump and keep it hydrated too. It leaves your skin feeling cool and moisturized all day. Brownie points for it also being vegan, cruelty-free,and using no sulfates.
Pros
 All natural
 Vegan
 Hydrates
 No sulfates
 No gluten
 No phthalates.
Cons
 Some might not like the smell
Price at the time of publication: $16
As the name suggests, get nails that change color like a chameleon with this sparkly, glossy color changing gel nail polis. The microstructure of this gel nail color is such that it appears to be of different colors based on the angle you view it from or how the light falls on it. It's a good choice for experts and beginners alike as you can also use this from the comfort of your home.
Pros
 Chrome effect
 Long-lasting
 Powder form
 Glossy finish
Cons
 6-step application process
Price at the time of publication: $12.79
Imagine this green lipstick turning into a gorgeous pink color as soon as it touches your lip. Might be difficult to believe but this is exactly what happens! Made with ingredients that are rich in antioxidants and vitamin E, this lipstick does not only give you pretty pink lips but also helps in soothing your lips, keeping them moisturized, as well as helping you fight free radicals and aging. Plus, it adds a gloss to your lips to make them look on trend, with a vivid pink color too.
Pros
 Gloss finish
 Contains antioxidants
 Soothes the skin
 Contains vitamin E
 Moisturizes
Cons
 The color might not last for a long time
Price at the time of publication: $28
Get this moisturizing lipstick for color that changes with humidity and the temperature of your skin or the outside as it adjusts between lighter to darker shades of pink. It also offers hydration and makes your lips look glossy.To add to that, it is waterproof and is made with micro fine pigments that does not let the color fade. Get lips that look shiny and full with this color changing lipstick that comes in a pack of 3. Gift this to your friends so that they can have beautiful lips that look and feel good.
Pros
 Color changes from light to dark pink
 Glossy and shiny look
 Keeps lips hydrated
 Waterproof
 Color does not fade
Cons
 Some might not like its taste
Price at the time of publication: $13.89
This 3-pack set comes with 2 lip glosses in watermelon and strawberry flavors and a color changing lip balm. The pink flower lip balm acts as a great base that changes color as per the temperature of the skin for the lip glosses to work on. Wear the lip balm solo and have lips that change color and stay hydrated or add the gloss to go for a glam look. Ingredients such as jojoba seed oil, sweet almond oil, and beeswax help in keeping the lips nourished.
Pros
 Color changing lip balm to keep lips hydrated
 Can be used with the accompanying gloss for some shine
 Ideal for gifting
 Hydrating
Cons
 Some may find it slightly oily
Price at the time of publication: $12.99
Give your lips the care it deserves along with the magic of a color changing lip formula with this lip balm that adds a natural pink tint to your lips as per its pH level, apart from giving it optimum nourishment and conditioning. It goes on clear and transforms into a natural pink tint to go with your skin and settles as a shiny finish, Packed with the goodness of vitamin E, this balm makes your lips soft and supple. The best part? This color changing beauty product comes without sulfates, gluten, and phthalates.
Pros
 Gives a natural pink tint
 Adds shine
 Contains vitamin E
 No sulfates
 No gluten
 No phthalates
Cons
 Some might not like the flavor
Price at the time of publication: $16
Never thought a blush would change shades to match with your skin and give you a truly unique cheek tint? Well think again as this dewy cheek color with a shape shifting formula does just that. It changes color to match your skin's pH level and settles as a tint that suits your skin tone best. The product blends easily into the skin giving it a natural look and comes with a silky finish on the skin. The product is highly pigmented to give you great color without needing you to pile on too much product.
Pros
 Adjusts to the pH of the your skin
 Gives you a unique color
 Blends easily
 Silky finish on the skin
 Pigmented to give good color
 Cruelty-free
Cons
 Might break if not stored carefully
Price at the time of publication: $15.99
Add a touch of color to your lips with this color changing lip balm that instantly gives you a sheer and pigmented look with some sheen to it. The formula of this balm reacts with the temperature of your skin to give you a unique color, true to you within the range of fuchsia to pink. This color changing beauty product keeps your lips hydrated and adds sheen as you can wear this solo or along with another gloss or color.
Pros
 Gives unique color
 Lustrous finish
 Vegan
 Cruelty-free
Cons
 May not offer long-lasting wear
Price at the time of publication: $24
Now that we have looked at our favorite 13 color-change makeup products, let us look at how to choose one that works the best for you.
What To Look For In A Color Changing Beauty Product
This is the most important for any color changing product. While most specify the band of colors that the product might shuffle between, some might also come in multicolor formats without any limitations. For example, a lip color can vary from a vivid red to a lighter hue of red while a nail gel color might come with a chrome finish and have many more colors, depending on how light falls on it.
While most beauty products change color as per the temperature of your skin and the outside temperature, others also take humidity into account. A lot of color changing beauty products also change as per the pH of your skin. Nail colors can also change as per exposure to light. Choose one depending on your preference.
 Ingredients in the product
Picking a color changing beauty product does not mean that you have to compensate for its quality. Most of these products now come packed with the goodness of natural, plant-based ingredients such as aloe vera, jojoba oil and vitamin E. A color changing lip balm will also have effective ingredients to keep your lips moisturized and a color changing nail color will also give you long lasting color and gloss.
If you are still wondering how color changing beauty products actually work, we're breaking it down for you.
How Color Changing Makeup Actually Works
This is the most common cause of a color changing product changing its color. The temperature of your skin or the surroundings have an impact on how the color of the product changes hue. Expect warmer tones with a rise of temperature and cooler tones with a drop in it.
This is another factor that affects the color of a product. With changes in humidity of your skin and environment, expect the color of color-changing products such as lip balms, cheek tints, and lipsticks.
This is another common cause of color-changing products changing colors. The products are made in a way that the pigments react to the pH level of the user's skin and react to create a color. Cooler tones for lower pH levels and warmer tones for a more acidic pH level is generally the norm.
Frequently Asked Questions
Do cosmetics really change color to match your skin?
Yes. Although some substances are colorless, a shift in pH occurs when they come in contact with skin moisture, changing the component's color. However, this does not guarantee a perfect match for your skin tone.
Does color change foundation work?
Yes. Color-changing foundation can self-adjust to match your skin tone, but does not guarantee a perfect match for every skin tone.
Can we use color-changing makeup products every day?
Yes, we can use color-changing makeup products every day as it reacts to the pH of the skin and adjusts according to our skin tone.
How do color-changing lip balms work?
When color-changing lip balms come in contact with the moisture of the lips,they react to the pH of the lips and change colors accordingly.
How long does color-changing nail polish last on nails?
Color-changing nail polish lasts on nails for up to three weeks.

Recommended Articles