13 Best Color-Changing Beauty Products Ideal For Parties In 2023
Transform yourself with a makeup look that complements your outfit for late night parties.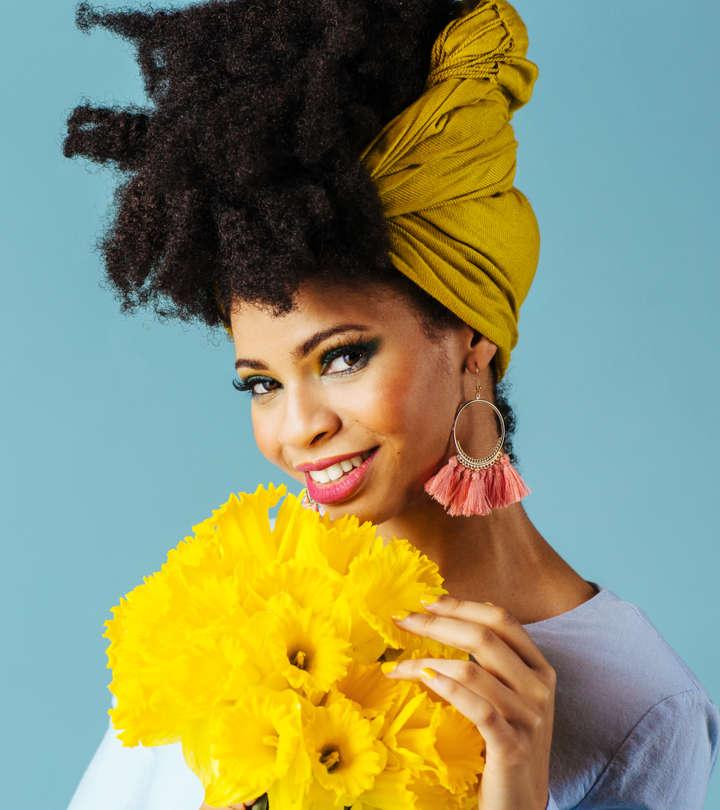 Wouldn't it be fun seeing your nail polish change its color with temperature or the skin's pH? Wouldn't it be even better if the changing color is not restricted to only nail polis?. Hence, we bring you the best color-changing makeup items so that you can enjoy the ride of color-changing lipsticks, nail polish, lip balms, even highlighters, and much more. These color-changing beauty products are ideal for wearing during Halloween parties, day parties, night parties, and other different occasions.
These products are specially crafted with carefully picked ingredients that are blended together to give a beautiful color. Color-changing products are like magic that transform their color using self-adjusting pigments that respond to sunlight or body chemistry. The color-changing products add fun to your makeup and make you look unique. Makeup artist, Cha Cha, says, "Since color changing makeup works with your natural body chemistry, the shades are personalized and change into the perfect natural hue for your personal complexion. Everyone's shade will be unique to them."
But which color-changing product will you buy? The thought can be overwhelming. So, we have sifted a list of the 13 best color-changing beauty products for an easy pick. Grab one and enjoy the colors. Scroll down to know more!
The 13 Best Color-Changing Beauty Products In 2023
This amazing WBM Care Color Changing Lip Balm is the perfect addition to your beauty routine. It's a unique product that changes color depending on your lip's pH. The moisturizing formula helps keep skin hydrated and healthy while also providing antioxidant protection from environmental pollutants. With all-natural ingredients like beeswax and shea butter, you can say goodbye to dry, cracked lips and hello to a smooth, hydrated pout.
Pros
Vegan
Hydrating
Sulfate-free
Gluten-free
Phthalate-free
Cons
None
Price at the time of publication: $2.85
The Youthforia BYO Blush is a unique lipstick that features a two-in-one color-changing technology to transform into different shades to match your skin tone. The formula contains natural oils and waxes for an ultra-smooth finish and is non-irritating so you can feel confident wearing it all day long. Plus, with its travel-friendly size, you can easily take this handy product anywhere.
Pros
Blendable formula
Vegan
Cruelty-free
Paraben-free
Cons
None
Price at the time of publication: $35.99
Price at the time of publication: $11.99
This aloe vera color changing lipstick does not only keep your lips supple, hydrated, and conditioned, it also changes from a transparent to a pink by reacting to multiple things such as the temperature of your lips and the humidity. Packed with the benefits of healthy ingredients such as aloe vera, avocado, jojoba oil, vitamin E, castor oil and olive oil, this color changing beauty product ensures that your lips stay healthy and feel good too. The great thing about this lip product is that it not only provides hydration but also lip color that does not fade away easily.
Pros
 Provides hydration for a long time
 Contains essential oils, cocoa butter, and beeswax
 Suitable for casual and formal use
 Color does not fade easily
Cons
 Might not be suitable for sensitive skin
Price at the time of publication: $7.99
Never get tired of seeing your nails dramatically change colors with this color changing gel nail polish in a dark red hue as this product reacts to the changes in both your body temperature as well as outside temperature. Surprise your friends at a party by simply warming your hands at the bonfire and watch the look of surprise as they witness your nails changing color instantly. The change of color creates an ombre effect that is on trend at the moment. This gel nail polish is easy to apply and quick to dry, so that you can instantly get the nails of your dream.
Pros
 Changes color to create an ombre effect
 Reacts to both body and outside temperature
 Easy to apply
 Stays on for weeks
Cons
 May need several coats of application
Price at the time of publication: $14.5
Thought that color changing foundations were not invented yet? Well, think again as this TLM color changing foundation goes on white and almost instantly adjusts to match the color of your skin. It blends in easily, offers great coverage, and works to even out your complexion. This foundation also contains SPF 15, which means you don't have to pile on another layer of sunblock. The foundation gives your skin an illuminating finish and makes dull skin tones look brighter instantly by adjusting to it.
Pros
 Brightens up dull skin
 Evens out complexion
 Contains SPF 15
 Gives a silky finish
 Makes skin look radiant
Cons
 A concealer is recommended for good coverage
Price at the time of publication: $8.99
This magical lip balm packs the goodness of flowers and botanicals and changes color as per the pH level of your skin to give you a flirty pink glow. It is made of natural ingredients and comes in the form of a gel lipstick that has real chrysanthemum flowers inside. Use it as a gloss or a base and watch how it adds a warm pink tone to your lips. Vitamins in the lip balm help your lips look plump and keep it hydrated too. It leaves your skin feeling cool and moisturized all day. Brownie points for it also being vegan, cruelty-free,and using no sulfates.
Pros
 All natural
 Vegan
 Hydrates
 No sulfates
 No gluten
 No phthalates.
Cons
 Some might not like the smell
Price at the time of publication: $16
The Ultimate Beauty Package is a revolutionary product designed to transform your complexion and make it look flawless instantly. It's formulated with natural ingredients that help even out skin tone and reduce the appearance of fine lines. This lightweight, breathable primer and foundation instantly blurs imperfections and creates a smooth, flawless base for your makeup, giving you a natural look. It is enriched with SPF 50 to protect you from harmful UV rays.
Pros
Paraben-free
Fragrance-free
Cruelty-free
Long-lasting hydration
Cons
None
Price at the time of publication: $69.95
The Essence Lipstick helps you get the perfect shimmer and glow effortlessly. With its creamy texture and long-lasting finish, you can be sure that your look will stay in place all day. The unique formula contains innovative technology which provides a glowing effect while keeping lips nourished and hydrated. It settles in a sheer pink that looks natural on every lip tone.
Pros
Vegan
Cruelty-free
Gluten-free
Paraben-free
Oil-free
Preservative-free
Alcohol-free
Cons
None
Price at the time of publication: $3.99
Price at the time of publication: $28
Get ready to experience a little bit of magic with the Besame Cosmetics Magic Pink Lipstick! This luxurious lipstick is the perfect way to add a touch of glamour and femininity to any makeup look. Its light pink hue will give you a soft, romantic look that's sure to turn heads. The creamy formula glides on smoothly and provides long-lasting color without drying out your lips. It contains vitamin E for extra hydration so your lips stay looking healthy all day long! So, whether you're going for a subtle pop of pink or a bold, statement look, this premium lipstick has got you covered.
Pros
Glossy finish
Hydrating
Non-fading
Semi-matte finish
Cons
None
Price at the time of publication: $28
This 3-pack set comes with 2 lip glosses in watermelon and strawberry flavors and a color changing lip balm. The pink flower lip balm acts as a great base that changes color as per the temperature of the skin for the lip glosses to work on. Wear the lip balm solo and have lips that change color and stay hydrated or add the gloss to go for a glam look. Ingredients such as jojoba seed oil, sweet almond oil, and beeswax help in keeping the lips nourished.
Pros
 Color changing lip balm to keep lips hydrated
 Can be used with the accompanying gloss for some shine
 Ideal for gifting
 Hydrating
Cons
 Some may find it slightly oily
Price at the time of publication: $12.99
Give your lips the care it deserves along with the magic of a color changing lip formula with this lip balm that adds a natural pink tint to your lips as per its pH level, apart from giving it optimum nourishment and conditioning. It goes on clear and transforms into a natural pink tint to go with your skin and settles as a shiny finish, Packed with the goodness of vitamin E, this balm makes your lips soft and supple. The best part? This color changing beauty product comes without sulfates, gluten, and phthalates.
Pros
 Gives a natural pink tint
 Adds shine
 Contains vitamin E
 No sulfates
 No gluten
 No phthalates
Cons
 Some might not like the flavor
Price at the time of publication: $16
It's time for you to add some fun to your lips along with nourishment with the CATKIN lip balm. It is made with natural ingredients like vitamin E, alba seed oil, mint essential oil, and jojoba seed oil that help lock in moisture to help protect your lips from drying out. The creamy texture glides smoothly without leaving a greasy feeling behind or tasting too heavily of artificial flavors. With its color-reviving technology, you'll never miss out on dull lip shade.
Pros
Long-lasting
Easy application
Ideal for gifting
Hydrating
Cons
None
Price at the time of publication: $17.99
Are you ready to pucker up with the ultimate lip balm set? Look no further than the Kuckian Vegan Lip Balms! This set is an amazing way to keep your lips feeling and looking fabulous. The balm itself is made from natural ingredients like shea butter, beeswax, coconut oil, jojoba seed oil, and vitamin E that will nourish your lips while keeping them soft. The set includes 3 different lip balms, Vanilla (sweet & creamy), Strawberry (tangy & fruity), and Freshmint (refreshingly zesty). With three unique flavors, you can mix and match them to create the perfect combination for any occasion.
Pros
Contains antioxidants
Soothes the skin
Contains vitamin E
Moisturizes
Cons
None
Now that we have looked at our favorite 13 color-change makeup products, let us look at how to choose one that works the best for you.
What To Look For In A Color Changing Beauty Product
This is the most important for any color changing product. While most specify the band of colors that the product might shuffle between, some might also come in multicolor formats without any limitations. For example, a lip color can vary from a vivid red to a lighter hue of red while a nail gel color might come with a chrome finish and have many more colors, depending on how light falls on it.
While most beauty products change color as per the temperature of your skin and the outside temperature, others also take humidity into account. A lot of color changing beauty products also change as per the pH of your skin. Nail colors can also change as per exposure to light. Choose one depending on your preference.
 Ingredients in the product
Picking a color changing beauty product does not mean that you have to compensate for its quality. Most of these products now come packed with the goodness of natural, plant-based ingredients such as aloe vera, jojoba oil and vitamin E. A color changing lip balm will also have effective ingredients to keep your lips moisturized and a color changing nail color will also give you long lasting color and gloss.
If you are still wondering how color changing beauty products actually work, we're breaking it down for you.
How Color Changing Makeup Actually Works
This is the most common cause of a color changing product changing its color. The temperature of your skin or the surroundings have an impact on how the color of the product changes hue. Expect warmer tones with a rise of temperature and cooler tones with a drop in it.
This is another factor that affects the color of a product. With changes in humidity of your skin and environment, expect the color of color-changing products such as lip balms, cheek tints, and lipsticks.
This is another common cause of color-changing products changing colors. The products are made in a way that the pigments react to the pH level of the user's skin and react to create a color. Cooler tones for lower pH levels and warmer tones for a more acidic pH level is generally the norm.
Frequently Asked Questions
Do cosmetics really change color to match your skin?
Yes. Although some substances are colorless, a shift in pH occurs when they come in contact with skin moisture, changing the component's color. However, this does not guarantee a perfect match for your skin tone.
Does color change foundation work?
Yes. Color-changing foundation can self-adjust to match your skin tone, but does not guarantee a perfect match for every skin tone.
Can we use color-changing makeup products every day?
Yes, we can use color-changing makeup products every day as it reacts to the pH of the skin and adjusts according to our skin tone.
How do color-changing lip balms work?
When color-changing lip balms come in contact with the moisture of the lips,they react to the pH of the lips and change colors accordingly.
How long does color-changing nail polish last on nails?
Color-changing nail polish lasts on nails for up to three weeks.

Recommended Articles