20 Best Color Correctors To Achieve Uniform Complexion – 2023
Sunspots, redness, pigmentation, and dark circles are no longer a pressing issue.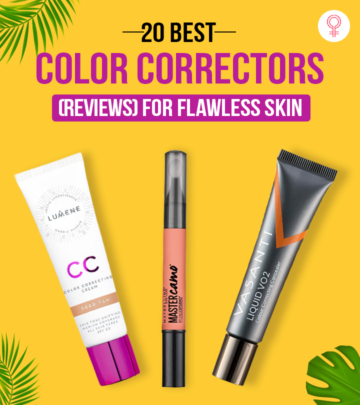 Most people underestimate the transformative power of makeup. Not only does it enhance your features and turn you into a diva on special occasions, but it is also used to conceal acne spots, dark circles, dullness, giving you the appearance of clear skin. One such makeup product that does precisely that is the best color correctors in the market. They help neutralize your skin tone and balance discoloration without making it obvious. So whether you are looking for a palette, brush, or pen corrector, a brightening color corrector will make you look more awake and gorgeous at all times. To make your quick fix look natural always, we have something to help you choose the one made ideally for your skin texture and shade. Go through the top 20 color correctors to find your favorite one.
What Is Color Correcting?
Color correcting is a method of using complementary colors (colors that are directly opposite in the color spectrum) to eliminate the look of skin discoloration. Color correctors are generally available in green, lavender, yellow, and coral tones. These correctors target various skin issues such as dullness, redness, under-eye circles, dark spots, and bruises. Using color correctors before using your foundation helps you achieve even-toned skin.
Now, let's read about the benefits of using a color corrector.
What Are The Benefits Of Using A Color Corrector?
Color correctors effectively smooth and neutralize skin discolorations like redness, dark under-eye circles, dark spots, and dullness on the face and body. It is a quick fix to get even-toned skin that could last for up to 16 hours.
Color correctors are available in green, orange, red, and yellow undertones to match your skin requirements.
They allow seamless application of your foundation and concealer that stays put for 16h with no-mess, no-fuss, and never turns cakey.
Color correcting is an art. So before you try it out for yourself, you need to know a little bit about color correcting formulae.
What Is The Most Important Thing To Consider When Color Correcting?
The most important thing you want to consider before using a color corrector is targeting the color you want to neutralize. If you try to cover discoloration with the wrong corrector, it may allow the corrector to show through your foundation and will have the opposite effect of what you're going for. In other words, you should consider your skin tone and concern before putting a green or orange cream all over your face, as it could make matters worse.
Different color-correcting shades serve different skin concerns. Let's have a look at what each color-correcting shade does!
What Does Each Color Correcting Shade Do?
Green – Green works well to cancel out redness. Green is your go-to color for these issues, whether you are stuck with an angry pimple, sunburn, rosacea, or intense redness on your face.
Purple – Purple works miraculously in canceling out yellowness. It reduces dullness and combats shallow undertones.
Pink – If you deal with dark spots and dullness, you need to use a pink color corrector as it efficiently cancels brown. It covers age spots and sunspots and is terrific for pale skin.
Yellow – Yellow cancels out purple and calms mild redness. If you have purple/blue under-eye circles, you can count on yellow to hide them with perfection.
Red – Red cancels green. If you have stubborn dark circles on dark skin or need to cover hollow under-eyes and tats, red is your color.
Orange/Peach – If you want to get rid of the blues on your skin, a peach color corrector is the one. It helps cover dark spots, bruised skin, and dark circles. It is excellent for medium to deep skin tones.
Here's a list of the 20 best color correctors to combat specific issues. Let's have a look at them!
20 Best Color Correctors
The NYX Professional Makeup Conceal. Correct. contour palette comes in 6 color-correcting shades that help you cover imperfections and accentuate your features in no time. The colors match your skin tone perfectly and provide buildable coverage. It has a lightweight and creamy texture that does not crease and offers an ultra-smooth finish on application. Now you can easily conceal redness, blue tones, bruising, dark circles, and yellowness on all skin tones and types. This video helps you know more about the product.
Pros
6 color-correcting shades
Lightweight
Buildable creamy formula
Cruelty-free
Cons
None

Price at the time of publication: $10.28
Woke up with dark circles? Try out the Maybelline New York Master Camo in the shade apricot before stepping out. It is ideal for light to medium skin tones. These color correcting pens are available in 6 different shades to neutralize the look of discoloration. It is suitable for various skin tones, and you can pick one according to your preference. They come along with a built-in applicator that allows precise application.
Pros
Offers full coverage
Built-in applicator
Cons
Price at the time of publication: $7.52
The Kokie Cosmetics Be Bright Color Corrector is creamy. It is quite effective in hiding imperfections, lightening dark circles, and evening out redness. The color corrector can also be used as a highlighter. The product provides medium to full coverage. It is easy to blend and long-lasting. The product comes in 12 different shades to address other skin issues.
Pros
Easy to blend
Lightweight
Provides medium to full coverage
Cons
Price at the time of publication: $9.45
The Hanskin Blemish Cover Apricot Concealer is a lightweight, non-creasing concealer that evens out skin tone and hides dark circles around the eyes. The concealer has an apricot hue, making it perfect for masking under-eye discoloration. The light, creamy consistency applies easily and evenly, and it fills up any imperfections on the skin. Because of its high moisturizing content and semi-matte finish, this product does not leave behind a greasy residue but rather leaves the skin feeling soft and supple. Use this concealer not just to cover up those pesky under-eye bags, but also to even out the color on your forehead, cheeks, and chin. To get a radiant look, mix with concealer in your natural skin tone.
Pros
Minimize Discoloration
Moisturizing Formula
Corrects Dark Circles
Moisturizing formula
High cover
High adhesion
Redness cover
Creamy formulation
Cons
None
Price at the time of publication: $12
The Licorice Color Corrector is a facial primer that effectively color corrects. The color corrector comes in 3 colors. The green formula reduces redness, the peach formula lightens dark circles and spots, and the lavender color eases puffiness. The color corrector also offers protection to the skin from harmful sun rays. In addition, the product is enriched with vitamins, minerals, and antioxidants. These ingredients nourish the skin and keep it healthier.
Pros
UV protection
Eases puffiness
Free from harmful chemicals
Hypoallergenic
Cons
Price at the time of publication: $12.98
The Dr. Jart+ Cicapair Tiger Grass Color Correcting Treatment is a green color corrector which helps to camouflage redness, inflammation, and blemishes. With broad-spectrum SPF 30, it also offers sun protection and combats external aggressors. In addition, the formula includes Centella Asiatica Complex that fights environmental stressors, herbs complex that makes the skin vibrant, and panthenol and minerals solution that supports the skin's moisture barrier. It is an all-in-one treatment that covers blemishes and neutralizes redness while restoring complexion.
Pros
SPF 30
Sulfate-free
Free from SLS and SLES
No artificial fragrances or colors
Oxybenzone-free
Mineral oil-free
Alcohol-free
Phthalate-free
Hydroquinone-free
DEA-free
No propylene glycol
Free from triclosan and triclocarban
Triethanolamine-free
Cons
Price at the time of publication: $30.9
The potent formula of the Pixi Correction Concentrate seamlessly blends into the skin and instantly erases darkness. This color corrector softens and blurs fine lines, and brightens up your skin. It is a highly pigmented color corrector infused with skin-benefiting ingredients such as rosehip, vitamin A, vitamin C, and vitamin E. It is the ultimate 'good night's sleep in a jar' that helps restore your youthful complexion.
Pros
Blends easily
Paraben-free
Cruelty-free
Good for melasma
Cons
None

Price at the time of publication: $21.95
The Lumene CC Color Correcting Cream is a uniquely formulated color corrector that is lightweight but provides full coverage. The product spreads evenly and does not settle within creases or fine lines. It also contains SPF 20, which protects from sun damage. It is infused with Nordic lingonberry that unifies the skin tone and Arctic spring water that offers hydration. The formula spreads out evenly, smoothing out any discolorations and redness for an instantly unified result. The product corrects uneven skin tone and helps neutralize redness.
Pros
Lightweight
Provides full coverage
SPF 20 for sun protection
Cons
Price at the time of publication: $17.99
The Bobbi Brown Corrector is designed to brighten the under-eye area. It also covers the most stubborn dark circles. It has a blendable and lightweight formula that instantly neutralizes discoloration. The corrector layers perfectly under the concealer. The corrector comes in 16 color-correcting pink- and peach-based shades that go well on all skin types.
Pros
Lightweight
Blendable
Suitable For all skin types
Paraben-free
Sulfate-free
Cons
None
Price at the time of publication: $29.5
The Vasanti Cosmetics Liquid Color Corrector instantly erases the appearance of dark circles. The color corrector works excellent for warm to medium skin tones. The product color corrects and re-balances dark spots. It is easy to use and effective. The product is highly pigmented and provides full coverage. It reduces the appearance of darkness, dullness, puffiness, and skin discoloration.
Pros
Easy to use
Lightweight
Highly pigmented
Provides full coverage
Vegan
Paraben-free
Gluten-free
Suitable for all skin types
Hydrates skin
Cons
None
Price at the time of publication: $27.0
The jane iredale Corrective Colors are formulated with mineral elements to nurture the skin as you wear makeup. The concealer contains natural components such as beeswax, cucumber extract, and green tea leaf that moisturize and calm the skin to promote a more even complexion. This palette features four shades that can be readily used to conceal any flaw. The color yellow covers redness, the color lilac neutralizes yellow tones, and the color peach hides blue or purple traces. This concealer palette also includes a neutral beige hue that can be applied on top of your foundation. These mineral-based formulations are lightweight and simple to mix, allowing for excellent coverage.
Pros
Natural ingredients
Safe to use
Easily blendable
Natural-looking coverage
Available in 4 shades
Cons
Price at the time of publication: $36
If undereye circles, uneven skin tone, and redness are a concern, try out the Correct & Perfect All-In-One Color Correcting Palette by Stila. This all-in-one color-correcting palette has both cream and powder formulas. The cream formula has peach, pink, yellow, orange, and green correctors that neutralize under-eye dark circles, hyperpigmentation, dark spots, veins, redness, freckles, and also helps to brighten up the under-eye area. The pressed powder formula has yellow that evens out the skin tone and lavender that can set the pink color-correcting cream or brighten sallow/yellow skin.
All the color-correcting shades offer buildable coverage and are formulated with nourishing ingredients like vitamins A, C, and E and Arclay Youth Revival Bioavailable Mineral Complex to help diminish pores' appearance fine lines, moisturize, and control excess oil. It also includes a user-friendly booklet filled with makeup artist-inspired tips to help you master color correcting techniques.
Pros
Lightweight
Offers buildable coverage
Long-wearing
Waterproof
Includes a user-friendly booklet
Cons
None
Price at the time of publication: $45.0
The Algenist Concentrated Color Correcting Drops are formulated to cover and correct any imperfections ideally. The product is formulated with ingredients like green microalgae, alguronic acid, and microalgae oil. These ingredients instantly correct and hide any imperfections. The product visibly neutralizes redness and gives a long-lasting glow. It offers an instant luminosity and youthful appearance to your face.
Pros
Paraben-free
No mineral oils
Non-comedogenic
Dermatologist-tested
Hypoallergenic
Cons
None
Price at the time of publication: $38.0
The Sephora Bright Future Color Corrector is a lightweight product that covers dark circles and dark spots. It does not set into fine lines or add any texture to the skin. The product is infused with pineapple extract that helps in brightening and improving the skin texture. It comes with a unique applicator that ensures only the right amount of product is released.
Pros
Lightweight
Buildable coverage
Improves skin texture
Easy to use
Long-lasting
Efficient applicator
Cons
None
Price at the time of publication: $24.85
The Charlotte Tilbury Magic Vanish is a color corrector that neutralizes and smoothens the under-eye area and face. It helps conceal pigmentation and brightens the skin. The color corrector has a buttery and feather-light formula. The product is formulated with flavonoids and carnauba wax that disguise the appearance of under-eye bags.
Pros
Cons
None
Price at the time of publication: $32
The Dermaflage Color Correcting Palette has tones that will perfectly match your skin. It can be used to cancel out any discoloration. The 5 different tones that come in this palette address different skin problems. The peach tone conceals dark circles, gray discoloration, and dark spots. The green hides any redness from acne marks and scars, while the purple corrects yellow tones and sun damage.
Pros
Lightweight
Ideal for all skin types
Smudge-proof
Paraben-free
Long-lasting
Non-greasy finish
Cons
Price at the time of publication: $26.4
The Ready To Wear Self Correcting Powder evens out imperfections. The powder is highly pigmented and hides issues like redness, brown spots, and blemishes. It has a lightweight texture and provides long-lasting, buildable coverage. without settling into fine lines or wrinkles.
Pros
Long-lasting
Lightweight texture
Buildable
Does not settle into fine lines or wrinkles
Cons
None
Price at the time of publication: $40.0
The Neutrogena Clear Coverage Color Correcting Concealer is a lightweight, buildable concealer that covers up blemishes on the face for a flawless look. It doesn't have any oil in it. This concealer has niacinamide and peach pigments to hide pores, reduce redness and dark patches, and even out the look of dark patches on medium to dark skin tones. This concealer is great for your everyday makeup routine because it lets skin breathe and can be built up. It can be used alone or with other cosmetics.
Pros
Oil-free
Fragrance-free
Paraben-free
Phthalate-free
Lightweight
Buildable-coverage
Blendable
Dermatologically tested
Suitable for all skin types
Cons
None
Price at the time of publication: $12.44
The Amazing Cosmetics Concealer is a cream concealer that gives complete coverage, lasts a long time, is water-resistant, and is designed to make any skin flaws or blemishes invisible. This concealer contains potent antioxidants and anti-inflammatory components, such as vitamin E and cucumber extract, that help to soothe irritated skin, lock in moisture, and reduce the visibility of dark circles and any other skin blemishes. The formula is ultra-concentrated, so you only need a little drop to obtain complete and faultless coverage.
Pros
Long-lasting
Cruelty-free
Paraben-free
Sulfate-free
Soy-free
Gluten-free
Water-resistant
Easy to use
Full coverage
Easily blendable
Cons
None
Price at the time of publication: $29
The Clinique Moisture Surge Hydrating Color Corrector moisturizes and conceals any discoloration effectively. It has a lightweight formula that corrects skin redness, dullness, and shallowness. The product also contains SPF to protect your skin from any sun damage. It works well with all skin tones and undertones. The product is easy-to-blend and can be removed easily with the help of a makeup remover.
Pros
Blendable
Lightweight
SPF protection
Oil-free
Suitable for all skin types
Suitable for men and women
Cons
None
Price at the time of publication: $34
This is the list of the 20 best color correctors that complement different skin tones. In the next section, you'll learn about the best way to use a color corrector. Read on!
How To Use A Color Corrector?
Apply a moisturizer of your choice evenly all over the face.
Prime your face with a primer that will give you a smooth canvas to work with.
Load a clean brush with a color corrector of your preferred shade. If you're working with a powder color corrector, dab off the excess and then apply on the areas you need to color-correct. Some liquid concealers come with a built-in brush applicator so that you can use those directly.
Use small, circular, and buffing motions to blend out the color corrector evenly.
Once all the blemishes and imperfections have been covered, you can go ahead with a foundation and a concealer for the perfect base.
If the spots are still visible, you can add another light layer of the color corrector.
Finish with a setting powder so that the makeup stays put for hours.
Professional makeup artist Lorrie Pearson says, "Using a color corrector is a great way to neutralize imperfections in your skin tone, like redness. A little product is all you need. On some clients, I mix a drop in their foundation and it does the trick. When using separately, apply to the area lightly, before using your foundation. However, if you are using a powder corrector, apply your foundation first."
Consider the following things before buying a color corrector for yourself:
How To Choose A Color Corrector
Color correctors help to neutralize discoloration. Complementary colors that are opposite to each other on the color wheel work best to conceal the blemishes. Spot treat extreme red areas like pimple patches with a green or a yellow color corrector to tone down mild redness or discoloration; use bright orange color for darker skin tones, especially if you have pigmentation or blue-toned under-eye dark circles; use a peach color corrector to cover dark circles; use lavender to neutralize yellow tones and sallow skin; and finally, a blue to cover orange hyperpigmentation and to balance out warm tones like sunspots.
Read the label thoroughly before buying a color corrector. Preferably choose the ones that are free from parabens, mineral oils, or other harmful chemicals. You'll also find hypoallergenic ones and products that are clinically tested. Some correctors offer SPF protection, and they are suitable for daily use. If you have oily skin, opt for an oil-free corrector.
Now you need to decide between a correcting stick, a liquid, and a powder formula. Picking the right formula matters just as much as finding the right color. It would help if you considered the texture of the area where you will be applying the product. For example, if you want to correct your under-eye, choose a cream or gel formula. It is easy to blend and is great for layering with concealer and powder. Liquid-based formulas are suitable for trouble areas on the rest of your face. Powders often tend to sit on top of the skin and look chalky, so you need to be careful while applying a powder-based color corrector. Sticks are much more convenient to use, and you can use it on the go.
The Bottom Line
Why Trust StyleCraze?
The author, Baishali Bhattacharya, is certified in makeup techniques. She understands the importance of using color correctors to hide pigmentation and uneven skin. Baishali has gone through thousands of online reviews to prepare this list of the best color correctors suitable for all skin types. The products included in the list provide the best coverage and ensure you get a flawless finish.
Frequently Asked Questions
Which color corrector is best for dark circles?
If you have fair to medium skin tone, use a yellow, peach, or pink color corrector. If your complexion is too fair, go for an orangey shade. Those with darker skin opt for a shade of orange (like apricot) to correct dark circles.
Do I apply a color corrector before or after foundation?
Apply a color corrector before applying a foundation and blend well.
Is the color corrector the same as the concealer?
The main difference between concealer and corrector is that concealers are the color of your skin, while correctors come in various colors like orange, peach, purple, and green.
Can I use color correctors without foundation?
Yes, color correctors can be used without foundation.
Can I use a corrector without a concealer?
While a concealer is a makeup staple a color corrector is an optional step in your makeup. But, it is necessary to cover your corrector with a concealer to get an even skin tone.
How long does it take for a color corrector to dry?
Around 30 seconds to a minute is enough time for color correctors to dry, given you use just the right amount.
How can I prevent a color corrector from blending in with the foundation?
Use a sponge to just dot and dab your foundation on the color correctors. Avoid using swiping motion on those areas to prevent the blending.
What can I use instead of a color corrector?
You can use a red lipstick as a color corrector to hide dark circles. You can also use a concealer. A peach lipstick helps conceal dark circles in fair skin tones, while a green lipstick can be used to hide the redness on cheeks.
Recommended Articles