15 Best Color Correctors For Flawless Skin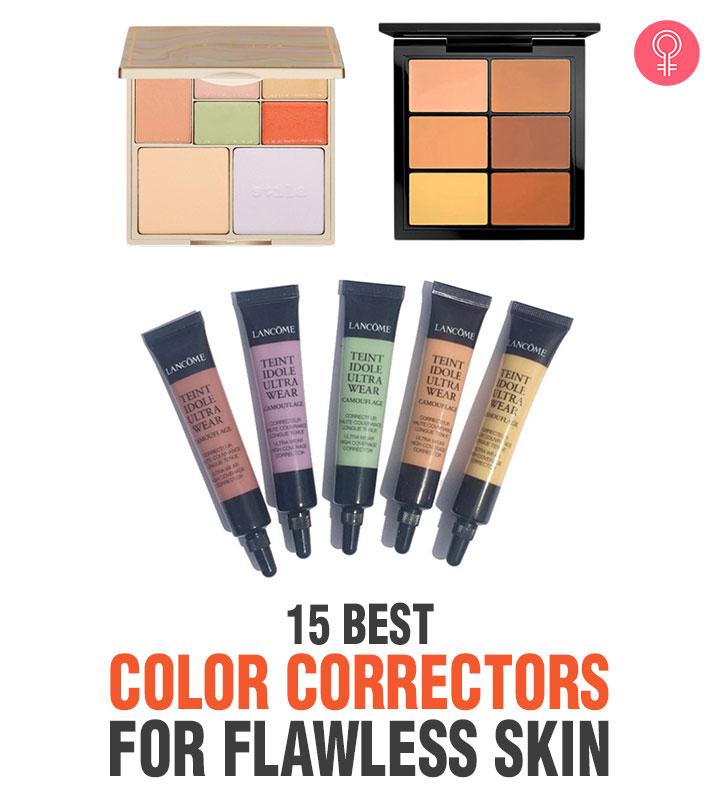 Color correction is one of the most popular makeup techniques today to combat skin concerns like redness, dark spots, and dullness. Back in the day, this method was something only makeup artists knew about and used. However, this "neutralizing" technique has gradually reached the masses through Instagram and YouTube tutorials. Major beauty brands are responding to this demand with peach, red, green, purple and yellow creams that promise to cancel out flaws so your skin can look its best. We've rounded up 15 of the best color correctors that will leave you with insanely even-looking skin.
Before we begin, here is a basic breakdown of different correctors you may want to use to counteract different skin concerns.
Color Correction 101: A Guide To Color Correcting
Green – Green works well to cancel out redness. Whether you're stuck with an angry pimple, sunburn, rosacea, or intense redness on your face, green is your go-to color for these issues.
Purple – Purple works miraculously in canceling out yellowness. It reduces dullness and combats sallow undertones.
Pink – If you are dealing with dark spots and dullness, you need to use a pink color corrector as it cancels brown efficiently. It covers age spots and sun spots and is terrific for pale skin.
Yellow – Yellow cancels out purple and calms mild redness. If you have purple/blue under eye circles, you can count on yellow to hide them with perfection.
Red – Red cancels green. If you have stubborn dark circles on dark skin or need to cover hollow under-eyes and tats, red is your color.
Orange/Peach – If you want to get rid of the blues on your skin, a peach color corrector helps to cover dark spots, bruised skin, and dark circles. It is great for medium to deep skin tones.
Now that you know which color corrector to use to combat specific issues, let's check out the 15 best color corrector products on the market right now!
15 Best Color Correctors For Every Skin Issue
Review
This all-in-one palette by Tarte Cosmetics is an ideal pick for beginners. You can use its six shades to combat discoloration and contour, balance, and brighten your skin tone. Simply tap the cream wherever you need it using a stiff brush and buff it out with a fluffy one until it blends into your skin. You can also pop out the magnetic pans and put in different shades to create your own custom mix.
Pros
Long-wearing
Lightweight
Easy to use
Versatile
Dermatologist-tested
Cons
None
Similar Products

Review
Play up your best features with the Urban Decay Naked Skin Color Correcting Fluids. These babies come in six different shades and will last you a long, long time. Their liquid formula is easy to use and blends like a dream – whether you use a little or a lot. Rich in antioxidants, vitamin C, and vitamin E, they also condition and protect your skin while correcting imperfections.
Pros
Lightweight
Easy to use
Blends well
Long-wearing
Value for money
Cons
None
Similar Products

Review
This stunning palette by Stila is bound to win your heart with the way it looks and works! It is comprised of five velvety-smooth cream correctors and two tinted setting powders. The lightweight creams offer buildable coverage, and the powders allow for customized coverage. Their rich formula contains vitamins A, C, and E and Arclay Youth Revival Mineral Complex that diminish the appearance of pores and fine lines.
Pros
Lightweight
Does not make your skin greasy
Long-wearing
Waterproof
Easy to use
Cons
None
Similar Products

Review
Makeup artists swear by this professional color correcting palette by MAC, and yes, it is one of the best out there! Each palette consists of four concealers and two corrector shades in a medium-deep color spectrum. Its formula is enriched with antioxidants and is suitable for all skin types. You can use the colors either individually or mix them to match your skin tone. It covers everything from blemishes to moles and birthmarks to tattoos! This palette comes in four different shade options: light, medium, medium-deep, and dark.
Pros
Long-wearing
Crease-proof
True to color
Dermatologist-tested
Non-acnegenic
Cons
None
Similar Products

Review
If your makeup routine is short and snappy, you will love these color correcting sticks by Cover FX. They are super convenient to use, and their pigmented color disappears into your skin with ease. You get two shades to match your skin concern and tone – green and yellow. Calm redness and skin irritation caused by acne and rosacea instantly.
Pros
Great to combat redness
Lightweight
Blends easily
Long-wearing
Travel-friendly
Cons
None
Similar Products

Review
Looking for an affordable option? The Bright Future Color Correctors by Sephora are A+ in every aspect. Their gel-serum formula has brightening properties and feels weightless when you apply it. Whether you're stuck with an intense red blotch or darkness under your eyes, these are your quickest fix. You can get them in six shades: green, purple, yellow, pink, peach, and melon.
Pros
Lightweight
Long-wearing
Paraben-free
Budget-friendly
Highly pigmented
Cons
None
Review
These full-coverage color correctors by Lancome camouflage imperfections brilliantly. Whether your concern is discoloration, redness, or sallowness, these creamy color correctors will take care of it all. Their formula is ultra-pigmented and a joy to blend. There are a total of five colors to choose from. If you love a good second-skin feel, this is what you need to get!
Pros
Long-wearing
Non-comedogenic
Suitable for all skin types
Blends seamlessly
Natural finish
Cons
Review
These adorable color correctors by Becca come in four shades: papaya, peach, violet, and pistachio. Their formula contains balancing hydrators and clay-based oil absorbers that give you the most flawless base that stays put all day long. Simply pat a little corrector onto the area you want to fix and layer your foundation and concealer on top for the complexion of your dreams.
Pros
Lightweight
Easy to use
Long-wearing
Concentrated color
Suitable for all skin types
Cons
Review
This cult-classic from NYX is one of the best drugstore color correcting palettes. It contains six creamy shades that can be mixed to create the ideal shade for you. Its formula is super-lightweight, glides on easily, and leaves your skin looking smooth, soft, and supple. If you're a beginner to color correction, this is one product you absolutely need to try!
Pros
Pigmented shades
Long-wearing
Lightweight
Suitable for all skin types
Affordable
Cons
None
Review
Your wake-up call for tired eyes is right here! This Bobbi Brown corrector works like magic to brighten and cover discoloration under your eyes. Depending on your skin tone, it uses either a pink- or peach-based formula. It comes in a vast range of 20 shades to choose from. Bid farewell to the darkest under-eye circles with this cult-classic formula!
Pros
Long-wearing
Easy to blend
Free of parabens
Infused with skin conditioners
Vegan
Cons
None
Review
Here's another option that's easy on the pocket – the L'Oreal Studio Secrets Color Correcting Primer. It comes in three variants: anti-redness, anti-dull skin (light), and anti-dull skin (medium/deep.) This formula glides on smoothly to correct and improve the appearance of your complexion instantly. A little goes a long way, and when you use it right, it will leave your skin looking fresh and smooth.
Pros
Lightweight
Long-wearing
Easy to use
Affordable
Suitable for all skin types
Cons
None
Review
This gorgeous color correcting powder by Physicians Formula is a versatile 3-in-1 product that acts as a corrector, primer, and powder. Its Japanese formula delivers a natural-looking finish that won't cake, crease, or settle into fine lines. If you are someone with sensitive and mature skin, this is a product you will love.
Pros
Long-wearing
Easy to use
Versatile
Hypoallergenic
Non-comedogenic
Cons
None
Review
Want an Insta-perfect canvas? This color correcting kit by Maybelline corrects, conceals, and highlights all in one palette. It is incredibly easy to use and a must-try for beginners! It works well on all skin types, and if affordability is a factor for you, this one does a good job at a very decent price.
Pros
Easy to use
Long-wearing
Blends easily
Value for money
Cons
None
Review
This corrector palette by Ulta features five creamy corrective shades that can be used to combat discoloration and redness or to brighten up your complexion. It is an excellent option for anyone who's starting out with color correction. You also get a full-size concealer brush free with this palette.
Pros
Full coverage
Lightweight
Easy to use
Free of parabens, fragrance, oils, and sulfates
Cons
None
Review
L.A Girl's Pro HD concealers are the bomb for many reasons! These tubes come in 10 color correcting shades: orange, yellow, green, lavender, peach, yellow, cool pink, mint, reddish, and flat white. Isn't that something? They are super creamy and pigmented and yet lightweight.
Pros
Crease-resistant
Long-wearing
Natural-looking coverage
Suitable for all skin types
Cons
None
Ladies, color correcting is probably the reason your skin looks better when a makeup artist does your makeup. If your end goal is to flaunt a flawless complexion, this technique is going to be your new favorite. It can seem a little tricky at first, but once you get the hang of it – it's actually easy-peasy! Are you excited to try out color correction? Let us know in the comments section below.