Best Colorbar Nail Polish Swatches
Colorbar U.S.A. is very popular brand in india. It has many makeup products which are loved by masses.. It offers a variety of nail polishes be it in colors, textures or finishes. The shelf time of the Colorbar nal polish is around 1-2 years and its very economical compared to the quality they provide. They stay pretty well on nails for a whole week if applied with good basecoat and top coat. I have around 13 nail polishes from this brand. And here I have you the swatches of the 10 best shades along with a concise review! Oh yeah, I haven't used any top coat in the images below. You get what you see!
Colorbar Nail Polish Shades
1. 03, Shy rose:
It's a very pretty pastel kind of red. Its bit sheer but color is buildable on the 2nd coat it self. I used 3 coats for the swatch.
2. 63, Flirty pink:
Though it's named flirty pink, it's a very pretty nude shade. It is quite sheer and needs 2-3 coats to become opaque.
3. 73 Exclusive:
This shade is from their exclusive range and it is quite similar to flirty pink above. The only different is it is more on the creame finish side and has a silver cap. I three coats for the swatch.
[Read:French Tip Nail Arts]
4. 20 Autumn Rose:
It's a very pretty coral rose shade. I personally recommend this shade as must have in your stash. It has full capacity to brighten up any dull day by just wearing it. I used two coats for the swatch.
5. 57 Berrylicious:
It is a very pretty shade. It's more of dark pink with metallic finish shade. This shade looks gorgeous on fair hands. I used two coats for the swatch.
6. 19 Exclusive:
It's a dark navy blue shade which is very much in this year. I recommend this shade as a must have. I used 2 coats for the swatch. Formula is quite good and creamy.
7. 05, Blue lagoon:
It's a very pretty bright blue shade. It is bit sheer and you will need 3-4 coats to build the color. I used 3 coats for the swatch.
8. 93, Moss Agate:
It's a good moss green shade. Needs only two coats to become opaque. It has creamy finish. I used two coats for the swatch.
9. 002, Disco gold:
It's gold glitter top. Looks very pretty on almost every color. I top it over Moss Agate shade. I used only single coat as it is packed with so much glitter that single swipe is enough.
Color bar has few beautiful neon shades and I own 3 of them that I am swatching here. They are:
a. 096,lime Margarita.(green neon)(on middle finger)
b. 099,Pina colada.(yellow neon) (on pointer and pinky finger)
c. 094, Pink lady (pink neon)(on ring finger)
I wore them over white polish to get maximum brightness. They are very beautiful shades and I personally recommend them to all neon lovers. I used 2 coats each for the swatches.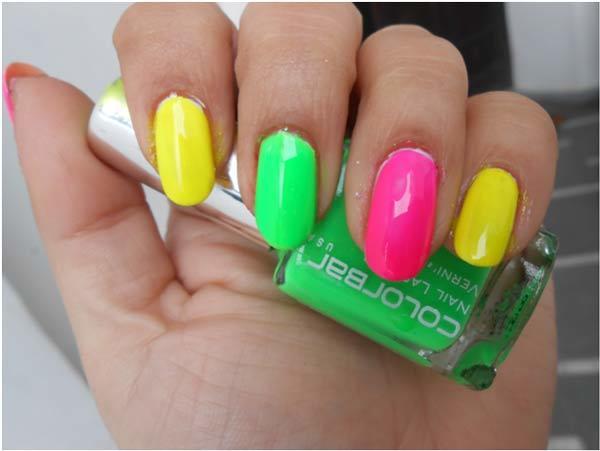 Colorbar also has crackle nail paints and I own.
[Read:7 Types Of Nail Arts]
10. 003, Foil blast:
It's a silver glitter crackle polish and I used it  over neon shades.
Hope you all like these Caolorbar nail polish swatches. Which colorbar shades you own? And if you don't which ones are you planning to buy?
Do share with us and also share your pictures too.

The following two tabs change content below.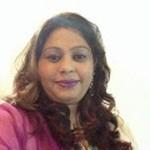 Latest posts by puja malhotra (see all)