15 Best Colored Mascaras Of 2023 To Make Your Eyelashes Pop!
Add some color and character to your eyes anywhere with these bright formulations.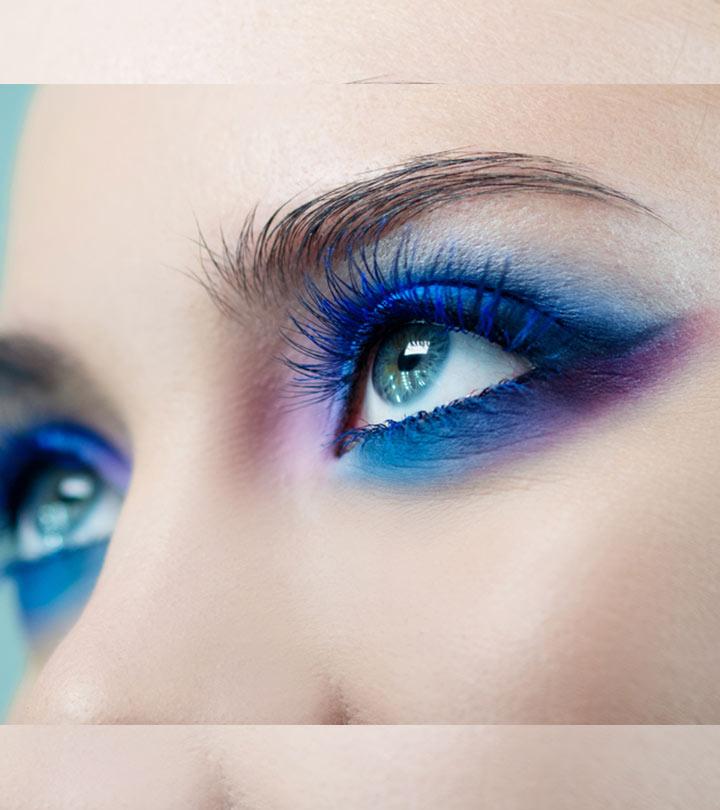 There is something about using the best-colored mascaras that can make your eyes stand out at all times. If you are a makeup enthusiast, you must have experimented with colored eyeliners and eye shadows, but now is the time to elevate to the level of mascaras. We are grateful to the person who thought of making a product that will make your eyelashes firm and long. Now that your batting eyelid looks perfect, it's time you add a little color magic to it. Black mascaras are perfect for regular wear, but no one wants to look just ordinary when it comes to a celebration, right? Opting for vibrant colors like green and burgundy can uplift your eyes instantly and help you upgrade your look instantly. Here are 15 mascaras with gorgeous colors crafted especially for your party needs.
Best Colored Mascaras For 2023!
Wine never looked this fine before! This deep burgundy voluminous mascara by Loreal Paris is bold, beautiful, and intoxicating with a chicer appeal. It sweeps on the lashes like butter while evenly coating every strand from the root to the tip. Plus, it guarantees to make your lashes look 5 times fuller, healthier, and gorgeous! Ideal for fans of the color or those who want to intensify their everyday look, the formula also contains panthenol and ceramide-R that nourish the lashes under the luxuriously smooth coat. Do you think you can handle it?
Pros
Ultra-conditioning and lightweight formula
Makes lashes softer and smoother
Waterproof and flake-free mascara
Volumizing bristled brush ensures longer and thicker lashes
Ideal for creating bold and dramatic eye makeup looks
Suitable for sensitive eyes and contact lens wearers
Cons
Price at the time of publication: $5.64
No rain, sweat, or tears can ruin your eye makeup if you have a coat of blinc's Tubing Mascara! Break free from the cliché black this season, and give green a chance to shine on your eyes. The only color that'll make others envy, and your lashes look gorgeously longer and fuller, the formula is unlike anything you've tried before. Forming tiny water-resistant tubes on the strands that stick on like a magnet, it guarantees to last all day long without smudging. A must-try for workaholics, gym enthusiasts, and those who dislike touchups, give this deep green a sweep to enhance your eye color.
Pros
Oil-free formula
Vegan and cruelty-free product
Adds volume and makes lash look longer
Clump-free, run-proof, and fade-proof mascara
It glides smoothly and wipes off easily with water.
Ideal for those with sensitive skin or eyes, and contact lens wearers.
Cons
Expensive
It takes longer to dry.
Price at the time of publication: $26.0
So royal, your eyes will steal the scene in a blink! Beauties, here's a mascara that'll transform your lashes with a starry and sensational tint of blue. Infused with a volume-building element, watch your eyelashes look fuller, longer, and every bit luxurious with every sweep. A great option to pair with all your evening and party OOTDs, you can also wear it during the day for a trendy look. The mascara glides smoothly, is easy-to-remove, and also guarantees to condition your lashes as it thickens. Still, want to stick to your classic old mascara? If you are still unsure, check out this honest review.
Pros
No-clump and no-glob formula
Hypoallergenic and waterproof
Delivers a full lash look instantly
Safe and suitable for contact lens wearers
Cons
Price at the time of publication: $5.49
This mascara packs a fruity punch — not kidding! With no toxic ingredients, fragrances, or colorants, 100% Pure Fruit Pigmented Mascara guarantees a deliciously fruity coat on your lashes. Formulated with blackberry and blueberry extracts (hence the color name!), it conditions the lashes while making them look longer and fuller instantly. And since there are no toxic petrochemicals involved, the color that you see is all-natural fruit, not coal tar! Interesting, right? Other than this, it guarantees to strengthen weak lashes and smells like blackberries too. Indulge, already! Click this video to learn more about the product.
Pros
Cruelty-free product
Promotes lash growth
Made of 100% pure ingredients
Smudge-proof, long-lasting, and non-irritating formula
Infused with wheat protein, oat protein, and B5 vitamin
Suitable to create intense and dramatic makeup looks
Cons
Pricey
It's not waterproof.
Price at the time of publication: $21
If you are going to ditch the black, let it be for this blue! Other than being a quick-drying formula that makes it a must-try for those who are always on the go, it is also a great mascara for blue eyes. Enhancing your lashes and making your eyes the star of your makeup, its volume-building brush with dense bristles also separates the lashes and coats them evenly and luxuriously. Promising a false eyelash look within a few sweeps, get ready to be hooked to this magic blue stick instantly.
Pros
Soft and smooth bright mascara
Adds intensity and drama
Easy to apply and remove
Clump-free, flake-free, and smudge-proof
Cons
Not recommended for sensitive eyes
It may feel slightly heavy on the lashes.
Price at the time of publication: $3.37
Go blue, the vegan way! For all those who are looking for an all-natural and colored mascara, this one might suit your lash needs. Formulated with enriching ingredients such as kelp extract, coconut oil, and vitamin B, it feels more like a spa than mascara on the lashes! And besides this, the dense bristles ensure to coat every strand with a thick layer, thus adding a stunning volume instantly. Want more? The vegan brush is designed to comb and separate the strands gently, so you don't have to worry about clumping! Try it.
Pros
Cruelty-free product
Natural mineral and water-resistant mascara
Long-lasting, nourishing, and conditioning formula
Makes lashes look longer and eyes look bigger
Free from parabens, mineral oil, petroleum, phthalates, silicone, and more
Cons
Subtle pigment
It may flake.
Price at the time of publication: $13.42
Is purple too bold for you? But what if we tell you that this tint without being undeniably extra will add an oomph factor to your eyes and vibe? Yep, get ready to step out of your comfort "black or brown mascara" zone and set trends with this purple hue. A great way to show your chicer side without being loud and sparkly, NYX color mascara offers an intense color payoff and can be used to create an ombre effect on the tips too. Use it alone or with your everyday mascara, it also claims to add a desirable volume on your lashes. Are you curious how gorgeous it will look? Give it a try!
Pros
Packed with intense pigments
Delivers an intense and trendy look
Adds length and coats every strand
Ideal for everyday or no makeup looks
Cons
Price at the time of publication: $13.99
Are you looking for a drugstore colored mascara? Then you must try Covergirl's Total Tease Mascara. Widely known for the brush plus comb combination bristles, it not only adds volume but separates them gently and ensures all the strands are coated evenly! Plus, it is richly-formulated with a polymer thickening complex that claims to define the natural curve of the lashes beautifully. And since it is a colored mascara, watch it tease and be flirty every time you flutter your eyelashes during the day!
Pros
Instantly adds 500% more volume
Clump-free, smudge-free, and lash amplifying lacquer
No-mess experience and waterproof
Ophthalmologist-tested and safe for contact lens wearers
Cons
Price at the time of publication: $7.9
Wow-worthy lashes, now in seconds! With Handaiyan Mascara in your makeup kit, you don't need a liner or eyeshadow to make your eyes pop instantly. Bold, bright, and insanely gorgeous, the blazing color will make your lashes stand out without looking extra or gaudy. If you have auburn tresses or hazel eyes, then you'll love the look this mascara will deliver! Also, the skinny brush with micro bristles is easy-to-use and ensures all strands are coated evenly. Ideal to brush both upper and bottom lashes, it can be used alone or with other colors to create a multi-colored look. Try it— we dare you!
Pros
Curls lashes smoothly and evenly
Lightweight and easy to remove
Makes lashes look longer and thicker
Quick-drying and long-lasting formula
Smudge-proof, water-proof, and sweat-proof
Suitable for professionals and beginners
Ideal for creating every day, party, festival and Halloween makeup looks
Cons
Price at the time of publication: $9.99
Go beyond the clichés and conventional colors, and sweep on this captivating blue mascara this season! Bold and mesmerizing at the same time, watch all eyes follow yours the moment you enter the room. A must-try color mascara for blue eyes or those who dare to risk and explore beauty trends, this mascara is also made of all-natural ingredients. And since the brand claims to make your eyes pop instantly, who needs accessories or intense eye makeup when you have this fascinating blue to flaunt and flutter. Try this bright colored mascara to witness the stunning glow up!
Pros
Subtly highlights the eyes
Clump-free and easy-to-apply formula
Ophthalmologist-tested and cruelty-free
Suitable for those who wear contact lenses
Cons
Expensive
It may flake after a few hours.
Price at the time of publication: $14.99
Staying true to its name, this gold tint will glorify your eyes with a spell-binding metallic sheen! And if you have blonde eyelashes, then bless your stars for this gold is all you need to make a show-stopping entry anywhere, anytime. The formula other than enhancing your golden or yellowish-golden lashes will add a "Look At Me" charm to your eyes that might trigger some wows and praises. And the best part is, this mascara is made of 100% natural ingredients, herbal extracts, and ground minerals. Vegan makeup lovers, explore!
Pros
Suitable for all skin tones
Intense metallic gold mascara
Long-lasting and hypoallergenic
Soy-free and cruelty-free product
Quick-drying, water-resistant, and non-irritating formula
It is safe for normal, dry, oily, and combination skin.
Cons
Price at the time of publication: $15.99
There is something alluring about lavender that makes it a likable color, so there is no reason why one shouldn't try it as a mascara! We mean, look how soft, pure, and pretty the color is, we bet it'll set trends as a summer and spring mascara color too. So, if you are looking for new and unconventional mascara colors to explore, you might as well try Qibest Volumizing Mascara. With its unique fiber bristles, you can not only add volume but also curl and define the shape of your lashes effortlessly. Worth a try, isn't it?
Pros
Suitable for all skin types
Makes lashes look longer
Flexible and lightweight formula
Quick-drying and waterproof
Long-lasting and non-irritating
Ideal for daily wear, makeup schools, Halloween, cosplays, models, etc
Cons
Price at the time of publication: $17.68
If you think green mascara is better off for Halloween, then you haven't tried the right tint yet! Like this one, for instance, infused with shimmer will add a stunning glow to your eyes. More like sweeping on magic dust than mascara, it leaves a subtle tint that'll make anyone fall in love with your eye makeup instantly. And if that wasn't enough, this mascara is also 100% chemical-free! Formulated with all-natural ingredients, the bristles ensure all the lashes are combed and coated evenly. Give it a sweep, this season!
Pros
Delivers a silky-smooth finish
Vegan and cruelty-free product
Infused with natural and earth minerals
Weightless, fragrance-free, and clump-free
Free from paraben, preservatives, alcohol, gluten, soy, etc.
Cons
Expensive
It may flake.
You may have to touchup after a few hours.
Price at the time of publication: $27.99
With this mascara and its oversized bristled brush, expect colossal lashes only! Get ready to be wowed by your own eyes as this volumizing mascara guarantees to make your lashes look double the natural size. Are you dealing with thin or weak lashes lately? Then look no further, for this plum-colored formula will not only thicken your lashes visibly but also add intensity and drama to your gorgeous eyes. Promising a stunning plum color that you can explore during the day or while on a getaway, grab your Chubby Lash Fattening Mascara by Clinique today.
Pros
Luxurious and smooth formula
Delivers a bold and rich layer
Fragrance-free, allergy-tested, and ophthalmologist-tested
Ideal plum colored mascara for brown eyes, dark brown eyes and light brown eyes
Cons
Lastly, this volumizing colored mascara for sensitive eyes! And this is no ordinary formula, Almay Intense i-Color Mascara is infused with eye-brightening and enhancing crystals to give your lashes a multi-dimensional look. Besides this, the brush is designed to boost volume and coat every lash with a thick layer evenly. Just the gem you need to make your eyes shine within seconds! Try this gorgeous color, which is ophthalmologist-tested and won't irritate your eyes all day too. Learn more about the product in this video.
Pros
Dermatologist-tested and hypoallergenic
Long-lasting, flake-free, and clump-free
Lashes look 2 times thicker and defined
Suitable for contact lens wearers
It will make eyes pop instantly with glitter.
Cons
Curious to try them all, aren't you? There you go, those were the 15 best-colored mascaras of 2023 that you must not miss. Do you need more assistance with buying the best-colored mascara? Read the buying guide below.
Buying Guide – Best colored Mascara
How To Choose The Best Colored Mascara For Your Eyes?
Though choosing a colored mascara is a gutsy thing in itself, we bet you won't be disappointed if you choose the right formula and color for your eyes. Look out for these features:
Pigment: Since it's a colored mascara, the pigment is indispensable. Available in subtle to highly pigmented options, choose a mascara that will not only enhance your iris color but also suit the skin tone and type.
Volumizing: Volume is a mascara thing. Whether you are choosing a regular or colored mascara, it must deliver volume to make your lashes look fuller and healthier. So, if you want your eyes to look bigger and noticeable, then choose a mascara that guarantees a volumizing effect.
Stay Power: It goes without saying that mascara should last long. Also, it should be waterproof, unless you don't mind showing up with smeared makeup! Ideally, a long-lasting and waterproof colored mascara is the best combination to have in your collection.
Bristled Brush: Choosing the right bristled brush matters too. In fact, it is the brush that helps you get the right mascara look. So, choose one that along with adding volume and length, also combs, separates, and coats every strand from the root to the tip.
Ease To Remove: A colored mascara should be easy to apply and remove as well. Given how delicate the skin is around that area, you wouldn't like to tug or use harsh mascara removers on the lashes. So, before choosing a colored mascara, check if the formula is hassle-free and easy-to-remove.
How To Wear Colored Mascara?
There are three ways to do it. You can either wear it alone, with primer to intensify the pigment or as a top coat over black mascara. Ideally, experts suggest that you pair colored mascara with an eyeshadow or eyeliner of the same color for a powerful effect. However, if you want to keep it subtle, then sweep on your lashes just like your regular mascara— going from roots to tips. Here are some simple steps for beginners:
Before you apply mascara, comb the lashes.
Next, apply mascara by gently combing and coating the color on the lash from root to tip.
Do not wait for the first coat to dry before applying the second coat.
Make sure every strand is layered with a coat.
Also, wait for the mascara to dry before you proceed to other eye makeup steps.
Why Trust StyleCraze?
Chaitra Krishnan, the author, is a makeup and fashion enthusiast who enjoys reviewing beauty products for her readers. She had read several customer reviews and researched the colored mascaras to narrow down a list of the best options available on the market. Her recommended products are lightweight, long-lasting, smudge-proof, and waterproof. These high-quality colored mascaras will help you create dramatic eyes in a matter of seconds.
Frequently Asked Questions
Are Colored Mascaras Good?
Absolutely! Colored Mascaras help enhance the color of your iris and make your lashes pop thus making your eyes look all the more stunning. So yes, they are definitely good.
Are Colored Mascaras Tacky?
No, if you choose the right color and formula! Colored mascaras are definitely gutsy but not tacky at all. On choosing the right pigment and formula, anyone can nail the perfect colored mascara look.
Which Is The Best Colored Mascara For Green Eyes?
NYX Professional Makeup Color Mascara (Purple), Clinique Chubby Lash Fattening Mascara (Portly Plum), and GL-Turelifes Handaiyan Mascara (Crimson) are some of the best-colored mascaras for green eyes.
How do you use colorful mascara?
Layer your colored mascara over a black one to add depth to your eyes. As colored mascaras are flattering, choose the right color that suits your skin tone.
Does colored mascara work on dark lashes?
If you have dark-toned eyelashes then it might be hard for your colored mascara to pop out. To make the colors look more prominent, coat your lashes with a white eyelash primer.
How do you get colored mascara to show up?
To show up colored mascara use a complimentary colored background. Try blue mascara on orange-tone eyeshadow, green mascara on pinkish red-toned eyeshadow and finally for a purple mascara, try a yellow-tone eye shadow.
How can I make my colored mascara brighter?
Use light colored eyeshadows to make the colored mascara look more brighter.
Can eyelashes be different colors?
Eyelashes are similar to scalp and body hair. The color of the eyelashes is also dependent on the body melanin-content.
Recommended Articles