8 Best Colourpop Makeup Products That Are Totally Worth It – 2023
Get ready for a glam look that lasts all day by using the right makeup essentials.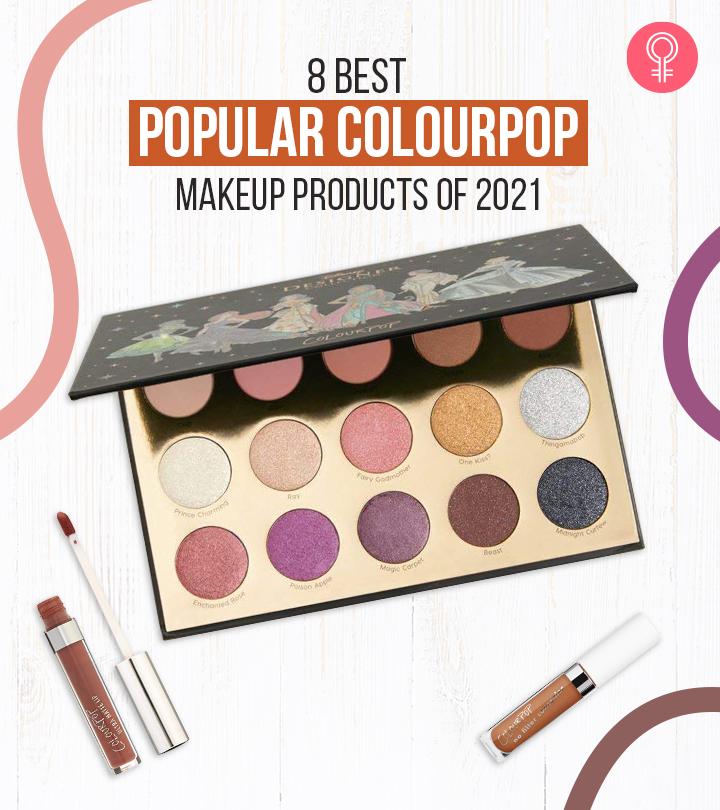 ColourPop is a beloved makeup brand among makeup enthusiasts. With so many of their makeup varieties available, it might get overwhelming to figure out which is the one for you. We have got the best ColourPop cosmetics for you. Ranging from peppy lipstick colors, well-pigmented eyeshadow palettes, shimmer-filled highlighters, ColourPop has got it all for you.
Keep scrolling to find the 8 best ColourPop makeup products that are also celebrity favorites listed in store for you. They are totally worth it!
8 Best Popular Colourpop Makeup Products Of 2023
The ColourPop No Filter Concealer has a lightweight, blendable formula that seamlessly covers your dark circles, discoloration, and redness in one swipe. It is enriched with marine extracts to protect and hydrate your delicate under-eye area. Its soft blurring pigment technology offers a crease-proof, natural, and flawless coverage. Select one or two shades lighter concealer than your skin tone to cover blemishes completely. Use a sponge or brush for even application to achieve the best results. Don't forget to set the concealer with a pressed powder and enjoy a long-lasting effect.
Pros
 Blends easily
 Vegan
 Affordable
 Natural finish
 Cruelty-free
 Easy to apply
 Full coverage
 Suitable for daily wear
Cons
Price at the time of publication: $12.91
Add the ColourPop Disney Midnight Masquerade into your makeup collection and pamper your inner Disney princess. This magical eye shadow palette contains 15 vibrant shades in sparkling pressed glitters, buttery mattes, and lux metallics. These are inspired by your beloved Disney characters and are perfect for all occasions – be it royal balls, prom parties, night outs, or Mardi Gras. You can easily create a gorgeous look with its buttery formula. This eye-shadow palette is pigmented and can be used either wet or dry. In addition, it is not harsh on the skin and is suitable for daily use. You can mix the colors to customize your shade.
Pros
 Easy to use
 Highly pigmented
 Ideal for both teens and adults
 Full coverage
 Cruelty-free
Cons
None
Price at the time of publication: $32.97
Try the ColorPop Disney Designer Collection to create your own style statement. These romantic shadows accentuate your look and make you photo-ready. This Disney princess-inspired palette flaunts 15 shades that include metallic, bright corals, warm brown, dusty salmon, pinky violet, and coppery gold. These shadows are powdery and can be easily blended into any makeup look seamlessly. They have a matte finish, making your eyes look sultry and glamorous.
Pros
 Highly pigmented
 Ultra-velvety
 Cruelty-free
 Full coverage
 Paraben-free
 Long-lasting
Cons
None
Price at the time of publication: $20.24
Amp up your look with the ColourPop Ultra Matte Lip that offers a subtle rosy-brown touch. It makes your lips look smooth and soft without causing cracks. The product has a liquid formula that smoothly glides on your lips leaving super intense pigment with a bold, ultra-matte look. One swipe of this lipstick offers you a rich color pay-off that dries quickly, leaving your lips soft and comfortable. It is infused with skin-loving ingredients and can be applied daily without any side effects.
Pros
 Transfer-proof
 Lightweight
 Highly-pigmented
 Long-lasting
 Full coverage
 No-caking
Cons
Price at the time of publication: $13.5
The dreamy texture of ColourPop Super Shock Cheek Highlighter makes it worth giving a try. It is extremely buildable and blends smoothly for a creamy smooth feel and an air brushed effect. You can also apply more layers to achieve a bolder look. Use a fluffy angled highlighter brush for light dusting or use your fingers for a sheer pigmented look. Try pairing this creamy texture with a light-reflecting highlighter for better results.
Pros
 Long-lasting
 Highly pigmented
 Blends smoothly
 High coverage
 Suitable for daily wear
 Versatile
Cons
Price at the time of publication: $14.5
The ColourPop Creme Gel Liner offers a bold and defined look in just one stroke. Its creamy and highly pigmented formula glides on smoothly for a gorgeous and rich look. The liner is infused with superior-quality ingredients suitable for long-lasting wear. It looks flattering on green and blue-eyed persons and adds a touch of sparkle to your overall appearance. Apply it on upper and lower lids to get a refined and crease-proof look.
Pros
 Easy to use
 Long-lasting
 Buildable coverage
 Affordable
 Blends smoothly
Cons
Price at the time of publication: $9.89
The ColourPop Brow Boss Pencil adds a sophisticated and classy vibe to your eye-makeup. It can easily transform even sparse brows into perfectly defined arches that look natural and elegant. The soft tip of this pencil gives a blendable color pay-off that lasts for the whole day. This brow pencil is a perfect option for anyone looking to upgrade their brow game.
Pros
 Buildable
 Easy to use
 Glides easily
Cons
Price at the time of publication: $13.99
The ColourPop Lippie Stix is a lusciously creamy primer and feels weightless on your lips. It gives a velvety touch to your lips and creates a satin-like finish. It protects the lipstick from drying and adds an additional glossy layer to moisturize the lips. This primer instantly enhances the staying power of your lipstick. It creates a perfect neutral base that makes any lipstick color look vibrant. You can easily pair it up with both glossy and matte lipsticks. The primer is enriched with natural ingredients like vitamin E, avocado, and shea butter, filling in the lines and making your lips smooth and soft.
Pros
 Fragrance-free
 Blends easily
 Affordable
Cons
Price at the time of publication: $9.99
olourPop is a highly reputed and trusted brand in the world of cosmetics. Their products are affordable, versatile, and high in quality. Here are a few points to remember before buying the best Colourpop makeup products that give satisfying results.
Things to Consider Before Buying Best ColourPop Makeup Products That Are Totally Worth It
The best ColourPop makeup products must apply and blend well on the skin for a natural glow. They should not look greasy or cakey. The concealer, highlighter, or lip matte must not be patchy or make your skin look dull. The creams and primers should absorb quickly to stay effective for a long time. Finally, they should be easy to use.
Go for the colourpop lips and face products that improve skin health. The eyeliner and highlighter should not irritate the skin or sting the eyes. The lip products and eye pencils must have a soft tip to glide effortlessly to ensure fine and smudge-free makeup. The skincare products should be highly pigmented, long-lasting, and suitable for daily use. They should not cause skin allergies, rashes, or breakouts.
Ensure that all your colourpop cosmetic products are loaded with rich natural additives. Incorporate products with ingredients like vitamin E, shea butter, and avocado extract to brighten the skin and make it look dewy. Look for products infused In addition, theh sunflower oil, aloe vera, beeswax, and mango butter to keep the skin hydrated and increase its radiance.
Choose the colourpop skin and lip-care products that don't contain chemical ingredients paraffin, paraben, phthalate, and silicone. Look for products from this must-have makeup brand that are affordable, travel-friendly, or have sturdy packaging. Look for non-comedogenic products. They must not clog the pores and decrease skin breathability. This will keep your skin healthy and avoid acne, blackheads, and pimples.
Why Trust StyleCraze?
Baishali Bhattacharya is certified in makeup artistry and passionate about finding and sharing the best makeup products. She applied her expertise and conducted thorough research to shortlist the best ColourPop makeup products available on the market. This curated list contains the best cosmetics from the popular brand, and including them in your makeup bag can take your makeup game to the next level!
Frequently Asked Questions
Why is Colourpop so popular?
Colourpop is a drugstore brand that offers high-quality products. The brand is cruelty-free and devoid of harsh ingredients. Therefore, it is highly popular among makeup lovers.
Is Colourpop for mature skin?
Yes. Colourpop offers makeup products keeping in mind different skin concerns. For example, the ColourPop No Filter Concealer provides flawless coverage to uneven spots without settling in your fine lines, making it suitable for mature skin.
Is Colourpop foundation oil-free?
Yes. Colourpop foundations like the Pretty Fresh foundation are oil-free.
Is Colourpop a high-end brand?
No. Colourpop is a drugstore makeup brand.
How long does Colourpop makeup last?
The shelf life of Colourpop makeup is between two to three years. Always check the label before using a Colourpop makeup product.
Does Colourpop have parabens?
Yes. Colourpop makeup products have parabens.
Is there talc in Colourpop makeup?
Yes. Colourpop contains talc.
Recommended Articles