15 Best Combat Boots For Women You Must Have In Your Shoe Wardrobe
Make your feet and ankle warm with stylish yet comfortable footwear.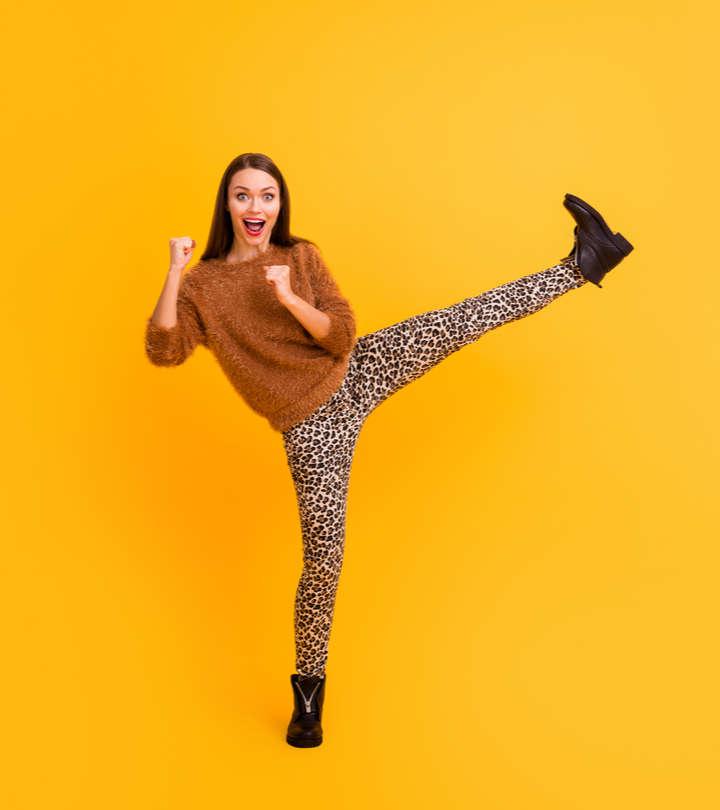 Ladies! If you think your winterwear look is complete with trendy knits, beanies, and soft gloves, you haven't come across the best combat boots for women yet. Combat boots are the best example of style meets comfort. These boots fit snugly due to their fashionable laces, zippers, and classy buckles while ensuring no restriction in your movement. So while combat shoes are an all-year-round thing, they make their way to your winter wardrobe without fail.
Combat shoes are loved for their ease of styling, comfort, and versatility. Suppose you are a minimalist; you can pick sleek combat boots to amp up your winter fashion game. Or, if you like the drama, a combat shoe with a stylish print, peppy color, and multiple add-ons does the trick. These versatile boots are easy to pair up with anything for any season without looking like a fashion faux pas. You can wear them while doing some light walking or running an errand or even to an outdoor party. So, without building more suspense, let's take you through the 15 best combat boots below!
Strut Confidently With The 15 Best Combat Boots For Women In 2023
Dream Pairs brings to you a pair of fashionable combat boots for women that are notoriously stylish. The soft faux fur lining does the job of keeping your feet warm in the chilly months. The round-toe design leaves enough room for your feet and the TPR outsole allows you to move freely. If the sizing feels a little off, just lace up to adjust these military-style women's combat boots. While the padded faux fur insole gives your foot comfort, the full-length side zipper detail is a practical blessing. There's also a built-in pocket for you to stash some valuables, so what's not to love?
Pros
 Soft faux fur lining
 Zipper closure
 Laces for adjustable size
 TPR outsole for easy movement
 Rounded insole for toe room
 Comfortable
Cons
 Some may find the lack of arch support to be uncomfortable
Price at the time of publication: $55.99
When you're running around town, throw on these women's black combat boots for some added flair. Available in 11 colors, this pair is constructed with 100% vegan suede, making it a great eco-friendly option. The trendy detailing pairs well with fall or winter outfits, almost making it a wardrobe staple. This lace-up boot gives a good fit and the inner zipper allows for convenience. The low heel lends a sleek look and can help balance out an oversized outfit.
Pros
 Available in 11 colors
 Made with eco-friendly fabric
 Lace detailing
 Side zipper
 Low heel
 Soft and comfortable
Cons
 Some may find the shoelaces to be stiff
Price at the time of publication: $33
These women's black lace-up combat boots are the perfect representation of style-meets-comfort. Made with 100% synthetic leather-like material, they are soft and feature a 5 mm latex and memory foam padding on the inside to cradle your feet. You can easily slip them on or take them off, thanks to the zipper on the side, while the lace completes the entire look. Also available in brown, this non-slip pair is what you need for your next rock concert.
Pros
 Soft synthetic material
 Easy to wear and take off
 Zipper on the side
 Comfortable and no-slip traction
 Can be dressed up or down
Cons
 The soles might wear out over time
Price at the time of publication: $38.5
Soda's sleek women's winter combat boots will pair well with your favorite skinny jeans. Made with 100% synthetic material, this soft boot is the perfect footwear to complete your grunge avatar owing to the platform and the chunky heel. Lace up for the right fit and with the full-length zipper on the side, we assure you these boots won't come sliding off like others. Available in 4 colors, Soda's got the best women's combat boots that add a few inches to your height.
Pros
 Available in 4 colors
 Full-length side zipper
 Chunky heel
 Made with 100% synthetic material
 Easy to wear and remove
Cons
 Might not have enough cushioning
Price at the time of publication: $19.41
A trendy addition to your shoe collection, these cute combat boots for women are a must-have! Not only are they made with waterproof synthetic leather, but the stitched seam detailing is easy on the eyes. Lined with a soft breathable fabric along with a padded insole, your feet will stay comfortable with all the cushioning. As the rubber outsole is textured, maintaining a firm grip on uneven or slippery floors is a cakewalk. Style this pair of women's leather combat boots for your afternoon classes and watch them instantly complete your look.
Pros
 Waterproof
 Made with synthetic leather
 Stitched seam detailing
 Padded insole for cushioning
 Textured rubber outsole for firm grip
 Abrasion-resistant rubber sole
Cons
 Might not keep the feet warm
Price at the time of publication: $36.99
Get ready to step up your shoe game with these CUSHIONAIRE Didi Lace-up Boots! These boots come with a soft and smooth vegan leather upper. They feature a side zipper and back pull tab that makes them easy to put on and off. They also have a soft fabric lining and memory foam insoles for ultimate comfort. The shaft is 5.5 inches and the heel is 1.5 inches; these boots offer just the right amount of lift without sacrificing comfort. And most importantly, they're perfect for pairing with jeans, and dresses.
Pros
Vegan leather
Side zipper
Soft memory foam insoles
Long-lasting lug outsole
Cons
None
Price at the time of publication: $39.99
Steve Madden's designer combat boots for women are constructed with 100% genuine leather. With a frontal lace closure coupled with a full-length side zip, adjusting the shoe to your size is super convenient. The inside of the boot features a soft leather lining and the footbed is padded for optimum comfort. With a stacked heel that makes the boot look neat, the rubber traction outsole works to help you maintain your stability.
Pros
 Available in 4 colors
 Made with real leather
 Padded footbed
 Full-length size zipper
 Lace enclosure
 Stacked heel
Cons
 Might not offer enough toe room
Price at the time of publication: $74.29
Vepose brings to you a women's brown combat boots because sometimes you need a break from the all-black look. It reaches the mid-calf area to offer you the best of both worlds — a lace and zipper closure! The inner lining is soft and breathable while the bottom is covered with a latex padding. As the non-slip TPR rubber sole gives you a good grip, you can strut on uneven surfaces with ease. On the side, a zipper pocket allows you to stash cards, cash, or other belongings so you can go hands-free. Talk about multifunctional footwear!
Pros
 Non-slip TPR rubber sole
 Soft and breathable inner lining
 Lace and zipper closure
 Side wallet pocket
 Latex padding on footbed
 Rounded toe
Cons
 The outer coating might flake off
Price at the time of publication: $52.99
On the lookout for a pair of boots that's as comfortable as it is tough? Well, Dr. Martens won't disappoint you with their white combat shoes for women. They are made with a combination of strong polyester and Ajax leather for durability and year-round support. The rugged boot adds a quirky sophistication to any outerwear and the 6-tie boots go well with any street-style ensemble. While the soft textile inner lining is kind to your feet, the PVC rubber soles help you keep your composure.
Pros
 Soft inner lining
 Sturdy and durable
 Anti-slip rubber soles
 Adds a sophisticated look
Cons
 Might be too wide for some
Price at the time of publication: $69.98
The Giovanny is a pair of women's stylish combat boots owing to the gore detailing on the sides. With a cap-toe design, this boot remains a timeless classic that can be dressed up or down depending on your mood. Faux leather covers the outside whereas a synthetic inner lining hugs your foot and ankles. The footbed is slightly padded and the rubber outsole gives great traction. For a good fit, the shoe's closure features a side zipper and laces with metal eyelets.
Pros
 Cap-toe design
 Can be dressed up or down
 Soft inner lining
 Padded footbed
 Rubber outsole for traction
 Zipper and lace closure
Cons
 Some may find the shoes to be stiff
Price at the time of publication: $69.3
Available in 9 gorgeous colors, Frye's Veronica Combat Boot is made with 100% soft, vintage leather. The leather insoles are well-cushioned and shock-absorbing to support your foot with no extra effort. With a pull tab on the back, slipping into and out of this pair of short combat boots for women is easy as pie. The black laces add a classy detail while the stacked heel will lend some flair to your walk.
Pros
 Pull tab on the back
 Easy to wear and remove
 Made with soft vintage leather
 Cushioned and shock-absorbing leather insoles
 Supports feet
 Stacked heel
Cons
 Might be too narrow at the toe area
Price at the time of publication: $278
Sometimes, all you need is an extravagant shoe like the Spiky Combat Ankle Boots by Cape Robbin. Its faux snake-skin material is decorated with spikes and studs for the ultimate girl-next-door look. These comfortable ankle booties have a 2-inch heel that isn't only comfortable, but it will work wonders for your confidence! The round-toe design gives your feet enough room to breathe and this pair is super easy to wear and take off after a long day.
Pros
 Easy to wear and remove
 2-inch chunky heel
 Round-toe design
 Faux snake-skin material
 Comfortable
Cons
 Some may not like the lack of adjustable closure
Price at the time of publication: $61.27
The Liffs by White Mountain is the perfect combination of comfort and style. The synthetic sole ensures durability and provides excellent traction, making it perfect for any outdoor adventure. With a shaft that measures approximately 5.5″ from the arch, this bootie offers the perfect amount of ankle support while still allowing for flexibility and movement. The lightweight design allows you to wear them all day without feeling weighed down. The sweater ankle trim and fleece fold-down lining not only add a stylish touch but also keep your feet warm and cozy in colder weather.
Pros
Lightweight
Cushioned insole
Easy to clean
Anti-slip rubber sole
Easy to wear and remove
Cons
None
Price at the time of publication: $32.07
ICHIGO's hardcore black combat boots are made of 100% lightweight synthetic polyurethane that is easy to clean. As the lace flows through metal eyelets, a contrast is created with a white stitching design at the bottom for a clean look. Made with TPR rubber sole, the bottom of the shoe is both anti-slip and wear-resistant. Put them on or take them off easily with the side zipper and the lace comes in handy to help different foot sizes adjust.
Pros
 Adjustable for all foot sizes
 Made of lightweight synthetic material
 Easy to clean
 Anti-slip rubber sole
 Easy to wear and remove
 Clean look
Cons
 Might make a squeaking sound
Price at the time of publication: $42.99
Available in 3 classic colors, Hawkwell's pair of women's combat boots are an effortless addition to your wardrobe. Just zip them up, lace them up, and you're ready to go! The zipper on the side along with the functional lace allows you to slip your foot in and out easily. With the faux leather on the outside and softly cushioned insole, you can bask in all-day comfort. The chunky lugged rubber sole is anti-skid for safety and traction, giving all our sports enthusiasts a fashionable upgrade.
Pros
 Waterproof
 Easy to clean
 Soft cushioned insole
 Made with faux leather
 Anti-skid rubber outsole
 Safe and durable
Cons
 Some may find the shoe to be slightly stiff
Price at the time of publication: $49.99
Now that we've gone over the best combat boots on the market, let's take a look at how you can choose the best pair for yourself.
How To Choose The Best Pair Of Combat Boots
A good-fitting classic combat boot design should feel snug on your whole foot with the exception of the heel. Initially, your heel might slip a little, which usually disappears once the shoes have been broken into. Your toes should also have a little room to move around and flex otherwise the blood flow might be cut off. For a comfortable fit, ensure that the widest part of your foot sits right on top of the widest part of the shoe. If you're shopping for shoes online, measure the dimensions of your feet with a tape and match them with those of the size charts that official websites of brands offer. If you're going to be picking out combat boots in-person, it would be ideal to shop during the day as our feet swell as the day progresses. Knee-high boots will also need measurements of your knees, thighs, and calves to allow ease of movement.
Combat boots are often made of synthetic or faux leather, which is also known as vegan leather. This material doesn't use any animal skin and is made with plastic-based elements like PU or PVC. The downside of this is that some hazardous toxins might be produced while making or disposing of these plastics. Additionally, they don't fully biodegrade and have a harmful impact on the environment. If you're looking for an eco-friendly option, try vegan leathers made with pineapple leaves, cork, or kelp.
Ensure to also check the inner lining of your combat boots. Soft and synthetic lining that is also breathable is ideal as your feet can remain comfortable.
Your combat boots need to have a superior grip, so as to remain stable on slippery, wet, or uneven surfaces. Check the outsole and ensure that it is made of high quality rubber and is anti-slip to provide excellent traction and safety on every kind of terrain.
Apart from the basics, you can check for features such as whether the most comfortable women's combat boots are waterproof and easy to clean. This would also speak volumes about the durability of the product, as you may be able to wear them in the rain or snow for longer periods of time. Check if all the zippers are functioning properly, along with wallet pocket zippers. The shoelaces on some shoes are added for aesthetic value so if you like an adjustable pair you might want to find boots with functional laces. If you fancy a heel, you could opt for something that has a comfortable enough platform in the front for some support. Details like buckles, straps, studs, and spikes are extras and will definitely help you stand out of the crowd if you so prefer.
No matter what type of combat boot you pick out, you must be totally comfortable in it. Go on a test walk in the store and steer clear of any pairs that pinch your toes or skin elsewhere. As footwear should allow ease and freedom of movement with some added style, settle for nothing less.
After you've bagged a stylish pair of combat boots, let's learn how you can pair them to take your style game from 1 to 100!
What Can You Pair With Combat Boots?
 For a feminine look, you can wear a neutral dress shirt coupled with a darker skirt and top the look off with your boots. Throw in a bright colored accessory for a pop of color, and you're all set.
 For something a little rugged but not lacking in style, opt for a plaid shirt or a funky t-shirt with your favorite pair of jeans. You can keep your hair loose for a casual twist on the combat boot look.
 As fall goes really well with block-heeled boots, you can pair a wide-sleeve sweater with some studded ones. The simplicity of the jumper will allow the boots to be a sparkling statement piece.
 Layer a beige or white blouse with a vibrant yet cozy trench coat for the ultimate winter ensemble. Adding a pair of black jeans and some ankle or knee-high boots should do the job!
 For a street-style look, you can throw on a leather jacket with some camo pants and a statement beanie. A chunky heel combat boot or some hiking boots will beautifully seal this look.
 Combat boots with gold or metal buckle detailing can also be worn with flowy long or short summer dresses for a grunge look.
Winter might not be your choicest season of the year, but upgrading your wardrobe is definitely fun, right? While you're out shopping for the latest trends in scarves and trench coats, you might also be eyeing some footwear that is stylish and keeps your feet toasty in the cold weather. And if you're someone who loves experimenting, our list of the best combat boots for women might be right up your alley! Faux or real leather, metal detailing, and secret pockets all put together in one shoe that oozes sexiness and confidence. Quick, pick your favorite combat boot pair from a wide range of colors before the cold months are upon us!
Why Trust StyleCraze?
The author, Chaitra Krishnan, has a deep interest in fashion, and after thorough research, she has provided a detailed list of the best combat boots for women. She went through numerous user reviews and feedback on multiple trusted online forums and brand websites to help you pick the boots that come in different styles and sizes. These versatile boots are easy to pair up with any outfit in any season.
Frequently Asked Questions
Are combat boots good for hiking?
You could use combat boots for hiking, but they won't be very comfortable due to the lack of sufficient cushioning. Adding a soft insole or hiking socks might help.
Are combat boots good for running?
Combat boots can be used for running purposes, but they might not be the most comfortable option. They are mostly made for aesthetic purposes and heavy physical activity might wear them out quicker.
Can you wear combat boots with leggings?
Yes, combat boots can be paired with almost everything. When worn with leggings, they can give off a casual yet chic look.
What is the point of combat boots?
Combat shoes offer extreme shock absorption and the wider toe area provides comfort to the wearer. These shoes have cushioned insoles that keep your feet safe and warm.
Why are combat boots so popular?
Combat boots have become a staple in the newest trends and styles since they offer comfort and do not look odd if worn with fashionable clothes, especially dresses.
Can you wear combat boots casually?
Yes, combat boots can be paired with skirts, skinny jeans, and casual dresses.
Why are combat boots so high?
The original design of combat boots used in the military was eight to ten inches in length. The fashionable ones are made with the same design which prevents water, mud, and debris from entering your feet.
Can you wear combat boots with skinny jeans?
Yes, wear combat boots with skinny jeans or cuffed jeans to appear stylish.
Recommended Articles