10 Best Comfortable Dancing Shoes For Your Impressive Moves
Keep your feet comfortable and make those impressive moves and keep your audience captivated.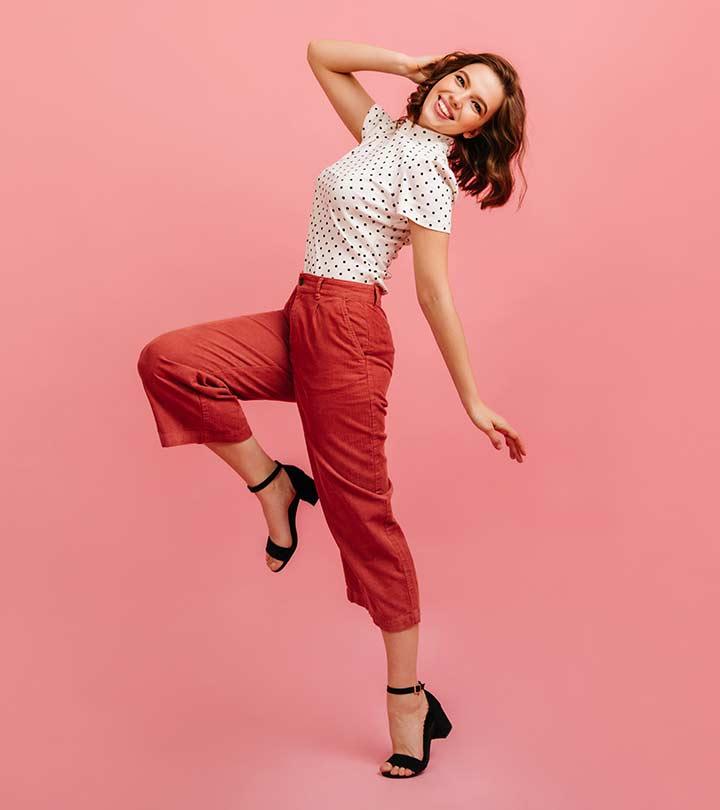 Looking for comfortable dancing shoes to do 'cha-cha-cha' at ease? You have landed on the right page! A dancer is never ready completely without good pair of shoes; they need a ton of body control and free movement of feet too. If your jam comes on, not only professional dancers, but we are sure even you'd love to dance freely. Hence, our list of dancing shoes will meet your needs. These shoes will keep your feet well-rested and will allow them to move freely. The time has come when you show the world your dancing skills. Dr. Jamila Butcher, specialist in podiatric medicine and surgery says, "Look for shoes with good arch support and cushioning, and make sure they fit snugly without being too tight. Shoes that are too loose can cause blisters and make it difficult to maintain proper footwork, while shoes that are too tight can cause discomfort and even pain."
So, be it low block heels for beginners or strappy-chunky sandals, we have it all. If you don't want to dance in sky-high heels, no worries because you'll find a plethora of options here. Now without any further ado, grove ahead and check out these shoes that we listed below. These shoes aren't just comfy but also lend a sultry look to the feet and costume. They will amp up your dancing skills while ensuring your feet are well-rested. Now find your 'glass' dancing shoe and be your own Cinderella!
10 Best Comfortable Dancing Shoes That Add A Bounce To Your Step
Pros
Available in 2 neutral colors
Non-slip heel
Moisture-wicking inner lining
Foam-padded footbed
Slim buckle closure
Aids in balance
Cons
The top coating may peel after a while.
Price at the time of publication: $53.9
Pros
Vegan leather
True to size
Adjustable straps
Does not cause blisters
No pinching design
Breathable lining
Cons
Price at the time of publication: $39.99
Pros
100% pure leather
Suitable for character dance
T-strap silhouette
Suede outsole for smooth movement
External stabilizer at the heel
Cons
Very narrow straps
Not durable
Price at the time of publication: $125
Pros
Available in 5 colors
Extra padded footbed
Moisture-absorbing cotton liner
Shock-absorbing insole
Flexible suede outsole
Quick-release buckle closure
Cons
Some may find the toe box narrow.
Price at the time of publication: $49.99
Pros
Adjustable strap
Padded insole
Made of faux leather
Open toe design for breathable wear
Cons
May have poor support
Can cause blisters
Price at the time of publication: $52.99
Pros
Sweat absorbent
Adjustable strap
Suitable for beginners
Non-slip sole
Wear resistant
Cons
Price at the time of publication: $29.99
Pros
Strappy buckle closure
Mesh for breathability
Moisture-wicking lining
Suede outsole for traction
Soft insole
Cons
Some may find the padding insufficient
Price at the time of publication: $29.99
Pros
Stretchable straps
Foam cushioning
Arch support
Stylish design
Cons
None
Price at the time of publication: $93.62
Pros
Designed with back zippers
Breathable material
100% synthetic
Suitable for all-day wear
Cons
Can cause blisters
May not be true to its size
Price at the time of publication: $54.87
Pros
Sculpted fit
Adjustable buckle
Lightweight cushioning
Designed with heel support
Stylish look
Cons
Price at the time of publication: $73.71
Now that we've looked at some of the most comfortable dance shoes for women available on the market, let's learn how you can pick out a good pair for yourself!
How To Choose Comfortable High Heels For Dancing
When you try on a pair of dancing shoes, ensure that they fit in a snug manner without you having to add too much pressure. If a shoe comes laden with straps, they mustn't dig into your skin which can restrict both movement and blood flow, leading to aches and pains. Something too loose will cause your feet to slide around on the footbed, making your moves poorly-executed. Therefore, a fit that sits like a glove with no constrictions is ideal as you want something that moves along with you. For better results, try out your shoes in person and do a test walk or twirl to determine whether your shoes are the right fit.
You can choose between open and closed toe designs. Open toe shoes are often associated with Latin dances as you need to point with and articulate your toes in accordance with the rhythm. The opening allows you to execute precise footwork and also keeps airflow constant. Closed toe, on the other hand, is suitable for smooth dances such as the Waltz and the Foxtrot as they give off a classical look. If you happen to be a beginner, we suggest you opt for open toe shoes as they are easy to move around in and can provide comfort for learning almost all dance styles. Dr. Jamila says, "It is also important to choose a shoe with a well-fitted and supportive arch to help prevent foot fatigue and injuries. Look for a shoe with a snug fit around the ankle and midfoot, but with enough room in the toe box to allow for natural movement of the toes."
Both Latin and ballroom dance shoes have heel heights ranging between 1.5-inches to 3-inches. Beginners, especially those that are not used to wearing heels can start out by trying low block heels and working their way up to higher ones. Slim and flared shapes are also available of which the latter is popular owing to the stability it provides on the dance floor. To preserve your feet's health, stick to lower heel heights unless you're participating in competitions or auditions.
This is a key aspect to look out for in dance shoes as the bottom grip is what allows you to execute moves steadily. Suede is the material often recommended by professionals and instructors as it delivers well on the grippage and traction areas. This in turn gives your gait a balance and control when you twist, turn, twirl, and glide on the dance floor. To keep the suede rough, it needs to be regularly brushed with a wire brush so it stays in shape.
The top problems dancers often face is sweat pooling in their footwear after a session. This not only negatively impacts the quality and lifespan of your shoes but can also make your moves sloppy. Therefore, keep a couple of pairs on hand to use in rotation so that the used pair dries out when you use the next. Look for shoes that come with linings made of moisture-wicking material. This repels sweat and when combined with anti-bacterial properties you can even keep odor at bay. Ensure to use dancing shoes indoors to preserve them and prevent exposing them to water so as to keep them sturdy for long.
Why Trust StyleCraze?
Our author, Priyam Gupta, believes in the powerful combination of comfortable fashion in boosting your look and confidence. She loves dancing and knows that the perfect dancing shoes will allow you to move freely to the beat of the music. She tried out multiple dancing shoes and curated this lift of the top ones for you. This list of the best dancing shoes is padded with foam to ensure your feet are well-rested and allow you to dance away for hours without any worry.
Frequently Asked Questions
Are dancing heels comfortable?
Dancing heels that fit well and have a heel you are comfortable with should be sought out. Easy-to-use closures and breathable inner linings are a good choice.
How high should heels be for dancing?
Beginners can opt for a 7cm heel and work their way up to 10 or 11 cm as long as it is not too taxing on their feet.
What are dancers' shoes called?
Every type of dancer needs a different style of shoe. There are ballroom shoes, dance sneakers, ballet shoes, pointe shoes, tap shoes, and many more. These shoes are specially designed to provide ample support and flexibility for different forms of dance.
Can running shoes be used for dancing?
Running shoes may not be the best choice for dancing because they do not offer support for lateral movement.
What is the difference between dance shoes and regular shoes?
The main difference between dance shoes and regular shoes is the soles. The soles in dancing shoes are more flexible in comparison to the sole of regular shoes which are designed to create friction and improve stability.
What do dancers wear on their feet?
Dancer chooses their shoes based on the type of dance they perform. Ballet dancers wear pointe shoes, sports sneakers for Zumba dancers and tap dancers choose to wear tap heels.
Are dancing shoes more comfortable?
Yes, dancing shoes are more comfortable because they have flatter soles than regular shoes, making them flexible for dancing.
Are dance shoes the same size as street shoes?
No, not all dance shoes will be the same size as your street shoes. Open-toe shoes for dancing are often worn a size smaller than the size of your regular shoes.
Recommended Articles