15 Best Compression Leggings In 2023
Utility meets style with these shape-control clothings that come in myriad colors and patterns.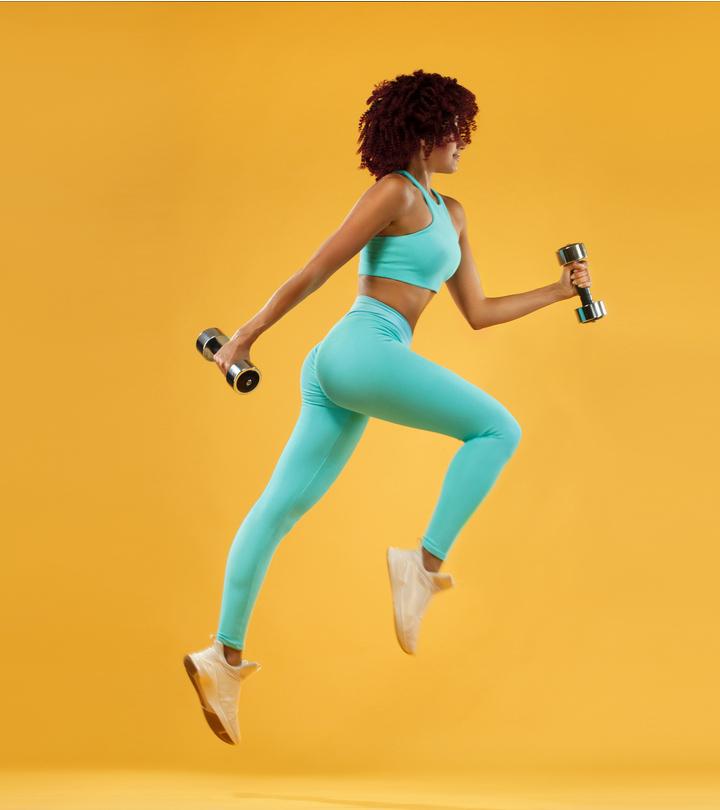 If you love to have a diverse collection of workout clothes, we are sure you know about the best compression leggings for women. Like any other compression garments — socks, shorts, and sleeves — compression leggings are sportswear that helps increase the blood flow during exercise. Compression leggings are available in multiple prints and color options. And with so many options out there, it might be overwhelming for you to pick one. Not all pieces of clothes are created equal, and therefore, you need the best recommendation before you go ahead and pick one for yourself. Keep reading our curated list of the best compression leggings for women, and you may find the perfect fit for you right here!
What Are Compression Leggings And What Do They Do?
Compression leggings are slightly tighter than regular ones and they work by applying pressure on the body. They are generally used to enhance one's physical performance or improve recovery speed after exercise or injury. Some of the compression leggings benefits include keeping your muscles warm to increase blood circulation. They hold the joints together to help stabilize them and support the ligaments, which can reduce pain during workouts.
Compression can also help combat muscle soreness and stiffness by reducing both tension and fatigue. Wearing them during high intensity exercise like HIIT workouts or running can keep your joints in place and prevent increased pain. Other issues like arthritis pain or deep vein thrombosis can also be reduced. If you've recently undergone surgery or are healing from injuries, compression leggings can be of great help.
15 Best Compression Leggings To Soothe Muscle Fatigue And Improve Performance
The Aoxjox High Waisted Workout Leggings are made from a customized buttery-soft fabric blend of 75% nylon and 25% spandex. It feels buttery-soft and like a second skin. The front of these leggings doesn't have any seams, but the waistband back has a design with several seams. The high-waisted leggings provide some belly control and hold everything in place. It also contours in all the right areas and moves flawlessly with your body, letting you maintain flexibility throughout any exercise or yoga session. The moisture-wicking, breathable fabric of these leggings keeps you comfy all day long and prevents them from slipping down during exercise.
Pros
Breathable
4-way stretch
Moisture-wicking
Durable
Quick dry
Double-sided brushed
Offers tummy control
Cons
Price at the time of publication: $27.99
Shapermint's high-waist compression leggings are composed of 90% nylon and 10% spandex for a second-skin feeling. Both lightweight and breathable, the high-performance pair sculpts your figure and enhances all shapes and sizes. Not only tucking your tummy in, these compression workout leggings also stay put owing to the anti-slip silicone strips on the inner waistband, so you can give your all at the gym without worrying about constantly pulling your pants up. Opaque with full coverage in the front and back, Shapermint's workout compression leggings are ideal for occasional or casual wear.
Pros
 Breathable
 Lightweight
 Anti-slip silicone strips
 Non-see-through fabric
 Full front and back coverage
 Machine washable
Cons
 Some may find it slightly itchy
Price at the time of publication: $32.99
The HeatGear Armour High Waisted Pocketed Non-Slip Leggings from Under Armour are composed of 100 % polyester. The ultra-light HeatGear fabric provides exceptional coverage without adding unnecessary weight. It wicks perspiration dries very quickly and offers a four-way stretch so that mobility is not hampered in any way. The leggings' ergonomic flatlock seams provide a chafe-free and comfortable fit. The double-sided silicone print concealed inside the ultra-soft fabric prevents the waistband from sliding or drooping while you move.
Pros
Moisture-wicking
Quick-dry
Provides optimal coverage
Chafe-free
Breathable
Machine wash
Side drop-in pocket
Cons
None

Price at the time of publication: $30.96
CompressionZ's compression leggings for running deliver stable pressure throughout your leg to boost movement. Made with 73% polyester and 27% spandex, they offer a 4-way stretch, so that your movement isn't restricted in any way. The fabric is sweat-wicking and breathable to allow you to workout mess-free and keep dry. Squat away in these non see-through and anti-slip compression legging pairs that also retains shape after multiple washes. Offering UV 50+ sun protection, the chafe-free pants allow you to remain comfortable wherever you are.
Pros
 UV 50+ sun protection
 Anti-slip extra-wide elastic waistband
 Non see-through
 Retains shape
 Chafe-free
 Lightweight, breathable, and soft
Cons
 The length might be too long for petite women
Price at the time of publication: $34.99
COOLOMG's compression clothing for women features an elastic waistband with a drawstring closure for a snug fit. The fabric is a mix of 85% polyester and 15% spandex and offers a 4-way stretch while shaping your lower body. A gusseted crotch is sewn in to reduce chafing and the interlocking seams eliminate friction on the skin's surface. With these printed women's compression pants, you can make any physical activity fun and exciting.
Pros
 Elastic waistband with drawstring
 Hidden and back pockets
 4-way stretch
 Minimized chafing
 Reduced skin irritation
Cons
 Might not offer tummy control
Price at the time of publication: $27.99
The FeelinGirl High Waisted Corset Leggings are made from a blend of 75% nylon and 25% spandex and have a waistband that can be adjusted with three rows of hook-and-eye fasteners. With its double layer of high-stretch fabric, it helps smooth out any imperfections and provides the illusion of a trimmer, more toned physique. The fabric is silky smooth and incredibly stretchy, as well as breathable, moisture-wicking, and opaque.
Pros
4-way stretch
Non-see-through
Moisture-wicking
Quick-drying
Controls shape
Hook-and-eye closure
High stretch fabric
Cons
None

Price at the time of publication: $25.59
Sweat Shaper's women's compression tights consist of a neoprene-free blend of polyester, polyurethane, and spandex. They have an inner layer made of thermogenic polymer that raises your core temperature to trap heat and increase sweating. The outer fabric shapes your body and slims it down for an overall toned look. Sweat Shaper's women's compression pants have a wide elastic anti-slip waistband and allow you to make the most out of your favorite physical activity.
Pros
 Neoprene-free
 Increases sweating
 Lightweight and flexible
 Anti-slip waistband
 Available in 3 colors
 Machine washable and quick-drying
Cons
 Might not be ideal for those with skin sensitivities
Price at the time of publication: $29.95
The CompressionZ High Waisted Leggings are made from a high-quality fabric blend that is 73% polyester and 27% spandex. It is very comfortable to wear in both warm and cool temperatures. These leggings exert a little pressure on the muscles, which helps to keep the muscles warmer and promotes more efficient blood flow throughout the body. These leggings are designed to be worn during running, jogging, or walking; they do not cause chafing and are created from a fabric that can wick away sweat and has a four-way stretch. They do not hinder mobility in any way, remain in position during any exercise, and provide exceptional support.
Pros
Moisture-wicking
Four-way stretch fabric
Breathable
Offers tummy control
Chafe-free
UV protection
Non-see through
Cons
Price at the time of publication: $36.81
Composed of 87% nylon and 13% spandex, BALEAF's compression running leggings stretch well for all kinds of movement. They wick away moisture to keep you dry and the elastic waistband is flat against the skin without digging in. With the gusset crotch and interlocked seams, you can eliminate chafing and friction to stay active comfortably. The back pocket fits your essentials and you can wear these compression pants for women both solo or layered.
Pros
 4-way stretch
 Machine washable and quick-dry
 Moisture-wicking and breathable
 Minimized chafing
 Available in 4 colors
 Comfortable waistband
Cons
 Might catch lint and dust easily
Price at the time of publication: $21.99
Rainbeau Curves brings to plus size compression leggings made of 88% polyester and 12% spandex for breathability and stretchability. A power-mesh lining featuring 75% nylon and 25% spandex helps with ventilation and prevents overheating during your workouts. The wide-lined gusset reduces friction, so that all movement is comfortable and chafe-free. Built-in compression technology allows the moisture-wicking fabric to hug your curves and improve mobility.
Pros
 Moisture-wicking
 Breathable
 Anti-chafe
 Mesh lining
 Adapts to body's contours
 Machine washable
Cons
 Might not be fully opaque
Price at the time of publication: $34.95
The Thermajane Athletic Workout Compression Leggings are constructed of 87% polyester and 13% elastic jersey. These leggings wick moisture away from the body, allowing you to remain dry and refreshed throughout all of your athletic endeavors. These leggings allow proper mobility while you are working out, jogging, or doing yoga. They are lightweight and breathable. The leggings' elastic waistband provides support and does not bunch up during exercise. The tagless design with flatlock stitching eliminates chafing, making these yoga leggings very soft and comfortable.
Pros
Moisture-wicking
Elastic waistband
4-way stretch
Breathable
Lightweight
Tagless design
Machine wash
Cons
Might not offer tummy control
Price at the time of publication: $17.99
CW-X's compression tights for women are designed to provide support for your joints during intense exercise. They target your hips, pelvic, lower back, and knees to keep them protected without restricting the range of motion. Their patented EXO-WEB support panel contours to the joints and provides healing effects with the help of kinesiology tape. CW-X's compression wear for women is made of 80% nylon and 20% Lycra to keep you dry and cool by wicking away sweat. With UV 50+ sun protection, you could also wear them outdoors without any worries.
Pros
 Supports joints and ligaments
 Improves blood circulation
 Moisture-wicking
 Reduces tension in lower body
 Available in 8 colors
 Ideal for high-intensity exercise
Cons
Price at the time of publication: $89.04
The Sunzel Workout Leggings are constructed from a lightweight 75% polyester and 25% spandex fabric that is both comfortable and great to wear. The leggings have a four-way stretch, which not only makes them squat-proof but also breathable. This pair of compression high-waisted leggings fits over the belly button, providing support and holding the stomach taut when working out. In addition, these leggings are buttery soft and wick away moisture effectively. They have pockets on the side. These leggings are great for a wide variety of activities, including yoga, the gym, jogging, and even shopping.
Pros
Offers tummy control
Breathable
Buttery soft fabric
Moisture-wicking
4-way stretch
Squat-proof
Hidden waistband pocket
Cons
None
Price at the time of publication: $27.99
The HeyNuts Essential 7/8 Leggings are composed of 70% nylon and 30% spandex and have a buttery soft feel with a matte finish. They are non-transparent and are available in tie-dye patterns and distinctive designs. The knee-to-knee crotch gusset design and the seamless waistband provide extra coverage and belly control. The leggings give enough compression, keep everything in place, and provide adequate support. The leggings include inside pockets for storing essentials such as keys, rings, and cash. The 7/8-length and 25-inch inseam of the leggings make them ideal for yoga, training, and jogging.
Pros
Moisture-wicking
Breathable
Offers tummy control
Buttery soft fabric
High-rise waistband
Inner pockets
Hugs curves
Cons
Price at the time of publication: $28.99
The Ewedoos Yoga Leggings are composed of 75% polyester and 25% spandex. The fabric is smooth and almost silky, making it ideal for any athletic activity. The pants have a moisture-wicking, non-transparent, 4-way stretch build. The fabric provides full coverage and is not see-through at all. These leggings include two pockets on each side for storing your phone and other things, as well as, a concealed pocket in the waistband for extra storage. It is created with a high-waist and elastic belly control waistband that delivers a smooth, secure, and attractive fit, as well as a gusseted crotch that allows for unrestricted movement and provides compression and support.
Pros
Moisture-wicking
Comfortable waistband
Built-in gusset
Offers complete coverage
Breathable
Soft fabric
Flattering fit
Squat-proof
Offers tummy control
Cons
None
Price at the time of publication: $18.69
Now that we've gone over some of the best compression leggings on the market, let's learn how you can choose them for yourself.
How To Choose The Best Compression Leggings
You can go along with your body's sizing for leggings but keep in mind that compression gear is generally a tad bit tighter than your regular clothes. However, ensure that it's not so tight that it digs into skin, leaves marks, and makes breathing difficult.
Clothing varies according to the level of compression and you can choose low compression for mild levels of soreness or injury. If you happen to suffer from chronic pain and fancy stronger pressure on your joints and ligaments, stronger compression will provide relief.
As with every piece of clothing, comfort is a key factor. And as we use leggings during exercise or healing, this feature becomes all the more important. Ensure that your compression leggings are moisture-wicking which would cause them to draw sweat away from the body. This way, you can stay dry while the fabric is easy to clean and dries quickly when washed. Breathable fabric or material ventilated with mesh panels is great to keep you cool and prevent overheating. As you sweat during intense activity, heat doesn't get trapped in and you can stay comfortable.
A waistband that is thick, provides tummy control, and is anti-slip can contribute towards a hassle-free exercise routine. Some brands offer silicone strips on the band's inner lining to prevent it from slippage in the middle of activity. You can also choose compression leggings with drawstrings for an even more secure fit.
For those that are highly active, a crotch gusset is an indispensable feature. This piece of clothing stitched into the crotch area gives a good fit and when combined with flat interlocked seams, reduces chafing. You can move without worries as there is less friction between your thighs which in turn leads to less irritation.
If you happen to do almost everything in your leggings, look for leggings with pockets. Deep dual side pockets, 1 or 2 hidden ones with zippers will allow you to go anywhere hands-free and reduce inconvenience. Outdoor workouts or activities can be aided with fabric that also offers UV 50+ sun protection to keep your skin shielded from the sun's harmful UVA and UVB rays.
After you've bagged your favorite pair of compression leggings, it's time to go over what you can wear them with!
What To Wear With Compression Leggings
You can wear your compression leggings as regular ones and don't need to compromise on style! Read below for a few ideas on how you can spruce up a classic pair of compression gear.
 If you're going to be wearing your compression leggings to the gym, you can complement them with a matching sports bra. If this isn't your cup of tea, throw on a large-sized button-down shirt and pair this with some sneakers.
 For lounging around at home, you can pair high waisted compression leggings with a crop top or mid rise ones with a cute t-shirt. For running errands around town, this casual look can be completed with sandals or shoes with a thin cardigan thrown on top.
 In chilly weather or during the fall months, you could try on a denim or leather jacket with a neutral v-neck and combat boots. While you stay comfortable in this ensemble, you will also give off rocker-chic vibes.
 If you want to hide your compression leggings, you can choose a thinner pair and wear them under your jeans or trousers. Style your outerwear according to your preferences.
 You can even pair your leggings with a flowy blouse or a dress top. Ankle-booties and the right accessories can be like the cherry on top for this ultimate brunch look.
Why Trust StyleCraze?
The author of this article, Chaitra Krishnan, is an avid fashion enthusiast passionate about physical fitness. She has curated a list of the best compression leggings after researching, checking reviews online, and trying some of the products herself. Her list is perfect if you want to soothe muscle fatigue and improve your workout performance. Not only are these leggings breathable, but they also control your shape and allow maximum mobility.
Frequently Asked Questions
Can you wear compression leggings all day?
Compression clothing is soft and breathable, allowing better performance and movement. As it helps increase blood circulation and keep you comfortable, it can be worn all day.
How tight should compression leggings be?
Compression leggings should be tight enough to offer tummy control and allow your skin to breathe. However, they shouldn't be so tight that they restrict movement or blood flow.
Does compression help with belly fat?
Compression leggings can tuck in your tummy and give the illusion of a flatter abdomen. They also keep you comfortable enough to move around freely.
Do compression leggings get rid of cellulite?
No, compression leggings can give the impression of smooth skin but can't get rid of cellulite.
Can you sleep in compression leggings?
Yes, sleeping in your compression leggings shouldn't be an issue as they can help increase blood flow and support your muscles. However, you would do well to switch them out every other night to stay fresh.
Can compression leggings cause blood clots?
Yes, but this is a possibility only if you're wearing compression leggings for hours on end with absolutely no movement whatsoever.
Recommended Articles