The 11 Best Compression Socks For Nurses, According To Reviews
Attend to your patients all day long without worring about stressed feet and pain.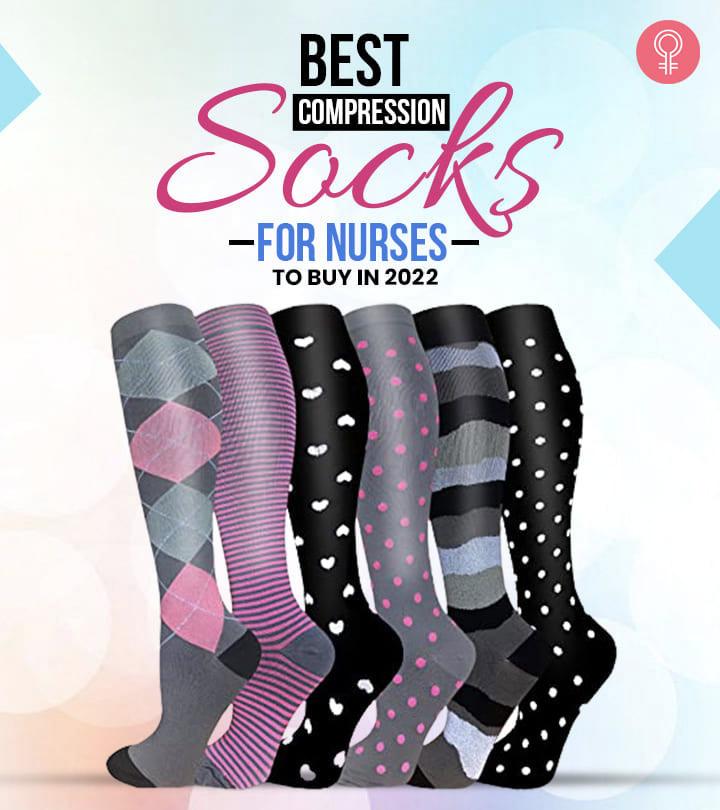 If you are a nurse, then you know that running around for hours during several emergencies is part of the profession. Doing so regularly can lead to tired feet, swollen ankles, or even blood clotting. To relieve yourself from all this, having the best compression socks for nurses is the answer. How do they work? These socks are designed to heal injured muscle tissues and help in quick recovery. Also, these specially made socks, soothe tired and achy legs. As a nurse, you would want these at the end of your long working hours, won't you? Not sure which are the best ones? Well, we have come up with a list of the top compression socks to help you say good riddance to muscle tiredness.
Different Types of Compression Socks
Mild: These types of socks have low compression between 8 to 15 mmHg. They are great for relaxing mild pain or discomfort in the legs.
Medium: Medium compression socks have 15-20 mmHg which helps in relieving moderate varicose veins, thrombosis, hypotension, or intense swelling.
Firm: To relieve more intense swelling, orthostatic hypotension, and deep vein thrombosis (DVT), opt for firm compression socks with 20-30 mmHg.
Extra Firm And Prescription-Grade: These types of socks are very tight. They are generally used post-surgery or for serious medical conditions. These compression socks have an mmHg level of 30 or more. Consult a medical practitioner before you use them.
Here are some of the best compression socks for nurses to buy in 2023.
11 Best Compression Socks For Nurses
The Wasser Compression Socks are made with the most advanced compression technology available. The design, which has double stitches, ensures that the appropriate amount of compression is applied to vital regions of the foot and leg. The compression socks will give the required relief to keep your legs healthy regardless of whether you are at the office, in the hospital, on the field, or skiing down the hill. These socks resist even the most strenuous exercise thanks to the sturdy material that is double-stitched for further durability and reinforced in key locations. The compression offered by the socks ranges from 20 to 30 mmHg, which is the ideal range for alleviating discomfort and edema.
Pros
Double-stitched cuff
Odor-free
Machine washable
Breathable fabric
Reduce muscle ache
Improve blood circulation
Durable
Breathable
Moisture-wicking
Comfortable
Cons
None

Price at the time of publication: $13.95
These medium compression socks from Go2 increase oxygen flow and blood circulation in your legs. The cushioned footbeds expedite your recovery from edema, varicose pain, and soreness that develop around your feet due to continuous standing. It also helps prevent blisters. The socks are made with high-quality fabric that absorbs moisture to keep your feet odor-free. These socks are suitable for both men and women.
Pros
Machine-washable
Fight bacteria
Improve blood circulation
Odor-free
Absorb moisture
Cons
Price at the time of publication: $16.97
Improve blood circulation and reduce swelling and pain with the Bluemaple Compression Socks. These socks are made of copper fiber that pulls electricity from your body, reducing pain and healing wounds. They prevent injuries, minimize soreness, friction, reduce fatigue, and support the legs. The socks maintain an optimal temperature to keep you warm even when it is cold. These socks are machine washable and are crafted with nylon and polyester.
Pros
Durable
Reinforced toe and heel
Moisture-wicking
Comfortable
Non-slip elastic cluff
Breathable
Cons
Price at the time of publication: $20.55
Prestige Medical Compression Socks are knee-length stockings made with a blend of 65% nylon (a polyamide) and 35% lycra spandex. These breathable socks offer maximum stretchability and mild compression of 10 mmHg around the calf muscles and do not restrict your movements. They extend comfort to your feet and are easy to wear and remove.
Pros
Machine-washable
Stretchable
Unisex
Lightweight
Cons
May not relieve varicose pain
Price at the time of publication: $10.18
The FuelMeFoot Compression Socks are sold in a pack of six and include a compression level that ranges from 20 to 30 mmHg, as well as, a stretch that encompasses the whole foot for increased mobility. These unisex socks are constructed from high-quality material that is airy, lightweight, and breathable. These socks help ease any slight leg soreness and edema that may be preventing you from having a productive day. These knee-high socks alleviate tiredness, boost circulation, and minimize the risk of blood clots in the legs.
Pros
Fun designs
Double-stitched
Seamless fit
Sturdy construction
Easy to pull on
Machine-washable
Relieves muscle soreness
Moisture wicking fabric
Cons
None
Price at the time of publication: $18.55
The Physix Gear Sport Compression Socks are long-lasting compression socks developed without sacrificing comfort or quality. They are composed of 70 % nylon and 30% spandex, a moisture-wicking material that will keep your feet and legs dry and provide 20 to 30 mmHg compression. These compression socks are designed with the most advanced arch-to-calf compression technology, providing focused foot-to-calf muscle support not found in socks of inferior quality. The compression improves blood circulation, which results in enhanced performance and a quicker recovery. It relieves muscle soreness, reduces inflammation, and helps you recover from your exercise more quickly.
Pros
No-slip cuff
Moisture-wicking fabric
Reinforced toes and heels
Reduce soreness
Fashionable
Machine-washable
Cons
None
Price at the time of publication: $19.94
The CHARMKING Copper Compression Socks are constructed of 85% nylon and 15% spandex and provide 360-degree stretch for increased flexibility and durability. The breathable, lightweight, high-performance, and high-grade fabric maintains an appropriate temperature and offers superior support, comfort, and relief without restricting movement. These socks are meant to improve blood circulation and oxygen delivery, which prevents tiredness and aids in muscle recovery. These socks have a unique silver fiber that has superior moisture-absorbent properties to keep your feet dry and comfy throughout the day. Also, they offer ankle protection with the help of pressure radiant (refers to the gradual decrease of pressure from the ankle).
Pros
Lightweight
Sweatproof
Enhance blood circulation
Ankle protection
Machine-washable
Comfortable
Moisture-wicking fabric
Non-slip
All day comfort
Cons
None
Price at the time of publication: $13.99
The Dr. Motion Compression Low Cut Socks are made up of 47% polyester, 26% cotton, 23% nylon, and 4% spandex. They deliver 8-15 mmHg of compression and are very comfortable to wear all through the day. These anklet socks provide additional support for optimal comfort so that you can keep up with your day-to-day activities without feeling weighed down. These socks have a breathable mesh construction, a seamless toe, arch support, and an Achilles tendon protection tab. They are simple to put on and take off, and they provide additional comfort to your feet.
Pros
Moisture-wicking fabric
Breathable fabric
Comfortable
Machine-washable
Long-lasting
Cons
Price at the time of publication: $8.99
The Calf Compression Sleeves and Compression Socks provide support for the calf muscles, pain control, and comfort from leg cramps and tiredness. A leg compression sleeve may reduce varicose veins, soreness, leg tiredness, and torn calf muscles by preserving the stability of the calf muscles during exercising or running. The 20-30 mmHg compression will not only improve performance but will also alleviate soreness, inflammation, and swelling in the legs and provide for a more expedient recovery. The fabric's ability to wick away moisture and allow air to circulate helps to keep the legs dry and comfortable.
Pros
Anti-slip
Kinesiology taping
Breathable fabric
Prevent leg injury
Moisture wicking
Cons
None
Price at the time of publication: $10.79
The BLUEENJOY Copper Compression Socks are constructed from a one-of-a-kind combination of 85% nylon and 15% polyester. These compression socks promote circulation, improve leg and foot comfort, minimize discomfort and swelling, and give all-day support. These socks are ideal for prolonged sitting or standing, endurance sports, flying and travel, post-exercise recuperation, pregnancy, and spider and varicose veins. With moisture-wicking material, seamless construction, and copper ions, these compression socks offer superior support and keep your feet dry. High-performance fabric and temperature regulation keep your muscles cool during exercise and warm throughout recovery. The comfortable broad band prevents rolling, and the 360-degree stretch provides increased flexibility and durability.
Pros
Seamless design
Stylish
Comfortable fabric
Enhance blood circulation
Ankle protection
Machine-washable
Long-lasting
Prevent varicose veins
Give relief from pain
All day comfort
Cons
None
Price at the time of publication: $18.55
The Nurse Mates Compression Calf Socks are constructed from a fabric mix of 87% nylon and 13% spandex that wicks sweat, dries rapidly, and naturally resists odor. These lightweight and durable compression socks are made with fabric that has antibacterial properties and keep your feet dry, cool, and comfortable. They provide compression of 12 to 14 mmHg, which aids in improving circulation and relieving leg tiredness to alleviate leg discomfort and can be worn for extended periods. In addition, it prevents edema, varicose veins, DVT, and blood clots and alleviates pain. These compression garments are slip-resistant, simple to maintain, and machine-washable.
Pros
Lightweight
Firm fit
Breathable
Odor-free
Comfortable fabric
Enhance blood circulation
Ankle protection
Machine-washable
Cons
None
Price at the time of publication: $15.95
Compression socks can help to massage the calves, ankles, and feet, which can greatly improve how comfortable the legs feel. These socks can accelerate the recovery of sore feet, leg fatigue, and lessen daily discomfort and tiredness. To choose the right compression socks for nurses, there are some important things to look out for before purchasing. So, here is a buying guide for your help:
Things To Look Out for While Selecting The Perfect Compression Socks
Fabric: Consider buying a pair of socks made of high-quality fabrics to help you go longer between washing. Additionally, you can select a fabric based on its design and durability. Most compression socks are made of a carefully curated blend of fabrics. Choose a blend that is moisture-wicking, breathable, machine-washable, comfortable, lightweight, and odor-free.
Compression level: Many nurses who stand for more than half of the workday like to wear compression socks, which use graduated compression with 15-20 mmHg and start increasing that if they require more support, such as 20-30 mmHg. For most nurses, a gentle level is enough to start them going for the day, and a comfortable squeeze for the entire day is 15-20 mmHg. However, depending on your comfort level, start with low pressure and then gradually increase it if required.
Fit: Wearing compression socks improve your overall blood flow. They must fit you properly from the toes to the calves in order to do that. Your toes should align with the toe cap, and your heel should fit into the heel cup of a suitable compression sock. You must not feel any type of sagging or bunching. The cuff of the sock should snugly fit around your leg but not so firmly that it restricts blood circulation. Make sure the sock's material is smooth on your skin after you've put it on.
Style: Compression socks come in various styles, such as knee-high, closed-toe, thigh-high, ankle-high, or even full-length tights. They are also available in different designs and patterns that you can choose according to your personal preference. You can consult your doctor to find out which length and style will work best for your feet.
Quantity: Some compression socks come in bulk packages, and some come in pairs. While doing your comparison shopping, it is crucial to keep this in mind. If you plan to use them on a daily basis, you may consider investing in a combo set. This will be a more economic investment as well.
Why Trust StyleCraze?
Aditi Naskar, the author, has a diploma in health and wellness and reviews products that keep her readers healthy. She vouches for compression socks for nurses to keep their feet in good health. She has researched and read hundreds of online reviews about the compression socks listed in this article. Her recommended socks protect your feet and ankles from blood clotting and help you recover quickly from injuries.
Frequently Asked Questions
What level of compression socks should nurses wear?
Nurses should wear light-to-moderate level compression socks that are snug-fitting and do not suffocate their feet.
Do compression socks really work for nurses?
Yes, these socks offer compression therapy that helps nurses stand all day long, complete their chores, and walk with ease throughout the day. The socks also increase blood circulation.
Can compression socks be too tight?
Yes, compression socks can get too tight, which may irritate your skin or restrict movement. Therefore, choose snugly-fitting compression socks for your daily chores.
When should you not wear compression socks?
You should not wear compression socks if you experience vascular conditions affecting your legs.
How long should a nurse wear compression socks?
Nurses wear compression socks for up to 12 hours daily.
Recommended Articles