13 Best Compression Socks For Pregnancy – Top Picks Of 2022
Give your feet optimum comfort and manage swelling and pain during pregnancy.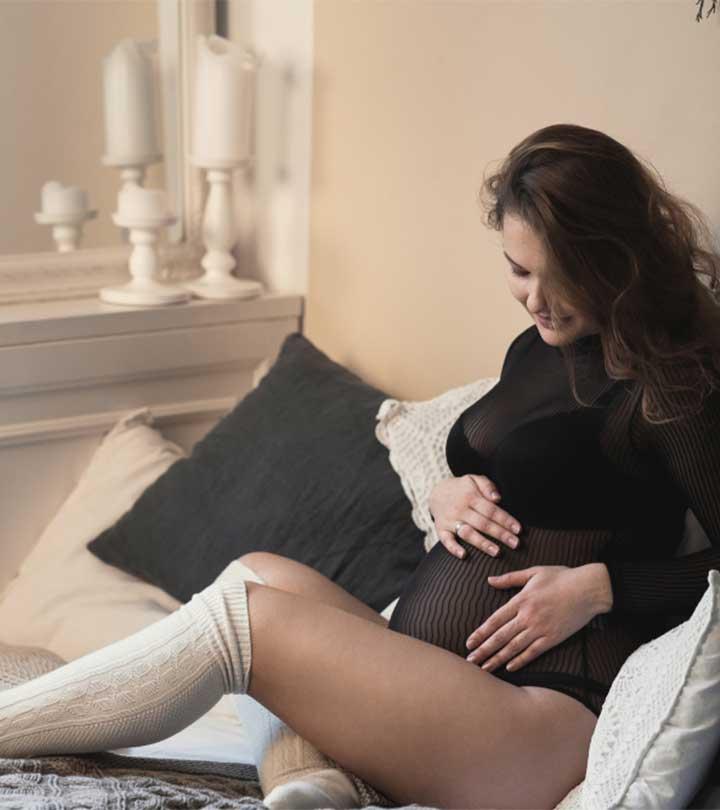 Wearing the best compression socks for pregnancy can be the difference between your feet feeling relaxed and miserable. Pregnancy is considered the most beautiful phase of their lives for most women! The glowing skin, lush, gorgeous hair, and just radiant with positive vibes! But then there is the morning sickness, the constant mood swings, and ridiculously insane craving at the oddest hours! As beautiful as pregnancy is, it can be a nightmare as well. Imagine pushing out a living being out of you; that can be scary as hell! Women deserve more credit than you can get!
Apart from the usual discomfort of pregnancy, women may also suffer from conditions like deep vein thrombosis (DVT) due to the excess amounts of hormones that their body is producing! Also, since your uterus is constantly growing during your pregnancy, it puts pressure on the veins in your legs and causes severe discomfort. This is why most OBGYN's recommend wearing compression socks to help with the discomfort. To know more about how compression socks work and the best compression socks for pregnancy, read our article and check out our list of the 15 top socks you can buy to help you during pregnancy.
13 Best Compression Socks For Pregnancy To Reduce Discomfort
By combining fashion, technology and science, these nylon pregnancy compression socks by CHARMKING promise to provide you with unparalleled comfort. Available in vibrant colors and patterns, these compression socks for pregnancy feature a breathable fabric that is flexible, durable and offers great stretchability for optimum comfort. They are form fitting and are designed specially to help in muscle recovery, promote blood circulation, and oxygen flow in order to prevent fatigue. The best part about these compression socks for pregnant women? Regardless of the activity you're engaged in, for instance walking, these compression stockings will maintain your stability without compromising your mobility.
Pros
Multiple colors and prints
Moisture control fabric
Anti-odor
Comes in pack of three
Anti-static
Cons
Might not be true to size
Having immense difficulty dealing with leg pain and swelling? Trust these pairs of the best compression socks for pregnancy to have your back. Here's how they work: enhanced with copper fibers (a high-performance material), these fibers pull the electricity from your body to relieve your pain and allow you to heal. And if you're searching for compression socks for pregnancy travel, these Maple Copper Compression Socks are perfect for you. The socks provide mild pressure and just the right settlement scheme when you are sitting in one place for an extended period of time like during travelling or working. These compression socks for swelling during pregnancy also ensure to keep your feet and legs warm for ultimate comfort all-day long.
Pros
Pack of 6
Available in colors and prints
Machine wash
High-performance materials
Moisture-wicking fabric
No slip cuff
Arch support
Cushioned heel
Flexible
Ideal for long hours
Cons
Some may find the small size tight on the calves
Featuring multiple color and print options to take your pick from, these copper fiber push compression socks offer the incredible benefits and power of copper through accurate compression. The BLUEENJOY Copper Compression Socks target specific compression zones and provide varying levels of support and compression from moderate to extra firm! These maternity stockings for swelling also have a moisture-wicking fabric that is combined with copper ions to help keep your feet and legs dry at all times. Providing you with a progressive compression technology and all-day energy, consider this pair to be one of the best compression socks for pregnancy and trust it to deliver exceptional results.
Pros
Non-slip cuff
Comfy topband
Progressive compression technology
Wide toe box
Breathable, soft fabric
Anti-odor
Controls temperature of feet
Cons
Maybe slightly loose at the ankles
If you're looking for one of the best compression socks for pregnancy that are efficient and have a sleek, minimal design; here's a pick for you. Available in colors like black, white, and beige — these medical compression socks for pregnancy go up to sizes like 5XL making it super inclusive. These maternity stockings for swelling also feature a ComfortZip to protect sensitive skin from the zipper. Here's what makes this compression hosiery for pregnancy different from other options: they are not covered from the toes and helps in ventilation and also provides comfort! These compression socks are made with high-quality materials that do not lose their compression even after prolonged use.
Pros
Inclusive sizes
Open toe
Machine wash
No-snag zips
Comfortable
Easy to wear and remove
Cons
Not available in bright colors or prints
On a search quest for compression socks for pregnancy travel? We've got your back! The Wanderlust Travel Compression Socks feature a progressive compression, which is safe for day, night, and even while you're sleeping! Made with a breathable, premium cotton fabric; these pregnancy compression socks promote blood circulation, flow, and also enhance your daily activities. One of the best compression stockings for varicose veins during pregnancy, it also has a seamless toe box to eliminate friction and avoid blisters. The compression socks also have an extra soft foot padding that helps absorb impact. Regardless of your height and weight, these compression socks will fit you like magic for the best support and comfort during pregnancy.
Pros
Stretchable
Easy to wear and remove
Arch support
Graduated compression
Increases circulation and performance
Engineered for comfort
Cons
Not available in small sizes
Are your muscle cramps getting out of control? It's time to fix the problem right from the root with this maternity support hose for varicose veins. These pregnancy compression tights are designed with premium-quality medical-grade material and have a seamless woven construction. By improving blood flow and circulation, this pregnancy compression hose helps to prevent ankle, leg, and foot swellings while re-energizing your tired legs. The perfect compression socks for pregnancy edema, they feature a toeless support hose to reduce the risk of various conditions like edema and development of varicose veins. Featuring plus sizes, trust this pick to be one of the best compression socks for pregnancy.
Pros
Various color options
Graduated compression
Breathable and durable fabric
Sweat absorbent
Anti-slip
Lightweight material
Ideal for long wear
Cons
Some may find the material slightly sweaty
Finished with contrasting tones, the LANGOV Compression Socks are the best medical compression socks for pregnancy which aid in recovery by reducing lactic acid buildup, edema, swelling, fatigue, muscle pulls, cramps and more. The high-quality stitching technology of these pregnancy compression socks lend a smooth and easy silhouette without compromising your mobility. Made with nylon and spandex, these socks provide compression from calf to toe and also maintains therapeutic joint stability and durability through all activities. Whether you're spending time doing some gardening or taking a short walk, trust these compression tights for pregnancy to be your knight in shining armor.
Pros
Helps in blood circulation and flow
Odor-free fabric
Breathable material
Lightweight
Comfortable
Graduated compression
Double stitched cuff
Cons
May not be ideal for summer
Love vibrant colors like pink, blue, beige, and more? Turn to these compression stockings while pregnant for all-day comfort as the socks stay intact and offer a snug fit! From small to plus sizes, these inclusive pairs of pregnancy compression socks go over the calf and provide 2 pressure levels. And if you're about to become a fashion-conscious mom, this pregnancy compression hose should be your go-to. With no branding on the socks, the hosiery can be mixed with all elements in your wardrobe to help you ace that top-notch maternity style! One of the best compression socks for pregnancy, you can don this support hose all day as it helps to reduce fatigue and swelling in your legs.
Pros
Multiple color options
Extra padded sole
Arch support
Breathable fabric
Graduated pressure
Lightweight
Stay-put cuff
Can be washed regularly
Easy to wear
Cons
May become thin with extended use
If you have a penchant for quirky stripes, the BELAIR Maternity Compression Socks will amp up your pregnancy wardrobe while reducing discomfort. Tailored with graduated compression maternity support, these are the best maternity compression stockings that help improve blood circulation and give you relief from leg pain. The ideal compression socks for swelling during pregnancy, they prevent the collection of blood in the small veins of your legs, which can eventually lead to pain and discomfort. Weaved together with a soothing blend of nylon and lycra microfibers, these compression stockings for pregnant women will take you from day to night with comfort and style.
Pros
Knee-high
Breathable material
Controls swelling
Comfortable and supportive
Flex cross stitch
Uniform feather light support
Moisture-wicking fabric
Cons
Some may find it too tight on the calves
With a double-stitched design to ensure optimal compression in the key areas of the foot and calves, the Wasser Gear Compression Socks promise improved circulation without neglecting style. These are the best compression socks for pregnancy if you're searching for ultimate compression to provide that extra endurance. While these compression socks for pregnancy help to combat pain and discomfort, it also plays a pivotal role in alleviating Deep Vein Thrombosis (DVT). If you have an inclination towards sporty prints, this pair of compression socks will fulfil your sartorial demand. The pregnancy support stockings by Wasser Gear will not only just boost your circulation but also assist you while recovering from surgeries.
Pros
7 color options
Reduces pain and swelling
Improves circulation
Comfortable
Gives extra endurance
Double-stitched cuff
Prevents blisters
Cons
May be shorter than expected
Have you been feeling extremely fatigued and lethargic? Give the MadeMother Maternity Compression Socks a chance and immerse yourself in a pool of feel-good energy. Made with cotton and featuring a medical-grade graduated compression, these cute compression socks for pregnancy help in a tremendous increase of blood flow. Whether you're tall or petite and regardless of your body type, this pregnancy compression hose comes with adjustable sleeve cuffs to ensure optimal length. Also, this maternity support hose for varicose veins by MadeMother maintains the same amount of compression therapy all-day long as you spend time with your loved ones around.
Pros
Easy to put on and remove
Cotton material
Firm plantar arch support
Extra padded toe box
Boosts blood circulation
Provides ventilation
Extra comfortable and warm
Cons
Featuring LA Active's signature extra strength anti-skid PVC grip pattern, these are one of the best compression socks for pregnancy that provide incomparable stability and mobility. Whether you're exercising or walking around the house, the non-slip traction in these pregnancy compression socks ensure that you are protected from unanticipated falls. If you are suffering from conditions like shin splints, calf pain, inflammation, swelling, achy legs, or varicose veins — the moderate pressure from these socks help relieve the pain by promoting blood circulation and flow. And here's the best part about these compression socks for pregnancy. Thanks to the nylon and spandex tubes in the compression socks, you will spend less time wearing and pulling up these socks!
Pros
Cushioned sole
Seamless toe box
Non-slip grip
Comfortable
2 levels of pressure
Cons
May slip down with extended use
Offering moderate compression, the Rhea9 Maternity Compression Socks features a gradual pressure pump design to help minimize pain, swelling, and fatigue in legs and calves. Designed with a chic sartorial aesthetic in mind, these compression socks for pregnancy travel are perfect for all situations. From catching a flight to spending the day at home, the greys in the compression socks will blend in with everything that you wear for a fashionable yet comfy feeling. Made with a blend of fabrics like coolmax (a type of polyester), cotton, nylon and spandex — it aims to deliver the comfort of plush socks with the impressive support of compression socks.
Pros
Provides joint support
Built-in X bind
Padded arch support
Ventilated sole design
Knee-high
Comfortable
Aesthetic design
Cons
May not be available in any other color
With this shopping edit of some of the best compression socks for pregnancy on your fingertips, you can now take your pick to reduce discomfort, swelling, and pain. Need help with making the right choice? We've got you covered. Ahead, find out what you should keep in mind while buying the best compression socks for pregnancy.
How To Choose The Best Compression Socks For Pregnancy
Wearing compression socks while pregnant is helpful to reduce discomfort and alleviate pain owing to the gentle pressure from the socks. Hence, when purchasing compression socks, ensure that the size and fit is just right for you. It should be snug and firm but not too tight or uncomfortable.
Since a lot of your body weight is concentrated on legs during pregnancy, you should look for the best compression socks for pregnancy that come with a cushioned toe box. It is also better to ensure investing in a pair which has arch support. This padded sole and support will give the ultimate comfort.
Pregnancy compression socks come in a myriad of offerings. From knee-high versions, ankle-lengths to just covering the calves, there's a plethora of options to take your pick from. However, it is advisable to purchase knee-high compression socks and pregnancy compression pantyhose as they are the most effective.
When worn for a long period of time, pregnancy compression socks can often build feelings of suffocation and irritation. To combat this, it is imperative to buy compression socks made with a breathable and moisture-wicking fabric like spandex. Elements like breathable materials and open toe box will promote ventilation for a comfortable fit all-day long.
How To Use Pregnancy Compression Socks
It is best to wear pregnancy compression socks at the start of the day. When you wear them first thing in the morning, you will take the precautionary step to keep swelling and pain at bay. Hence, as soon as you are up and fresh, it is advisable to put on the socks for the day. Whether you are taking a stroll or doing little activities at home, keep the socks on and do not remove them. However, when you go to sleep, it is advised to remove the compression socks since your body and legs are at the same level.
Benefits Of Pregnancy Compression Socks
Improves blood circulation and flow
Supports veins in the leg
Reduces swelling, discomfort and pain
Provides relief to fatigued muscles
Prevents development of Deep Vein Thrombosis (DVT) in legs
Reduces orthostatic hypotension, which causes unsteadiness and dizziness
Prevents blood from collecting or pooling in leg veins
Why Trust StyleCraze?
Priyam Gupta has detailed information on everything you need to know about fashion, even down to the socks you wear. Her buying guide highlights the benefits of compression socks for pregnant women and what to look for. The author offers her list of the best compression socks and a few tips for getting the most out of them. She created this list for her reader's benefit following research and careful analysis of reviews. The socks reduce swelling and pain and increase blood flow.
Frequently Asked Questions
Why are compression socks ideal for pregnancy?
Wearing compression socks during pregnancy can help reduce discomfort and also alleviate pain or swelling. Moreover, the gentle pressure from the socks helps you to feel energized. Hence, wearing compression stockings while pregnant is ideal.
When should you start wearing compression stockings?
You can start wearing compression stockings right from the first trimester of pregnancy. It is advisable to wear compression socks from the beginning of pregnancy to even 6 weeks after giving birth.
Is it safe to wear compression socks throughout your entire pregnancy?
Yes, you can wear compression socks throughout the course of your entire pregnancy. However, do not wear them while sleeping since your feet and body are at the same level during that time.
What strength of compression socks do I need?
The 15–20 mmHg range of compression socks are ideal to be worn during pregnancy. These are gentle and efficient to remove pain and swelling.
How long should you wear compression socks during pregnancy?
You can wear compression socks from the first trimester to the end of the high-risk period of your pregnancy. There is no harm in wearing these socks since they have multiple benefits for you.
Do compression socks help with swollen feet during pregnancy?
Yes. Compression socks promote blood circulation, relieve blood clots, and minimize swelling during pregnancy. They offer optimum comfort and help relax strained feet.
Recommended Articles: