13 Best Concealers For Dry Skin, According To Reviews
Achieve a seamless and natural finish with non-cakey and non-comedogenic concealers.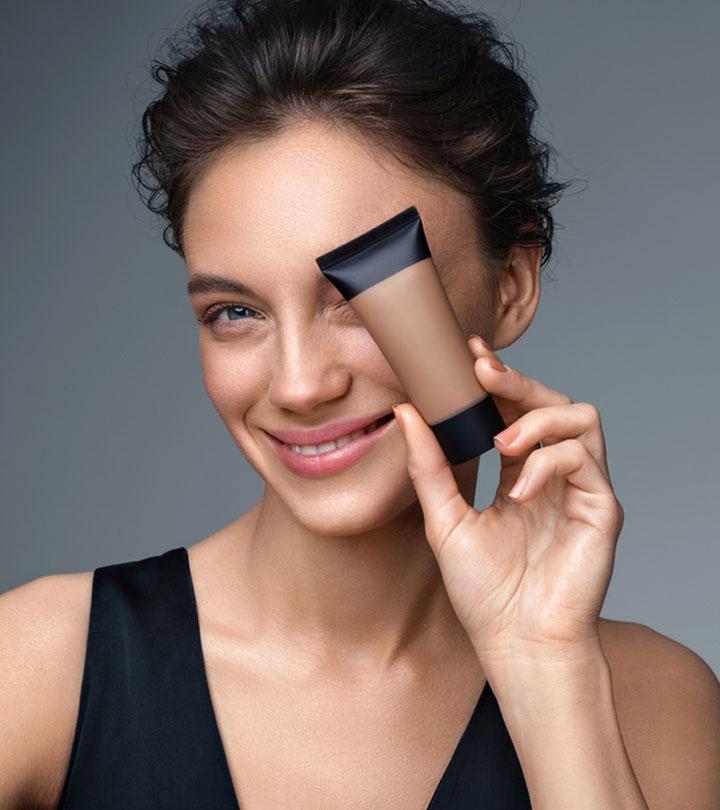 Dry skin can make your makeup look dry and patchy. You must try the best concealers for dry skin to tackle this issue. Dry skin can be frustrating, especially if you are not using the right makeup and skin care products. This skin type is quite easily aggravated by external factors too. Many factors like the perfect diet and water intake, along with the right products and skin care routine, can help you deal with dry skin. But a few quick dots of a good concealer can do wonders too.
A concealer is a multipurpose warrior product in a woman's makeup kit. This versatile product can be used to achieve flawless perfection while applying your makeup. But you need to be careful while selecting the one that suits your skin the best. You also have to keep your skin type in mind. A mismatched concealer can make your whole makeup game look wrong. Here, we have listed the 13 best concealers for dry skin, considering the different skin tones and undertones. Go ahead and check them out.
13 Best Concealers For Dry Skin In 2023
Whether you're getting ready for a party or a quick meeting, the Maybelline Instant Age Rewind Eraser will make you appear glowing and rejuvenated in no time. This award-winning concealer is super-concentrated and features a micro-corrector applicator that works like magic and perfectly suits wide-set eyes; it instantly erases dark circles and fine lines. For a more polished look, apply a neutralizer shade under the concealer to cover up extreme dark circles. Also, you can also use the Maybelline Instant Age Rewind Eraser to highlight the brow bones, the bridge of the nose, and inner eye corners. If you are still unsure, check out this honest review.
Pros
Contains Goji berry
Non-cakey
Micro-corrector applicator
Helps cover even extreme dark circles
Cons
Price at the time of publication: $8.8
Complete your look with NYX Professional Makeup Can't Stop Won't Stop Contour Concealer. The concealer is highly-pigmented and lightweight and is available in many shades to match diverse skin tones. It is a long-wearing, transfer-resistant liquid contouring concealer that lasts for 24 hours and is the best choice for close-set eyes. You can use the matte formula to camouflage and cover blemishes and brighten the under-eye area. You can apply this lightweight and moisturizing concealer by simply dabbing under your eyes to cover imperfections. Then, blend the application using a sponge or concealer brush. Click this video to learn more about the product.
Pros
Vegan
Highly-pigmented
Lightweight
Long-lasting wear
Cons
Some may feel that it dries quickly.
Price at the time of publication: $4.97
Looking for a full-coverage face concealer for dry skin that provides the perfect matte finish for an entire day? This concealer from L'Oreal Paris' comprises a multi-functional formula that helps conceal skin flaws and covers imperfections, while also functioning as a contour product. It is the perfect liquid concealer for dry skin and comes with an extra-large applicator that gives extensive coverage in a single stroke to conceal dark circles, scars, and other imperfections. It is waterproof and won't transfer, fade, or flake while providing a dewy finish.
Pros
Full-coverage
Available in 25 shades
Waterproof
Transfer-resistant
Cons
Might not have good blending capabilities
Price at the time of publication: $6.39
Skincare routines can take ages to combat blemishes, and Neutrogena Hydro Boost Hydrating Concealer can provide a flawless finish instantly by masking skin imperfections. It is a non-greasy, lightweight formula that provides building coverage and an all-natural look. The concealer has a creamy texture and is suitable to be applied directly to clean skin. It contains purified hyaluronic acid, which makes it an incredibly hydrating concealer.
Pros
Ophthalmologist-tested
Oil-free
Non-comedogenic
Safe for contact lens wearers
Cons
Only available in 5 shades
Price at the time of publication: $9.29
The NARS Radiant Concealer is a multi-action solution that helps you achieve a smoother and softer complexion. It is recommended by makeup artists all over the world as it stays put for up to 16 hours. The concealer further presents an even feel with moderate to high buildable coverage. It boasts of light-diffusing technology, which helps hide skin imperfections. It is enriched with magnolia bark and grape seed extracts along with vitamin E that keeps the skin hydrated and strengthens the skin barrier. The product is free from harmful chemicals, including paraben, alcohol, and synthetic fragrance.
Pros
Crease-proof
Suitable for all skin types
16-hour weather
Hydrating
Skin-firming properties
Cons
It may cake after a few hours.
Price at the time of publication: $21.71
Find a flawless finish and brighter skin with the RMS Beauty "Un" Cover-Up concealer and foundation. This moisturizing 2-in-1 beauty product was created by makeup artist Rose-Marie Swift and she has presented a mini-but-mighty appeal to this application. The concealer is versatile and suitable for everyday wear. The concealer is known for hiding blemishes and imperfections with an array of clean ingredients and keeps the skin's natural beauty intact. The concealer contains organic ingredients like coconut oil, beeswax, cocoa butter, and jojoba oil that keep the skin hydrated and moisturized.
Pros
Concealer and foundation duo
Cruelty-free
GMO-free
Gluten-free
Soy-free
Lightweight
Cons
Some may feel that it doesn't provide full-coverage.
Price at the time of publication: $25.78
Are you having a tough time covering stress and fatigue signs on your face? Try the Lancome Effacernes waterproof concealer as it instantly eliminates imperfections and provides complete and natural coverage. It evens the complexion by covering dark circles and minimizing the appearance of fine lines and wrinkles. You can also use it for an opaque under-eye area coverage that blends easily and allows the skin to breathe. The concealer presents a soft matte finish that lasts long, and its waterproof formula won't crease or fade. It is the best concealer for dry skin.
Pros
High-resist complex
Waterproof
Crease-proof
Long-lasting wear
Cons
It contains sulfate and parabens
Price at the time of publication: $26.2
This incredible concealer from Hey Honey provides a light to medium coverage that hides dark circles and other spots around the eyes. It is a highly pigmented cream-based concealer with a unique mix of amino acid proline and vitamin E. The concealer conceals wrinkles like a pro, lending your skin a smoother appearance. It is a good concealer for dry skin as it is enriched with Propolis, Dead Sea salt, and squalene that nourishes the skin. The concealer can be used alone — directly over the skin — or on top of the foundation.
Pros
Suitable for sensitive skin
No mineral oils
Sulfate-free
Paraben-free
Cruelty-free
Phthalate-free
Cons
Limited number of concealer shades.
Price at the time of publication: $34.01
The Elizabeth Arden Ceramide Lift And Firm Concealer is a high-coverage, ultra-creamy concealer. This moisturizing concealer is made with Cellular Plumping Technology (CPT), which ensures smooth skin by covering wrinkles, spots, and blemishes. CPT helps tighten, tone, smooth, and improve your skin. It brightens under-eye dark circles and hides sagging, puffiness, and other skin pigmentation. The lightweight, crease-proof concealer blends easily and ensures long-lasting wear. This concealer for dry skin with SPF contains vitamins A, C, and E to moisturize the skin and provide essential antioxidants. This award-winning concealer also contains light-diffusing pigments that help cover blemishes, spots, and uneven skin tone.
Pros
Lightweight
Crease-proof
Broad-spectrum SPF 15
Creamy textures
Illuminating finish
Blends easily
Cons
It may not offer full coverage.
Price at the time of publication: $22.0
Yes, we've all been there and walked the walk of shame as a result of dry under-eyes and dark shadows. However, the next time you're in a crowd, you can get rid of this embarrassment with the Benefit Boi-ing Hydrating Concealer. This hydrating under-eye concealer provides a smooth finish while it hides dark circles and wrinkles. It is formulated with hydra-smoothing formula with Vitamin E and apple seed extracts, making it a conditioning concealer. Unlike other concealers, this beauty product is proven to give you long-lasting hydration, lasting for 6 hours straight.
Pros
Hydrating
Lightweight
Natural finish
Easy to apply
Cons
Some may find the coverage too sheer.
Price at the time of publication: $39.0
Draw away your imperfections with the Yves Saint Laurent Touche concealer highlight pen. This brightening concealer blends seamlessly and is enhanced with an anti-fatigue feature that helps hide tiredness from your face and highlights your key facial features by reducing dark spots. It comes with light-infused pigments that lend your skin a healthy and radiant glow and brightens your complexion without feeling cakey or heavy. It offers sheer to medium to buildable coverage, making it ideal for those who enjoy experimenting with different makeup looks or those who like to keep it simple.
Pros
Suitable for all skin types
Buildable coverage
Crease-resistant
Easy to apply
Cons
Price at the time of publication: $40
Get the best of two worlds with the Clinique Beyond Perfecting Foundation + Concealer. This lightweight concealer lasts throughout the day, and allows the skin to breathe comfortably. It is ultra-pigmented and helps set the perfect base for all your makeup products. Suitable for all skin types, this concealer offers long-lasting wear and the soft application wand makes it easy to conceal dark spots, blemishes, and fine lines like they never existed.
Pros
Dual-usage
24-hour wear
Full coverage
Suitable for all skin types
Cons
Price at the time of publication: $30.18
Conceal redness, dark spots, and blemishes for a flawless complexion with Maybelline's Fit Me liquid concealer. This concealer provides complete coverage for a natural look, with a superior formula that helps blend the application. It helps to accentuate your skin-quality by hiding fatigues signs and giving you a rested appearance. This concealer has been tested and approved by dermatologists and ophthalmologists, and is further proven to keep your skin fresh throughout the day.
Pros
Oil-free
Non-comedogenic
Fragrance-free
Dermatologist-tested
Cons
Price at the time of publication: $6.44
Choosing the right concealer for dry skin can be tricky. You need to take care of hydration, moisture, and SPF, among various other factors to ensure that you're picking the right concealer for your skin type. We have included some tips that can help you find the best concealer for dry skin.
How To Choose A Concealer For Dry Skin?
Consider the following points while choosing a concealer for dry skin:
Formula
People with dry skin should get creamier formulas that help to hydrate flaky skin instead of emphasizing them. Try to avoid a liquid or cream concealer with matte finish. It will further aggravate dryness.
Ingredients
Look for concealers with ingredients such as vitamin A and E, castor seed oil, glycerin, kaolin, rice protein, and nourishing and hydrated fruit and plant extracts.
Finish
Liquid concealers with hydrating formulas are ideal for dry skin as they provide a radiant finish to your complexion. However, stay away from liquid concealers for dry skin with a matte finish. They may accentuate the appearance of dry skin.
Professional makeup artist Lorrie Pearson says, "Under eye dry skin can also be sensitive. It is important to care for your eyes by using an eye cream to add hydration. When choosing a concealer, consider the formulation. A creamy one is best if your eyes are dry, but never over-apply or it will look cakey. Concealers brighten under the eyes and minimize dark circles. You can also use them to hide minor skin imperfections."
How To Use A Concealer For Dry Skin?
Whether you are using a concealer for dry or oily skin, the application process and techniques are the same. Follow these steps to ensure a full and even coverage for a clear complexion.
Step 1 :Apply a light layer of moisturizer or foundation primer to prevent the makeup from slipping off.
Step 2: Dab concealer on blemishes, discoloration, or other skin imperfections. Use a brush, sponge, or your clean finger and gently blend until you see no demarcation between the color-correcting concealer and your initial foundation layer.
Step 3 :Apply a light dusting of loose or pressed powder over the concealer to finish.
Why Trust StyleCraze?
Srijani Roy Chowdhury is a beauty and fashion enthusiast passionate about reviewing the latest trends and products. She takes her skincare and makeup game seriously and has dug deep to understand the critical points about what works and what does not. She used her experienced understanding of dry skin and what products suit it the best, along with an extensive review of user experiences, to curate this list of the best concealers formulated for dry skin. The products listed here can make your skin look absolutely flawless and help you achieve perfection in your makeup.
Frequently Asked Questions
Is Fenty Concealer good for dry skin?
Fenty concealers are popular for their full-coverage and non-drying qualities.
What is the most hydrating concealer?
Neutrogena Hydro Boost Hydrating Concealer can provide a flawless look by masking skin flaws. It is a non-greasy, lightweight formula that provides soothing coverage, providing an all-natural look.
Is cream concealer good for dry skin?
Cream concealer with hydration and higher SPC is useful in masking dark circles, age spots, and other visible blemishes on dry skin. They are also likely to reduce creases and prevent your skin from flaking.
Recommended Articles: