10 Best Concealers For Oily Skin You Need Right Now
Enhance your makeup base to ace the matte looks for your parties and dates.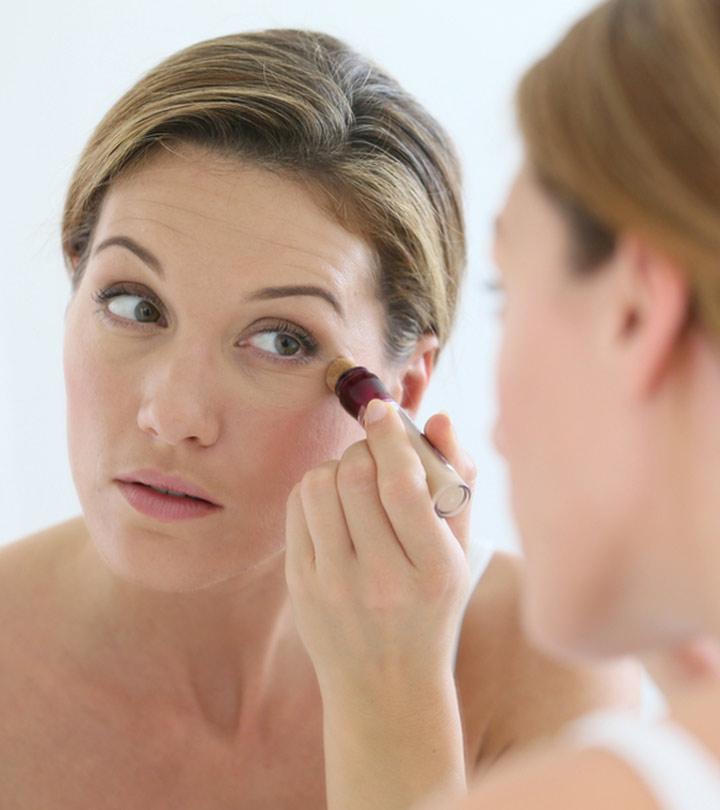 Oily skin does not show signs of aging as quickly as the other skin types. But it has a series of other problems that need delicate care. Hence, choosing the best concealers for oily skin is ideal. Concealers are wonderful makeup products that help cover dark circles, acne scars, spots, and blemishes. They come in handy to give your face an even-toned complexion and are a must-have. But getting one for the oily skin type is tricky.
The perfect concealer for oily skin should provide sebum absorption and shine control. It should be oil-free, enriched with moisturizing ingredients, and suitable for humid climates. To get flawless coverage that ensures your makeup stays in place long after its application, check out our favorite foundations that cater to different skin tones. Scroll down to discover the 10 best concealers for oily skin that you will surely want to add to your collection.
Top 10 Best Concealers For Oily Skin Of 2023
Who doesn't love flawless skin! Here is an oil-free liquid concealer by Maybelline New York that ensures the same. This Cocoa hue concealer masks blemishes, spots, and redness with just a swipe, giving your skin an even complexion. This is a non-comedogenic concealer that prevents clogged pores. Most importantly, it is ophthalmologist and dermatologist-tested and, thus, is non-toxic and safe to use. With its natural coverage, versatile skin tone matching, and effortless blendability, this one is a good concealer for oily skin.
Pros
Long-lasting
Wider shade range
Fresh and flawless look
Suitable for all skin tones
Available in different quantities
Cons
Might not conceal breakouts
Price at the time of publication: $5.34
Looking for a 100% vegan concealer for oily skin? Then, this may be the right choice. Suitable for all skin types, this oil-free and non-comedogenic concealer provides full coverage. It gives a lightweight matte finish without forming cracks or creases on your skin. The best part about this liquid concealer for acne-prone oily skin is its long-lasting effect, which means a single application will last for up to 16 hours without smudging. With a doe-foot applicator tool, you can forget dirty hands and apply this formula to cover your imperfections and then blend it using a beauty brush or sponge. It is the best concealer for oily skin.
Pros
Quick-dry formula
100% cruelty-free
Available in different shades
Free of parabens and other chemicals
Conceals wrinkles, fine lines, and acne
Cons
Might be slightly difficult to blend
Price at the time of publication: $7.0
Looking for a cruelty-free concealer? Well, say hello to this Clear Complexion Concealer by Almay! This liquid concealer for oily skin is formulated with opaque dyes and maximum-strength salicylic acid that not only covers blemishes but also prevents acne, calluses, and blisters. It contains chamomile and aloe extracts, which leave a calming and soothing effect on your skin. With its creamy formula, this oil-free concealer can be used alone or over your foundation. Watch this video to get a detailed review of the product.
Pros
Fragrance-free
Hypoallergenic
Multitasking
Creamy and matte finish
Available in 6 unique shades
Blends and conceals beautifully
Cons
May have a thick consistency
Price at the time of publication: $14.59
Are you looking for a long-lasting concealer for your oily skin? Then, this stick concealer by Tarte would be perfect for you. This light-shaded concealer gives waterproof protection for up to 12 hours! It masks blemishes, dark circles, spots, hyperpigmentation, and imperfections with just a stroke, leaving you with flawless skin. What we love the most about this oil-free concealer are the vitamins A & E and Amazonian clay that nourish your skin and give a matte finish. With its full-coverage quality and comfortable blending, this is a fairly good concealer choice to heal and treat troubled skin! Here's a video to help you know more about this product.
Pros
Hypoallergenic
Dermatologist-tested
Mineral extracts smoothen skin
12 hours of waterproof protection
Transfer-proof
Twist-up stick for easy application
Cons
Price at the time of publication: $26.99
Clear skin isn't a far-fetched dream anymore with this Payot Paris Stick Couvrant concealer designed for oily skin. This high-coverage concealer, enriched with shale extracts, will give you an even complexion by concealing spots and blemishes. This cruelty-free concealer effectively camouflages minor scars and acne and minimizes redness and puffiness.
Pros
Pleasant smell
Clears impurities
Even and clear skin tone
Hygienic and handy stick
Suitable for all skin types
Cons
Might not conceal fine lines
Price at the time of publication: $18.0
Neutrogena Skin Clearing Blemish Concealer is a great pick for those with oily skin as it conceals the skin without making your skin appear shiny. This sebum-regulating formula is infused with salicylic acid that treats and prevents breakouts while covering up pimples and providing natural-looking coverage. It helps treat, clear, eliminate, and prevent blemishes. According to dermatologists, it is suitable for regular use and can be a part of the regular acne treatment skincare regime if you do makeup everyday.
Watch this video for more information on the product.
Pros
Non-greasy
Available in different shades
Multitasking
Treats acne
Skin-like finish
Provides matte look
Cons
None

Price at the time of publication: $13.99
The HIDE Multi-Use Liquid Concealer is a high-coverage product that is designed to hide dark circles, blemishes, and other skin imperfections. It is formulated with a lightweight, creamy texture that glides on smoothly and blends easily, providing a natural and seamless finish. This concealer is infused with skin-protecting ingredients that help nourish and hydrate the skin while providing great coverage. It is also long-lasting and water-resistant, ensuring that your skin stays flawless all day. The concealer comes in a variety of shades that cater to different skin tones, allowing you to find the perfect match for your skin. It is also suitable for all skin types, from oily to dry, and can be used to cover a variety of skin imperfections. The HIDE Premium Liquid Concealer is also cruelty-free.
Pros
Skin-friendly ingredients
Offers full coverage
Lightweight
Creamy texture
Long-lasting
Water-resistant
Suitable for all skin types
Suitable for all-day wear
Cruelty-free
Travel-friendly
User-friendly packaging
Available in a variety of shades
Cons
None
Price at the time of publication: $18.95
Dark circles make your skin appear dull and tired. Well, not anymore as this full-coverage concealer by MAKE UP FOR EVER effectively camouflages blemishes, moles, acne, tattoos, scars, and pigmentation for a blurring effect. The result is an even, clear, and glowing skin. Formulated with non-oily and non-comedogenic ingredients, this concealer prevents clogged pores and has the ability to absorb excess sebum. Just a small amount of this magical formula can conquer breakouts easily without any side effects. This video takes you through this product's details.
Pros
Waterproof
Long-lasting
Easy blending
Buildable coverage
Non-comedogenic
Suitable for all skin tones
Suitable for oily and acne-prone skin
Cons
The consistency might be slightly thin.
Price at the time of publication: $33.98
Do you follow a skincare regime? If yes, you might want to add this oil-free concealer by NARS to your routine. With this high-coverage matte concealer for oily skin, you can get rid of uneven complexion and hide acne, spots, redness, dark circles, and breakouts. Its advanced powders in an inter-woven structure work efficiently on fine lines and wrinkles too. The Optimal Diffusion Powder in this vitamin-infused formula provides a soft-focus effect and absorbs maximum light to give you radiant skin. It is the full coverage concealer for oily skin.
Pros
Soft and smooth skin
Rich in vitamins A, C, and E
Lightweight and natural look
Available in different shades
Contains hyaluronic acid to reduce wrinkles
Cons
Price at the time of publication: $32
Looking for a dual-purpose concealer? Then, you may want to try out this full-coverage solid cream concealer for oily skin by It Cosmetics. This bottle of goodness is crafted with skincare essentials along with a tint of color infused in it. What we love the most about this oil-free concealer is its multi-functioning capacity of serving both as a dry lotion and concealer simultaneously. It can be applied alone or with makeup as a good cover-up for oily skin. With this, say 'bye-bye' to acne, blemishes, and redness and 'hello' to clear and flawless skin!
Pros
Anti-aging collagen
Improved skin clarity
Prevents creasing and cracking
Conceals acne and other imperfections
Contains zinc oxide and witch hazel to absorb oils
Cons
May not be too efficient on wrinkles
Price at the time of publication: $34.95
Since concealers come in varying textures and shades, it may be a little tricky to choose the right one. There are a few factors that you need to consider before arriving at a decision.
How To Choose The Right Concealer For Oily Skin
1. Texture
Stick concealer – This type of concealer is thick and creamy and provides full coverage. It is ideal for masking blemishes and dark spots. However, it is slightly heavy and requires a lot of blending using fingers or beauty brushes. People with oily skin are advised not to use such a concealer during summers as the heat can melt it, spoiling your look.
Liquid concealer – This concealer offers 3 different finishes — satin, radiant, and matte. This type of concealer is super-efficient for oily and acne-prone skin. It covers acne, blemishes, and spots. It needs to be set with a powder for better results. It gives a natural look and lasts longer. However, it may cause dry patches in some cases.
Cream concealer – This type of concealer offers medium to full coverage and is slightly thicker than liquid ones. It is ideal for masking dark under-eye circles, dried blemishes, and discolorations. However, there is a chance of creases and it does not work efficiently on wrinkles and fine lines.
2. Color corrections
Not every concealer is suitable for all imperfections, and that's where a specific color-correcting concealer comes into the picture! Color correctors can be used not just to correct pigmentation issues but also for imparting a brightening effect. They are available in a range of colors and each color is used to mask a particular imperfection, and they are as follows:
Orange and pink – hides dark spots on the skin with a dark complexion
Peach – balances the bluish shadow on medium skin tones.
Green – covers redness, scars, and veins
Yellow – camouflages dark circles with lilac tones
Lavender – masks the yellowness on the face
3. Under-eye concealer
In simple terms, this is a concealer that conceals under-eye bags. Generally, under-eye concealers need to be a shade lighter than your complexion. Choose the right one after assessing your skin tone for a natural and flawless finish. People with light skin tone may opt for yellow or pink correctors while ones with a darker complexion may opt for peach correctors.
4. Oil-free and non-comedogenic
Since there is already an excessive amount of oil in your skin in the form of sebum, opting for a concealer with oils would only cause more problems. Thus, choose an oil-free or oil-balancing and crease-proof concealer for flawless skin. A non-comedogenic concealer helps prevent clogged pores, oiliness, and acne, leaving you with soft and supple skin. Also, pay attention to the ingredients label and ignore products that contain ethylhexyl palmitate, isopropyl palmitate, and isopropyl myristate. These components aren't suitable for oily acne-prone skin.
How To Use Concealer For Oily Skin
1. CTM (cleansing, toning, and moisturizing) before anything else
Before concealer application, wash your face with a cleanser or mild soap to remove makeup, dust, or dirt. After this, you need to apply a toner and a moisturizer on your face for a smooth skin texture. Marin McCarthy, a professional makeup artist with five years of experience, states, "Do not skip moisturizing your oily skin! Leaving your skin craving for moisture causes it to produce excess oil and sebum, which melts away your makeup faster and leads to breakouts."
2. Under-eye is the priority!
Apply concealer under your eyes by drawing an upside-down triangle pointing towards your cheek. This will give you a natural and complete shape. After this, start blending it patiently at the edges. Remember! Never rub as it may lead to skin damage. Gently pat or dab the layer on your skin for fine blending — always use a beauty brush or sponge. Marin McCarthy, a professional makeup artist, remarks, "The under-eye skin is much thinner and more fragile than the rest of your face. So, avoid applying concealers with acne-treating ingredients such as salicylic acid under the eyes to prevent redness."
3. Imperfections
Once you finish with your eye area, you can start covering up your acne, spots, blemishes, and discolorations using your preferred concealer. Make sure that you blend the edges well using a brush or sponge for a long-lasting and natural finish. Never use your fingers to mask acne as it may worsen that condition by spreading bacteria. For best results, apply a matte primer before this process.
4. Setting
Once you are done with blending, it is time to set it properly. Use a compact powder or foundation for the same. In the case of a foundation, there is an extra step of dusting adequate setting powder on your face for better results. While doing so, make sure that you cover all parts of your face for an even look.
5. Additional tips
Since you have oily skin, ensure that the concealer is well blended on your T-zone (forehead, nose, and chin) where oil secretion is excess. Besides following all the above steps, never forget to carry a blotting paper with you to absorb excess oil and prevent smudging. Marin McCarthy, a professional makeup artist, explains, "Avoid applying concealer straight out of the tube or jar onto your blemishes repeatedly. This will spread bacteria from pimples into your products, which will, in turn, cause more breakouts. Also, make sure to wash your sponges and brushes frequently."
Why Trust StyleCraze?
Srijita De has a deep interest in makeup. She reviews different makeup products. After thorough research, she has provided a detailed list of the best concealers for oily skin in this post. She went through numerous reviews and feedback on multiple forums and brand websites to help you pick perfect concealers for oily skin that are non-comedogenic and oil-free. The products listed in this post can cover dark circles, acne scars, and spots effectively.
Frequently Asked Questions
Can concealers be used for oily skin?
Yes, but make sure that you purchase a non-comedogenic and oil-free concealer for enhanced results. Also, opt for a fragrance-free and cruelty-free concealer for oily skin.
Which type of concealer is best for oily skin?
Liquid concealer is considered to be the best because it prevents and masks acne and minimizes the appearance of pores. It serves as a good cover-up for oily skin.
Is NARS concealer good for oily skin?
Yes, it is an oil-free concealer that provides natural and complete coverage for oily skin. With its Optimal Diffusion Powder, it absorbs maximum light to offer an extra radiant skin. It is a good cover-up for oily skin as it masks acne, blemishes, and other imperfections.
How do you cover up oily skin?
Firstly, perform the basic CTM (cleansing, toning, and moisturizing) process to your face. Then, apply a matte primer to control excess oils and then start with the concealing process. Once you're done with blending, set it right with a finishing powder.
Is Tarte concealer good for oily skin?
Yes, because it is oil-free and fragrance-free, providing a full-coverage to your oily, acne-prone skin. It is also hypoallergenic.
Recommended Articles