21 Best Under-Eye Concealers For Dark Circles (Positive Reviews)
Show off your success and hide the sleepless nights behind it with these formulations.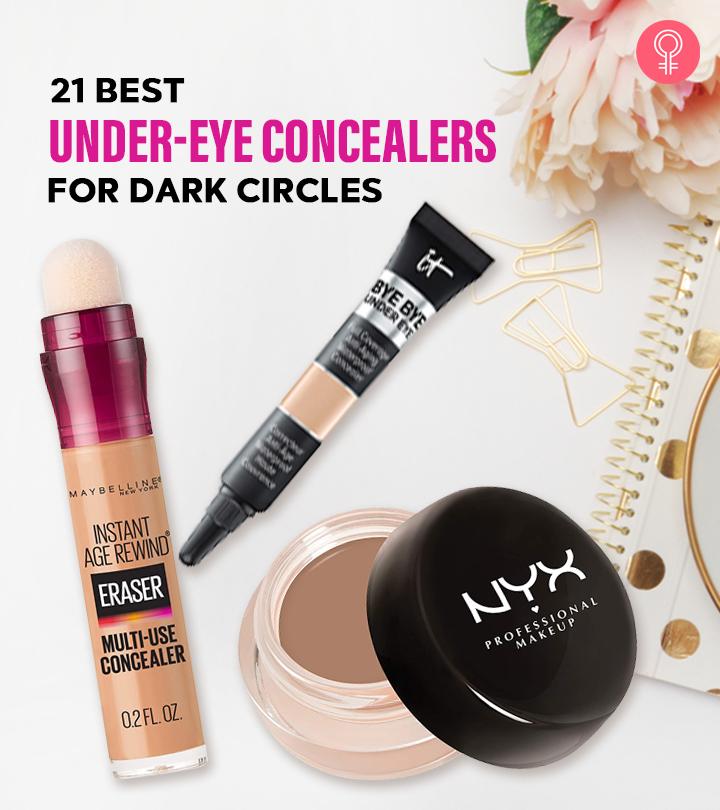 Our busy lifestyles often take a toll on our bodies. The most common visible sign of a busy schedule is dark circles. The best concealers for dark circles will help you look occasion-ready in minutes! The minor side-effects of your hustle need not be seen by everyone. To look fresh and well-rested after stressful days and nights, you must have a good concealer that can do the trick.
The world of cosmetics offers some well-formulated concealers that you will surely love. In this article, we have listed some of the best concealers for dark circles available on the market right now. Keep scrolling to check them out!
Can Concealers Hide Dark Circles?
If you use the right concealer according to your skin tone, you can hide your dark circles. Just add the suitable color corrector with your concealer, and you can achieve the most amazing and even skin tone.
Now let's take a look at the best concealers that are available on the market.
21 Best Under-Eye Concealers For Dark Circles
The Instant Age Rewind Eraser Multi-Use Concealer is the best concealer to cover anything from under-eye circles to blemishes. It offers medium to full coverage and adds a dewy glow to dry skin. The twistable cushioned tip dispenses a perfect amount of formula for seamless application. This anti-aging concealer is infused with goji berry and haloxyl that impart a radiant and refreshed look. The multi-use concealer can also be used as a highlighter, BB cream, primer, and foundation. Take a look at this video to learn more about the product.
Pros
 Controlled application
 Crease-proof
 Non-cakey
 No irritation
 Long-lasting
 Easy to blend
Cons
None
The Nyx Professional Makeup Concealer is a creamy formula that helps hide bags and dark circles under your eyes. The coconut oil-infused formula provides intense hydration and keeps the under-eye area moisturized. The product has a slight orange undertone and glides on your skin smoothly. It minimizes the appearance of fine lines and wrinkles. The pigmented formula spreads evenly and provides great coverage.
Pros
 Blends well
 Non-comedogenic
 Long-lasting
 Medium to full coverage
 Non-cakey
 Doubles up as a color corrector
 Cruelty-free
Cons
 Consistency could be too thick
The IT Cosmetics Bye Bye Under Eye Full Coverage Concealer is formulated with anti-aging peptides and vitamins to reduce the appearance of wrinkles. The clinically proven formula contains antioxidants and hyaluronic acid to make your skin look younger. It is highly pigmented and sits well on your skin without creasing or cracking. This waterproof formula is infused with expression-proof technology to cover all your skin imperfections and discoloration. Watch this YouTuber's honest review to get a better idea about the product and its features.
Pros
 Lasts for up to 24 hours
 Crease-proof
 Humidity-proof
 Sweat-proof
 Developed with the help of plastic surgeons
Cons
 Thick texture difficult to blend
The complexion fix concealer pen from Veil cosmetics provides full coverage to your skin for a radiant and youthful appearance. This multipurpose product not only covers your dark circles but also acts as a concealer and highlighter. With the goodness of hyaluronic acid and anti-aging peptides, it keeps your skin fresh and hydrated. The oil-free formula comes in a twistable dispenser that has a cushioned tip for smooth application. This video will give you a better insight into the product.
Pros
 Lightweight
 Multipurpose
 Hypoallergenic
 Non-irritating
 Vegan
 Cruelty-free
 Paraben-free
 Sulfate-free
 Glycol-free
 Fragrance-free
Cons
The Dermablend Professional Quick Fix Concealer is an ultimate full-coverage makeup essential for your dark circles and under-eye bags. The creamy texture is highly pigmented and blends smoothly to plump the under-eye area. It helps reduce puffiness and fades the dark areas around your eyes. This non-drying concealer provides 16-hours of smudge-proof and transfer-resistant wear. Glide this retractable concealer over the desired area and blend it with your fingers to achieve a flawless look.
Pros
 Dermatologist-tested
 High-performance pigments
 Fragrance-free
 Allergy-tested
 Sensitive skin-tested
 Non-comedogenic
 Non-acnegenic
 Non-cakey
 Triclosan-free
 Phthalate-free
Cons
None
The Dermablend Professional Cover Care Concealer hides all your skin imperfections for a flawless look. The long-lasting formula provides 24-hour long coverage with just one application. This liquid-based corrector is available in 16 shades and gives a magical effect to cover all skin imperfections of a matured skin. This full-coverage concealer is breathable on the skin and finishes on your skin with a matte effect. This is a waterproof formula infused with glycerine to keep your skin moisturized.
Pros
 Lightweight
 100% vegan
 Allergy-tested
 Sensitive skin-tested
 Waterproof
 Transfer-resistant
 Non-comedogenic
 Paraben-free
 Fragrance-free
 Alcohol-free
 Cruelty-free
Cons
None
The Maybelline New York Master Camo By FaceStudio features six shades of color correcting pens designed to target skin tone issues. This particular shade of apricot corrects dark circles for light to medium skin tone. It has a creamy formula with high pigments and provides full coverage and evens out your skin tone. Different color-correcting shades solve a wide array of skin tone issues. This pen-shaped formula with an easy glide applicator blends smoothly for a fine finish.
Pros
 Precise blender tip
 Full-coverage
 Blends smoothly
 Moisturizing
Cons
The NARS radiant creamy concealer is long-lasting and can be worn for 16 hours. The highly pigmented formula blends easily for an even-looking skin tone. It is fortified with hydrating and skin care benefits and hides all skin imperfections and removes signs of fatigue. Its light-diffusing technology reduces the appearance of blemishes and dark circles. It is ideal for all skin types. This formula sweeps effortlessly on your skin to impart natural luminosity. This is a multipurpose concealer that can also be used for highlighting and contouring.
Pros
 Medium, buildable coverage
 Lasts all day
 Dermatologist-tested
 Ophthalmologist-tested
 Non-comedogenic
 Crease-resistant
 Sweat-resistant
 Humidity-proof
 Transfer-resistant
 Water-resistant
 Alcohol-free
 Paraben-free
 Fragrance-free
Cons
The L.A. Girl Pro Conceal HD Concealer offers natural-looking full coverage. Its lightweight texture allows a smooth application to fade the darkness under your eyes and removes all skin imperfections. Its creamy consistency helps you blend it comfortably for a smooth and supple look. The concealer is available in 30 shades and offers a wide range of choices to suit every skin tone. The pointed nozzle applicator allows for smooth application.
Pros
 Easy-to-use
 Lightweight
 Long-wearing
 Crease-resistant
 Pointed nozzle applicator for precision
 Durable
Cons
None
The Sheer Miracle Wide Awake Dark Circle Concealer is formulated with natural ingredients. It is a vegan formula that makes your eyes look well-rested. It is super concentrated and a small drop will give you full coverage. It minimizes wastage for long-lasting use. It is infused with shea butter, jojoba oil, and vitamin E that keep the delicate area around your eyes nourished and hydrated.
Pros
 Organic
 Suits all skin types
 Paraben-free
 Cruelty-free
Cons
 Texture could be too thick
The Tarte Shape Tape Contour Concealer is crafted to hide your fine lines and wrinkles for a smooth and flawless look. This travel-friendly concealer is formulated with shea butter to retain the elasticity of your skin. It is combined with licorice and mango butter that help condition and moisturize your skin for a brighter complexion. This concealer gives perfect coverage to hide all imperfections around your eyes.
Pros
 Vegan
 Waterproof
 Non-comedogenic
 16-hour wear
 12-hour crease-proof
 Dermatologist-tested
 Cruelty-free
 Paraben-free
 Mineral oil-free
 Phthalate-free
 Gluten-free
Cons
This anti-aging serum from bareMinerals BareSkin Complete Serum Coverage Concealer works like magic for under-eye treatment. This formula is infused with an anti-aging serum that promises a luminous finish due to its high-definition optics that neutralize shadows. The essential minerals used in this product diminish dark circles and offer an even toned complexion. The humectants in this serum help nourish the delicate area under your eyes. The concealer offers excellent coverage and a dewy finish.
Pros
 Vegan
 Lustrous finish
 Wide range of shades
 Cruelty-free
Cons
 Consistency could be too thick
Conceal & Define from Makeup Revolution is crafted for a flawless and natural-looking finish. The superior textured formula assures you blemish-free skin. The wonder product helps mask the fine lines and wrinkles around your eyes and offers a complete dark circle coverage. This lightweight makeup concealer is an on-the-go product to hide your skin imperfections anywhere and anytime. It is available in 18 shades to suit all skin tones.
Pros
 Lightweight
 Cruelty-free
 Vegan
 Smooth consistency
 Everyday use
 Creamy
 Blends easily
Cons
The Lancome Effacernes Waterproof Undereye Concealer is a dark circle removal cream for a rejuvenated look around your eyes. The waterproof formula dries out to a soft matte finish and leaves your skin with a radiant glow. It delivers long-lasting full coverage that reduces the appearance of wrinkles without creasing. The gentle formula blends perfectly with your skin and lends a dewy finish.
Pros
 Natural-looking finish
 Crease-free
 Fade-resistant
 Easy to blend
 Long-wear
Cons
 Watery consistency
 Expensive
The Benefit Boiing Hydrating Concealer is a long-lasting formula that sits for ten hours without fading. It is a hydra-soothing formula that helps condition your skin. The concealer is combined with vitamin E and apple seed extract that hides your wrinkles and fades dark circles with its antioxidant benefits. It provides sheer to medium coverage for an instantly flawless finish. The retractable stick allows ease of application and glides smoothly on your skin.
Pros
 Hydrating
 Lightweight
 Natural finish
 Easy to apply
 Waterproof formula
Cons
The Skinfood Salmon Dark Circle Concealer illuminates the skin around your eyes for a youthful experience. The gentle formula is fortified with Norwegian salmon oil that helps in fighting signs of aging and improves blood circulation. Salmon oil is filled with healthy nutrients and omega 3 fatty acids that protect your skin from environmental damage and improve skin imperfection. The concealer also contains vitamin E-rich Hokkaido roe extract and retinol to help improve fine lines and wrinkles for a flawless finish.
Pros
 Boosts cell-regeneration
 Antioxidant-rich
 Full-coverage
 Long-lasting
Cons
 It only comes in two shades.
The Neutrogena Healthy Skin Brightening Eye Perfector is an under-eye concealer makeup that gives your eyes a fresh and rested look. It is infused with antioxidants that brighten up your skin and hide all imperfections. The formula is combined with vitamin E, chamomile, and soy that help reduce puffiness around your eyes and improve your skin tone. It contains SPF 25 that offers broad-spectrum coverage and protects your skin from environmental damage.
Pros
 Dermatologist-tested
 Sun-protection
 Antioxidant formula
Cons
None
The Laura Geller New York Filter First Luminous Concealer is an antioxidant-rich formula that brightens the area around your eyes. The light-diffusing formula reduces the appearance of dark circles around your eyes and lightens up your face for a radiant look. It comes in a retractable pen that can be twisted to get the required quantity. This concealer is versatile and can also be used to correct, illuminate, and contour the face.
Pros
 Vegan
 Fragrance-free
 Paraben-free
 Mineral oil-free
 Soy-free
 Blends effortlessly
Cons
The Photogenic Concealer from NYX Professional Makeup is a long-wearing formula created to suit all skin types. The natural formula hides your scars and blemishes under your eyes and imparts a stunning finish to your skin. The liquid concealer delivers medium to full coverage with a flawless finish. This is the best drugstore color corrector to hide discoloration and under-eye dark circles. The sponge applicator helps in delivering a smooth application.
Pros
 Lightweight
 Long-wearing
 Easy to blend
 Vegan
 Cruelty-free
Cons
None
The Ilia – Natural True Skin Serum Concealer is a light and silky formula that blends seamlessly into your skin. It is infused with vitamin C and resin extract that help to boost your collagen production to fight free radicals. The vegan formula uses natural dyes and is never tested on animals. The nourishing concealer protects your skin from environmental damage and gives you an even-looking finish.
Pros
 Lightweight
 100% natural dyes
 Immediate results
 Buildable coverage
 Vegan
 Silicone-free
 Cruelty-free
 Gluten-free
Cons
The NYX Professional Makeup Can't Stop Won't Stop Contour Concealer is a magical formula to reduce and repair the dull area around your eyes. It gives you full coverage for 24-hours, thanks to its waterproof matte finish. The lightweight formula is easy to apply and conceals all the imperfections around your eye area like discoloration and dark circles. Dab the concealer around your eyes to achieve an illuminating and defined look.
Pros
 Waterproof
 Absorbs oil
 Shine-free
 Super smooth
 Full coverage
 Cruelty-free
Cons
Now that you know about the best concealers available on the market, let's understand how you can apply a concealer properly for best results.
How To Use Concealer For Dark Circles
 The first step is to look for a concealer that suits your skin type.
 Apply some foundation or primer so that you use less concealer and get a full coverage finish.
 Start applying concealer in a triangular position and dap the concealer into your skin with your ring finger or a beauty sponge.
 Dust a little setting powder over your entire face to keep your concealer in place and crease-free.
Here are a few factors to consider before buying a concealer.
How To Choose Concealer For Dark Circles – Buying guide
Features: Look for a formula with an illuminating finish that will help brighten up your under-eye skin.
Coverage: Choose a liquid-based or creamy concealer as it spreads evenly and offers great coverage.
Why Trust Stylecraze?
The author, Baishali Bhattacharya, is certified in makeup techniques and swears by good concealers as a primary component of any makeup routine. She has extensively studied numerous under-eye concealers and examined many user reviews to bring you this curated list of the top options. These concealers are expertly formulated to provide crease-proof, non-flaky, long-lasting, and easily applicable coverage for dark circles and fine lines that develop on the delicate skin under the eyes.
Frequently Asked Questions
Should an under-eye concealer be a shade lighter than your skin tone?
Yes. Choose a concealer that is a few shades lighter than your skin tone to brighten up your eye area.
How can you avoid creasing?
To avoid creasing, use some setting powder before applying concealer.
What color cancels out dark circles?
To cancel out dark circles, choose color correctors in shades of red, pink, yellow, or orange – depending on your skin tone. This will help you balance out the bluish-hue of under-eye circles.
What is the best under-eye concealer for mature skin?
The best under-eye concealer for mature skin is one that is slightly paler than your natural skin.
Why does my under-eye concealer look gray?
The work of a concealer is to cover your discolored skin. It does not essentially correct the color and hyperpigmentation. This is the reason for the gray appearance.
Recommended Articles