11 Best Conditioners For Color-Treated Hair, According To Reviews
Restore all the damage and dryness in your colored hair with these nourishing conditioners.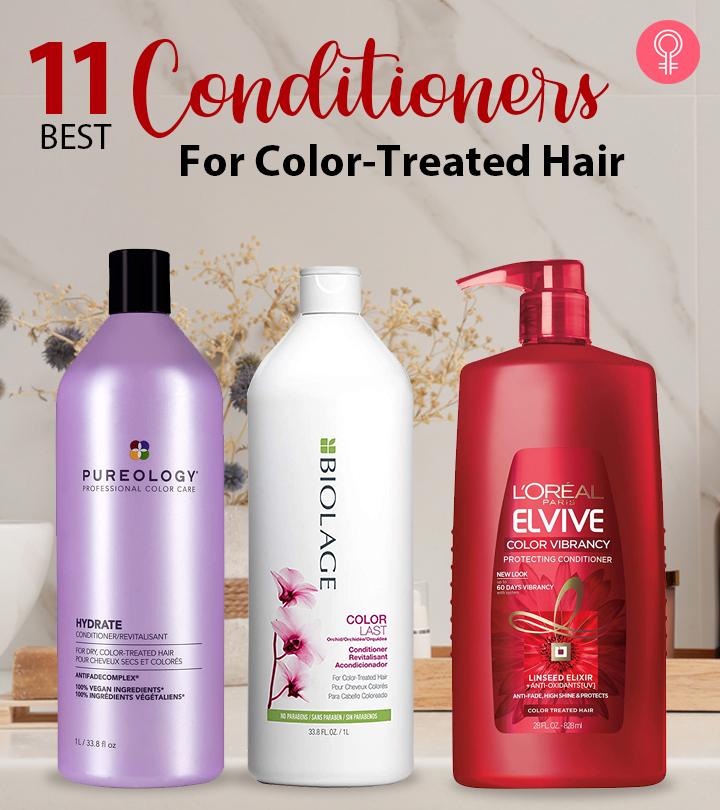 Colored hair needs some special care. But in a market filled with hair products containing sulfates and other harsh ingredients, finding the best conditioner for color-treated hair may not be very easy. So, our team of hair experts has done some research for you, and we bring you the 11 best conditioners for colored hair. These conditioners will keep your hair moisturized and repair any damage caused by coloring. They will also prevent the colors from bleeding, and instead, will enhance the vibrancy of the colors. Some conditioners even enhance the life of your hair color! Scroll down and take a look!
11 Best Conditioners For Color Treated Hair
The low pH formula of the Biolage Colorlast Conditioner increases the life of your hair color and leaves your tresses detangled and soft. This moisturizing conditioner is powered by orchid extracts that prevent hair color from fading and preserve color vibrancy for up to nine weeks.
It improves the depth and tone of the color while enhancing shine and gloss. This gentle conditioner smooths your hair and protects it from the harmful effects of UV rays and heat styling. It is infused with a blend of 27 fragrant notes to leave the hair with a timeless scent.
Key Ingredients: Orchid
Pros
Pleasant fragrance
Travel-friendly
Gentle
Vegan
Paraben-free
Cons
None
Price at the time of publication: $21.0
The luxurious Hydrate Conditioner from Pureology is fortified with botanical extracts like jojoba, sage, and green tea that prevent breakage and dryness while promoting the growth of stronger and healthier hair. The healing and hydrating ingredients leave the hair soft and smooth. The blend of mint, menthol, and greens gives a fresh, tingly feel to your scalp. The Antifade Formula, enriched with sunflower seed, vitamin E, and UV filters, helps maintain color vibrancy and ensures a lasting shine.
Key Ingredients: Soybean oil, Sunflower seed oil, Jojoba butter, Rosemary leaf, and Soy protein
Pros
Refreshing fragrance
Paraben-free
Sulfate-free
Mineral oil-free
Cruelty-free
Vegan
Cons
Price at the time of publication: $74
The L'Oreal Paris Elvive Color Vibrancy Protecting Conditioner is infused with linseed elixir and antioxidants to offer UV protection and prevent color fading due to sun damage. It seals in color for up to 60 days while strengthening the hair strands to make them less prone to breakage. This creamy conditioner also fortifies the hair follicles to encourage growth and volume. The formula restores shine to dull, lifeless hair while protecting it from environmental damage, pollution, and smoke.
Key Ingredients: Linseed oil and Niacinamide
Pros
Has UV filters
Pleasant scent
Gentle on the hair and scalp
Cons
Contains sulfates
Weighs the hair down
Price at the time of publication: $7.99
The Color Extend Conditioner from Redken is enriched with ceramides to strengthen the hair by smoothing the cuticles and promoting elasticity and moisture retention. The cranberry oil in the formula conditions and nourishes the strands. The innovative Color Care Complex protects the hair from damage due to sun rays, heat styling tools, and other environmental aggressors. This lightweight conditioner forms a protective coating on the hair to tame frizz and flyaways and make it soft and manageable.
Key Ingredients: Cranberry seed oil and Ceramides
Pros
UV protection
Lightweight
Smells good
pH-balanced
Cons
None
Price at the time of publication: $44.0
The lightweight Nioxin Scalp Therapy Conditioner is formulated to fight hair fall and build hair resilience. It helps maintain the moisture balance while amplifying the texture and strengthening the strands.
The formula is fortified with the BioAmp technology that volumizes and thickens the hair. It is enriched with peppermint oil that refreshes the scalp and delivers a healthy shine to the hair. This hydrating conditioner nourishes the hair from root to tip, reduces hair breakage, and combats progressive thinning. It is a part of the three-step Nioxin regime for colored hair.
Key Ingredients: Peppermint oil, White tea extract, Citric acid, and Polysorbate 60
Pros
Lightweight
Suitable for fine hair
Smells good
Dermatologically tested
Paraben-free
Sulfate-free
Colorant-free
Cons
None
Price at the time of publication: $51
The ProteinFusion blend of elastin protein and quinoa in the Nexxus Color Assure Conditioner creates a protective layer on the hair strands to seal in essential proteins and strengthen the fibers. This deep conditioner maintains color vibrancy for up to eight weeks or 40 washes while adding a brilliant shine to the hair. It softens, smooths, and detangles the strands to make the hair manageable and ready for styling. This restorative conditioner moisturizes the hair and replenishes essential nutrients lost during the coloring process.
Key Ingredients: Quinoa, Hydrolyzed elastin, Sweet almond oil, and Coconut oil
Pros
Pleasant fragrance
Gentle
A little goes a long way
Cons
Contains DMDM hydantoin
Leaves the hair slightly greasy
Price at the time of publication: $25.98
The easy-to-apply Matrix Total Results Keep Me Vivid Conditioner covers each hair strand with an invisible protective layer without weighing it down. It deeply nourishes the hair while sealing in color.
This glazing conditioner gently conditions the hair and leaves it soft and manageable while taming frizz and flyaways. The acidity in the formula smooths the outside layer of the cuticles to enhance shine and color vibrancy. It is infused with fragrant notes of vanilla, cotton candy, and coconut. This lightweight conditioner can be used daily to extend hair color up to 21 washes.
Key Ingredients: Pearl infusion
Pros
Lightweight
Smells good
Works great for thick, curly hair
Cons
None
Price at the time of publication: $20
The detangling and soothing Color Protect Conditioner from Paul Mitchell keeps the hair soft and adds shine and color vibrancy. It is fortified with sunflower extract to protect the hair from UV damage and prevent the color from fading. The white ginger extract in this formula promotes healthy hair growth by stimulating the follicles. This conditioner also contains jojoba leaf and aloe leaf extracts to replenish moisture levels and hydrolyzed wheat protein to strengthen and thicken the strands. It is infused with orange, bergamot, and apple to impart a refreshing, energetic fragrance to the hair.
 Key Ingredients: Sunflower extract, Jojoba, and Aloe vera
Pros
UV protection
Lightweight
Smells amazing
Vegan
Paraben-free
Cons
None
Price at the time of publication: $14.5
The signature Flower Shield Complex of the L'ANZA Healing ColorCare Color Preserving Conditioner uses extracts from fade-defying flowers to deliver optimal color retention. It contains echinacea flower extract that provides flavonoids to protect color vibrancy while keeping the hair silky soft and smooth. The calendula and yellow rose extracts enhance warm tones like yellow, green, reds, and oranges, while cornflour works for cool tones like blue, purple, and violet. The natural ingredients in this lightweight conditioner restore vital nutrients to the hair, fight environmental damage, and impart shine and gloss to your tresses.
Key Ingredients: Calendula, Yellow rose extract, Echinacea flower extract, and Cornflour
Pros
Natural ingredients
Lightweight
Sulfate-free
Paraben-free
Sodium chloride-free
Cons
Price at the time of publication: $61
This plant-based conditioner from Love Beauty & Planet has a nourishing formula that offers deep nourishment and intense hydration to color-treated hair to make it soft, healthy, and vibrant. Ingredients like Amazonian murumuru butter protect the hair from harsh chemicals and rebuild the hair strands while softening them. This conditioner is infused with the fragrance from ethically sourced Bulgarian rose petals to ensure a pristine fresh scent. The freshness of red berries enhances the floral notes to deliver a luxurious experience.
Key Ingredients: Murumuru butter and Bulgarian rose petals
Pros
Plant-based
Paraben-free
Silicone-free
Vegan
Cruelty-free
Dye-free
Silicone-free
Phthalate-free
Cons
None
Price at the time of publication: $15.42
The pH-balanced Color Me Happy Conditioner from Herbal Essences is formulated to protect color-treated hair and replenish moisture levels to enhance shine and softness. It helps maintain the color radiance and vibrancy, extends the life of the color, and makes the hair soft and shiny. This conditioner is infused with a luxurious Moroccan rose fragrance to keep the hair refreshed and energized. The creamy blend detangles the hair to leave it silky soft and manageable.
Key Ingredients: Rose flower extract, Corn silk extract, and Glutamic acid
Pros
Nice fragrance
pH-balanced
Paraben-free
Mineral oil-free
Dermatologist-tested
Cruelty-free
Cons
Price at the time of publication: $7.97
Coloring your hair adds an instant vibrancy to your appearance. The only downfall is that it can strip your hair off its natural moisture and ruin the texture of the strands. The best way to replenish your hair with the necessary moisture and keep your hair color intact and vibrant, is a quality conditioner. There are many color-safe conditioners in the market, and to help you choose the right formula, we have curated a list of a few features to consider before choosing a conditioner for your color-treated hair.
How To Choose The Best Conditioners For Color-Treated Hair
UV and Hard Water Protection
Constant exposure to sunlight may fade out the hair color and make your hair dull and lifeless. It is best to choose a conditioner that is formulated with UV protection. Same way, hard water strips off the hair color, causes buildup, and makes hair unmanageable. Pick a conditioner that reverses the effect of hair damage from hard water and sunlight.
Most often coloring strips off the moisture from your hair and leaves your hair frizzy, dry, and coarse. In the long run, you might even experience split ends, hair fall, hair thinning, breakage, and a lot of other side effects.Therefore, it is essential to choose a conditioner that provides intense moisturization to the scalp and strands, resulting in healthy and shiny hair.
Propylene Glycol: This chemical plays a major role in allowing the nutrients to penetrate the scalp. But, it also cause irritaion and itch on the scalp.
Sodium Chloride: NaCl is added in the conditioners to thicken the consistency. But, it fades away all the natural oil from the scalp and hair strands making them dull, frizzy, and coarse. Over a period of time this chemical also results in major hair fall.
Petroleum And Mineral oil:

These two ingredients are heavy in nature which may result in weighing down the hair. Your hair also loses shine and bounce, if used repeatedly.
For an oily scalp, avoid a conditioner loaded with essential oil as it makes the hair heavy, limp, and greasy. For thin or fine hair, avoid heavy conditioners that weigh your hair down and make it look wet, with no volume.
Why Trust StyleCraze?
The author of this article, Shiboli Chakraborti, is a hair care enthusiast who loves reviewing hair care products. She has curated this list of the best conditioners for color-treated hair after carefully researching and reading online reviews on several e-commerce websites. These conditioners are fragrance-free and help keep your hair color intact. They also contain UV filters and are gentle on the hair and scalp.
Frequently Asked Questions
Do you need a special conditioner for color-treated hair?
Yes, if you want your hair color to last longer, use conditioners suitable for color-treated hair.
Should you deep condition hair after coloring?
Yes, to make your scalp and hair hydrated and moisturized, deep condition them after treating them with dyes.
How often should you condition color-treated hair?
Pamper your color-treated hair with a nourishing conditioner once a week.
What should you not use on colored hair?
Do not use hair care products that contain toxic and harmful chemicals like parabens, sulfates, sodium, and alcohol on colored hair.
Can I use a color-treated conditioner for regular hair?
Yes, it's completely safe to use a specialized conditioner on regular hair.
Recommended Articles