16 Best Conditioners For Gray Hair – 2023
Gray hair, don't care, because these effective products are here to rescue you.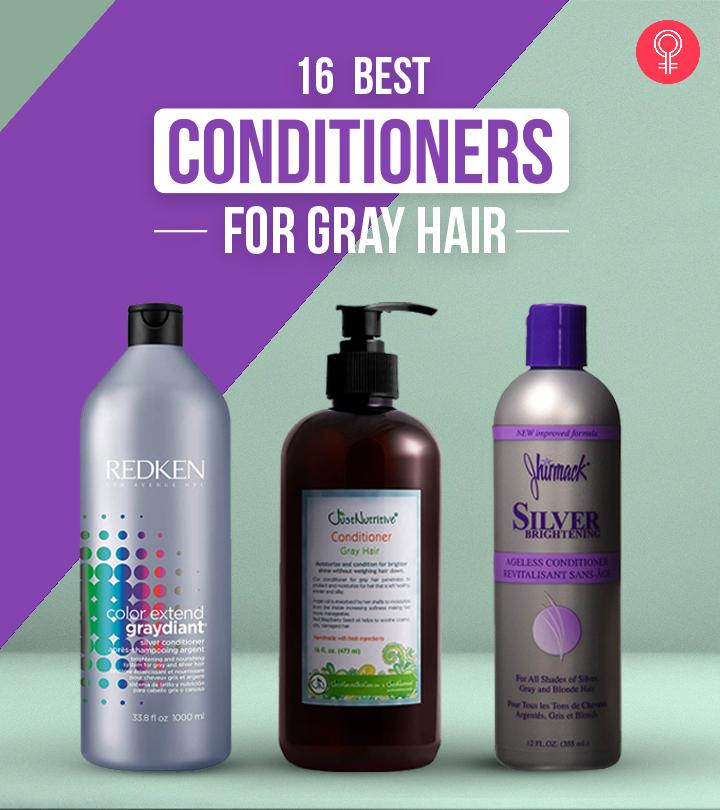 While gray is inevitable, taking care of it is an absolute necessity. To do so, you will need only the best conditioner for gray hair to give it the nourishment and hydration it needs. Grey hair usually starts turning more frizzy and dry in terms of texture and volume. It is easy for debris to get caught when that happens, giving hair a muddy yellow-ish tone. Alexandro Vasquez, an experienced hairdresser, says, "Grey hair really needs extra care; the reason is the grey hair becomes more frizzy and thick because it changes the natural pigmentation for keratin and as a consequence of that it becomes more thick so conditioners are excellent to help with that too." To revive healthy hair while safeguarding its hue, you need a good conditioner. Pick one from our top 16 picks and watch your hair transform!
16 Best Conditioners For Gray Hair
The Just Nutritive Gray Hair Conditioner moisturizes hair and adds shine. It penetrates hair to moisturize it from within. It gently closes and coats the cuticles on the outside, making hair healthy and silky. It does not weigh the hair down. It also nourishes your hair and makes it look brighter. All the more reasons for you to test it out now!
Pros
Does not weigh hair down
Nourishes hair
Cons
None
The Jhirmack Silver Brightening Conditioner is formulated with green tea extract and collagen. These nourishing ingredients soften the hair and add shine to it. The conditioner also helps prevent split ends. It is ideal for all shades of silver, gray, and blonde hair. It effectively removes yellow and brassy tones while enhancing the highlights.
Pros
Good fragrance
Removes yellow tones
Adds shine to hair
Prevents split ends
Cons
None

The Redken Color Extend Graydiant Conditioner also works as a hair toner. It deposits custom silver pigments that progressively brighten and tone gray and silver hair. The conditioner is formulated with amino acids that nourish rough and dry gray hair. It also removes the yellow and brassy undertones and makes the strands sleek, and twice as stronger with increased manageability. So, what's stopping you from testing it out? Add it to your cart stat!
Pros
Brightens hair
Nourishing
Removes yellow undertones
Strengthens strands
Makes hair manageable
Cons
May leave a purplish tint on hair
The Reminex Gray Hair Conditioner restores hair to its natural color. It is formulated with natural and gentle ingredients. It contains argan oil, rice bran oil, and algae extract that slow down the aging process of hair. The conditioner also gives hair a healthy shine. It is paraben-free and safe for all hair types.
Pros
Gentle ingredients
Slows down hair aging
Paraben-free
Safe for all hair types
Cons
None

The Designline Super Silver Conditioner brightens and enhances natural and color-treated gray hair. It is formulated with sunflower seed extract that restores moisture, strength, and elasticity to hair. It also maximizes hair radiance and shine. It neutralizes yellow tones. The hair conditioner is designed by stylists. It is not tested on animals.
Pros
Nourishing
Cruelty-free
Restores strength and elasticity hair
Maximizes hair shine
Neutralizes yellow tones
Cons
The Okara Silver Toning Conditioner is a hydrating conditioner that neutralizes yellow tones. The conditioner helps detangle hair and helps regain instant softness and bounce. It is free of silicones, parabens, and SLS. It is formulated with high quality, plant-based ingredients that are beneficial to the hair. However, if you wish to read some honest unbiased reviews before making a purchase decision, explore them on Amazon!
Pros
Paraben-free
SLS-free
Silicone-free
Neutralizes yellow tones
Plant-based ingredients
Adds instant softness and bounce
Cons
None
The Theorie Brightening Purple Conditioner balances and tones gray and silver hair. It removes yellow and brassy tones. The conditioner has a fruity scent of ripe grapefruit and sweet orange notes with floral jasmine, energetic peppermint, and grounding musk. The conditioner is free from parabens, sulfates, phthalates, nitrates, and phosphates. It is formulated with pea flower extract, ginkgo biloba extract, and grape-seed oil. The pea flower extract increases hair growth, while ginkgo biloba extract increases blood flow, promoting hair health and shine. The grape-seed oil in the conditioner deeply moisturizes the hair. The product has received multiple positive reviews online that will further assure you of its quality and results, so check it out now!
Pros
Removes yellow and brassy tones
Promotes hair growth
Boosts hair shine
Paraben-free
Sulfate-free
Phthalate-free
Nitrate-free
Phosphate-free
Non-GMO
Cons
None

The davines Alchemic Conditioner is a color-enhancing product. It suits well for silver, platinum, and cool blonde hair. This glossy conditioner intensifies and illuminates the gray and silver shades. The product is cruelty-free.
Pros
Enhances hair color
Boosts hair shine
Cruelty-free
Cons
The One 'n Only Shiny Silver Ultra Color-Enhancing Conditioner is a hair care product specifically designed for silver and white hair. The smoothing conditioner is formulated to enhance and maintain the color of silver and white strands, leaving them looking shiny, vibrant, and healthy. It contains a blend of ingredients that help neutralize yellowish tones while nourishing and hydrating the hair. This is one of the best anti-yellowing conditioners suitable for all hair types and can be used on both natural and color-treated hair. It also helps detangle and prevent frizz, leaving your hair smooth and manageable. This detangling conditioner can be used daily and is safe for use on all hair types. It is especially beneficial for silver, white, and gray hair.
Pros
Neutralizes yellow tones
Good smoothing formula
Good frizz control
Hydrating formula
Safe for daily use
Suitable for all hair types
Ideal for color-treated hair
Cons
None
The L'Oreal Paris EverPure Purple Conditioner helps maintain colored and chemically-treated bleached, blonde, silver, or brown highlighted tresses. The formula offers enough color protection and effectively corrects brassiness, yellow tones, and orangish shades. If used every day, the scalp-soothing conditioner boosts the moisture level in your tresses and keeps your scalp healthy. The strengthening conditioner comprises hibiscus and purple dye which strengthen the tresses and promote healthy hair growth. Furthermore, the popular product has garnered numerous positive reviews online for its amazing detangling properties.
Pros
Offers hair growth
Moisture-locking
Scalp-soothing formula
Strengthening formula
Sulfate-free
Paraben-free
Suitable for color-treated hair
Cons
None
The BTW Co. Purple Conditioner will add shine to your hair and tone down the brassiness. The conditioner neutralizes the yellow tones in gray hair. It protects your hair from environmental damage. It also moisturizes and nourishes the hair. This is one of the best damage-control conditioners that is formulated with plant-based ingredients and is cruelty-free. It also is free from parabens, sulfates, silicones, phthalates, and synthetic fillers. Moreover, it is not tested on animals, making it a good cruelty-free option for conscious consumers.
Pros
Plant-based ingredients
Cruelty-free
Protects from environmental damage
Tones down brassiness
Paraben-free
Sulfate-free
Phthalate-free
Silicone-free
No synthetic fillers
Cons
The Natural Escapes OrangeTangerine Conditioner is an all-natural conditioner. It is lightweight and moisturizes hair. The conditioner helps you achieve stronger hair and a healthy scalp. It also stimulates hair growth. It makes hair more manageable and protects it during heat styling. This is one of the best heat-protectant conditioners and contains pure blood orange and tangerine oil that protects hair from free radical damage. It is safe for all hair types. It is vegan. This is one of the best fragrance-free conditioners that is also free from parabens, sulfates, petrochemicals, glycols, and synthetic colors.
Pros
Vegan
Stimulates hair growth
Paraben-free
Sulfate-free
No petrochemicals
No glycols
No synthetic colors
Fragrance-free
Cons
None
The Syntonics Brightening Conditioner neutralizes the yellow discoloration of gray and silver hair. The conditioner is formulated with extracts of apple, lemon, and sugar cane that hydrate and protect the hair against breakage and styling damage. This is one of the best intensive repair conditioners that helps preserve hair strength. It penetrates the hair cortex and deposits the conditioning and repair ingredients.
Pros
Neutralizes yellow tones
Protects from styling damage
Promotes hair strength
Cons
None
The Avyo Aloe Vera Purple Conditioner is formulated with natural active ingredients. The conditioner helps tone and maintain the silver and gray hair shades. It is vegan. It also is from parabens and sulfates. The conditioner neutralizes yellow tones.
Pros
Paraben-free
Sulfate-free
Vegan
Neutralizes yellow tones
Cons
None
The Sally Hershberger 24K Conditioner is lightweight. It restores and softens hair without leaving any heavy residue. This is one of the best lightweight conditioners formulated with baobab seed oil. This oil penetrates hair and rejuvenates and softens it. The UV-protective conditioner also protects against harmful UV rays. If you wish to read some honest and unbiased reviews before buying the product, you can explore them online on Amazon.
Pros
Lightweight
Softens hair
Protects against UV rays
Cons
None
The Chatto Longevity Conditioner nourishes your hair and intensifies the silver and gray shades. It is formulated with plant-based ingredients that help protect the hair from environmental damage. The restorative conditioner helps restore color to faded hair. It is safe for color-treated hair. The conditioner is not tested on animals.
Pros
Prevents hair damage
Restore color to faded hair
Safe for color-treated hair
Cruelty-free
Cons
None
*The prices provided in this article are based on the latest available information. However, they may vary due to changes in pricing by the seller and/or promotional offers.
Gray hair is associated with aging but can also occur from loss of melanin due to some health concerns. However, nowadays, gray hair is also a fashion statement. Whatever be the reason, just like for any other hair type, the cosmetic industry is flourishing with conditioners. But, how do you find the one that is just right for your grays? Given below is a guide to help you pick the best conditioner for gray hair.
Things To Consider While Buying The Best Conditioner For Gray Hair
1. Hair Types And Ingredients To Use
Conditioners for gray hair are not only for color retention but also to provide the hair with proper nourishment and natural moisturization. Here are some ingredients to look for according to your hair type.
Oily: if you have oily gray hair, look for aloe vera, tea tree oil, peppermint, rosehip seed oil, emollients, and purple pigments. Opt for fine hair -friendly conditioners to prevent weighing down the strands.
Dry: for dry hair, look for moisturizing agents like jojoba oil, avocado oil, and shea butter. Hibiscus extract and dimethicone, alongwith purple pigments help to neutralize yellow tones while offering revitalization to the hair.
Damaged: for damaged hair, look for nourishing ingredients like proteins and amino acids to rejuvenate the strands.
Color-Treated Gray Hair: If your grays are not natural but color-treated, it is important to maintain hydration and the natural moisture level of the hair after the bleaching and dyeing process. This will require a conditioner with high moisturizing properties.
Purple conditioner for help to neutralize the yellowish-brassy tones of gray hair. Some conditioners have a color-depositing feature that adds a hint of silver tone to brighten the grays.
2. Ingredients To Avoid
Avoid parabens, silicones, SLS, alcohols, and mineral oils in the conditioner. These create product build-up and affect skin and hair health.
Why Trust StyleCraze?
Oyendrila Kanjilal, the author, is a hair care enthusiast who knows the answer to all your hair care woes. When it comes to gray hair concerns, she makes sure you choose only the right products. She has gone through several user concerns and multiple health and beauty forums before shortlisting the best conditioners for gray hair. These conditioners are specially formulated to help prevent your silver locks from getting dry and brittle, keeping your hair soft, smooth, and well-nourished.
Frequently Asked Questions
Why does gray hair need a special conditioner?
Gray hair can lose strength and elasticity which can lead to split ends, brassiness, and frizz. Using a conditioner can nourish the gray strands, moisturize them, and keep the tresses tangle-free.
How do you keep your gray hair moisturized?
Use a leave-in conditioner to keep your gray hair moisturized. You can also use almond oil to nourish your tresses.
How often should I use a conditioner for gray hair?
You can use a conditioner on gray tresses as often as two to three times a week. Make sure to deep condition your hair at least once a week.
How can I make my gray hair soft and shiny?
You can make your gray hair soft, shiny and glossy by using a moisturizing shampoo and conditioner. Make sure to nurture your scalp and keep it free from dirt and grime.
Recommended Articles