7 Best Conditioners For Platinum Blonde Hair Of 2022
These special conditioners will ensure your platinum blonde look lasts a long time.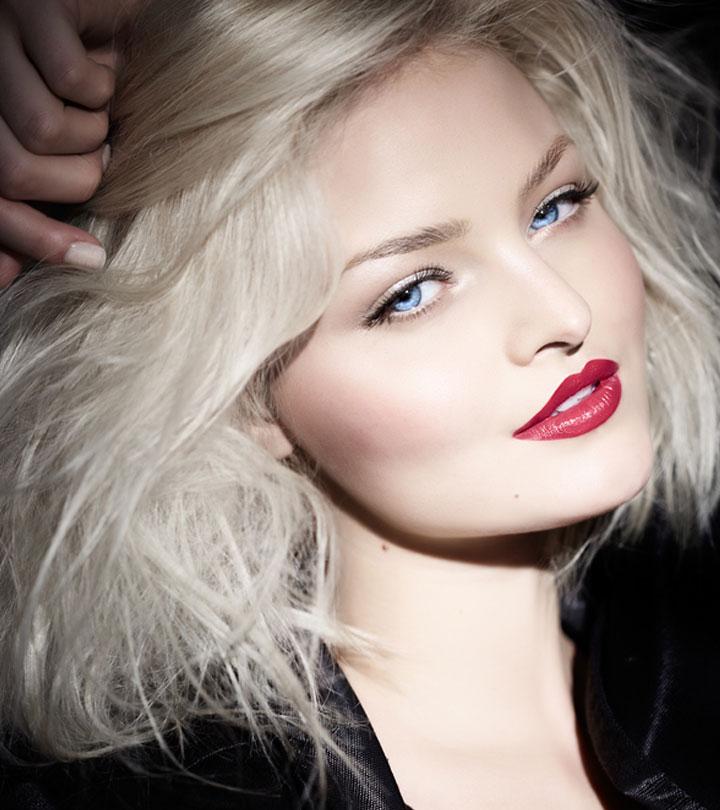 To maintain a graceful mane of silver-white hair, you not only need a great purple shampoo, but also the best purple conditioner for platinum blonde hair. Conditioning after washing your hair is integral to the health and appearance of hair strands. Shampoos open up hair cuticles and the hair and scalp lose much of their moisture. When you apply conditioner afterward, you restore the moisture and help to lock the hair cuticles back in and get tangle-free and frizz-free hair that is well-hydrated.
Purple conditioners are formulated with purple pigments to prevent brassy tones on platinum blonde hair. Yellow and orange tones that can make your hair look brassy and unappealing are placed directly opposite purple on the color wheel and so, they neutralize each other. So, using a purple conditioner can help preserve the shine and color of platinum blonde hair. We have listed the top purple conditioners for platinum blonde hair for you to choose from. So take a look.
Top 7 Best Conditioners For Platinum Blonde Hair Of 2022
Here is one of the best conditioners crafted for bleached blonde hair that will correct, protect, and enhance the color! The best part about this product is its detangling formula packed with omega-rich kukui extracts that leave you with soft, silky, and glossy hair strands. In addition to this, it hydrates and locks in moisture, preventing dryness. Plus, it provides complete color protection to your blonde hair by neutralizing muted or brassy tones. Since this conditioner is formulated with the goodness of kukui oil and mint, it leaves a pleasant fragrance after every wash.
Pros
Silicone-free
Adds volume
Works on oily and sensitive scalp
Suitable for all hair colors
Has peppermint leaf extracts to soothe the scalp
Cons
Might have a slightly sticky consistency
Don't miss out on this platinum blonde conditioner, which comes with a bunch of hair benefits! It conditions, hydrates, and rejuvenates your color-treated hair with its intense violet toning pigment. As time passes by, there are chances of brassiness (occurrence of orange/yellow tones) on your cool blonde. To negate this, you may have to opt for this blonde-enhancing conditioner to amplify the shade and make your hair voluminous. Go ahead and check out this YouTuber's video for more details about the product.
Pros
Gluten-free
Paraben-free
Eliminates warmth on hair
Has a pleasant smell of cucumber melon
Suitable for natural and color-processed blonde
Cons
Do you want your platinum blonde hair color to last longer and your hair to become soft and silky? Then, this purple conditioner for platinum blonde hair by OGX is your one-stop solution! It stands out as an excellent hair care formula with nourishing ingredients like chamomile extracts and lavender oil, which brightens and hydrates your hair. Formulated with purple pigments, it eliminates brassy or orange undertones to protect your silvery-white blonde.
Pros
Tames frizz
Salon-like finish
Refreshing odor
UVA/UVB sun filters
Suitable for all hair types and textures
Cons
Might make hair slightly tangled
RUSK Deepshine Platinum Conditioner is a salon-approved formula, which negates the brassiness and orange hues from your beautifully colored hair. It is the ultimate rescue system for all your hair problems, including dryness. Formulated with conditioning and hydrating agents, this purple conditioner moisturizes damaged hair and keeps frizz at bay. After conditioning your hair, you will achieve silky and smooth hair.
Pros
Brightens color
Restores shine
Leaves no residue
Enhances manageability
Works on silver, gray, white, and platinum shades
Cons
Might not be suitable for sensitive scalp
This cruelty-free deep conditioner for platinum blonde hair by CIBU is what you need to pamper, treat, and condition your colored hair. The blend of argan oil, hydrolyzed keratin, and other conditioning elements lends you soft, silky, and detangled hair, enhancing the health of your tresses. When it comes to moisturization, it provides ample hydration to dry and dull hair and retains the natural moisture.
Pros
Enriches and protects color
Repairs over processed hair
Acts as a perfect blonde toner
Free from parabens, gluten, and sulfates
Combats brassy/yellow/orange undertones
Cons
Proper maintenance of a gorgeous shade like platinum blonde hair can be time-consuming. Well, now you don't have to worry about going to a salon frequently for a retouch! This natural and organic conditioner for bleached blonde hair shields your color by eradicating brassiness. Powered with aloe vera, manuka honey, tea tree, rosemary, eucalyptus, and argan oil, it offers deep conditioning and hydration to dry and damaged scalp and hair. Besides, it also enhances your hair quality by removing build-up, reducing itchiness due to dandruff, stimulating follicles, and promoting hair growth.
Pros
No gluten
Cruelty-free
Paraben and sulfate-free
Boosts shine and volume
Gentle on oily and sensitive scalp
Cons
Do you feel that your color-treated hair has turned brittle and damaged? If yes, this J Beverly Hills 5-in-1 Styling Emulsion will come to your rescue! It can be used as a leave-in conditioner to help you achieve smooth, silky, and frizz-free tresses. What we love the most are its hydrating properties that help retain moisture in your hair. To add to it, this renewing hair care formula offers increased manageability, heat protection, and humid-resistance.
Pros
Long-lasting
Provides color protection
No harsh chemicals
Suitable for all hair types
Cons
When it comes to choosing which purple conditioner is best for your platinum blonde hair, there are a few important points to consider.
How Do I Choose The Right Conditioner For Platinum Blonde Hair
1. Type and texture
Choose a conditioner that suits your hair type and texture. For example, a conditioner formulated for curly hair may not work on straight hair and vice versa. Conditioners for thick hair may weigh down or damage fine hair. Few conditioners may not deliver the desired results on an oily/sensitive scalp. So, choosing an appropriate product after analyzing these two factors is a must!
2. Color and consistency
Purple conditioners come in deep-purple and blue-violet shades. This colored pigment facilitates the neutralization process. For example, violet negates a yellow tone and blue-violet an orange tone. These conditioners come in a thicker consistency compared to the normal ones. Plus, they are dark and opaque.
3. Hair color
Purple conditioners are suitable for ash, white, platinum, and dark blonde hair colors. Understanding your hair shade before choosing a purple conditioner is extremely important. At times, products made for dark blonde hair wouldn't work for light blonde shades like platinum.
4. Choose as per your desired color tone
Choose your desired hair color tone — whether you want a lighter or darker tone or simply want to retain the present one. Purple conditioners specialize in different functions — negating brassiness, brightening the hue, and toning it down. Decide as per your need.
5. UV filters
There are higher chances for your color-treated hair to get damaged due to heat styling and sun exposure. Thus, opt for a conditioner with UV filters and a thermal protection mechanism for safe and better results.
6. Ingredients
Always look at the ingredients section before purchasing a purple conditioner! The ones formulated with mild and natural components like botanical extracts and essential oils contribute to the health of your color-treated hair. Besides, choose a conditioner that is free from harsh chemicals like parabens, silicones, and sulfates.
7. Duration
Some purple conditioners may work only after 2-3 washes, while a few may provide an enhanced effect in just one wash. Choose the product after deciding on whether you're expecting a short or long-term result.
How Do You Keep Platinum Hair Healthy
Initially, you may have to seek professional help to color your hair blonde. A salon stylist can advise you better regarding the right shade for your hair type and skin tone.
Practice the blonde care system — purple shampoo and conditioner for platinum blonde hair to enhance, protect color, and neutralize brassiness (yellow/orange hues)
Include a hair mask in your weekly hair care regime! It helps retain moisture and repair damaged follicles, resulting in smooth, silky, and detangled hair. Pro tip: leave the mask for 3-5 minutes and then rinse off thoroughly with lukewarm water for better results.
Avoid frequent heat styling. Opt for heat-free styling products from the market to protect your blonde from damage and breakage. Defining creams, gels, and serums can also be used for an extra intense look.
Why Trust StyleCraze?
Kirtana Divakar is a haircare aficionado who believes that the best conditioner for your blonde locks is integral to healthy and strong hair. She went through product formulations on brand websites and carefully curated this list of the choicest conditioners for you. These conditioners are designed with purple pigments to prevent brassiness from setting in and preserve the nutrition and shine in your hair.
Frequently Asked Questions
How often should I wash my platinum hair?
You should wash your platinum hair with a purple shampoo and conditioner once or twice a week. It is not recommended for daily usage as it may lead to hair damage and color attrition.
Recommended Articles
Best Conditioners For Platinum Blonde Hair
Best Conditioners For Blonde Hair
Best Conditioners For Bleached Hair – A Complete Buying Guide
Best Products For Blonde Hair
Best Purple Conditioners For Luminous Hair