15 Best Conditioners For Bleached Hair (2023) – A Complete Buying Guide
Moisturizing conditioners that soothe, strengthen, and enhance your bleached tresses.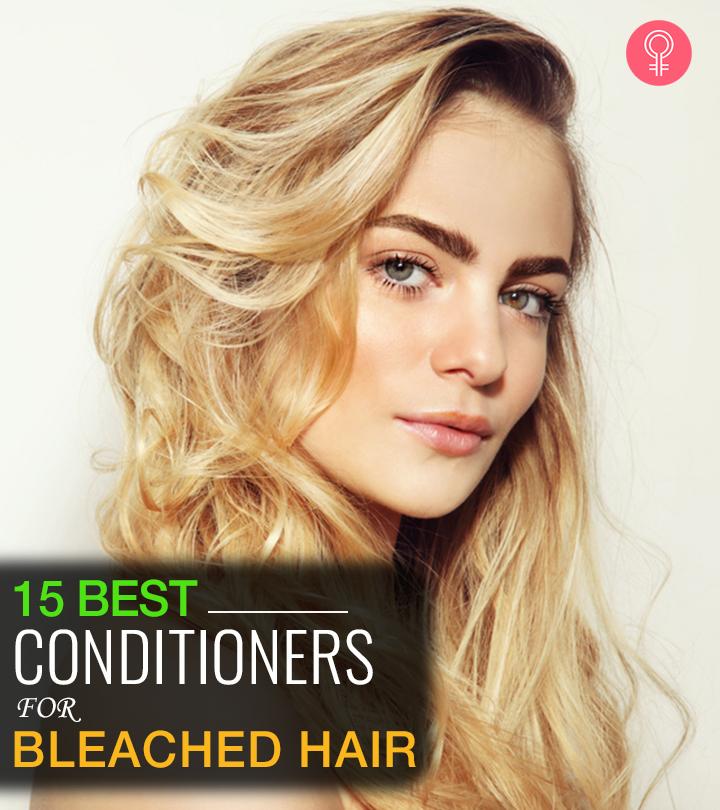 Truth be told, chemical treatments do take a toll on your hair. If you have been searching for the best conditioners for bleached hair, we can help you choose the one that suits you perfectly. Bleached hair definitely adds a wow factor to your looks, but it also damages the cuticles and leads to frizziness and breakage. Using a deep conditioner helps moisturize the strands and stimulate natural oil secretion on your scalp, reversing hair weakening. Here we have a list of 15 conditioners crafted to soften and nurture bleached hair. Go through the list to get the one made for your hair needs.

Top Picks
15 Best Conditioners For Bleached Hair
The Joico Color Balance Purple Conditioner nourishes and protects colored hair while neutralizing the brassy yellow tones. This tone correcting deep conditioner is infused with a bio-advanced peptide complex and antioxidant-rich green tea extract that protect and nourish each bleached hair strand. The bio-advanced peptide complex binds to hair proteins and reconstructs and strengthens the hair fibers. It also fights frizz and adds shine to hair with a single application. The restorative care of green tea extract helps protect your hair from UV damage and maintains its vibrancy. Elevate your hair care routine with the Joico Color Balance Purple Conditioner, and experience the nourishment, protection, frizz-fighting power, and shine enhancement it provides. Get ready to flaunt vibrant, beautiful hair that turns heads wherever you go. This video of the tester's experience will help you make an informed decision about your purchase.
Pros
Protects color
Maintains shine
Strengthens hair strands
Controls frizz
Leaves hair soft and manageable
Infused with bio-advanced peptide complex and green tea extract
Protects hair from UV damage
Cons
Price at the time of publication: $9.0
The Nexxus Humectress Moisturizing Conditioner combines science and nature to help nourish and manage bleached hair. It also protects it from further damage. This restoring conditioner has emollient properties. It locks in the moisture, where the infused protein protects and strengthens the hair shafts and prevents hair breakage. The nourishing ingredients like hydrolyzed elastin, keratin, wheat protein, and Cavier complex in the conditioner smoothen the cells (hair cuticles) that overlap to form hair strands. Your hair will absorb the protein complex and look voluminous and glossy. This anti-static conditioner will have less frizz. It also will be easier to manage. The coconut oil and lactic acid help nourish and trap moisture in the hair shaft, leaving your hair revitalized. Watch this video of the tester's experience to get a detailed review of the product.
Pros
Infused with hydrolyzed elastin, keratin, wheat protein, and Cavier complex
Locks in hydration
Provides long-lasting shine
Frizz-free conditioner
Silicone-free
Paraben-free
Cons
Contains sulfates
Poor quality dispenser pump
This conditioner can revitalize your hair and reverse the damage with just 10 minutes of use. This smooth-protected conditioner is infused with nourishing ingredients like keratin amino acid complex, sunflower seed extract, aloe vera, Chinese tea leaf extract, linseed oil, apricot kernel oil, oats kernel oil, and sweet almond oil. The keratin amino acids and hydrolyzed keratin in the conditioner help restore lost moisture, smoothen down cells on hair strands, and strengthen the hair shaft to prevent breakage, hair fall, dryness, and frizz. The sunflower seed extract and aloe vera act as natural sunscreens to guard your hair against UV rays. The Chinese leaf extract is an effective antioxidant that protects against oxidative damage, and the linseed extract is rich in omega-3 fatty acids and seals the cuticle (preventing frizz and breakage). The apricot kernel oil and sweet almond oil are rich in vitamins. They penetrate deep into the hair fibers and impart natural shine.
Pros
Enriched with keratin proteins
Paraben-free
Sulfate-free
Cruelty-free
Color-safe
Gives UV protection
Prevents frizz and dryness
Cons
Price at the time of publication: $14.98
The Elizavecca CER-100 Collagen-Coated Hair Protein Conditioner includes ceramide-3 and collagen ingredients. These soften, smoothen, and nourish hair. Ceramide is a fatty acid and an excellent conditioning agent that traps moisture, protects the hair cuticle, and strengthens the hair shaft. The hydrolyzed keratin and collagen in the conditioner protect the hair strands and improve the texture of damaged hair. The product also contains natural vegetable extracts that maintain hair elasticity and restore hair smoothness and shine.
Pros
Paraben-free
Sulfate-free
Silicone-free
Leave-in hair conditioner
Suitable for all hair types
Quick and convenient to use
Protects from sun damage
Makes hair soft and manageable
Pleasant smell
Cons
Price at the time of publication: $7.84
The Olaplex No. 5 Bond Maintenance Conditioner nourishes dry, rough, dull, and frizzy hair by re-linking the broken hair bonds. This is a highly moisturizing reparative conditioner. It is color-safe and strengthens the hair follicles. It maintains a pH balance between 4.0 – 5.0. The bio-active infused protein repairs hair strands, strengthens hair from the roots, and leaves hair frizz-free and easily manageable. The hyaluronic acid acts as a fertilizer to increase hair growth and nourishes and refreshes both the scalp and hair in no time. The tea seed oil and avocado oil in the conditioner are rich in antioxidants that protect the hair from further damage. This scalp care product is a game-changer for color protection and overall hair health, giving you the luscious, vibrant hair you've always desired. Here's a video of the reviewer's experience to help you know more about this product.
Pros
DEA-free
Aldehyde-free
Formaldehyde-free
100% vegan formula
Nut-free
Gluten-free
Paraben-free
Sulfate-free
Phthalate-free
Phosphate-free
Suitable for all hair types
pH balanced
Cons
Contains silicone
May dry hair out.
Price at the time of publication: $30.0
If you're looking for an all-in-one solution for damage control, the Art Naturals Argan Oil Hair Conditioner is a game-changer. This restorative care conditioner protects hair from chemical treatments, fights hair loss, and refines dry and brittle hair strands. The 'liquid gold' argan oil is the key ingredient in the product that locks in the moisture, adds shine, and hydrates and softens the hair fibers. The vitamin E in argan oil protects hair from oxidative damage, increases elasticity, and restores shine in damaged hair. The restorative and deep conditioning formula, along with its hydrating minerals and oils, seal the hair cuticles and nourish them with nutrients. This heat protection conditioner is free of parabens and sulfates.
Pros
Non-toxic
BPA-free
Paraben-free
Sulfate-free
Phthalate-free
Premium quality 100% vegan
Protects from styling heat and UV-rays
Ethically sourced
Prevents breakage
Also works for thick, curly hair
Cons
Price at the time of publication: $12.95
This is a rejuvenating hair mask and deep conditioner for color-treated hair. The Shea Moisture Strengthen and Restore Conditioner not only detangles hair but also repairs damaged hair. This hair softening conditioner traps moisture in the highly bleached strands and offers a shiny, smooth hair texture. It is a deep conditioning mask infused with nourishing ingredients like Jamaican black castor oil, organic shea butter, peppermint oil, coconut oil, hydrolyzed keratin, jojoba seed oil, aloe extract, clover flower extract, hydrolyzed vegetable protein, and a blend of essential oils.
The Jamaican black castor oil is a great moisturizer, and it thickens and strengthens the hair shaft. It also increases blood flow to the scalp, supplying essential nutrients to the hair follicles and preventing hair breakage and split ends. The organic and certified shea butter seals moisture and protects the hair cuticles. The peppermint oil is antibacterial and anti-inflammatory and prevents scalp infections. The oil-rich formula does an excellent job in repairing damaged and dry hair. As a result, your hair will become soft and manageable even after bleaching.
Pros
Paraben-free
Cruelty-free
Sulfate-free
Phthalate-free
Petrolatum-free
Silicone-free
Mineral oil-free
Protects hair from chemical treatments
Controls frizz
Color-safe
Affordable
Cons
None
Price at the time of publication: $30.97
This is an extremely lightweight conditioner that nourishes and rejuvenates chemically treated bleached hair. Not only does it effectively prevent flyaways, dryness, and frizz, but it also goes the extra mile in ensuring long-lasting color retention. This color-safe, silicone-free formula is powered by the patented Healthy Hair Molecule (OFPMA) that creates a weightless invisible shield to repel dirt and gives a deep cleansing effect. It focuses on four main aspects – eliminating frizz by blocking humidity, polishing and protecting each hair strand, smoothening hair without weighing it down, and creating visibly healthier hair over time. Many reviewers on Amazon have mentioned that this conditioner, which has not been tested on animals, helped manage frizzy hair.
Pros
Paraben-free
Phthalate-free
Silicone-free
Cruelty-free
Non-toxic
Safe for color- and chemically-treated hair
Cons
May dry hair out.
Smells like pepper.
Price at the time of publication: $29.0
The L'Oreal Paris Elvive Total Repair 5 Rapid Reviver is the best affordable leave-in deep conditioner for dry and damaged hair. It results in 2X less breakage and frizz compared to a regular conditioner. Its rich formula with 20% conditioning serum and almond protein nourishes each hair strand, reinforces protein in the hair fibers, strengthens them, and helps with damage repair due to chemical treatment or artificial colors. The restorative care of pomegranate extract in the conditioner is rich in antioxidants that protect hair strands from free radical damage. The detangling conditioner claims to revive hair in just 60 seconds. Experience the transformative power of this protein treatment and witness the incredible improvement in the overall condition of your hair.
Pros
Lightweight
Hydrates hair
Detangles
Easy to apply
Inexpensive
Also suitable for fine, thin hair
Cons
None
Price at the time of publication: $6.87
The Nexxus Keraphix Damage Healing Conditioner uses advanced technology to infuse 90% protein into each hair fiber. It nourishes them and delivers a smooth, conditioned feel. The conditioner is infused with an exclusive protein fusion blend with keratin protein and black rice that leaves a salon-quality and tangle-free look. This unique dual blend of the conditioner heals the signs of damage and boosts hair strength.
Pros
Nourishes hair
Repairs with keratin infusion
Heals chemically treated hair
Perfect for bleached or color-treated hair
Detangles knots
Cons
Contains sulfates
Odd smell
Waxy texture
Price at the time of publication: $15.99
The Tree To Hub Moisturizing Conditioner is made with 100% organic handpicked botanicals that are naturally processed by a patented and sustainable extraction process. The active ingredient in the conditioner is natural wild soapberry that forms a natural creamy gentle lather to cleanse hair deeply and maintain its natural pH (5.5). The organic healing botanicals, like argan oil, sage, and aloe vera extract, have anti-inflammatory and antioxidant properties that prevent free radical damage. The coconut oil and shea butter in the conditioner lock in moisture, strengthen the hair follicles, and reduce hair breakage and frizz. The peppermint and other essential oils keep the hair refreshed.
Pros
Sulfate-free
Paraben-free
DEA/MEA-free
Gluten-free
Artificial fragrance-free
Dermatologist-recommended
Contains pH-balancing soapberry
Reduces dandruff
Natural antibacterial and antifungal
Cruelty-free
Eco-friendly
Cons
Poor quality dispenser pump.
May dry hair out.
Price at the time of publication: $19.99
The Kérastase Discipline Hair Conditioner is specifically designed for unmanageable, undisciplined, and unruly bleached hair. This rich, white, lightweight conditioner combines active ingredients to gently cleanse the hair from the roots. It supplies the right amount of nutrients to restore the strength of hair fibers. It optimizes the fluidity and movement of hair. The key ingredient in the shampoo is Morpho-Kératine Complex, which consists of morpho-constituting agents and surface-morphing polymers. These restore the homogeneity of the hair fibers and nourish and coat the fibers for better manageability, strength, and anti-frizz protection. The conditioner also contains surface protector lipids that act as a protective barrier to lock in hair hydration. They also build shine and strength.
Pros
Detangles unruly hair
Pleasing fragrance
Surface protectors lock in the moisture
Leaves hair silky smooth
Cons
None
Price at the time of publication: $27.8
The Truss Ultra Hydration Conditioner is perfect for balancing moisture and heals dry and damaged color-treated hair. This conditioner is perfect for bleached, highlighted, and chemically-treated hair. It reconstructs and rebuilds the shine, moisture, and smoothness. This intense hydrating conditioner is infused with cottonseed oil, vitamin E, and keratin protein complex to provide nutrients to each hair strand. The cottonseed and sweet almond oil moisturize hair, prevent protein loss, and protect against environmental damage. The collagen, soy, and keratin protein complex together strengthen hair follicles and seal the moisture. The panthenol in the conditioner acts as a humectant, moisturizer, and emollient. It forms a smooth film on the hair cuticle and seals in the nourishment.
Pros
Anti-frizz
Humectant
Hydrates bleached hair
Ultra moisturizing for all hair types
pH-balanced formula
Nano-repair formula
Restores hair elasticity and flexibility
Smells great
Paraben-free
Sulfate-free
Cons
None
Price at the time of publication: $21.38
The ACURE Hydrating Conditioner provides long-lasting moisture and leaves hair soft, smooth, and easily manageable. The natural formula protects hair strands from breakage, split ends, and frizz. The active ingredients of the conditioner include organic argan oil, argan extract, Coenzyme Q10, organic sea buckthorn oil, and organic pumpkin seed oil. These are a perfect combo for bleached or chemically-treated hair. Argan oil is an excellent emollient and is rich in vitamin E that hydrates and protects hair strands. Coenzyme Q10 stimulates hair follicles to synthesize natural keratin and strengthen hair fibers. The buckthorn and pumpkin seed oils nourish hair follicles and penetrate deep into the hair shaft for deep hair conditioning.
Pros
100% vegan formula
Sulfate-free
Paraben-free
Color-safe
Suitable for all hair types
Locks in moisture
Makes hair easy to manage
Adds shine
Cons
Leaves a waxy coating on hair.
Not suitable for thin hair.
Price at the time of publication: $29.98
This conditioner from Alterna is enforced with Caviar Bond Technology that helps rebond, rebuild, and seal the hair cuticle for up to 10 washes. This anti-aging conditioner is infused with an age-control complex that reduces hair breakage and split ends by up to 99%.
The vegetable-derived protein in the conditioner is specially formulated to strengthen, fortify, and revitalize damaged bleached hair. It is formulated with caviar extract that is rich in vitamins A and D and omega-3 fatty acids. Vitamin A helps produce healthy sebum and prevents hair breakage and dryness. Additionally, Omega-3 fatty acids reduce hair fall and protect hair from color damage. They also deliver hydration and shine to each hair strand.
Pros
 Color-safe
 Rebond hair strands
 Protects from chemical and oxidative damage
 Enforced with Caviar Bond Technology
 Infused with an age-control complex
 Paraben-free
 Sulfate-free
Cons
Price at the time of publication: $13
These are the top conditioners for protecting bleached hair. They provide nourishment and hydration to hair and control frizz. But before you purchase such a conditioner, you need to know what to look for. The following section can help.
How To Find The Right Conditioner For Your Bleached Hair
The conditioner should hydrate, nourish, and condition dry and damaged bleached hair.
Choose a light conditioner that does not add any buildup. It should be easy to rinse and leave your hair soft.
The conditioner should contain antioxidants that protect hair from environmental and oxidative damage.
It should contain infused proteins that help strengthen the hair shaft and shield the hair cuticle.
Why Trust StyleCraze?
Oyendrila Kanjilal is a trained skincare coach and our in-house product writer for skin and hair care products. She searched many user reviews on various products across various websites to find the best conditioners for bleached hair that may help hydrate your strands and improve natural oil secretion on the scalp. Each conditioner in this list comes with a detailed product description, a shopping guide, and answers to frequently asked questions to help you pick the best.
Frequently Asked Questions
How do I rehydrate my hair after bleaching it?
Choose an appropriate conditioner that adds moisture to your hair and removes frizz. It should also reduce breakage. Apply the conditioner twice a week for smooth and shiny hair.
What are the harmful chemicals that I should be aware of?
Choose a conditioner that is infused with natural proteins, botanical extracts, and essential oils. Ensure it does not contain chemicals like parabens, sulfates, silicones, and phthalates.
How often should I condition my hair to prevent it from drying?
Using a conditioner 2-3 times a week is enough to prevent it from drying.
How do you keep bleached hair in good condition?
There are several ways to keep your bleached hair in good condition.
• Oil your hair regularly.
• Gently wash your hair with mild cleansers.
• Avoid combing your hair when it is wet.
• Reduce the usage of heat styling tools.
• Apply a hydrating mask once weekly to improve moisture retention.
• Use silk or satin pillowcase to prevent hair fall caused due to friction.
How do I make my bleached hair soft and silky?
Oil your hair regularly with moisturizing oils like coconut oil, argan oil, and olive oil to rebuild and seal the hair cuticle. Use leave-in conditioners twice weekly to make your hair look silky and bouncy.
Can you condition your bleached hair every day?
No, bleached hair must be conditioned once weekly with leave-in conditioners and hot oil treatment. Overloading bleached hair with deep conditioners can cause product buildup.
Recommended Articles