Nourish Your Dry Scalp with 7 Best Conditioners of 2023
Your scalp too needs as much nourishment as your perfectly-maintained tresses!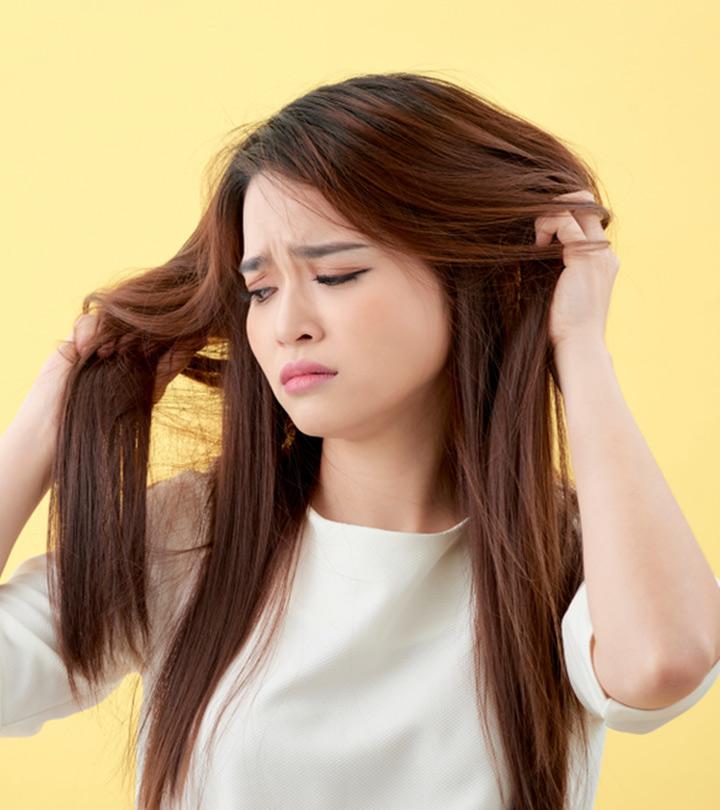 Dry scalp is often a perpetual issue; however, sometimes it aggravates with regular hair treatments, coloring, weather changes, or even due to the wrong formula of conditioner. This is why you need to pick the best conditioner for dry scalp. While many think skipping the conditioner is okay, well, it's absolutely not. It is similar to skipping a moisturizer for your skin. A conditioner keeps your hair hydrated and nourished, keeping your hair shiny and healthy. It also prevents your hair from drying out, prevents dandruff, and promotes hair growth.
You sure are already tempted to get the best conditioner for dry hair right now. The search can get exhausting with so many options available in the market. So, we have brought you the 7 best conditioners for dry scalp here. Scroll down and make the best choice! After all, nobody wants dull and lifeless strands after every hair wash, right?
Top Picks
Top 7 Best Conditioners Of 2023 To Treat Dry Scalp!
Pros
Ensures flake-free conditioning
Soothes and hydrates intensely
Balances the pH level of the scalp
Guarantees to eliminate visible flakes with regular use
Suitable for dry and color-treated hair
Ideal for both men and women
Cons
Hair may turn greasy quickly
It may require too many rinses to wash off.
Price at the time of publication: $0.41
Pros
Cruelty-free product
Guarantees relief in 8 days
Provides intense moisture and hydrates the scalp
Paraben-free and silicone-free
Cons
Hair may feel slightly stiff or dry
Price at the time of publication: $7.99
Pros
Hydrating formula
pH-balanced formula
Color-safe formula
Paraben-free
Phthalate-free
Sulfate-free
Cons
None

Price at the time of publication: $9.52
Pros
Hair strengthening formula for a healthy scalp
Detangles, adds shine, and restores suppleness
Relieves scalp dryness, redness, and irritation
It repairs and moisturizes the damaged hair too.
Cons
Thick consistency
Strong fragrance
Price at the time of publication: $10.97
Pros
Ultra-moisturizing natural formula
Non-greasy and lightweight conditioner
Travel-friendly and easy-to-use
Detangles and restore natural moisture
Improves elasticity and manageability
Gently exfoliates with Alpha Hydroxy Acid (AHA)
Cons
Expensive
AHA may make your hair and scalp sensitive to the sun.
Price at the time of publication: $18.0
Pros
Ultra-moisturizing formula
Provides intense hydration
Relieves dryness and irritation
Gentle enough for frequent washes
Cons
Expensive
Hair might turn greasy quickly
Price at the time of publication: $22.5
Pros
Oil-infused hydrating formula
Guarantees 100% flake-free results
Gentle and restores ideal pH balance
Clinically and dermatologically tested
Mild and suitable for daily use
Relieves itchiness, dryness, and irritation
Safe to use on normal, dry, chemical-treated, and colored hair
Cons
Price at the time of publication: $17.4
There you go, those are the 7 best conditioners that you must check out if you have a dry scalp. If you are still wondering which one will suit you the best or how to use it, scroll on to read our buying guide below.
Buying Guide – Best Conditioner for Dry Scalp
How to Choose the Best Conditioner for Dry Scalp?
Following are some of the things you must consider before choosing the conditioner:
Relieving and nourishing formula: Choose a hair treatment formula that not only relieves dryness and itchiness but also nourishes and strengthens the scalp to combat future hair problems. Though most conditioners have dual-action power, it's advisable to check before buying.
Moisturizing ingredients: Dry scalp is often caused by natural moisture loss. In some cases, frequent coloring or using a styling product can lead to dryness and itchiness. So, pick a conditioner that contains ultra-moisturizing, nourishing, and hydrating ingredients that will suit your scalp and help lock in the natural moisture.
Hair type: The conditioner must suit your hair type. Not necessary, a conditioner for normal hair will work on color-treated hair and vice-versa. So before buying, inspect if it is suitable for your hair.
Consistency: Usually, conditioners with thick consistency may not wash off easily, whereas those with thin consistency may not be advisable for thick hair. So, according to your conditioning needs, pick an ideal one!
How to Use Conditioner for Dry Scalp?
It's simple. Here are the steps that you can follow:
After thorough cleansing with shampoo, gently squeeze out all the excess water from the hair
Next, take a generous amount of conditioner and massage it from roots to tips
Leave it for 2-3 minutes and then wash it off thoroughly
Just what your scalp deserves— salon-like nourishment at home! With the 7 best conditioners offering therapeutic experiences to relieve dryness, itchiness, and redness, taking care of the scalp can't get easier than this. Yep, no more panic urges to scratch the head in public! Are you ready to flaunt your hair without worrying about breakage or dandruff? Because we are! Go, pick your ideal conditioner, and join the gorgeous hair squad now.
Why Trust StyleCraze?
The author, Vaishnavi Kothuri, is passionate about hair care and curates the list of best hair care products for her readers. She conducts research online by browsing various platforms and analyzing the users' feedback and reviews. The conditioners listed nourish your dry scalp, eliminate flakes, prevent dandruff, keep hair shiny, and promote hair growth. They are also suitable for color-treated hair.
Frequently Asked Questions
Can You Use Conditioner on A Dry Scalp?
An ultra-moisturizing scalp conditioner will help restore the pH scale, intensely nourish, and lock in the natural moisture. So yes, you can use a conditioner on a dry scalp.
Does Using Conditioner on Scalp Help Dandruff?
Conditioners have moisturizing ingredients that help the scalp restore natural moisture and suppleness and eliminate dryness. And since dryness is one of the root causes of dandruff, these conditioners can help eliminate flaking to a great extent.
What Can I Use to Moisturize My Dry Scalp?
If you are dealing with a dry scalp, then you must add a scalp conditioner to your hair wash routine. Using this conditioner twice a week can help the scalp return to its natural state and strengthen your hair quality.
What Causes Dry Scalp?
There are several reasons why you must be suffering from a dry scalp. Excess use of chemicals, coloring, styling, or the shampoo must be unsuitable or infused with sulfate and alcohol that is stripping away the natural oils.
Is conditioning good for a dry scalp?
Yes. Conditioning boosts the natural moisture of your scalp and strengthens the hair.
Is applying conditioner to roots and scalp alright if you have a dry scalp?
Yes. Apply a small amount of conditioner to your hair roots if you have a dry scalp. However, using too much conditioner on the scalp may weigh down your hair and make it look greasy.