5 Best Conditioners For Rebonded Hair (2023), A Hairstylist's Picks
These products keep your rebonded hair hydrated, moisturized, and frizz-free.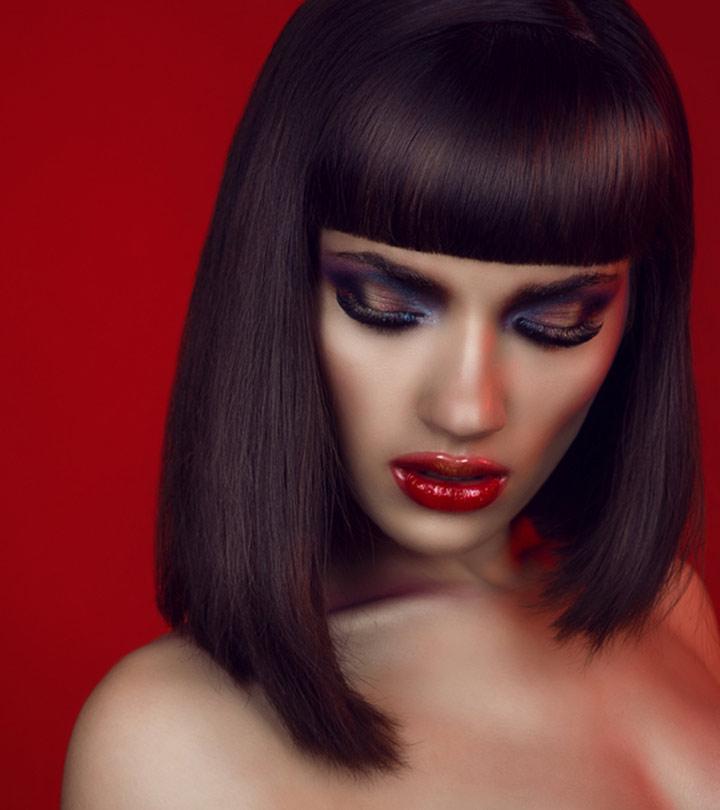 If you are here looking for the best conditioner for rebonded hair, we got you covered. Rebonding is a chemical procedure that helps alter your hair's original texture to make it smoother, shinier, and more manageable. Also known as chemical straightening, it restructures the bonds of your natural hair to change its look, feel, and texture. However, like most chemical procedures, rebonding also comes with its fair share of side effects like hair fall, breakage, split ends, and dry, brittle hair over time. This is when you need a good conditioner to keep your strands nourished and protected.
A conditioner specially formulated for rebonded hair not only helps retain the natural oils but also locks in the moisture to keep your strands well-nourished and hydrated. Since you must have tried rebonding to make your hair smoother and better, we help you make it last longer with a list of the 5 best conditioners suitable for rebonded hair for you to choose from. All these have garnered uncountable rave reviews on various platforms, proving their effectiveness.
Top 5 Best Conditioners For Rebonded Hair That You Must Try In 2023
Introduce this softening conditioner to your hair care regime and see the difference for yourself. The botanical-infused conditioner contains extracts that will instantly provide moisture and nourishment, leaving you with silky, soft hair. The Kukui extracts lock in shine and provide moisture and hydration, while the coconut is rich in amino acids and softens the hair. Other nourishing ingredients like jojoba oil, avocado oil, and sweet almond oil penetrate deep into the scalp's roots to strengthen the hair from root to tip and prevent breakage. This leave-in conditioner for rebonded hair is suitable for all hair types and is safe for color-treated hair. One of the best shine-enhancing conditioners for rebonded hair, it makes the hair strong and you can trust it with your eyes closed. Here's a review video detailing a reviewer's experience of testing it to help you get a better understanding of the product.
Pros
Intense repair and hydration
Prevents breakage
Botanical extracts of Kukui and coconut
Safe for rebonded hair
Safe for colored hair
Can be used as a leave in conditioner
Suitable for all hair types
Cons
The scent may be overpowering for some.
Strengthen, repair, and moisturize your rebonded hair with the Olaplex No.5 Bond Maintenance Conditioner. This conditioner is formulated with the patented Olaplex Bond Building Chemistry that helps to relink the damaged hair bonds and helps in split ends repair, reduces frizz, adds shine, and restores your overall hair health. Additionally, the revitalizing conditioner is ideal for color-treated color-treated, bleached, and damaged hair as it deeply nourishes and strengthens them. Need more information? Watch this video detailing a tester's experience of using this conditioner.
Pros
 Suitable for all hair types
 Cruelty-free
 Vegan
Can also be used as pH-balancing conditioner
 Chemical-free
 Sulfate-free
 Paraben-free
 Repairs damaged hair
Cons
None
Lifeless, dull hair weighing you down? Well, not anymore! With this leave-in conditioner spray from Botanic Hearth, your chemically treated hair will be hydrated and nourished in no time. The hydrolyzed wheat protein in this product quickly penetrates the hair shaft and is absorbed by the inner fibers of your hair, leaving your hair healthy. The hydrolyzed silk protein has proven efficacy in protecting the hair from heat and pollutants and imparting a smooth and silky finish with each wash. The lightweight formula of the heat protectant conditioner also contains lemongrass extract, jasmine extract, rosehip oil, and aloe vera gel – all of which add volume, shine, and help tame those wild locks.
Pros
Lightweight conditioner
Adds volume to thinning hair
Contains hydrolyzed wheat and silk protein
Doubles as a heat protectant
Safe for color-treated hair
Gentle for everyday use
Not tested on animals
Cons
It may not offer long-lasting results.
Your chemically-treated hair needs all the care it can get, and there's no better way than conditioning it with this intensive moisturizing cream. Enriched with essential vitamins and minerals, it penetrates deep into the hair fiber and shields it from breakage. The deep conditioning treatment provides nourishment and hydration to your moisture-thirsty hair while maintaining its vibrancy. Safe for all hair types and all kinds of chemically-treated hair, it is the best thing to happen to rebonded hair.
Pros
Suitable for all types of chemically-treated hair
Suitable for all hair types
Enriched with vitamins and minerals
Provides moisture and prevents breakage
Cons
It may not detangle hair effectively.
Your hunt for a keratin conditioner for hair rebonding is now over. Infused with wheat protein and keratin extracts, this restorative conditioner rejuvenates moisture in your hair and provides silky locks worth flaunting. Crafted with sage extracts, it helps in maintaining a healthy scalp. It also contains coconut extracts that have proven efficacy in taming frizz, detangling knots, and making hair smooth. Other natural ingredients like soy protein, white willow bark, and aloe leaf juice stimulate cell re-formation and improve hair texture. Transform your hair into gorgeous silky hair that everyone envies.
Pros
Keratin-infused
Stimulates cell-reformation
Suitable for chemically-treated hair
Safe for colored-hair
Suitable for curly hair
Paraben-free
Sulfate-free
Cruelty-free
Cons
*The prices provided in this article are based on the latest available information. However, they may vary due to changes in pricing by the seller and/or promotional offers.
Rebonded hair needs some special TLC and maintenance so as to remain healthy and shiny. Let us guide you on how to find the perfect conditioner for rebonded hair, that can protect and rejuvenate your locks.
Things To Consider While Choosing The Best Conditioner For
Rebonded Hair
Ingredients
The chemical process of rebonding can dry out the scalp and make the hair brittle. A conditioner crafted with essential vitamins, minerals, botanical extracts like kukui, and natural oils like jojoba oil, coconut oil, sweet almond oil, and avocado oil will nourish the hair and keep it moisturized.
Hydrolyzed wheat protein and silk protein are fast-absorbed by the hair shaft and leaves the hair looking healthier. They protect the hair from pollution and heat and offer it a silky finish. Rosehip oil, lemongrass extract, aloe vera gel, and jasmine extract control frizz and add volume to the tresses. Keratin, soy protein, and white willow bark encourage cell regeneration and help in regrowth.
Avoid chemical ingredients, parabens, phthalates, and sulfates in the conditioner.
Conditioner Types
Wash-off: You can pick a conditioner that you use after shampooing your hair. Apply this conditioner and keep for a few minutes before washing it off. This is convenient but works for a while. It does not cause much build-up.
Leave-in: A leave-in conditioner can be used for setting the hair as well. It offers long-lasting moisturization by locking in hydration into the hair shafts. It forms a layer on the hair that keeps it protected from sun, heat, and pollutants. However, a leave-in conditioner may cause build-up and collect more dirt. You need to look for a non-greasy formula.
Color-treated Hair
If you have rebonded hair which is also colored, it means that it has gone through more chemical exposure. Pick a conditioner that is specially suitable for colored hair and infused with extra nourishing ingredients. It should be a repairing, strengthening, protecting, and moisturizing formula. The conditioner should also be color-safe and not cause fading or discoloration. Choose a cream that will help maintain high pigments and make the color last long.
Volumizing Formula
Since rebonding is a method of straightening hair, sometimes the hair may look flatter and thinner than before. A volumizing conditioner may help add some bounce in the locks. Even a conditioner that controls frizz and flyaways should not make the hair look limp. An added volumizer will restore volume and make the hair look fuller, healthier, and luscious.
If you have rebonded hair, you know the love and attention it craves and needs. Here are a few tips to keep in mind while caring for your rebonded hair.
Hair Care Tips For Rebonded Hair
Rebonding is a process where hair proteins connected by bonds are restructured, giving you silky, soft hair. If you want to maintain its effects for a long period, you must invest in a shampoo that's safe for rebonded hair. Always choose a shampoo that is specially formulated for chemically-treated hair. Shampoos suitable for processed hair are mild and gentle, contain little to no sulfates, and help keep your hair straight and frizz-free. They also restore proteins that were lost during the chemical process.
A good conditioner for rebonded hair
Your hair is subjected to a great deal of heat damage in the process of rebonding. In time, it becomes dull and dry and is deprived of moisture. It is essential to pick a suitable conditioner for rebonded-hair that provides your hair the hydration it lacks. Conditioners are a Godsend and will revive your lackluster locks and bring them back to life in no time, making hair softer. Save your hair from dullness and split-ends and condition as often as possible.
Washing your hair less frequently
To see the effects of your rebonded hair last longer, you must wash your hair less frequently. By washing your hair often, you may risk the chemicals washing away, too. Ideally, you should wash your hair 2-3 times a week.
Split ends are the notorious cousin who always tags along with chemically-treated hair. To put an end to it and prevent further damage, you must visit your hair stylist for frequent trims. It is recommended that you trim your hair every 6-7 weeks.
Why Trust Stylecraze?
The author, Kirtana Divakar, is a makeup and beauty enthusiast, who loves trying out new products and is aware of the latest beauty trends. She has done her share of in-depth research before recommending these top 5 conditioners for rebonded hair. She has gone through various beauty forums and customer testimonials to make sure you get to select nothing but the best. These conditionres not only help maintain the strength and texture of your rebonded hair but also help keep your hair well-nourished, soft, smooth, and protected from environmental stressors.
Frequently Asked Questions
Can I use a conditioner after rebonding?
You must! A conditioner will help replenish your hair with hydration and moisture that is reduced after rebonding it.
How can I treat my rebonded hair at home?
There are many ways to treat rebonded hair at home. The first and most important way is to use a shampoo and conditioner that is safe for your chemically-treated hair. Other ways you can treat it is by using hair serums, hair masks, and oils that provide your hair with nourishment and moisture.
How do I keep my rebonded hair straight?
For lasting effects of rebonded hair, you must use a safe shampoo and conditioner, wash your hair less, and forget about hair ties for a while as it may lead to creasing.
Is Vitress good for newly Rebonded hair?
Yes, but you have to wait until 3 days after your treatment.
How long does rebonded hair last?
The rebonding procedure might last 6-7 months if maintained the right way at home or visits to a reputed, professional salon.
Recommended Articles