11 Best Contour Brushes That You Must Buy In 2023
Get flawless makeup looks with these incredible, high-quality & affordable tools.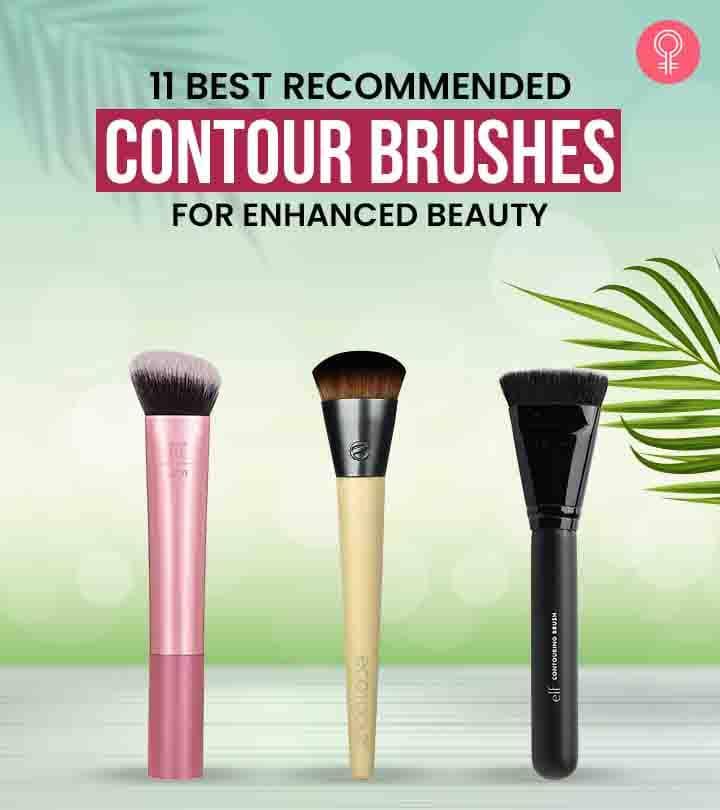 A contour brush is a specially designed artistry brush that is large and flat with densely packed bristles. They help to highlight cheekbones, jawline, and forehead. Contouring is an art, and thus, the best contour brush helps contour your face. You can mess up your makeup look if you don't use a proper contour brush. Most of these contour brushes are angled in a way that helps you make precise strokes and blend the product seamlessly. In this article, we have curated a list of the 11 best contour brushes that highlight your features. Keep scrolling!
11 Bestselling User-Friendly Contour Brushes
Pros
Cruelty-free
Easy to clean
Soft bristles
Ergonomic design
Recommended for beginners
Good coverage
Cons
Price at the time of publication: $15.73
The EcoTools Wonder Color Finish brush is made with 60,000 bristles to ensure intense coverage. This brush deposits the optimum amount of product for a perfect contour. The angled and small bristles ensure precise application and can be used dry or wet. It is made of recycled aluminum and plastic with 20% cotton and 80% bamboo fibers. Its sturdy wooden handle is easy to grip and works seamlessly. This video takes you through this product's details.
Pros
Precise application
Cruelty-free
Easy to maintain
Easy to use
Vegan
Dries quickly
Cons
Price at the time of publication: $7.87
The e.l.f. Cosmetics Contouring Brush is designed for advanced sculpting to achieve professional results. The densely packed bristles are shaped at a perfect angle to give depth and dimension along the cheekbones, forehead, and jawline. This brush is perfect for targeted contouring with pressed or loose bronzer powder, liquids, and creams. Its wide head releases only a controlled amount of product to give a non-cakey, uniform coverage. This brush has ultra-fine fibers that are hand-assembled to perfection by artisans for a luxe experience. For a more detailed review of this product, here's a video.
Pros
Cruelty-free
Soft bristles
Easy to clean
Cons
Price at the time of publication: $6
Pros
Soft head
Easy to use
Hypoallergenic
Lightweight
Travel-friendly
Includes pouch
Cons
Price at the time of publication: $11.97
The Vertex Beauty Contour Brushes are best suited for professional nose and cheekbone contouring. Each brush has fine, hand-cut, cruelty-free bristles densely packed at precise angles to help define your features. This set features high-quality brushes for nose, cheekbone, forehead, and brow bone contouring, which create a range of perfectly blended edges with matte, nude, and pigments products. The synthetic, non-bleached bristles have thin micro-edges that seamlessly fill minute lines and pores on your face. You can also use them to blend foundations, concealers, highlighters, bronzers, and liquid cream products.
Pros
Hypoallergenic
Suits sensitive skin
Easy to use
Lightweight
Ergonomic grip
Cruelty-free
Latex-free
Cons
Price at the time of publication: $9.99
Pros
Non-porous, soft bristles
Easy to hold
Easy to clean
Value for money
Durable
Suitable for powder and cream contour
Cruelty-free and vegan bristles
Cons
None
Pros
Easy to use
Angled design
Shed-free
Soft bristles
Value for money
Easy to clean
Cruelty-free
Vegan
Cons
Price at the time of publication: $24
Pros
Soft bristles
Value for money
Sturdy
Vegan
Cruelty-free
Cons
Not suitable for liquid products
Price at the time of publication: $3.18
The Bdellium Tools Makeup Studio 945 Contour Brush features all-natural fiber bristles arranged in a softly rounded dome tip. This brush can apply, blend, and contour powder products on the nose, cheekbones, chin, and brow bone. Its perfectly angled tip ensures flawless application while giving you full control over the product. The fluffy and compact head is attached via an aluminum ferrule to a long, lacquered wooden handle with an ergonomic grip that allows you to apply firm or light pressure on the target area.
Pros
Natural fibers
Ergonomic handle
Easy to use
Easy to maintain
Lightweight
Cons
Price at the time of publication: $15
The e.l.f Cosmetics Eye Contour Brush is soft and absorbent, perfect for wet and dry products. Its synthetic-haired head holds a good amount of product and deposits it uniformly in a single sweep. The bristles are densely arranged at a precise angle to define the eye and brow area. The anti-bacterial brush is easy to clean and does not shed.
Pros
Soft bristles
No product build-up
Easy to wash
Lightweight
Full coverage
Durable
Cons
None
The Morphe M460 Flat Contour Brush features a wide, flat-edged head with silky synthetic bristles. It effortlessly blends creams and lightly deposits powder contour products to create a streak-free sculpted look. This brush also gives you full coverage while defining the cheekbones, nose bridge, brow bone, chin, and forehead. It allows you to control the pressure on natural focal points of your face for highlighting and sculpting.
Pros
Lightweight
Smooth application
Full coverage
Easy to clean
Durable
Cons
None
Price at the time of publication: $23.96
These 11 contour brushes are best-sellers for a good reason. Their precise design, ergonomic grip, and gentle brush heads ensure you have a professional contoured look. If you are a contouring rookie, we recommend using the 301 Flat Contour Brush by Real Techniques. It can be used with a range of contouring products and delivers an airbrushed poreless finish in just a few sweeps. So order your favorite contour brush from this list and get sculpting!
Why Trust StyleCraze?
The author of this article, Shalini Roy, is a makeup enthusiast. She has gone through the products in detail and checked many reviews to pick the best contour brushes. She believes that these brushes are a must-have for anyone who wants to enhance their beauty. They help create a full makeup look and help to highlight cheekbones and jawline.
Frequently Asked Questions
Are contour brushes or sponges better?
Brushes absorb less product and help achieve the desired coverage more easily as compared to sponges that absorb a lot of product and offer a more diffused look.
Can I use a contour brush for the foundation?
No, contour brushes do not offer seamless coverage as foundation brushes do.
Can you use a contour brush for highlighting?
Yes, using a contour brush for highlighting offers a soft, glowing look.
How do you use a contour brush?
Dip your brush in a bronzer and blend the product lightly in small, circular motions to buff away harsh edges underneath your cheekbones and jawline.
How do you clean the contour brush?
Clean your brush every 7-10 days. Wet the bristles with lukewarm water and use a mild cleanser to clean the brush. Rinse under a water source and clean with a dry towel or air-dry the brush.
How long does a contour brush last?
A good-quality contour brush lasts for 1-3 years when maintained properly.